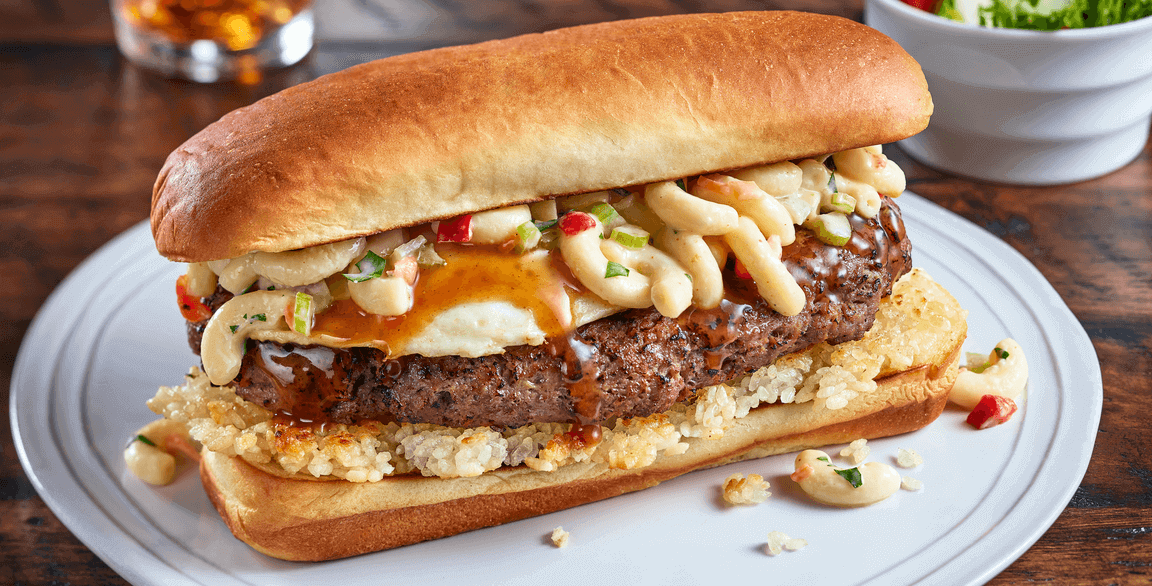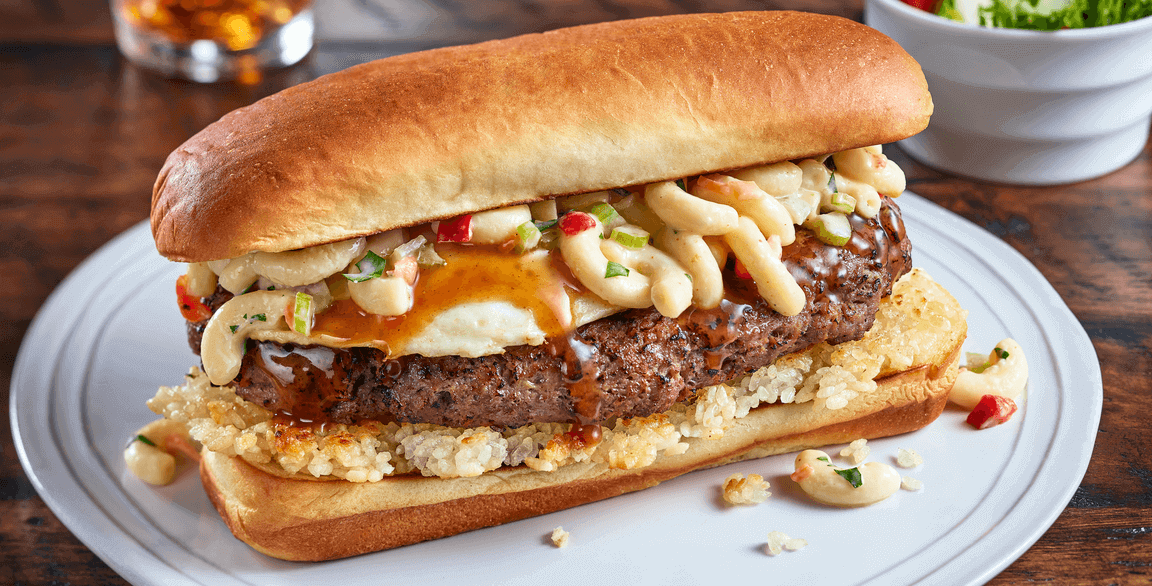 Spam Loco Moco Hoagie
Recipe courtesy of Will Eudy and Ben Whittington
Sponsor: King's Hawaiian
Servings: 4
Ingredients
4 ea King's Hawaiian® Original Hawaiian Sweet Mini Sub Roll
1 ea 12-oz can of low-sodium SPAM®
2 lbs 80/20 ground beef
4 tsp garlic powder, divided
2 tsp onion powder, divided
1 ½ Tbsp soy sauce
As needed salt
As needed black pepper
4 c cooked white rice
2 c beef broth
¼ c cold water
3 Tbsp cornstarch
4 ea eggs
½ c prepared macaroni salad
As needed Tabasco hot sauce
Directions
Split the rolls into a top and bottom, toast the bread to desired color, and set aside for assembly later.
Grind the SPAM in a food processor. Add it to a mixing bowl with the ground beef and combine. Add 2 teaspoons of the garlic powder, 1 teaspoon of the onion powder, the soy sauce, and salt and pepper to taste. Divide the meat into four even patties (approximately 10 ounces each) and form into a long oval shape that will fit the King's Hawaiian rolls. Remember that the patties will shrink during cooking. Sear the burger patties on each side and cook them to their desired doneness. Set aside to rest before assembly later.
Place 1 cup of white rice per burger on a cooking surface with a little bit of oil to crisp up the rice. Compress the rice or add weight to the top to get a good sear if necessary. The rice should stick together and form a crispy rice patty. Remove the crispy rice and set aside for assembly later.
In a medium saucepan, bring the broth to a boil on high heat. In a separate container, whisk together the water and cornstarch until smooth. Once the broth is boiling, reduce the heat to medium-high. Add the cornstarch slurry while mixing, then add the remaining 2 teaspoons garlic powder and 1 teaspoon onion powder, and stir until thickened. Remove from the heat and keep warm. Season with salt and pepper to taste, if necessary.
Fry one egg per burger, sunny-side up, on the cooking surface. Remove from the heat and hold for assembly.
Assemble the Spam Loco Moco Hoagie: From the bottom up, put a crispy rice patty on a toasted roll bottom. Add a SPAM burger, fried egg, 2 tablespoons beef gravy, ½ cup macaroni salad, Tabasco to taste, and top with a toasted King's Hawaiian roll.
Project Management: Summit F&B
Photography: Carlos Garcia // Food Styling: Peg Blackley & Bree Williams