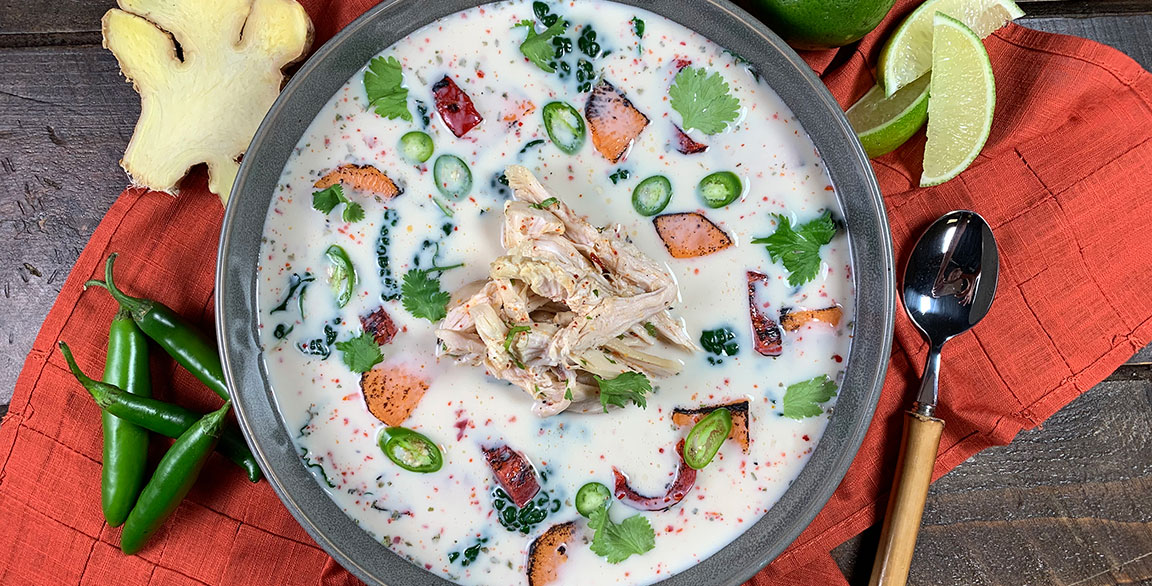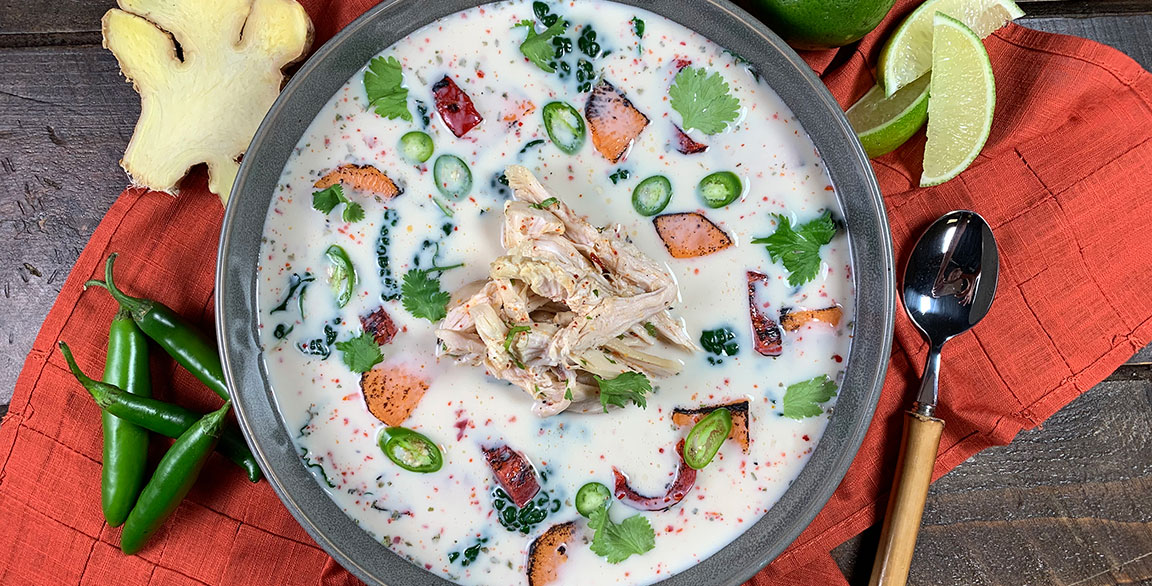 By Flavor & The Menu
November 2, 2021
Operators looking for a boost in their signature soup offerings might consider taking a tip from Chef Mike Leccese, VP of innovation for Haliburton International Foods, Inc., a Southern California-based specialty foods processor that specializes in creating customized, hand-crafted quality SKUs for multiple menu items. From ready-to-eat roasted vegetables and IQF grains to kettle-cooked sauces and soups, Haliburton works alongside operators looking to develop unique and on-trend custom flavors. Here, Leccese provides insights on trend-forward soup-building strategies for today's menus.
Describe a trend-forward soup build using Haliburton ingredients.
An exciting new profile that we've been working on is a Smoked Elote Chowder that brings in the familiar look and feel of a sweet corn chowder but with ethnic attributes and flavors of Mexican street corn. This soup carries the vibrant flavors of smoked ancho and California chile peppers, Mexican limes, fresh cilantro, roasted garlic and onions, spicy chile de arbol and bold Cotija cheese.
What are some creative menu ideas to keep soups an exciting option on menus today?
I've always enjoyed a good French dip, and I think that concept has crept over into the soup category a bit with multiple options. For instance, I've seen a few pho shops that offer a half banh mi with a small bowl of pho into which you can dip the sandwich. This concept made me think of the classic birria dish from Mexico, and how the braised meat is served with its own consommé or braising broth as part of the meal. This birria consommé has an awesome flavor of chiles, tomatoes, aromatics and savory notes from the protein. You can then add fresh onions, radishes, cilantro and shredded cabbage and use it as a soup, similar to a pozole rojo. Serve it with a birria torta on a freshly toasted bolillo roll with creamy lime mayo, pickled escabeche chiles and melty Chihuahua cheese that can be dipped into the consommé for a dynamite pairing.
Ideas for adding a signature finish via toppings and options?
For soups that are very rich, savory, and on the heartier side, I like to add pickled vegetables or fruits as a garnish to help elevate the flavors. The sweetness, acidity and texture of pickled garnishes help create that added level of flavor-layering to help cut through those robust, palate-coating soups. Soups that are primarily broth-based rely heavily on fortified bases from animal proteins, seafood or veggies, which can push them to the more savory or salty side of the spectrum. The sweet and crisp profiles of the pickled topping can offer some flavor balance.
How does Haliburton International Foods work with operators to create signature soup offerings?
We offer several platforms to help operators: collaborative dine arounds, where we hit the streets to sample unique and new creations from trend-forward restaurants and street vendors; by using our culinary teams and kitchens as a home base for hands-on working sessions supported by a pantry of fresh and Haliburton-inspired ingredients; finally, using the knowledge and experience of our Haliburton culinary team to draft concepts and ideas through a collaborative effort, all with the goal of creating a signature soup offering for our operator partners.
Visit Haliburton International Foods for more soup inspiration.