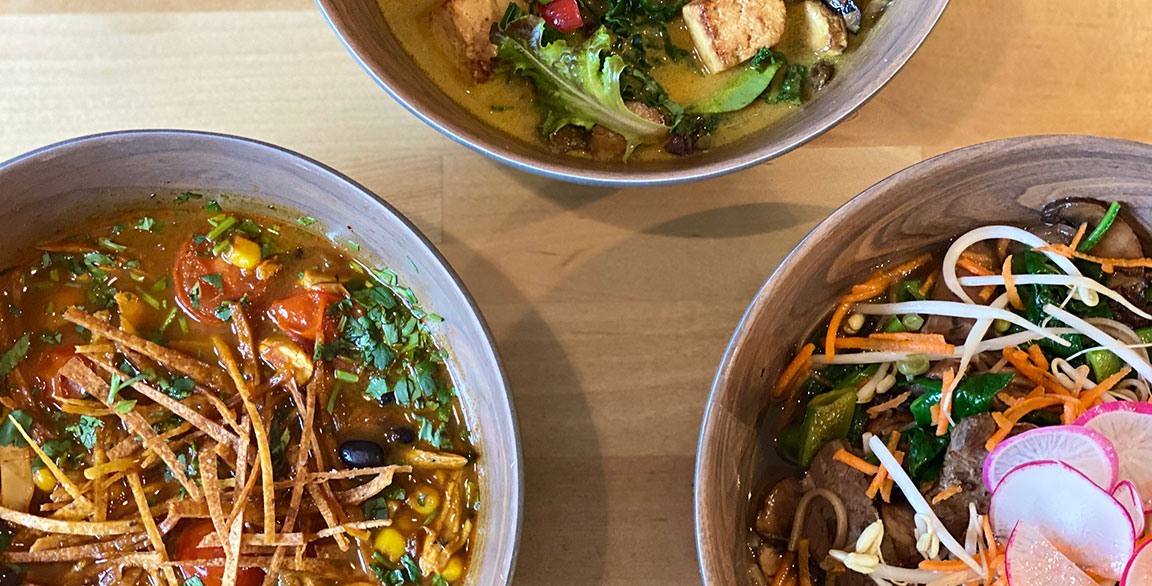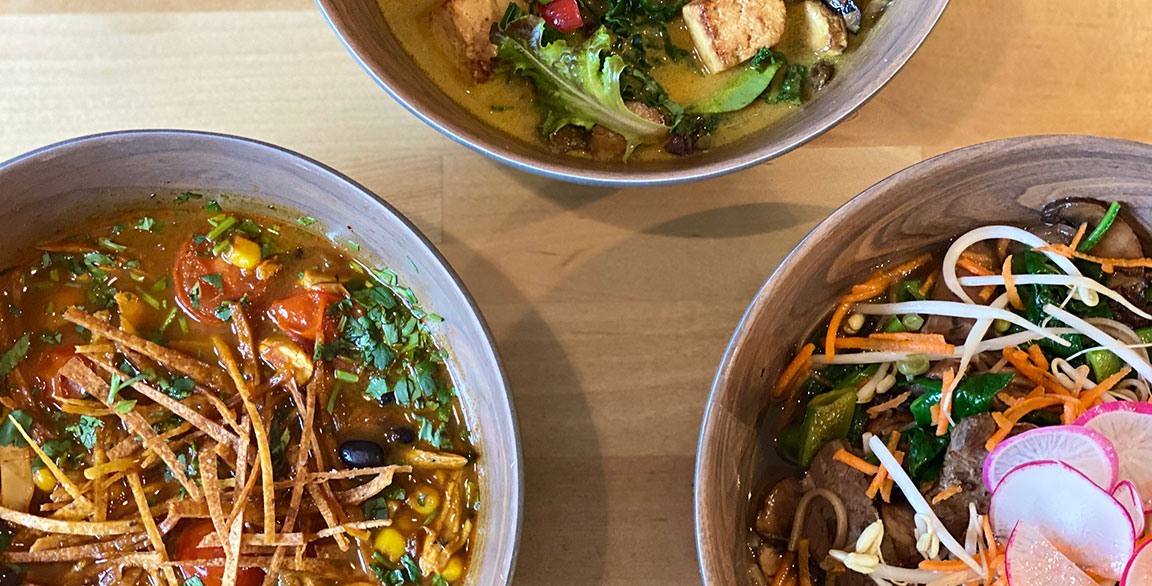 By Jarrett A. Rogers
November 3, 2021
Broth bowls are an emerging menu category, bridging the comfort of broth-based soups with that of familiar bowl builds. Trending global go-tos like ramen and pho are helping to drive interest and innovation here. Health-focused fast-casual concepts are leading the way in broth bowls, providing consumers a variety of builds and highlighting the signature opportunities in this unique crossover category.
Organic Krush Lifestyle Eatery, with eight units in Connecticut, New York and Virginia, offers diners three signature broth bowls: a vegan version with tofu, sugar snap peas, red onion, peppers, mesclun mix and kale, with turmeric, tahini and sesame oil making for creative flavor builders. Its Chicken Bone Broth Bowl is a build of roasted chicken, black beans, corn, tomatoes, onion and a mix of cayenne, paprika and cumin, finished with cilantro and tortilla strips. The Steak Bone Broth Bowl consists of grass-fed steak with sesame oil, mushrooms, sugar snap peas, spinach, radish, sprouts and carrots with brown rice noodles and tamari. Diners can customize their broth bowls with an assortment of add-ins ranging from pan-roasted salmon and grilled shrimp to seasonal greens and sautéed vegetables. Chile oil, apple cider vinegar and turmeric allow for unique flavor (or functional) boosts.
Farmington Hills, Mich.-based Zoup! Eatery offers three broth bowls among its menu of sandwiches, salads and grain bowls: two chicken bone-broth versions and one vegan broth offering. Its Spicy Chicken and Broccoli broth bowl is a hearty build of full-husk brown rice, chicken, roasted mushrooms, "fiery" broccoli, pickled carrots, roasted jalapeños, cilantro and a finishing drizzle of spicy Korean chile sauce. The Zesty Chicken and Lime sees ancient grains, Southwest pico de gallo, corn & black bean salsa, cilantro, tortilla strips and fresh lime. For the bowl, a savory vegan broth is the base of the Lemon Roasted Vegetable version, which features roasted chickpeas, ancient grains, greens, fiery broccoli, roasted mushrooms, pickled carrots, scallions and a lemon vinaigrette.
Warm Bowls make up a dedicated menu section at SoFresh, a multi-unit based in Tampa, Fla. Selections range from a warm breakfast bowl to global bowl builds and superfood bowls. The Broth Bowl is vegetarian, with carrots, corn, onions, zucchini noodles and a side of vegetable broth for the diner to pour over the bowl components. Customers can make this a heartier option by adding protein (garlic-herb chicken is recommended here). In the Design Your Own menu section, customers can build their own broth bowl, choosing from a variety of base ingredients including grains, greens, chopped cauliflower or zucchini noodles, then selecting three mix-ins to finish the build.
Syracuse, N.Y.-based Core Life Eatery offers both bone broth and vegetable broth bowls, in a range of unique builds. The Chicken Tortilla & Chipotle Chicken version includes grilled chicken, a purple rice blend, black beans, corn, spinach and roasted red peppers in a chipotle chicken broth. The bowl is topped with Cotija cheese, tortilla chips and cilantro. A Coconut Curry Chicken option consists of chicken bone broth, chicken, a purple rice blend, green curry, scallions, peppers and coconut milk. Beef broth forms the base for Core Life's Spicy Ginger Steak and Rice Noodle, featuring grass-fed tri-tip steak, spicy Thai rice noodles, shredded kale, spicy broccoli, carrots, scallions, ginger, sliced almonds, cilantro and Sriracha. Its Tomato Basil offering starts with vegetable broth, with the addition of cauliflower purée, cheddar and Parmesan cheeses, basil, tomatoes, olive oil and garlic. Customers can also order a steaming cup of broth for sipping.