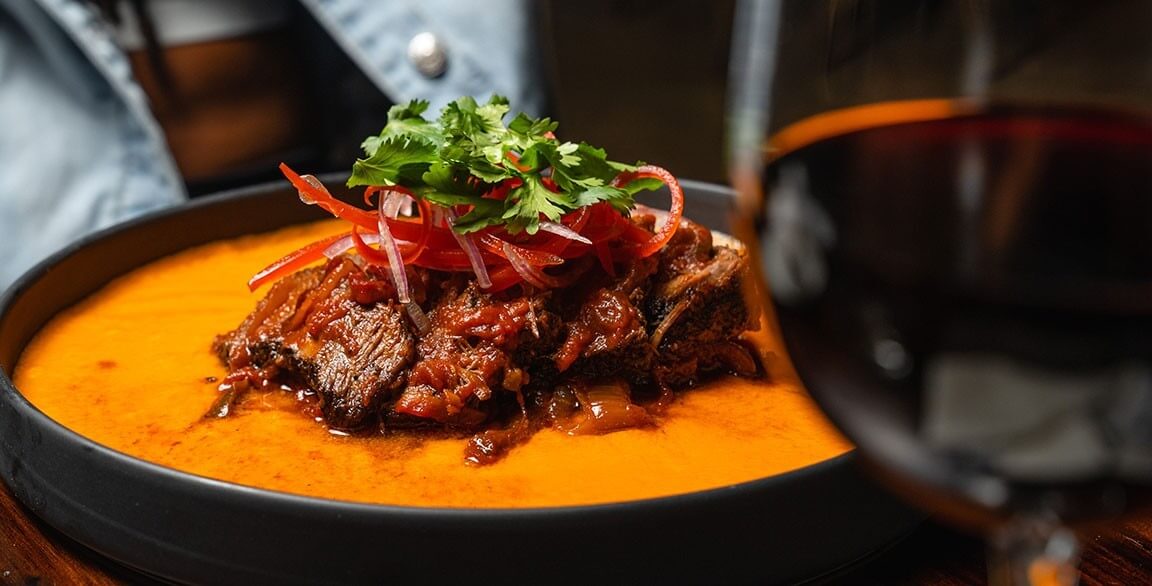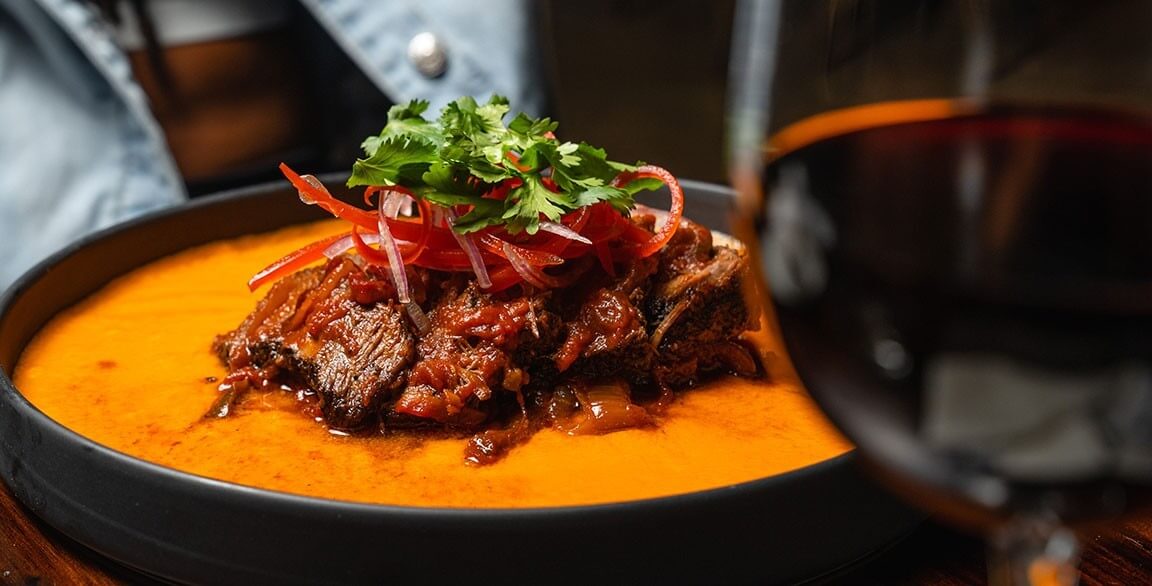 Today's diners are telling us that comfort food hits any time of year, but the change in seasons gives it different drivers. Nostalgia and emotional support still underpin the cravings, for sure, but warmth and heartiness take the lead in fall and winter. Bold flavors and global influences introduce differentiators in a competitive landscape. Here, we highlight four chefs who serve up soul-soothing comfort in creative ways, each anchoring their dishes with meat as the protein—a classic go-to for hearty contentment during colder months.
The Rye's the Limit
A Cubano with a deli sensibility gives an original spin to a meaty handheld without going too far outside of the sandwich comfort zone. At Kush Hialeah, an old-school deli from Kush Hospitality restaurant group, the playfully named Newman's Jewban riffs on the Cubano, incorporating deli fundamentals—a layer of signature hand-sliced corned beef, sauerkraut and Russian dressing—into the build. Executive Chef Leo Osorio adds pulled pork, Swiss cheese, pickles and yellow mustard, representing the Cubano side of the mash-up. Slices of grilled rye hold the layers together. "Miami is a bouillabaisse with all kinds of cultures and backgrounds," says Osorio. "This sandwich combines the best of Cuban and Jewish staple foods making it a standout menu item. It has been extremely well received among customers."
Pollo 'N' Three
Roberto Santibañez, Culinary Director and Co-Owner of Mi Vida Restaurante, a modern Mexican concept from KNEAD Hospitality + Design in the nation's capital, demonstrates the opportunity in elevating the beloved roast chicken with global influences. Mexico City neighborhood rotisseries are at the heart of cherished childhood memories for this chef. In high school, he and his friends would "pick up a roasted chicken, a plastic bag full of pickled jalapeños, a dozen tortillas wrapped in butcher's paper, a jar of mayonesa and a large bag of crispy potato chips" and have a delicious lunch. Today, this chilango (a native of Mexico City) honors his past in his culinary present by menuing the Pollo Chilango. Simple rotisserie-style roasted chicken paired with thoughtful accompaniments can send guests on an evocative flavor journey. Santibañez serves it with a trend-forward trio of sides: esquites (elote that is served off the cob), pickled vegetables (jalapeños, carrots, cauliflower, bay leaves, thyme, cloves and peppercorns) and a hot salsa roja (roasted tomatoes, garlic, onions and jalapeños). Together, they create a memorable bite, full of flavor and textural contrasts that balance well. "In one mouthful you get everything you need for a full culinary experience: salt, fat, acid, sweet, crunch and tender," says Santibañez.
Main Event
R House features a soulful menu that celebrates the unique food culture of Miami. Its menu reflects the bold and beautiful flavors found across Latin America, spun into new translations. Its Short Rib Ropa Vieja is a clever take on a comfort classic. Ropa vieja, which means 'shredded beef,' is traditionally made with flank steak or pot roast," says Executive Chef/Owner Rocco Carulli, whose Italian background informs his culinary technique throughout the menu. "This elevated version uses Certified Angus Beef short ribs." He braises the meat with Latin spices, onions, red peppers and tomato until it is incredibly tender. He then shreds it and serves the short ribs over a fiery red pepper sauce.
Morning Benediction
At TooJay's Deli, Bakery & Restaurant, Director of Operations Brett Carper is unreserved in his enthusiasm for the chain's Deli Benedict, a traditional favorite with a singular twist, and a great example of hearty breakfast/ brunch fare. "This is what breakfast dreams are made of," he says. It's a marriage of deli and breakfast favorites whose time has come. The dish incorporates a number of classic deli touchpoints. It starts with grilled rye bread that is covered with melted Swiss cheese and a fresh tomato. Next, the customer's choice of tender, sliced corned beef or pastrami is piled high, before being topped with two poached eggs, creamy hollandaise and a sprinkle of scallions. "By combining familiar flavors to develop an innovative dish, we create something for our guests to love. This is what keeps the deli tradition alive for generations," says Carper. As one of the concept's top breakfast items, it's definitely "worth waking up to," he says.