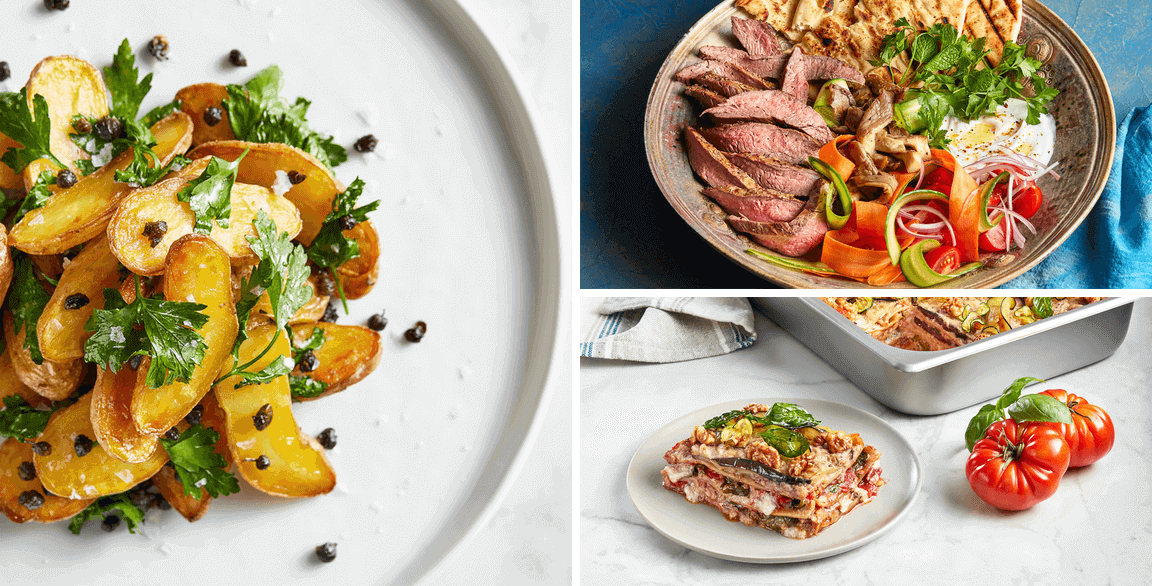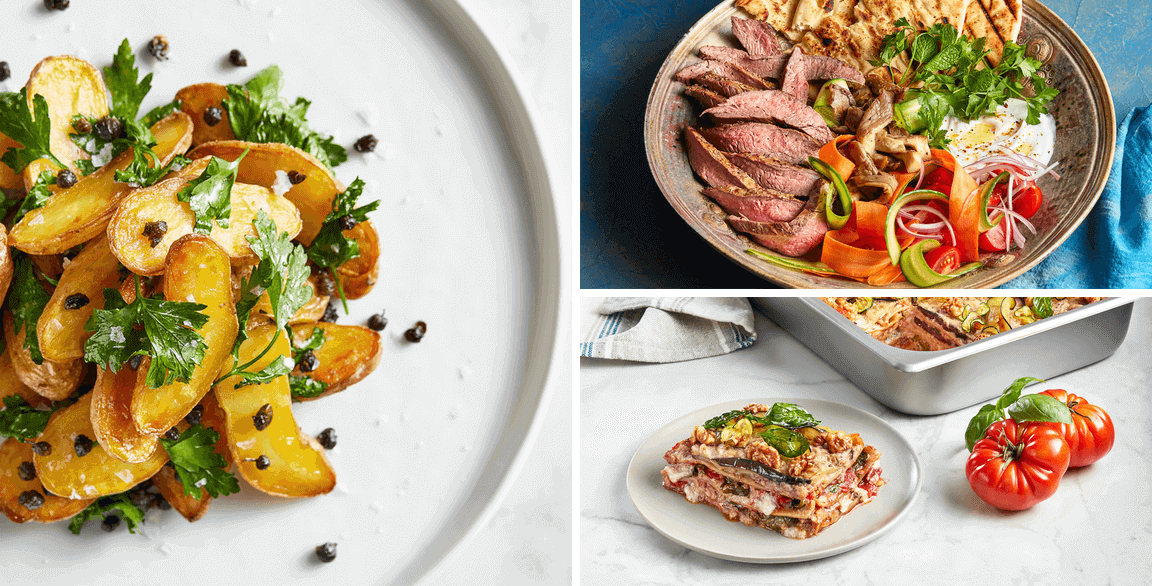 Kitchen Collaborative is a recipe-development initiative formed by Summit F&B and Flavor & The Menu. To fuel flavor innovation, a group of talented chefs partnered with sponsor brands and commodity boards to create recipes that showcase the passion and potential of our industry.
CHEF SPOTLIGHT: Molly McGrath
Molly McGrath, Head of Culinary at All Day Kitchens, a network of tech-enabled kitchens that partners with restaurant brands to execute their takeout and delivery orders, understands that some recipes are intended to be a quiet showcase of flavor subtleties, while others should turn up the volume and get "loud." There's a place on most menus for representatives of both ends of the spectrum.
In three recipes developed for Kitchen Collaborative—Schmaltz Roasted Idaho® Potatoes with Crispy Capers and Parsley, Vegan Boursin® and Eggplant Lasagna and Shawarma Spiced Flank Steak with Crispy Mushrooms—McGrath demonstrates how culinary craftsmanship and a deft application of flavor fundamentals can deliver the perfect levels to give customers memorable "sound bites."
Schmaltz Roasted Idaho® Potatoes with Crispy Capers and Parsley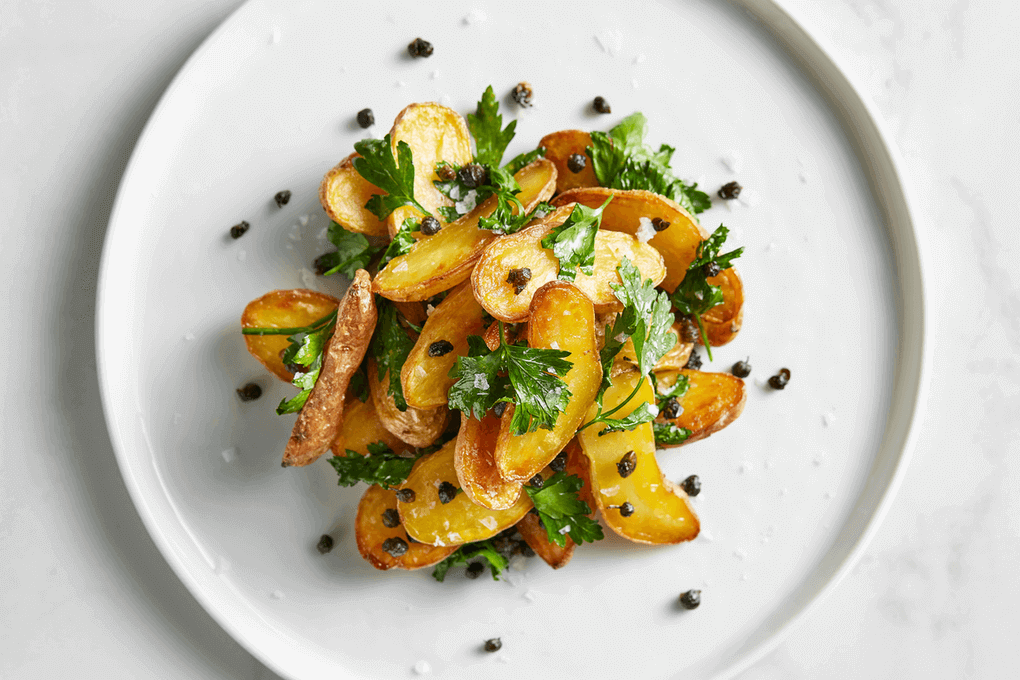 Photo: Carlos Garcia // Food Styling: Peg Blackley & Bree Williams
McGrath has high praise for the grower or marketing exec who gave Idaho® Russian Banana Potatoes their evocative name: "These potatoes first grabbed my attention on a produce guide; whoever named them is a true marketing genius!" But their attraction for McGrath runs much deeper than a clever moniker. "I love their buttery flavor and firm, waxy flesh. I think they are particularly nice for applications where they are cut crosswise, because they will maintain perfect rounds to garnish a salad or float in soup," she says.
But it's another characteristic of these potatoes that inspired her Schmaltz Roasted Idaho® Potatoes with Crispy Capers and Parsley recipe. "Fingerling-style potatoes are my absolute favorite for roasting, because the entire surface area becomes golden and crispy in proportion," notes McGrath, who doesn't hold back in leveraging this advantage.
"Overall, this dish is loud. There's not a ton of subtlety here, and that's by design," she says. "The potatoes are roasted until crispy, the schmaltz is indulgent and deeply flavored. The capers are edging on aggressive and the parsley counterbalances everything with a peppery assertiveness. Acid from a lemon is bright enough to bring it all together." McGrath confesses that the recipe initially included watercress, but she decided she needed to "tone it down."
Her choice to coat the potatoes in schmaltz was based in practicality. "The dish was developed in conjunction with some skin-on roasted thighs, so the schmaltz was a byproduct I was determined not to waste," she explains. "Crispy skin is my favorite part of any high-quality chicken, so I'm always looking for ways to leverage both its flavor and texture. Freshly made schmaltz does both." And it's certain to ratchet up the crave factor of this dish.
Vegan Boursin® and Eggplant Lasagna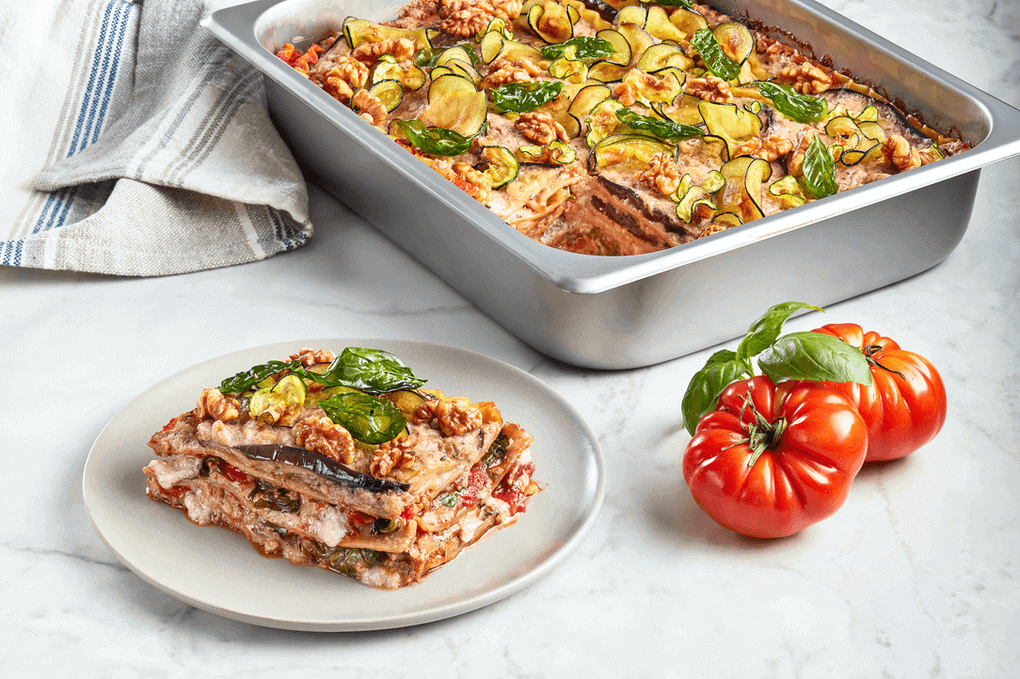 Photo: Carlos Garcia // Food Styling: Peg Blackley & Bree Williams
"I think vegan is having a moment in the best possible way—it's losing a bit of the flavor stigma it had among some eaters and is becoming more mainstream, especially as it's associated with individual foods and meals, rather than a total lifestyle overhaul," says McGrath. She cites her Vegan Boursin® and Eggplant Lasagna as an example. "I wouldn't say this dish is meant to convert anyone. It's just meant to be delicious and satisfying in its own right. The fact that it's an option for people who are choosing vegan for the meal, the day or forever is an added bonus."
Critical to the goal of creating vegan dishes that burst with flavor appeal are products and ingredients that perform to exacting culinary standards. "I was really excited to see how well the herbed Boursin® Dairy-Free cheese spread performed when baked," she says. "Because one of the few things that's better than flavorful, creamy cheese is warm flavorful, creamy cheese."
McGrath opts to add pulsed walnuts and garlic to the cheese spread before layering it into the lasagna. "To me, walnuts are always a 'sleep hit' ingredient," she explains. "They have such a wonderful flavor—mild, yet slightly sweet and satisfying. Also they retain some texture, even after being pulsed and baked. This lends an extra level of healthy fats and proteins, making this a really indulgent, but well-rounded dish."
Shawarma Spiced Flank Steak with Crispy Mushrooms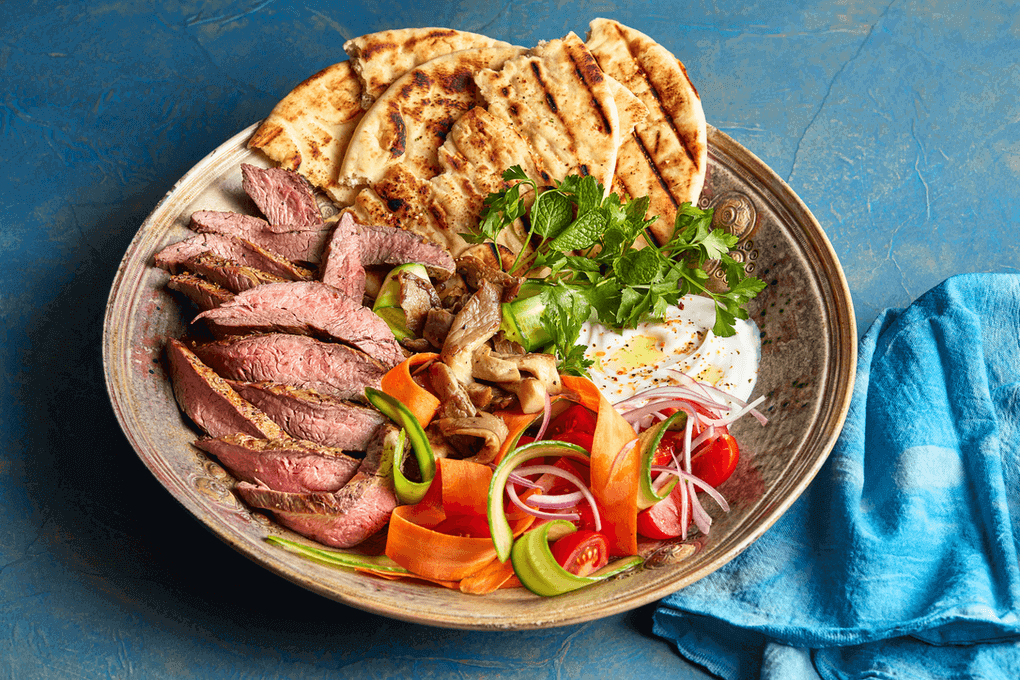 Photo: Carlos Garcia // Food Styling: Peg Blackley & Bree Williams
Flank steak conjures a series of associations for McGrath, with each thread leading to the same destination: this aromatic, flavorful Shawarma Spiced Flank Steak with Crispy Mushrooms. "Flank steak makes me think of cooking on open flames, and that's part of what brought the shawarma inspiration to this dish," she says. "Also, because flank is such a lean cut of beef, it lends well to being thinly sliced, again reminiscent of shawarma. Finally, because it is so flavorful, it really complements the blend of spices used in a shawarma-inspired mix."
McGrath's preparation of the True Aussie flank steak is simple, but redolent with signature Middle Eastern notes. She combines cumin, coriander and paprika, spreading it and olive oil on either side of the steak and allowing it to marinate for up to 12 hours. Separately, McGrath mixes oyster mushrooms and a thinly sliced red onion, coating the vegetables in olive oil and the remaining spice blend before broiling them to a crispy texture. The grilled steak is sliced, topped with the mushrooms and served with warm pitas, labneh, tomatoes and fresh cilantro, allowing guests to prepare their own shawarma pitas.
"Oyster mushrooms are great for this dish, because when they are roasted, their texture is reminiscent of the sliced proteins used in shawarma dishes," says McGrath. "Also, unlike a button or portobello mushroom with their higher water content, oysters will stay nice and roasty—and even crisp on the edges."
Project Management: Summit F&B
Photography: Carlos Garcia // Food Styling: Peg Blackley & Bree Williams