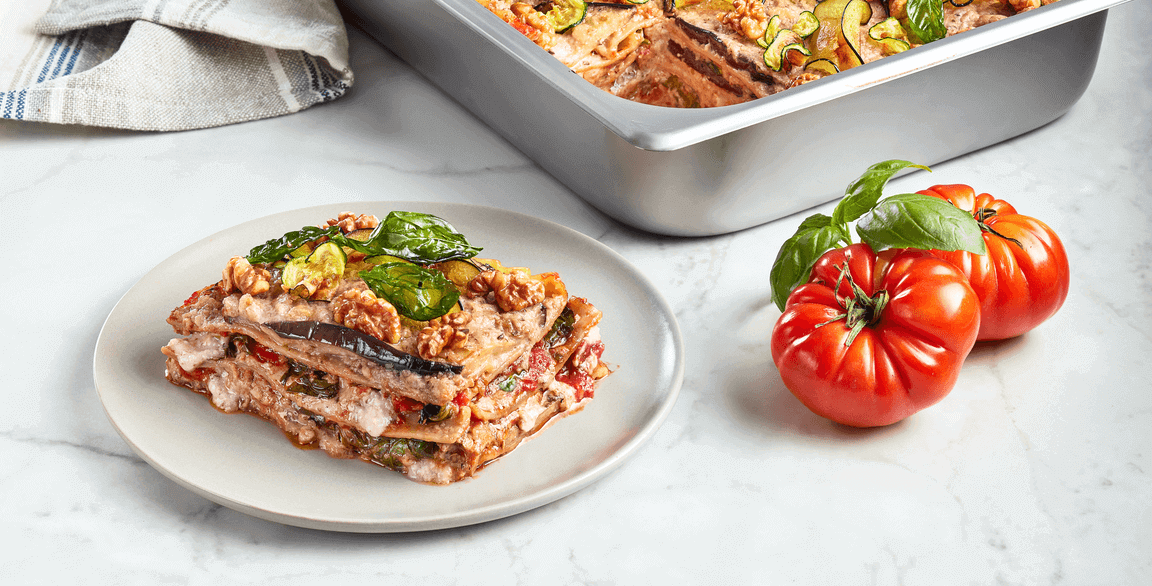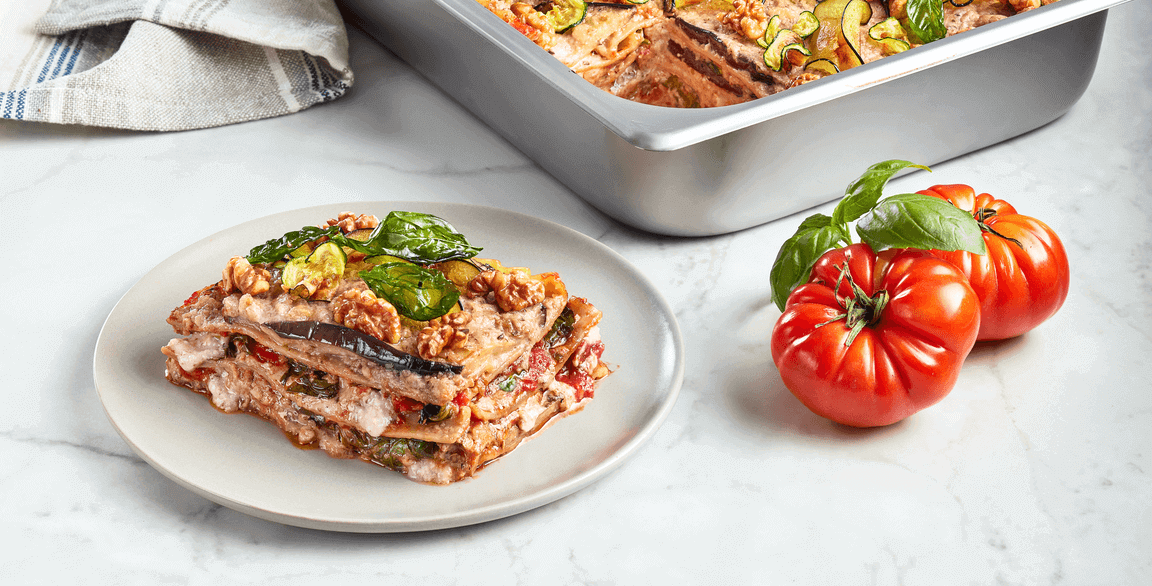 Vegan Boursin® and Eggplant Lasagna
Recipe courtesy of Chef Molly McGrath
Sponsor: Bel Brands USA
Servings: 16
Ingredients
3 lbs globe eggplant
½ c olive oil
Salt, as needed
2 c walnut halves
2 large cloves garlic, peeled
24 oz Boursin® Dairy-Free Cheese Spread Alternative, Garlic & Herbs
16 lasagna noodles, cooked
2 c traditional marinara
6 oz baby spinach
Directions
Slice each eggplant lengthwise into 4 to 6 slices and toss in the olive oil. Lay in a single layer on sheet trays and salt lightly. Roast eggplant at 425 degrees F until tender and lightly browned. Remove and cool.
Place walnut halves and garlic cloves in a food processor and pulse until walnuts are coarsely chopped. Add the Boursin Dairy-Free and pulse until well blended but not completely smooth. Walnuts should retain some texture.
Spread 1 cup of the marinara sauce in the bottom of a half hotel pan. Top with 4 cooked lasagna noodles. Place ⅓ of the eggplant slices over the noodles and top with ⅓ of the Boursin mix, spread in a single layer. Top this with 3 ounces of spinach and ½ cup marinara. Repeat this layer one more time. Finish lasagna with a final layer of eggplant, noodles and remaining third of the Boursin mix. Spread the final layer of Boursin completely over the noodles so that all pasta is covered.
Bake lasagna at 350 degrees F for 45 to 60 minutes or until filling is bubbling at edges. Allow it to cool and set slightly before serving.
Project Management: Summit F&B
Photography: Carlos Garcia // Food Styling: Peg Blackley & Bree Williams