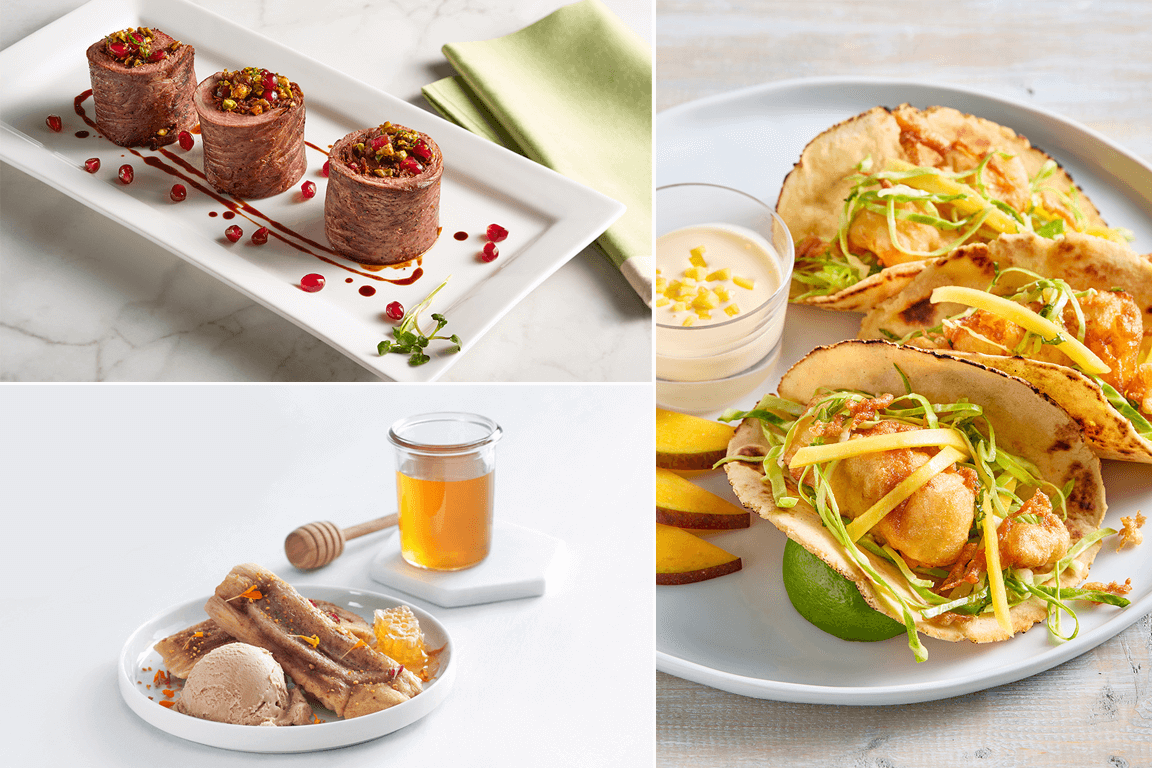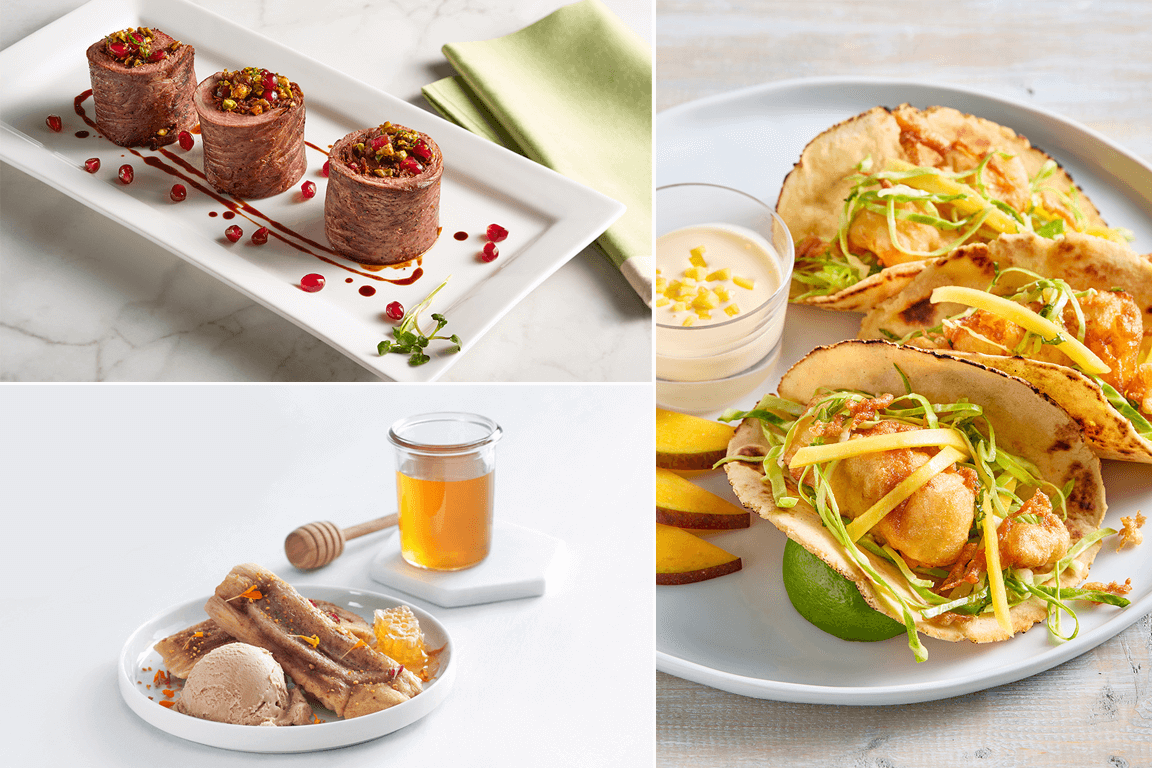 Kitchen Collaborative is a recipe-development initiative formed by Summit F&B and Flavor & The Menu. To fuel flavor innovation, a group of talented chefs partnered with sponsor brands and commodity boards to create recipes that showcase the passion and potential of our industry.
"One of the things I enjoy most as a chef is pushing the envelope and breaking away from the norm," says John Baez, Executive Chef, Border Grill. "I often remind my team that normal and routine are boring. You need to do something that sets your dish apart from the other guy down the road. Ask yourself, 'What is unique about this dish? What makes it exclusive?'"
Baez answers his own questions with Kitchen Collaborative recipes that take full advantage of the flavor attributes of each spotlight ingredient. His Mini Australian Lamb Roulades present the protein in multiple forms, including a barbacoa, "power" demi and mole negro. Tamales del Rey/Honeycomb Banana Tamales feature honey in four components of the dish. In the Mango Halibut Tacos, the fruit is centered in all five elements of the build.
"My approach was to use each spotlighted ingredient as the foundation of the dish, much like you would use concrete in building a structure," says Baez. "In the same way that you would meld concrete with glass, wood, plastic and other materials, I tried to do the same with the featured ingredient, combining it with other items, flavors, textures and techniques. That achieves a flavor balance and textural contrast."
Mini Australian Lamb Roulades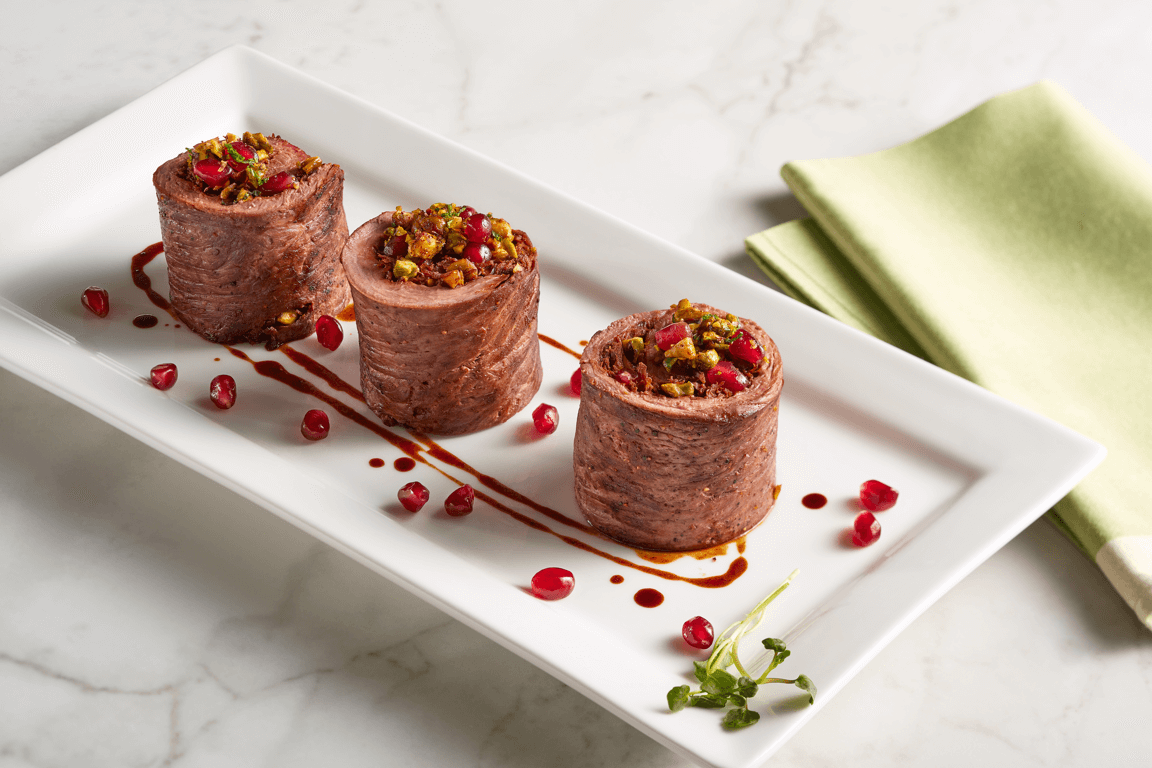 Photo: Carlos Garcia // Food Styling: Peg Blackley
Baez goes all in on lamb's distinctive flavor, practically daring others to call his bet, because he's certainly not bluffing with these Mini Australian Lamb Roulades, which feature smoked lamb barbacoa, lamb mole negro and a lamb power demi. "Roulades may be considered a bit old-fashioned, but I've always enjoyed both eating and creating them," he says. "It's as if there is a bit of a hidden surprise in them that rekindles the excitement and curiosity of childhood, when we opened up the cereal box looking for the prize."
He begins by slow cooking lamb shoulder in a smoker with peppers, vegetables and an herb sachet to develop the shredded barbacoa. The braising liquid is used to create a lamb stock, which, in turn, is used to produce both the lamb power demi and lamb mole negro. Another lamb shoulder is pounded thin to wrap a mixture of the barbacoa, mole negro and a pistachio-pomegranate gremolata, forming the roulade. At service, slices are topped with more gremolata and a drizzle of the lamb power demi.
The gremolata features rough-chopped pistachios, chipotle powder, agave nectar and mint, plus pomegranate molasses and seeds—and, yes, more of the lamb power demi. "Gremolata has always been one of my go-to preparations," says Baez. "I once had a lamb dish accompanied by mint-pistachio pesto, which was so delicious that the lamb-pistachio combination has stayed with me ever since." A long-time admirer of pomegranate, he's glad to see it getting its due with greater exposure today. "It has a perfect balance of bold sweet and tart flavors that stand up so well to the lamb. And when adding the seeds, it introduces a textural element that is similar to caviar, tobiko or food pearls," he explains.
When working with lamb, Baez seeks to introduce strong, bold flavors that can "smooth" the gaminess of the meat. The flavor journey is one he strives to bring to most dishes: "A balance of spice, tartness and sweetness, with a little smokiness for good measure." In a bite, the tartness from the pomegranate and citrus zest in the gremolata activates the taste buds. "As you chew, you begin to taste the sweetness from the agave nectar, as well as the pomegranate doing double duty. As you swallow, you will catch a touch of heat from the peppers in the mole, but you should have noticed the smokiness weaving in and out from the first bite to the aftertaste."
Tamales del Rey/Honeycomb Banana Tamales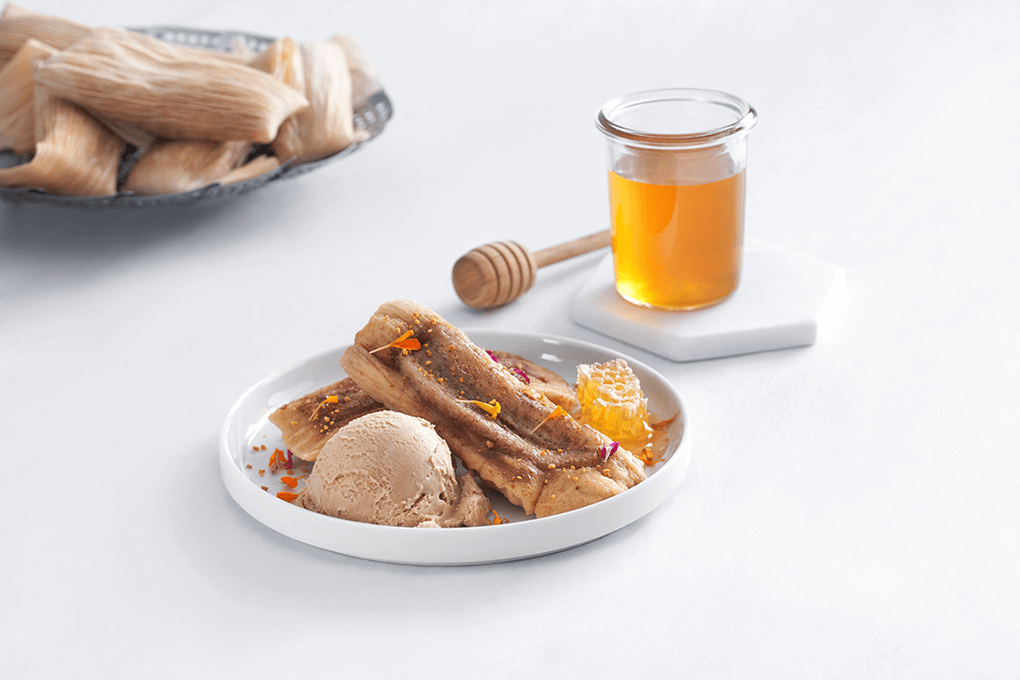 Photo: National Honey Board
Sweet tamales for dessert are not a wholly original concept, but most diners are likely to find them unconventional. "The goal I had in mind was to flip the script," says Baez. "Creating a bit of excitement in a dish is just as important to its success as its ingredients and flavors." After vacillating between the tamale and an empanada, Baez settled on Tamales del Rey/Honeycomb Banana Tamales as the ideal vehicle to deliver the flavors, textures and overall composition he had in mind.
That concept is an homage to Elvis Presley, says Baez, giving a nod to the singer's well-known affinity for banana-and-peanut butter sandwiches. "I had a version of this sandwich with honey added to it and drew on that experience for inspiration," he explains. Baez fills tamales with a thin layer of masa made with honey and bee pollen, followed by caramelized bananas (also made with honey) and honeycomb. He folds the tamales to enclose the ingredients in a sealed pocket and cooks them in a steam bath. For service, the tamales are unwrapped, sliced and paired with a scoop of honey peanut butter ice cream and a garnish of more honeycomb, bee pollen or bee-pollinated edible flower petals. "Being based in Las Vegas, where 'The King' reigned supreme, it seemed like a perfect fit, as Tamales del Rey translates as 'The King's Tamales.'"
The dish features several textural contrasts from the husk, the honeycomb, the ice cream and the bananas. "Texture is every bit as important as flavor when creating a dish," says Baez. "Food should be a complete sensory experience: taste/flavor, smell/aroma, sight/presentation, the sound when you take a bite and chew, the feel of the food in your mouth."
While Baez used locally sourced honey and bee pollen, he encourages flavor play with different varietals. A few years ago, presentations from the National Honey Board made a powerful impact. "It really opened my mind to what an incredibly complex ingredient honey is, and I want to learn more about how the different flowers that a bee pollinates can influence the flavor in honey," he says. Working with bee pollen was a new experience. "I found grinding it into a fine powder was the most practical way to infuse its subtle flavor into a recipe. I would recommend incorporating it into a moist or wet component of a dish."
Mango Halibut Tacos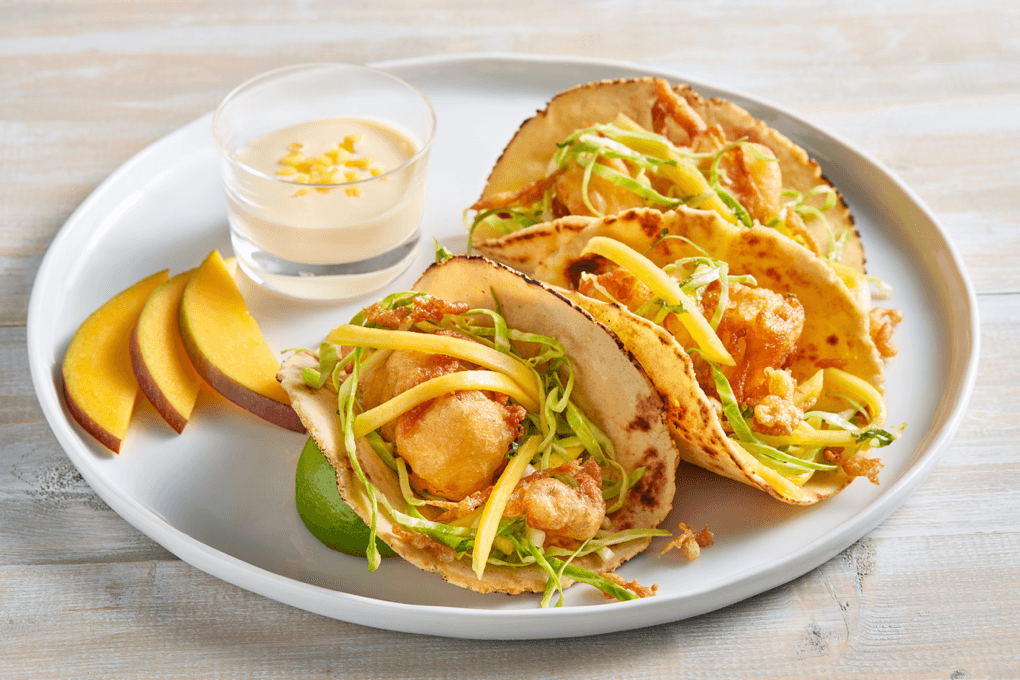 Photo: Carlos Garcia // Food Styling: Peg Blackley
Mango has gone mainstream, declares Baez. No longer reserved primarily for the culinary curious, the fruit has enjoyed "skyrocketing popularity across all demographics and cuisines," he says. Baez makes full use of mango's fervent embrace by diners in his Mango Halibut Tacos, which feature the sweet distinctive flavor all across the build. The halibut is coated with a mango beer batter and dropped into a deep fryer. It's tucked into mango corn tortillas, along with a mango-pineapple slaw dressed with mango-lime vinaigrette. The dish is finished with a drizzle of mango-ginger aioli.
Puréed mango is the go-to format that delivers the flavor to the different components. "Puréeing some fruit in combination with another liquid, such as beer, juice or even water, makes it possible to infuse the fruit's flavor and texture into almost any application," explains Baez. "It creates a unique vehicle to focus on whatever fruit you want, in this case mango, for myriad possible combinations with other ingredients."
The recipe will work with any flaky, mild whitefish, says Baez, pointing to pollock, cod and tilapia as contenders. "I opted for the halibut, as it has always been one of my favorite fish both to eat and to work with."
Project Management: Summit F&B
Photography: Carlos Garcia // Food Styling: Peg Blackley