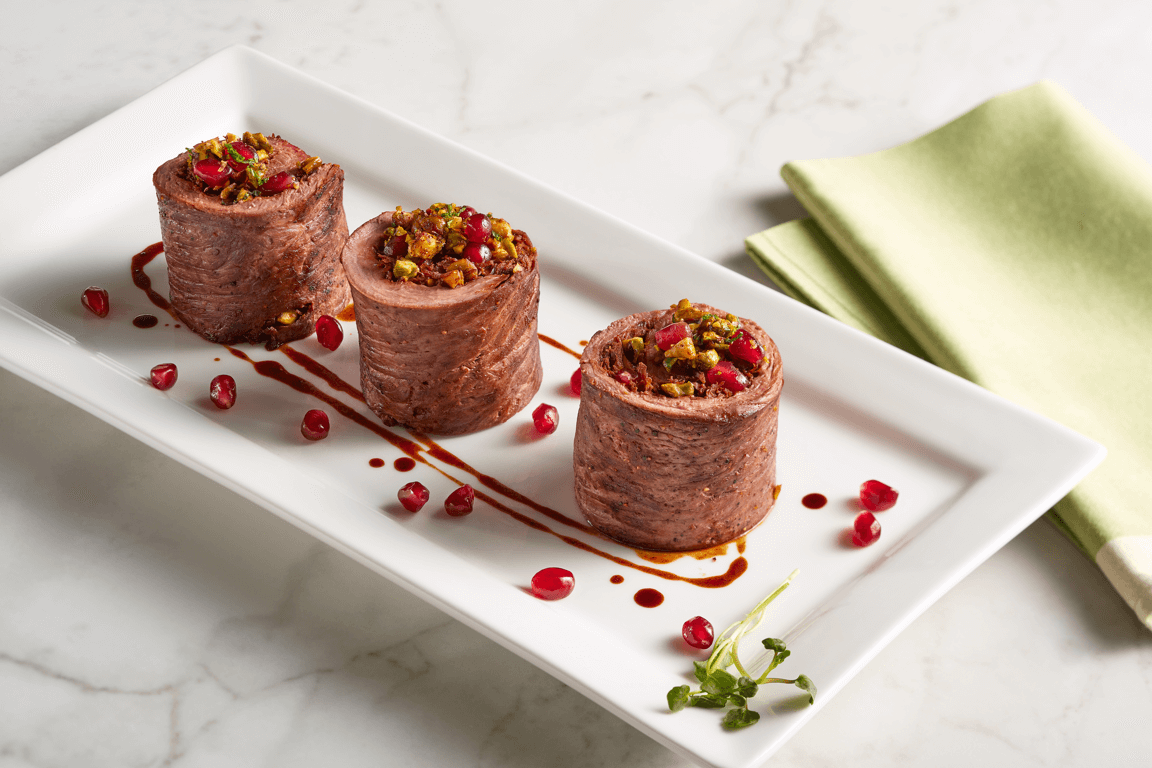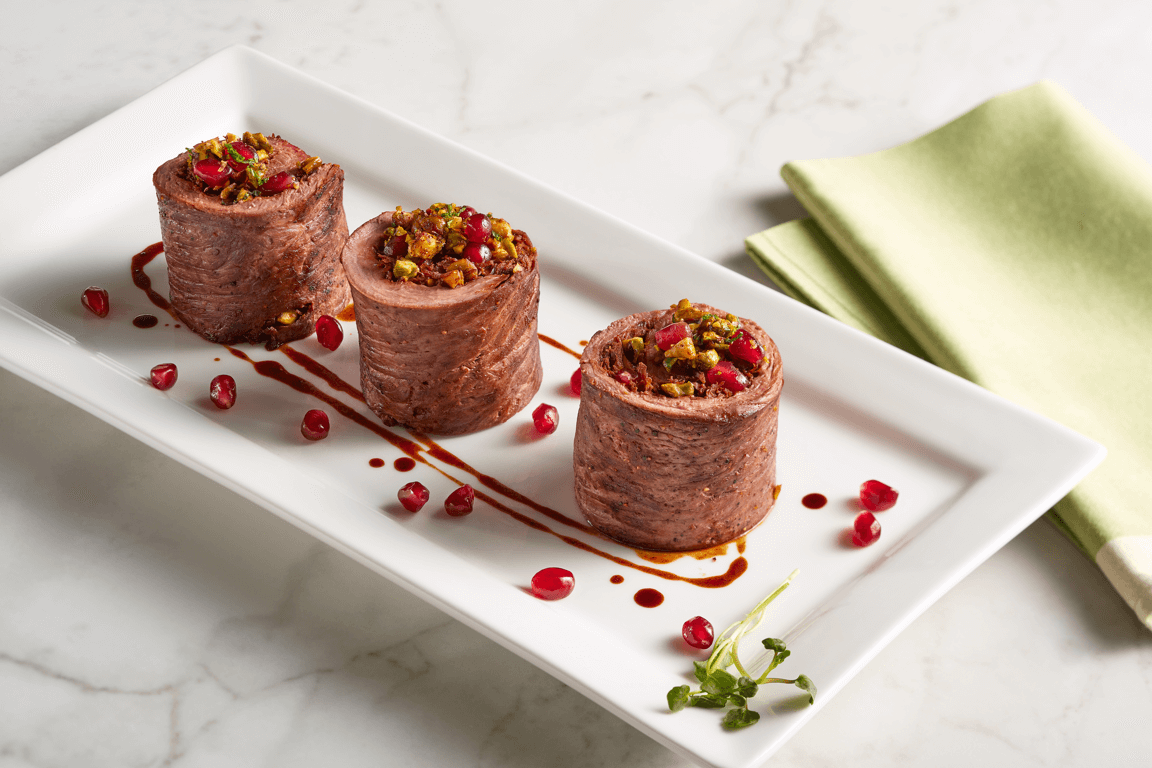 Mini Australian Lamb Roulades
Recipe courtesy of John Baez
Sponsor: Aussie Beef & Lamb
Servings: 1
Ingredients
Lamb Stock (Yield 5 gal):
10 lb carrots, rough chopped
10 lb celery, rough chopped
10 lb onions, rough chopped
3 lb tomato paste
40 lb Australian lamb bones
2 qt white wine
10 gal water
Lamb Power Demi (Yield 2 gal):
3 gal lamb braising liquid
3 gal Lamb Stock
Lamb Mole Negro (Yield 3 qt):
4 Roma tomatoes
10 tomatillos (husk removed)
6 garlic cloves
1 white onion, rough chopped
8 oz dried chile negro (seed/stem removed)
5 dried chile de arbol
Lard, as needed
½ c white sesame seeds
2 c pistachios
½ c golden raisins
½ tsp ground cloves
¼ tsp ground cinnamon
2 tsp ground cumin
½ tsp ground allspice
20 black peppercorns
1 tsp dry thyme
3 Tbsp dry Mexican oregano
2 qt Lamb Stock
3 oz pomegranate molasses
3 oz Mexican chocolate (Abuelita brand)
4 oz brown sugar
Kosher salt, as needed
Ground black pepper, as needed
Smoked Australian Lamb Barbacoa:
20 lb Australian lamb shoulder
3 gal Lamb Stock
8 oz apple cider vinegar
8 oz lime juice
12 bay leaves
3 bu cilantro
2 oz fresh oregano
2 oz whole black peppercorns
1 oz whole cloves
7 dried chipotle peppers
10 dried chile de arbol peppers
4 oz garlic
4 onions, rough chopped
Pistachio-Pomegranate Gremolata:
10 oz toasted pistachios
¼ tsp chipotle powder
3 oz agave nectar
1 ½ oz pomegranate molasses
2 oz Lamb Power Demi
4 Tbsp fresh mint chiffonade
2 Tbsp pomegranate seeds
Salt and pepper, as needed
Lamb Roulades (per serving):
4 oz Australian lamb shoulder
Salt and pepper, as needed
3 oz Smoked Australian Lamb Barbacoa
3 oz Pistachio-Pomegranate Gremolata
2 oz Lamb Mole Negro
2 oz Lamb Power Demi
Directions
For the Lamb Stock:
Combine carrots, celery and onions in a large bowl.
Add half of the tomato paste and toss by hand to spread tomato paste throughout mixture, coating as much of the vegetables as possible.
Rinse lamb bones, then toss with remaining tomato paste, ensuring that all bones are coated with tomato paste.
Mix bones and vegetables together, then place on sheet pans and roast at 350°F until vegetables have begun to caramelize.
Once vegetables have begun to caramelize, remove from oven and place in a large stock pot. Add wine and water and bring to a boil.
Allow to boil for 5 to 10 minutes, then reduce to a slow simmer and allow to continue in this fashion until liquid has reduced by almost half.
Remove pot from flame and strain first through a china cap to remove larger debris, then re-strain through a fine mesh chinois lined with cheesecloth to remove all debris, reserve. Refrigerate.
For the Lamb Power Demi:
Combine both liquids in a large pot and bring to a boil for 5 minutes.
Reduce to a simmer and allow to cook this way until reduced by 2/3 or until liquid almost coats the back of a spoon.
Strain through a fine mesh chinois and reserve, refrigerated.
For the Lamb Mole Negro:
Roast tomatoes, tomatillos, garlic and onion on a grill or in the salamander until completely charred. Remove, puree and reserve. Do not strain.
Toast dried chiles in oven or salamander just slightly. Remove and reserve.
In a sauté pan, melt lard then add sesame seeds. Toast until golden brown; remove and reserve. Repeat with pistachios.
In a sauté pan, melt lard then add raisins and sauté until raisins begin to puff up. Remove and reserve.
In a separate sauté pan, toast cloves, cinnamon, cumin, allspice, peppercorns, thyme and oregano together until fragrant. Remove and reserve.
Add stock to a pot and bring to a boil, then reduce to a simmer and hold hot.
In a separate pot, add dry toasted chiles and enough of the hot stock to cover them. Simmer to re-hydrate them, then add chiles and re-hydrating liquid to a blender and puree on high until completely smooth. Strain through a fine mesh chinois and reserve.
Place toasted sesame seeds, pistachios, raisins and spices in a blender and add lamb stock.
Purée on high until completely smooth, adding more stock if mixture is not blending well enough or blender is not turning. Remove from blender; do not strain.
In a large sauce pot or rondeaux, combine puréed vegetables, puréed sesame seed/spice mixture and remaining stock.
Bring to a boil, then reduce to a simmer and stir often to prevent ingredients from sticking to the bottom of the pot and burning.
Once sauce begins to thicken, add chocolate, pomegranate molasses and sugar. Continue stirring and simmering.
Finish with salt and pepper; remove from heat. Reserve and refrigerate.
For the Smoked Lamb Barbacoa:
Clean excess fat and as much silver skin as possible off of lamb shoulder.
Place cleaned lamb shoulder (leave bone-in) in a large rondeaux or deep full-size hotel pan. Pour stock, vinegar and lime juice over the lamb shoulder.
Wrap bay leaves, herbs and spices together in cheesecloth, then tie shut.
Add peppers, vegetables and herb sachet to lamb and stir to combine everything.
Place rondeaux or hotel pan in smoker at 300°F uncovered and cook for 4 to 8 hours, or until lamb shoulder is fully cooked and fork tender.
Remove lamb shoulder from liquid, debone, and then shred by hand; reserve.
Strain liquid through a china cap first, then re-strain through a chinois. Refrigerate.
For the Pistachio-Pomegranate Gremolata:
Rough chop pistachios by hand with a knife or place in food processor and pulse until coarsely chopped.
Place pistachios in a mixing bowl and add chipotle powder, then mix well together.
Add agave nectar, pomegranate molasses and demi and mix together.
Add mint along with pomegranate seeds and mix together.
Finish with salt and pepper to taste and reserve.
For the Lamb Roulades (per serving):
Clean lamb shoulder of as much silver skin, excess fat and connective tissue as possible, then lay it on a clean flat surface.
Season both sides with salt and pepper, then pound out lamb until nice and thin (paillard style) using a meat mallet.
In a separate mixing bowl, add barbacoa, mole negro and half of the pistachio gremolata and mix together.
Place barbacoa mixture in a tightly packed line along the bottom edge of the pounded lamb shoulder from one end to the other.
Begin rolling the lamb up, working from the end with the stuffing on it towards the end with no stuffing. If the lamb overlaps itself a bit, that is perfectly fine.
Once the lamb is rolled up, transfer to a sheet of plastic wrap and roll the roulade up in the plastic, then twist the end of the plastic until all air escapes and the plastic tightens enough around the roulade to give it a defined cylindrical shape.
Place tightly wrapped lamb roulade in refrigerator and allow it to set for at least a couple of hours.
Remove from plastic wrapping and sear on high heat on the flattop or a pan, then transfer to oven until it reaches an internal temperature of 130-135°F (mid-rare to medium).
Remove from oven and allow to rest for a minute or two, then slice into 1 ½- to 2-in pieces. Slices should be straight up and down, not on a bias or angle.
Turn each slice onto its side where one cut edge is resting on the plate and the other cut edge is facing up. Split remaining gremolata mixture up and top each piece of the lamb roulade with it.
Drizzle lamb power demi over the plate. Enjoy!
Chef Notes
Mole: Only strain pureed chiles, nothing else. If sauce is too thick, adjust consistency with more lamb stock.
Stock: Do not allow stock to boil for too long or stock may become cloudy or infused with impurities.
Demi: Do not boil for too long as this will allow the impurities' flavors to infuse into the sauce.
Gremolata: Do not over chop the pistachios. Ideally you still want some chunks, albeit smaller ones to emphasize the texture.
Roulades: Before pounding out lamb with the mallet, place a sheet of plastic wrap under lamb and then another piece over the top. This will act as a bit of a shield against the mallet and prevent possible tearing of the lamb.
To help ensure that the lamb stays rolled up, you can use some transglutiminase (meat/protein glue). Simply sprinkle it over the pounded-out lamb before placing the filling inside. Spread it around the entire surface of the lamb before rolling it up.
Project Management: Summit F&B
Photography: Carlos Garcia // Food Styling: Peg Blackley