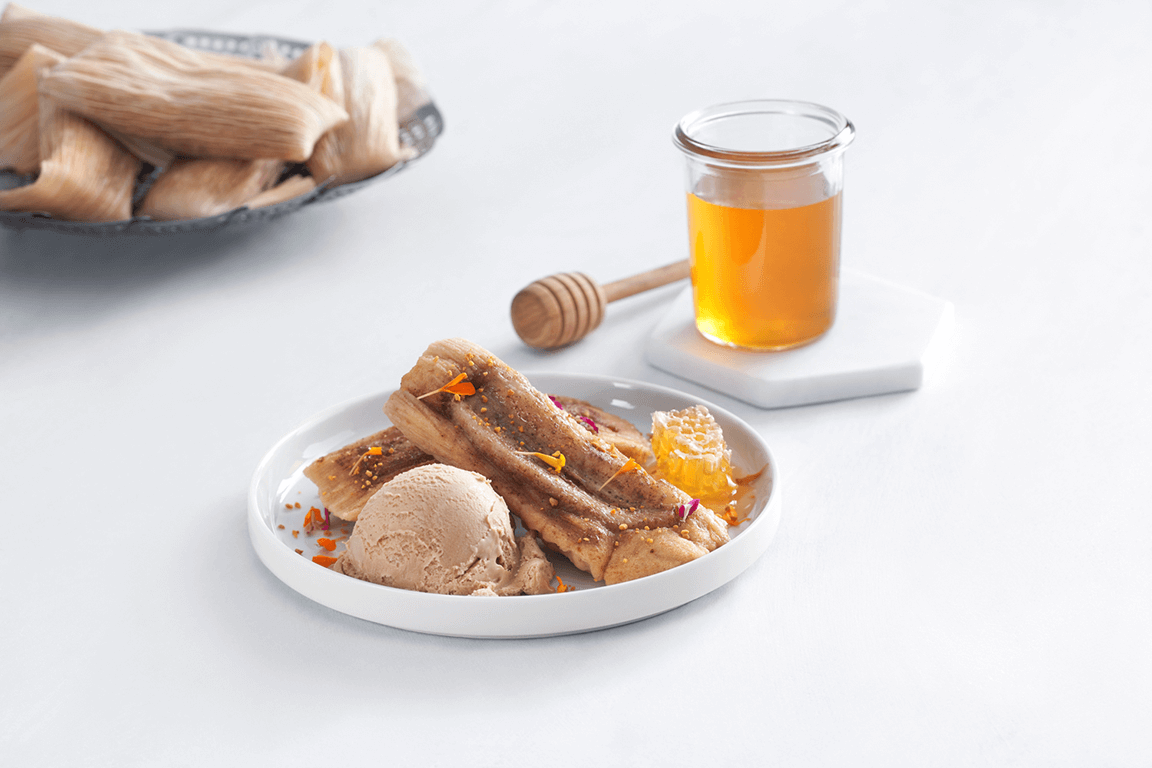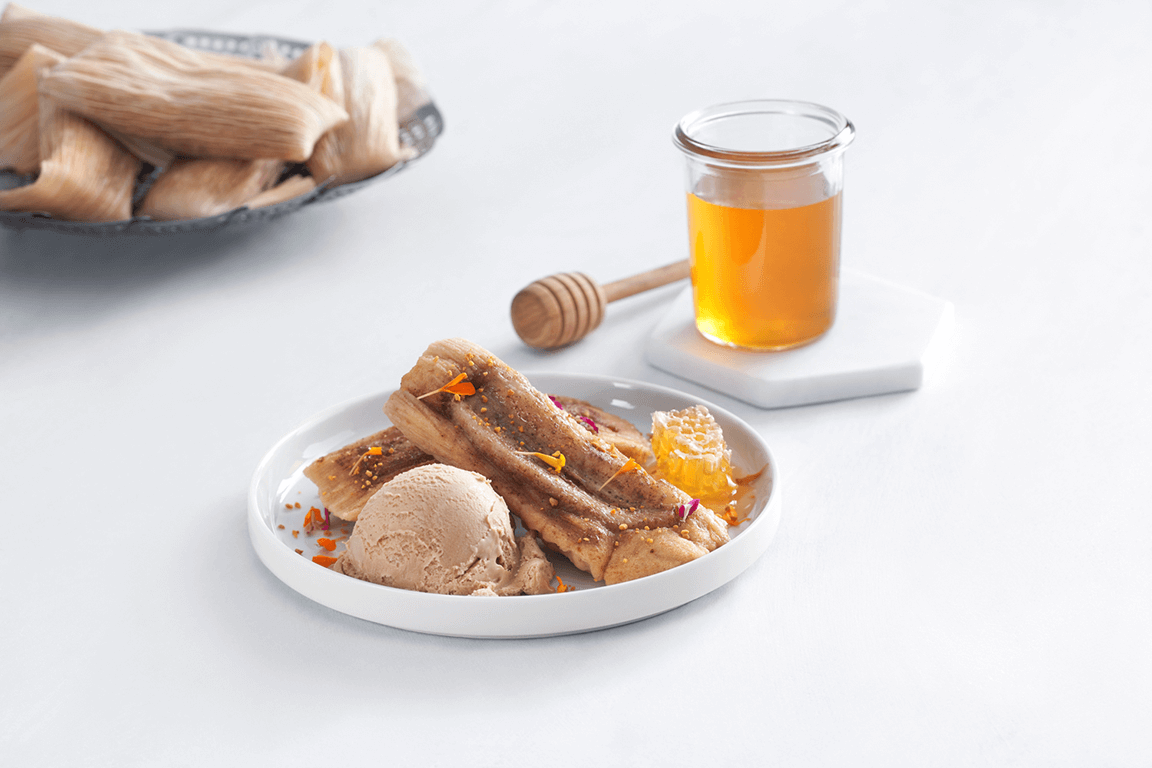 Tamales del Rey/Honeycomb Banana Tamales
Recipe courtesy of John Baez
Sponsor: National Honey Board
Servings: 12
Ingredients
Honey Peanut Butter Ice Cream (makes 10 to 12 portions):
1 gal heavy cream
½ gal milk
4 lb granulated sugar
4 oz honey
16 egg yolks
3 c creamy peanut butter

Honey Pollen Tamale Masa (makes 12 to 15 portions):
1 lb Maseca
½ c Mojave Desert bee pollen, ground
¼ tsp baking soda
1 1/3 Tbsp baking powder
½ c honey
½ lb unsalted butter, room temperature
1 ½ c sweetened condensed milk
Caramelized Bananas (makes 10 to 12 portions):
½ lb unsalted butter, room temp
½ lb light brown sugar
½ c honey
1 Tbsp ground cinnamon
1 tsp ground cloves
½ c dark rum
6 bananas, halved and split down the middle
Honeycomb-Banana Tamales (per serving):
2 corn husks
3 oz Honey Pollen Tamale Masa
3 oz Caramelized Bananas
3 oz honeycomb
Warm water, as needed
Bee pollen, honeycomb, edible flowers for garnish, as needed
Directions

For the Honey Peanut Butter Ice Cream:
In a medium saucepot, combine cream, milk, sugar and honey, bring to a boil.
Once sugar is completely dissolved, remove from heat.
Place egg yolks in a mixing bowl and temper the milk/cream mixture into the eggs. Once eggs are fully tempered and mixed in with milk/cream mix, add them back to the pot containing the original mixture. Cool completely and then strain through fine-mesh chinois.
Add peanut butter to strained mixture, then add to ice cream machine.
Churn for 20 to 30 minutes, then extract, store in a freezer-safe container and reserve.
For the Honey Pollen Tamale Masa:
In a stand mixer bowl, combine maseca, ground bee pollen, baking soda and baking powder, blend together with paddle attachment.
Add in honey, butter and condensed milk and continue to mix at medium speed until ingredients are thoroughly combined.
Remove from mixer and wrap tightly in plastic wrap until ready to use, stored in refrigerator.
For the Caramelized Bananas:
In a sauté pan, melt butter, then add sugar and sauté until sugar is dissolved.
Add in cinnamon, cloves and honey and continue to sauté.
Deglaze with rum and cook off alcohol.
Reduce flame to low and add bananas. Sauté until fully caramelized and soft.
Cool and reserve, refrigerated.
For the Honeycomb-Banana Tamales:
Soak husks in warm water to make them more pliable.
Once husks are pliable, place 1 ½ oz of the masa in each husk and spread along one half of the husk.
Place 1 ½ oz of bananas in the middle of each of the masa-coated part of the husk.
Place 1 ½ oz of honeycomb directly alongside or on top of the bananas.
Wrap the edges of the husk around the bananas and honeycomb, then fold the top down over to seal and create a pocket within the husk.
Bring water to a boil in a pot or pan, then place a perforated pot or pan inside of that to use as a steam bath. Place wrapped tamales inside of steam bath and steam for 15 to 20 minutes, or until center of tamale reaches a temperature of 145°F.
Remove tamales from steam bath and unwrap. Slice each diagonally before arranging on plate to serve.
Place a scoop or quenelle of Honey Peanut Butter Ice Cream alongside tamales.
Garnish with bee pollen and/or honeycomb and/or bee pollinated edible flower petals.
Chef Notes
Be sure to slowly add milk/cream mixture when tempering egg yolks. If you add it too fast, it will cook the egg yolks.
Be sure to grind down the bee pollen until it is at least the consistency of the maseca if not fine. Use a spice grinder for this.
Try to use under-ripe vs. over-ripe bananas as they will turn out more firm after cooking. Over-ripe bananas will tend to wind up too mushy.
When spreading masa on the husk, try to get as thin a layer as possible. If layer is not thin enough, cooked tamale will be far too doughy and ratio of filling to masa will be off.
Project Management: Summit F&B
Photography: Carlos Garcia // Food Styling: Peg Blackley & Bree Williams