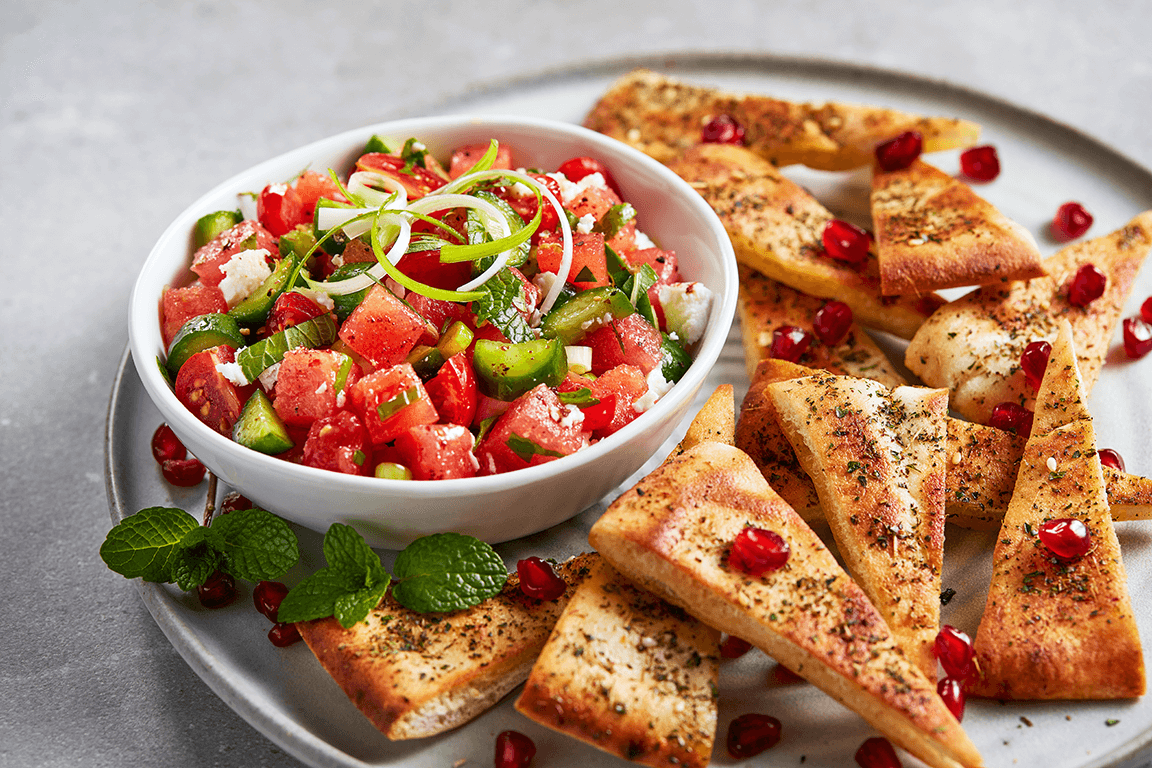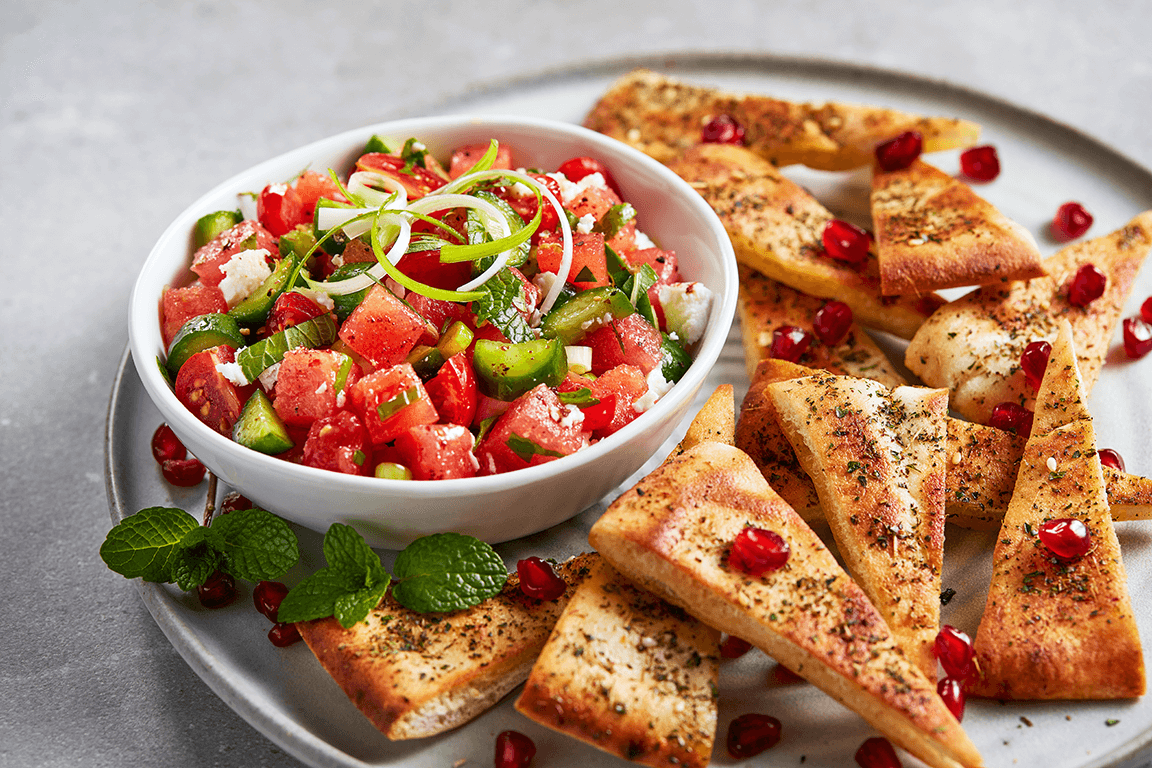 Watermelon Fattoush
Recipe courtesy of Shereen Abutom, Senior Culinary Innovation Manager, Del Taco
Sponsor: National Watermelon Promotion Board
Servings: 6
Ingredients
Za'atar Pita Chips:
3 pita bread rounds (standard 7-in size)
2 Tbsp extra-virgin olive oil
3 Tbsp Jordanian green za'atar
Dressing:
2 Tbsp lemon juice
2 tsp sumac
1 tsp kosher salt
½ tsp black pepper
3 Tbsp extra-virgin olive oil
Watermelon Fattoush:
2 c ¼-in dice Persian cucumbers (approx. 4)
1 c grape tomatoes, halved or quartered depending on size
1 c parsley leaves (packed), wash and dry, medium/coarse chop
½ c mint leaves, wash and dry, medium/coarse chop
2 green onions, green and white parts thinly sliced
3 oz queso fresco or feta cheese, crumbled
4 c ½-in cubes watermelon (place watermelon in colander as you dice to drain juice)
Directions
For the Za'atar Pita Chips:
Place pita bread on sheet pan and brush both sides with olive oil. Add 1 Tbsp za'atar to top of each round and spread evenly. Cut into wedges.
Bake in 350°F oven for 15 minutes or until edges are slightly brown and pita chips are crisp throughout. Set aside.
For the Dressing:
Mix lemon juice, sumac, salt and black pepper in a bowl. Whisk in olive oil until mixture is fully combined. Taste and adjust seasoning if needed.
Set aside.
For the Watermelon Fattoush:
Combine cucumbers, tomatoes, parsley, mint and green onions in a large bowl. Add the dressing and mix well. Add the watermelon and queso and mix gently until combined. Taste and adjust seasoning as needed.
Chill mixture for about 1 hour.
Serve fattoush in a bowl surrounded by za'atar pita chips.
Chef Notes
The toasted pita chips are typically tossed into the salad and when eaten fresh they remain crisp, but as the salad sits, the pita bread soaks up all the delicious dressing. Basically, you're getting different textures throughout the course. This version is more like a chips and salsa eating experience.
To get even wedge cuts on the pita chips, cut the bread before toasting it in the oven.
Project Management: Summit F&B
Photography: Carlos Garcia // Food Styling: Peg Blackley & Bree Williams