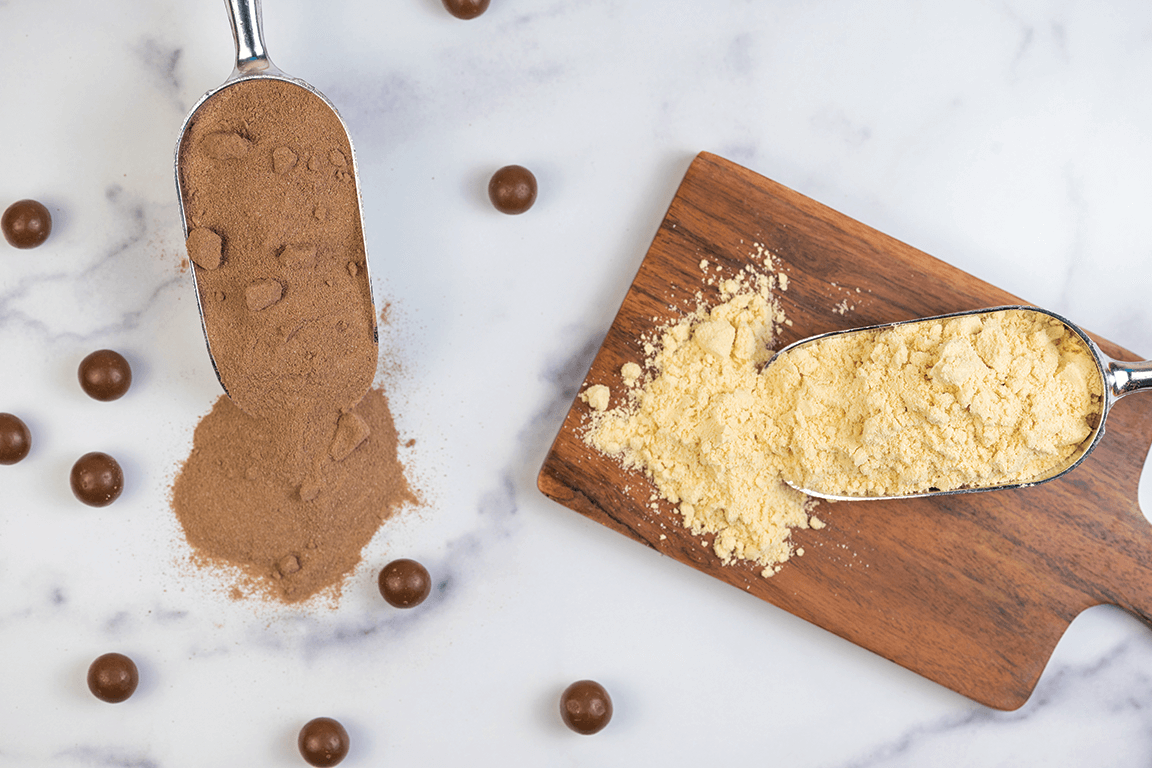 By Katie Ayoub
January 9, 2023
When malted milk powder is brought up in culinary circles, it elicits a few telling reactions. Some chefs get a wistful look on their faces, perhaps recalling the comfort of malt beverages from their childhood. Others exhibit a conspiratorial air, confessing proudly that they currently use malted milk powder as a stealthy flavor booster. Many, though, when asked to consider its role in modern recipe development, take a second to draw it into focus, then start to ponder the possibilities. It helps that they're seeing malted milk pop up on creative menus nationwide, offering incentive and inspiration for innovation. Argentinian hotspot FioRito in Miami offers an elegant application with its Malted Milk Cake, featuring sourdough ice cream, strawberry, olive oil and brown butter crumble. Chicago's Butter Bird Bakery plays up the fun side with its Vanilla Malted Milk Frosted Flakes Cake.
Easy to source, store and handle, malted milk powder boasts notes of roasted butterscotch and toffee, introducing depth of flavor to desserts, sweet snacks, beverages and more. It has the ability to reach across generations thanks to its comforting, nostalgic feel, equally interpreted as a retro, hip vibe, depending on the audience. To harness the trend, menu developers should capitalize on malted milk powder's nostalgic star power while placing it firmly in a modern context—a winning combination for today's consumers.
Malted milk powder is composed of three basic ingredients: barley, evaporated whole milk and wheat flour. It dates back to the late 19th century, when James and William Horlick created it as a nutritional supplement, first used for babies, then as emergency rations for military and emergency expeditions. Intended as a nourishing health food, malted milk powder soon caught on as a delicious drink, simply mixed with hot water. Next, it evolved into a treat, by stirring the powder with milk and chocolate syrup. Voilà! The malted milk was born and quickly became part of the zeitgeist. By the 1930s, neighborhood soda fountains were coined "malt shops," the origins of its nostalgia with Baby Boomers. In turn, malt shops led to a boom in at-home consumer products like Ovaltine, extending sentimental feelings to consumers in their late 40s and early 50s.
THE PULL OF NEO-NOSTALGIA
Anyone older than 30 can lay claim to deep feelings of nostalgia, formed over significant periods of time and experience, with aroma and flavor triggering the most visceral connections to the past. Malted milk powder rings that bell for older demographics, but it also resonates with younger consumers thanks to their fascination with "retro-gazing," a term coined by Fast Company in 2022 to describe Gen Z's penchant for all things nostalgic. Gen Z has grown up in the digital age, with the world at their fingertips—that includes access to trends from any decade or era that catches their fancy. Their relationship with nostalgia may be different from that of older generations, but their desire for it is just as strong.
"There is a ton of interest in neo-nostalgia today, and malted milk powder has the advantage of being a specific ingredient that operators can leverage as they key into the macrotrend of nostalgia," says Nikki Freihofer, strategy director, The Culinary Edge. "From both a culinary and a flavor palate standpoint, it makes a ton of sense for this ingredient to gain steam. It's cool, adds depth and has that essence of neo-nostalgia." She points to Christina Tosi of Milk Bar fame as an example of how to approach malted milk today: "Tosi is the queen of nostalgia. She takes ingredients that are old school and highlights them in a cake or pie, reinventing how people experience them." Her Chocolate Malt Cake is a signature dessert, made with malted fudge, malted milk crumbs and charred marshmallows topped with malted chocolate frosting.
Crumbl Cookies, the Logan, Utah-based bakery chain that has seen explosive growth over the last few years, often features "retro" flavors on its ever-rotating menu. Its customer base, largely made up of Gen Z, eats it up. Last October, Crumbl menued the Chocolate Malt Cookie featuring Tootsie Roll: a chocolate malt cookie topped with Tootsie Roll buttercream, a drizzle of Tootsie Roll caramel and a mini Tootsie Roll garnish.
WHAT'S THE FLAVOR STORY?
Of course modern chefs will want assurance that malted milk powder delivers more than a retro vibe. "The mixture of wheat flour, malted barley extracts and milk adds a hard-to-identify layer of rich, butterscotch-like flavor," says Pam Smith, RDN, culinary nutritionist and founder of Shaping America's Plate. Those concentrated grain extracts give malted milk powder its roasted, toasted flavor, while the powdered milk supplies its creamy richness.
"Malted milk is one of my favorite nostalgic flavors," says Calvin Eng, chef/owner of Bonnie's, a Cantonese-American restaurant in Brooklyn, N.Y. "I grew up drinking malted beverages like Ovaltine and Horlicks, and knew I had to incorporate that unique nutty flavor that you can't get from any other product into a dessert." He features malted milk powder in an unexpected mash-up, delivering familiarity, comfort and nostalgia while offering something entirely new. His Chow Nai Sundae stars vanilla ice cream, fried malted milk, Ovaltine hot fudge and buttered nuts. Eng's fried malted milk is inspired by Cantonese fried milk, a thick custard battered and deep fried that's typically served at banquets during savory courses. For the sundae, he adds malt powder for its depth of flavor and luscious mouthfeel. Once the custard cools, he cuts it into squares, batters and double deep fries them. Eng dials up the maltiness of the dessert by adding malt powder to his hot fudge sauce recipe and replacing most of the standard chocolate with chocolate Ovaltine. "When you bite into the fried milk, the contrast of temperature with the ice cream is great," he says. "It's super gooey, malty and delicious."
When looking at the possible trajectory of malted milk powder, consider the success of salted caramel and the flavor play potential: "salted malted" has a great ring. A few brands have run with this combination, including Salt & Straw, the progressive ice cream shop based in Portland, Ore., with its Salted, Malted, Chocolate Chip Cookie Dough, a more nuanced experience than salted caramel. The Salted Malted Vanilla Ice Cream at Morgenstern's in New York digs deeper into the playful, retro vibe, with the inclusion of crunchy malt ball centers for a gooey crunch.
In baked goods and desserts, malted milk does more than lend cachet: it enhances performance and flavor in equal measure. "Because of the lactose content, malted milk powder helps baked goods brown evenly," says Smith. "It helps lock in flavor, but it does more than that—malted milk powder is a top-gun flavor lifter."
A WORD ON BEVERAGES
Old-fashioned malted milks arguably laid the initial groundwork for malted milk powder to find traction on menus today, so it makes sense that the beverage category is seeing interesting play here too. And with modern coffee culture so eager for new flavor experiences, malted milk is finding runway primarily in this category. At Ono Bakehouse in Berkeley, Calif., a featured drink called the Latte X stars espresso and malted milk. And at Omaha, Neb.-based Scooter's Coffee, the new Malted Mocha Latte features a classic malt flavor mixed with chocolatey mocha, espresso and a choice of milk or an ice cream base. The beverage is finished with a whipped cream topping and chocolate drizzle. The drink is served hot, iced or blended.