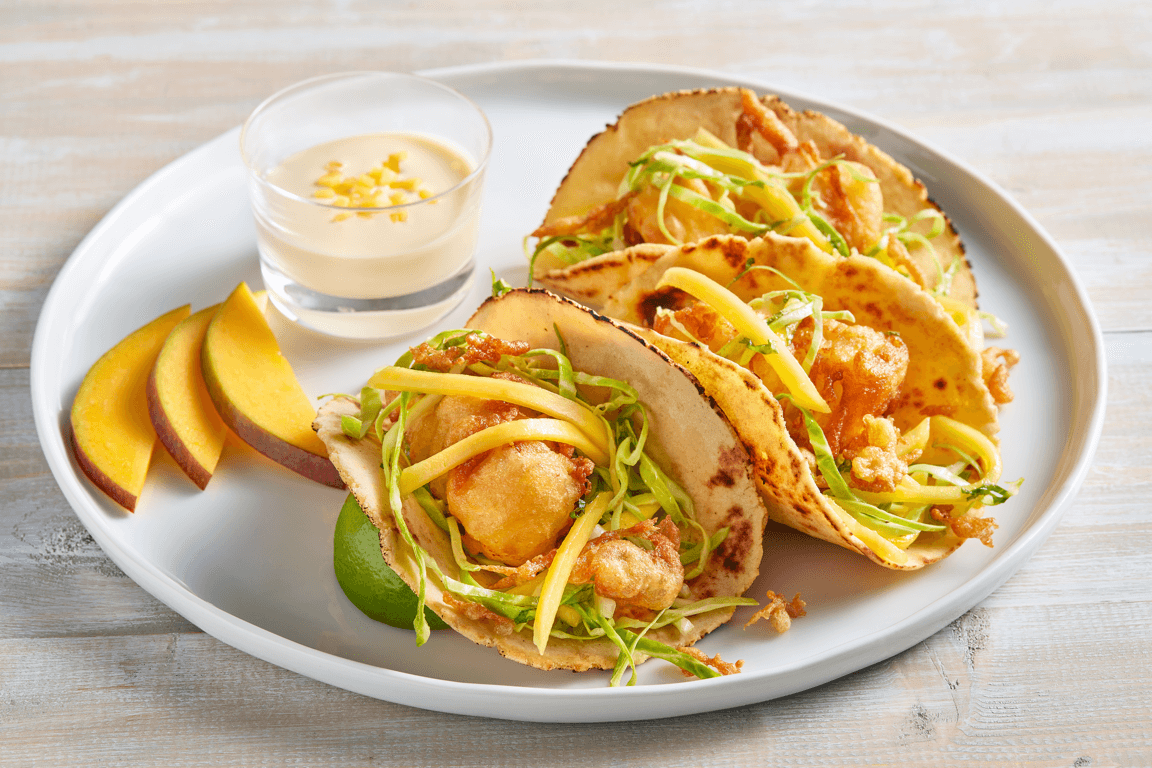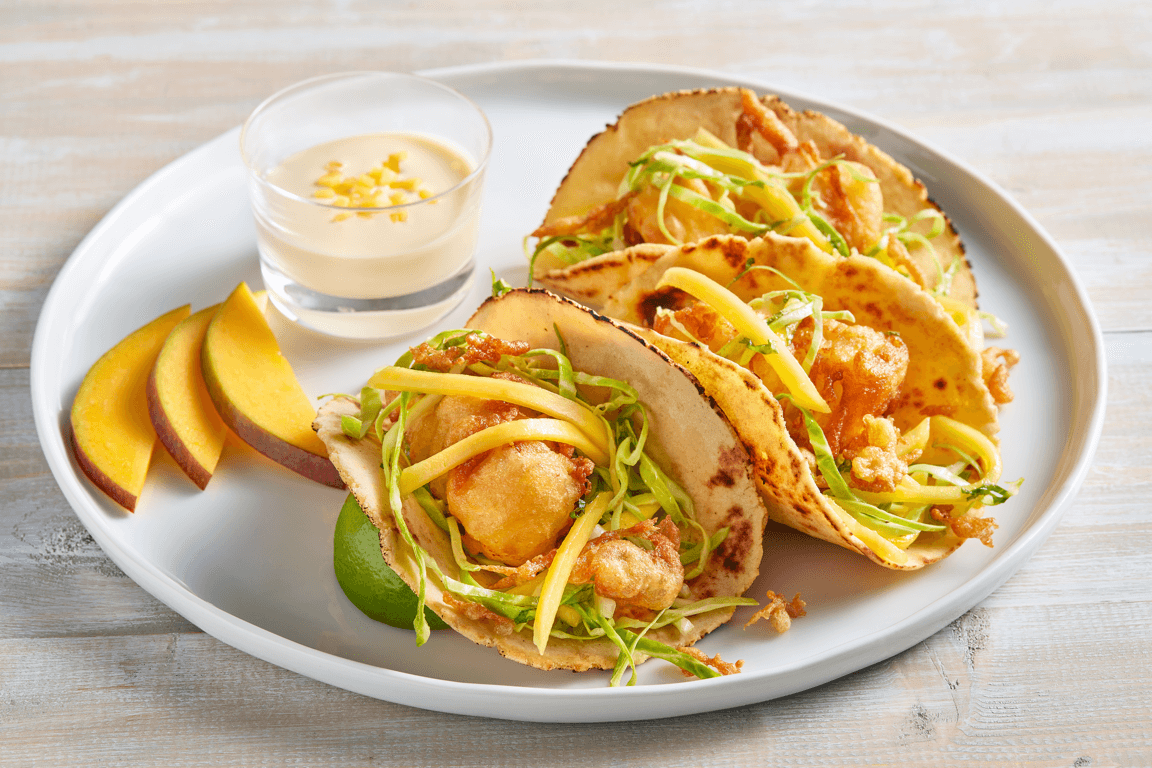 Mango Halibut Tacos
Recipe courtesy of John Baez
Sponsor: National Mango Board
Serving size: 1 (3 Tacos)
Ingredients
Mango-Lime Vinaigrette (Yield 24 oz.):
2 fresh ripe mangos
½ c fresh lime juice
½ c extra-virgin olive oil
Salt and pepper, as needed
Mango-Pineapple Slaw (Yield 24 oz.):
2 fresh ripe, firm mangos, peeled, julienned
¼ pineapple, peeled, cored, julienned
½ green cabbage, cored, thinly sliced
½ c fresh mint, chiffonade
Salt and pepper, as needed
Mango Aioli (Yield 50 portions):
1 ½ c fresh mango purée
3 c mayonnaise
¼ c fresh ginger juice
Mango-Corn Tortillas (Yield 16):
8 oz fresh mango purée
8 oz water
1 lb Maseca
1 tsp kosher salt
Mango Beer Batter:
2 c fresh mango purée
4 c all-purpose flour
2 c beer
4 eggs
Mango Halibut Tacos (per serving):
6 oz fresh halibut (cut into 2-oz pieces, preferably 3 x 1-in rectangles)
6 oz Mango Beer Batter
2 oz Mango-Pineapple Slaw
1 oz Mango-Lime Vinaigrette
Salt and pepper, as needed
3 Mango-Corn Tortillas
1 1/2 oz Mango Aioli
2 lime wedges
Directions
For the Mango-Lime Vinaigrette:
Peel and core mangos, then purée flesh in blender on high speed until completely smooth.
Add lime juice and purée together until thoroughly combined.
Reduce blender speed to low and slowly drizzle in olive oil to create an emulsion.
Season to taste with salt and pepper.
Place in squeeze bottle; reserve.
For the Mango-Pineapple Slaw:
Combine all the salsa ingredients in a mixing bowl and toss/mix gently by hand.
Season to taste with salt and pepper.
For the Mango Aioli:
Combine fresh mango purée, mayonnaise and ginger juice in a mixing bowl and whisk together by hand until completely combined.
Place in a squeeze bottle and refrigerate until ready to use.
For the Mango-Corn Tortillas:
In a stand mixer, combine all ingredients. Using a paddle attachment, mix ingredients at medium speed until a smooth dough is formed.
Remove dough from mixer bowl and, using gloved hands, form into 1.5- to 2-oz balls.
Using a tortilla press, place each dough ball in the center and press firmly to flatten dough ball into a flat circle of dough/masa about 1/8 in thick.
Place dough circle onto a hot flattop or saute pan (350°F+) and cook on initial side for 45 seconds to 1 minute, then flip over and cook for an additional 30 seconds or until tortilla begins to puff up. Remove tortilla from heat and reserve.
Repeat with remaining dough, holding them warm for service.
For the Mango Beer Batter:
Combine puréed fresh mangos, flour, beer and eggs in a mixing bowl and whisk by hand until completely combined. Refrigerate until ready to be used.
For the Mango Halibut Tacos:
Toss halibut in Mango Beer Batter, ensuring that it is completely coated, then drop into a deep fryer at 325°F for 3 to 5 minutes, or until golden brown and floating.
While halibut is cooking, toss slaw with vinaigrette.
Remove halibut from fryer and transfer to a paper towel-lined plate or other surface and allow excess oil to drain off; season with salt and pepper.
Heat tortillas on flattop or in a pan just briefly to make them more pliable, then add a small amount of slaw in a line down the center of each tortilla.
Place a piece of fried halibut in each tortilla directly on top of the slaw.
Using a squeeze bottle, drizzle the Mango Aioli in a zig zag pattern over the top of the fish, then top with remaining slaw.
Gently fold tortillas up and around taco ingredients, place on plate, and prop up with lime wedges on either end of tortillas.
Chef Notes
Slaw: For best results, keep all ingredients/components separate until just prior to serving. Allowing ingredients to sit together for too long may result in the liquids over saturating the fruits, causing them to be mushy.
Aioli: If making a large enough batch, fresh ginger can be placed in a food processor and puréed to speed the juice extraction process up. A few drops of lemon or lime juice can also brighten this aioli up.
Tortillas: Do not overmix dough or it will alter texture of tortillas. Line tortilla press surface with plastic wrap to ensure that dough does not stick.
Beer Batter: Mango Cart beer may be substituted for the regular beer for even more mango flavor. Consistency may be adjusted by adding more flour for thicker batter or more purée for thinner batter.
Project Management: Summit F&B
Photography: Carlos Garcia // Food Styling: Peg Blackley