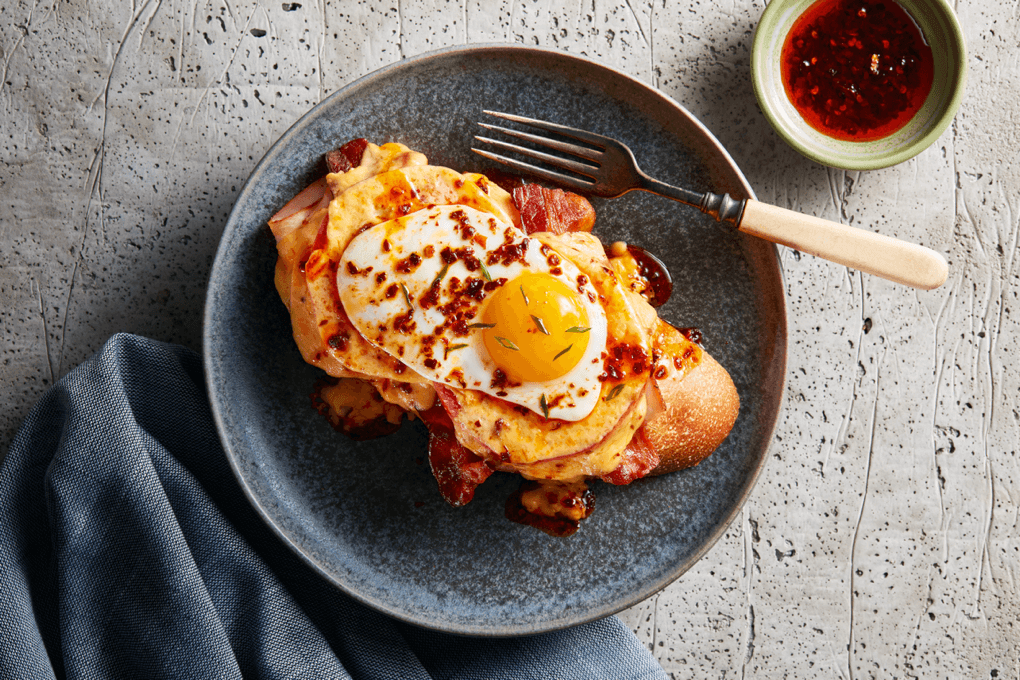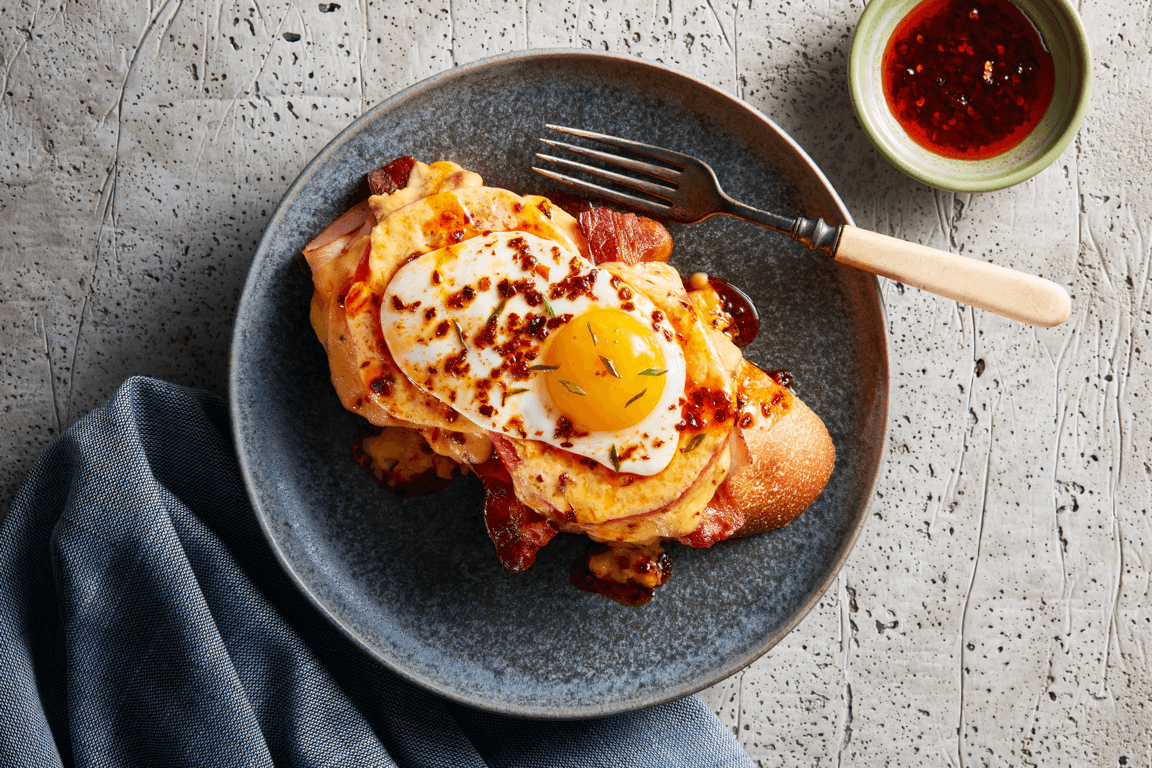 Kentucky Hot Hot Brown with Lee Kum Kee® Chiu Chow Style Chili Crisp Oil
Recipe courtesy of Chef Owen Klein
Sponsor: Lee Kum Kee
Servings: 8
Ingredients
Cheese Sauce:
¼ c unsalted butter
¼ c all-purpose flour
2 c whole milk
1 c heavy cream
3 Tbsp Lee Kum Kee® Chiu Chow Style Chili Oil
1 tsp sherry vinegar
2 c shredded sharp white Cheddar
½ tsp kosher salt
Sandwiches:
8 French Bread slices, thick cut
32 deli turkey slices
16 bacon slices, thick cut, cooked
16 tomato slices
8 eggs
½ c Lee Kum Kee® Chiu Chow Style Chili Oil
Minced chives, for garnish as needed
Directions
For the Cheese Sauce:
Melt butter over medium heat in a medium saucepan.
Add flour and stir until golden brown.
Slowly whisk in milk and cream, making sure to whisk until smooth. Bring to a simmer.
Remove from heat, add Chiu Chow Style Chili Oil, vinegar, cheese and salt. Whisk until smooth and set aside.
For the Sandwiches:
Preheat oven to 400°F.
Arrange sliced bread in a single layer on baking sheets, toast in oven for 5 minutes or until golden brown. Remove from oven.
On each piece of bread, assemble open-faced sandwiches, starting with 4 slices turkey, 2 slices bacon, 2 slices tomato and ¾ c Cheese Sauce.
Place assembled sandwiches back in oven for 8 to 10 minutes, or until cheese sauce is caramelized.
While sandwiches are cooking, heat skillet over medium-high heat, fry each egg in 1 tbsp of Chiu Chow Style Chili Oil to perfect sunny-side up. Work in batches for all eggs.
Remove toasted sandwiches from oven, top each with a chili egg and garnish with chives.
Project Management: Summit F&B
Photography: Carlos Garcia // Food Styling: Peg Blackley