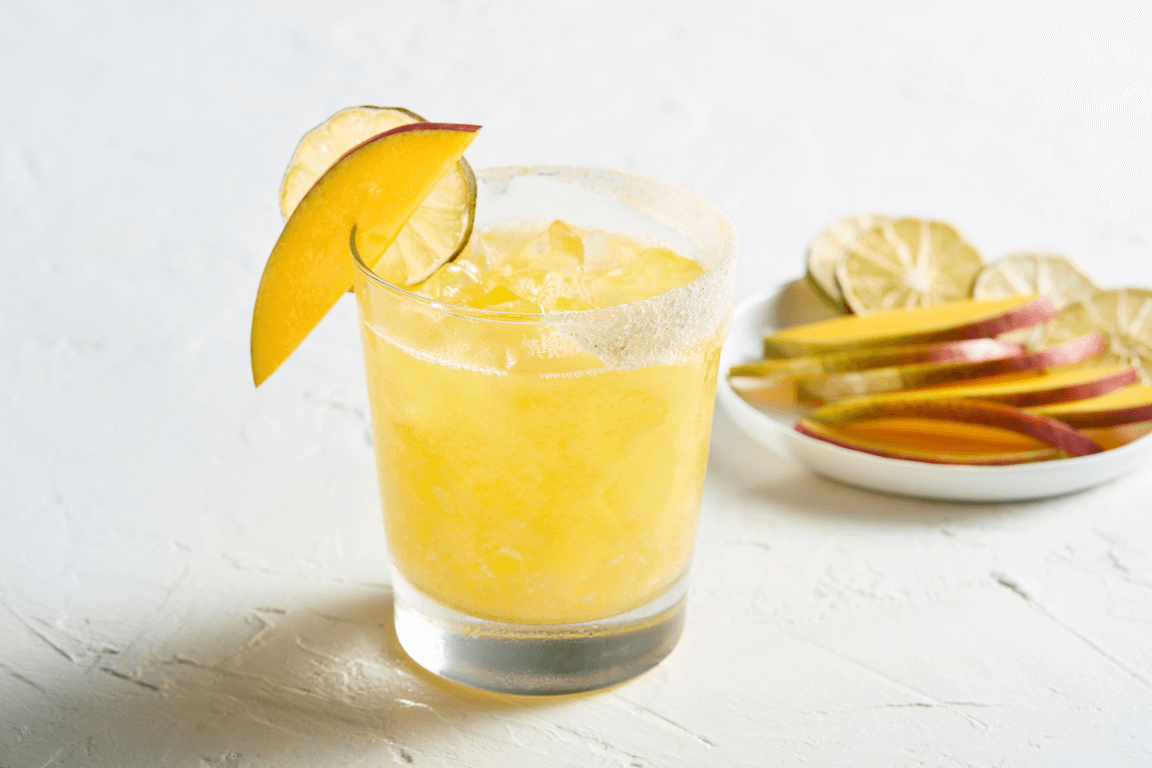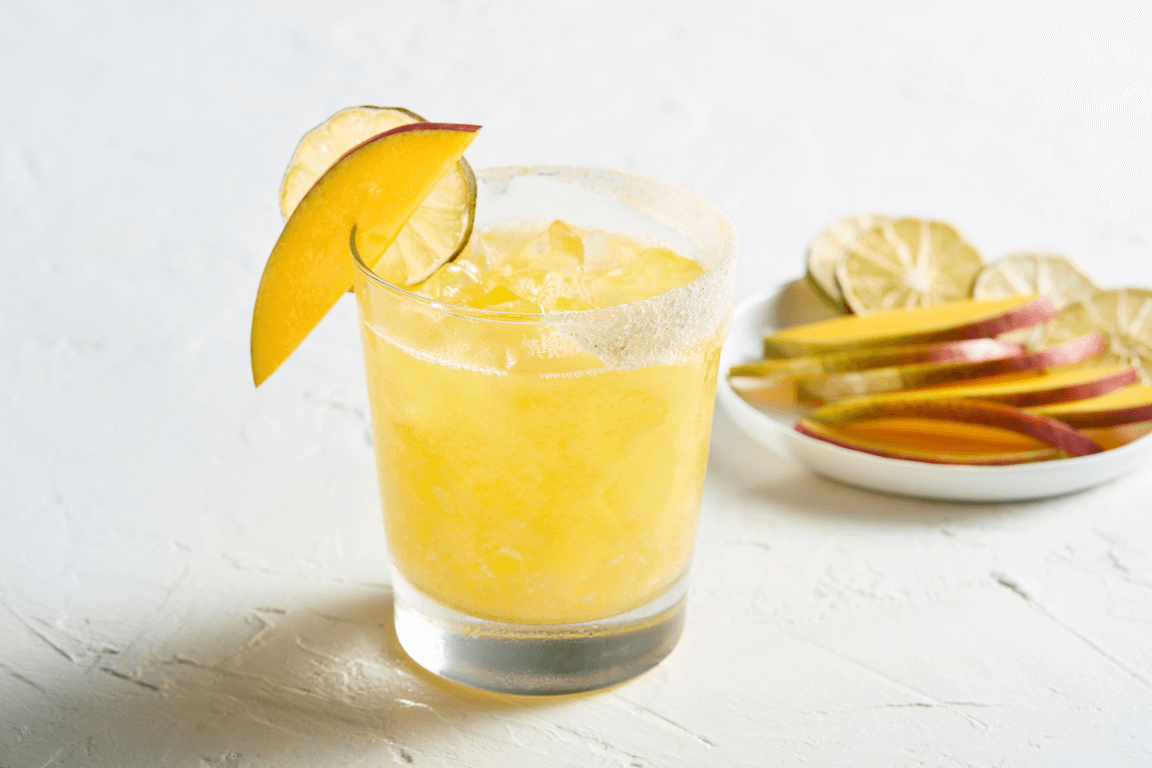 Le Miel Mango Cocktail
Recipe courtesy of Tiffany Sawyer, Corp. Dir. of Culinary & Beverage, First Hospitality
Sponsor: National Mango Board
Servings: 1
Ingredients
Mango Purée (Yield 2 pt):
2 lb ripe mangos
2 Tbsp water
1/4 c honey
½ Tbsp fresh lemon juice
Ginger Syrup (Yield 2.25 pt):<.h3>

18 oz fresh ginger, juiced
1 tsp salt
1 ¼ lb sugar
1 Tbsp honey
Honey-Ginger Rim Powder (Yield 7.5 tbsp):
½ Tbsp salt
¼ c freeze dried honey dust
2 Tbsp freeze dried ginger
1 Tbsp sugar
Le Miel Mango Cocktail (per serving):
Honey-Ginger Rim Powder, as needed
2 oz reposado tequila
¾ oz Mango Purée
¼ oz Ginger Syrup
1 oz fresh lime juice
1 Tbsp fresh grated ginger
Directions
For the Mango Purée:
Slice off each end of the mangos. Cut the flesh down the middle as close to the flat side of the seed as possible, leaving on the skin. Score the mango flesh in a crosshatch pattern and scoop it out with a spoon.
Add the mango chunks to a blender or food processor. Process until it forms a thick purée. Add water as needed to thin it slightly.
Add the honey and lemon juice and pulse a few times to combine.
Place in a container; cover and refrigerate.
For the Ginger Syrup:
In a saucepan over low heat, combine the ginger juice, salt and sugar. Heat until the sugar has dissolved without boiling.
Remove from the heat and stir in the honey.
Place the syrup in a metal container and then directly into an ice bath. Stir every 10 minutes until it reaches below 40°F. Label and refrigerate.
For the Honey-Ginger Rim Powder:
Mix together the ingredients and store in a dry place.
For each cocktail:
Rim half of a rocks glass with the Honey-Ginger Rim Powder. Fill it with ice.
Combine tequila, Mango Puree, Ginger Syrup, lime juice and grated ginger. Fill shaker with ice and shake the ingredients thoroughly.
Strain the cocktail into the rocks glass.
Garnish with the dehydrated lime.
Project Management: Summit F&B
Photography: Carlos Garcia // Food Styling: Peg Blackley