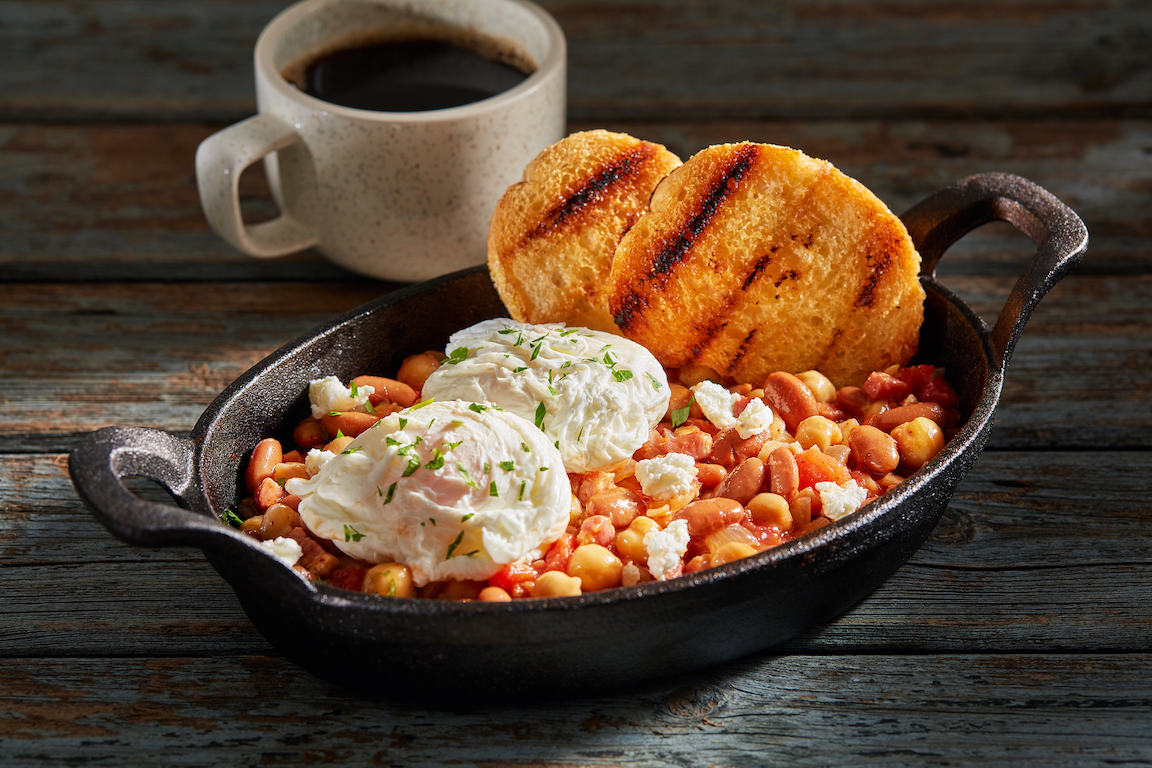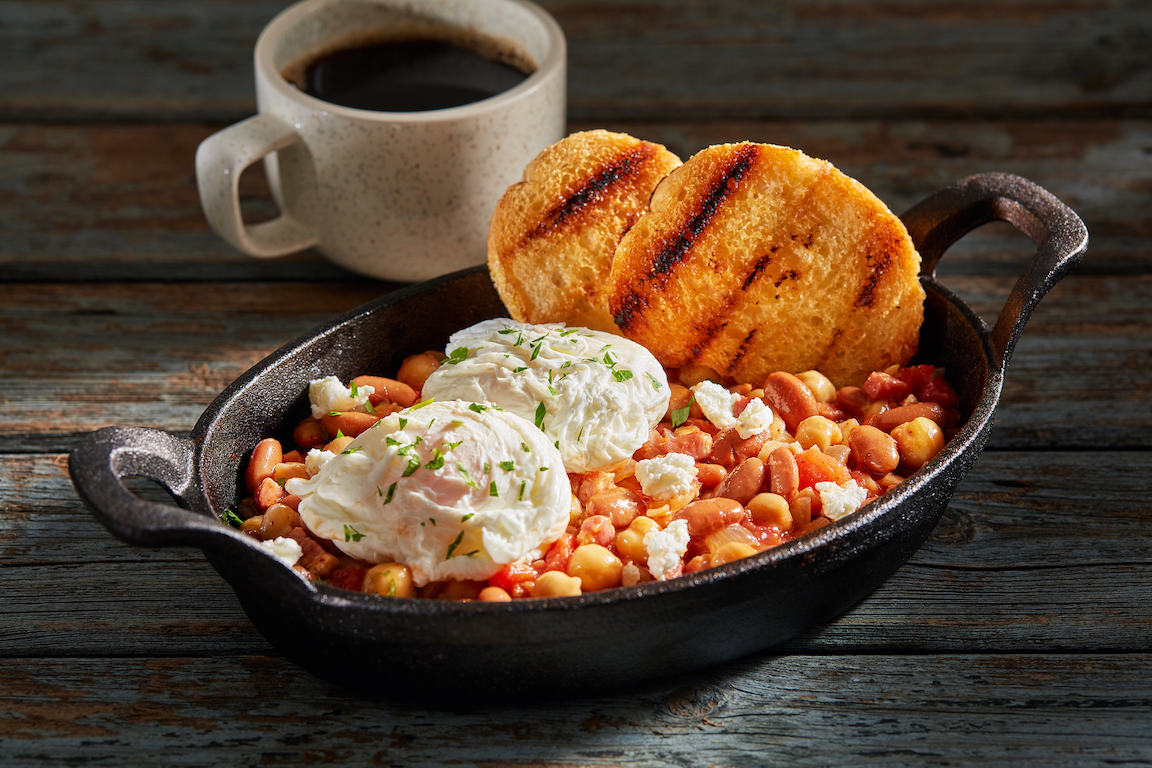 Breakfast Bean Tagine
Recipe courtesy of Tiffany Sawyer
Sponsor: Bush's Best
Serving size: 8 to 9
Ingredients
Baked Bean Mix (Yield about 9 servings):
1 Tbsp olive oil
8 oz guanciale, cut into ¼-in pieces
8 oz diced Spanish onions
2 lb Bush's® Baked Beans Ranchero Pinto Beans
15 oz can Bush's® Garbanzos, drained and rinsed
15 oz can stewed tomatoes, drained
Poached Eggs:
2 tsp white distilled vinegar
2 large eggs
Bean Tagine:
2 tsp olive oil
½ tsp kosher salt
2 sourdough baguette slices
8 oz Baked Bean Mix, warm
2 poached eggs
2 tsp chopped fresh chervil
½ oz goat cheese
Directions
For the Baked Bean Mix:
Heat a small pan with the oil over medium heat. Add the guanciale and fry until it is crispy and the fat is rendered, about 5 minutes. Remove from the pan to towels to drain.
In the same pan over medium-high heat, add the onions and fry until fragrant and golden brown, about 3 minutes. Stir well.
Add the pinto beans, garbanzos and tomatoes. Cook for 5 minutes, until the beans are warm through. Add back the cooked guanciale.
Cover and refrigerate or hold warm for service.
For the Poached Eggs:
Place a 4- to 6-qt saucepan on the stove filled with about 4 in of water. Add the vinegar. Bring the water to a slow simmer (about 190°F).
Break each egg into a cup or ramekin. Swirl the water and slowly drop one egg at a time into the swirling water. (see Chef Notes)
Cook 2 to 3 minutes to keep the whites firm and the yolks runny. Remove the eggs with a slotted spoon.
For the Bean Tagine (per serving):
Brush the baguette slices with the oil and sprinkle with salt. Mark them on a grill until golden brown.
In a warm single-serving cast-iron or tagine, place the warm baked beans.
Top with the poached eggs.
Place the two baguette slices to the side, inside the beans at 3 o'clock.
Sprinkle with chervil and goat cheese.
Chef Notes
Alternately, you can pour each egg into a fine-mesh sieve and submerge it in the simmering water. That removes the liquidy white that creates the wispies and leaves only the firmer white to envelop the yolk.
Project Management: Summit F&B
Photography: Carlos Garcia // Food Styling: Peg Blackley