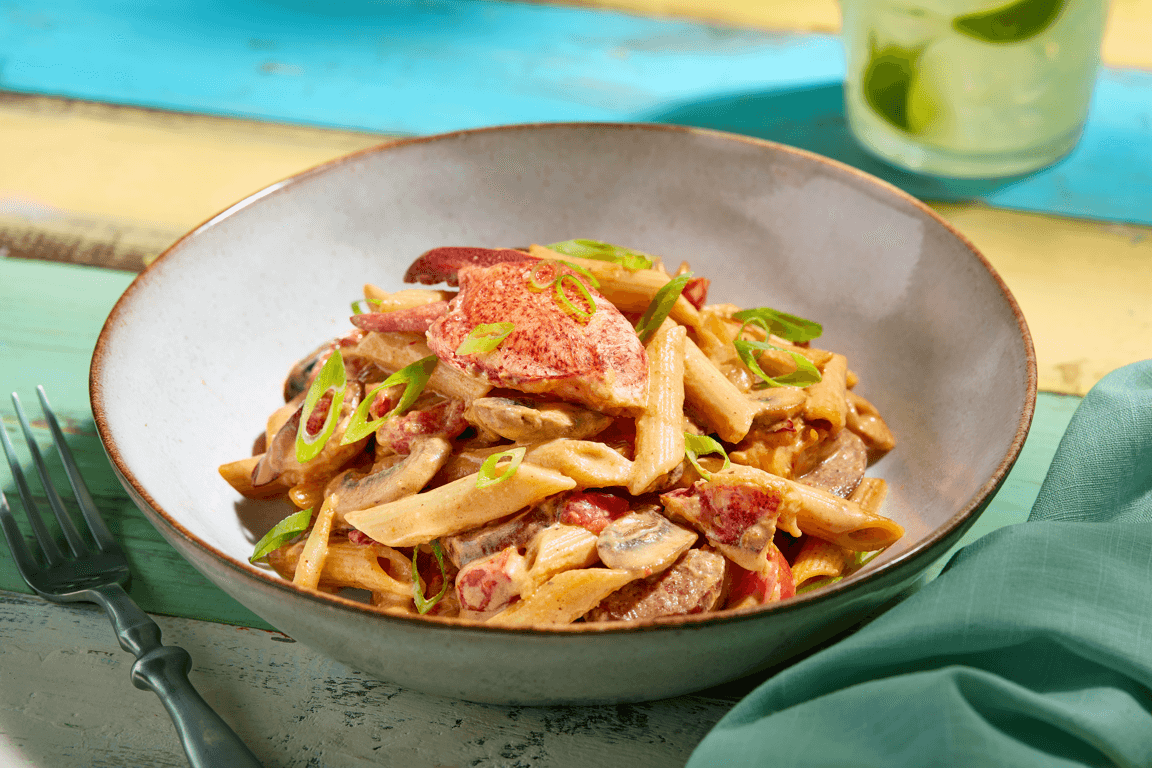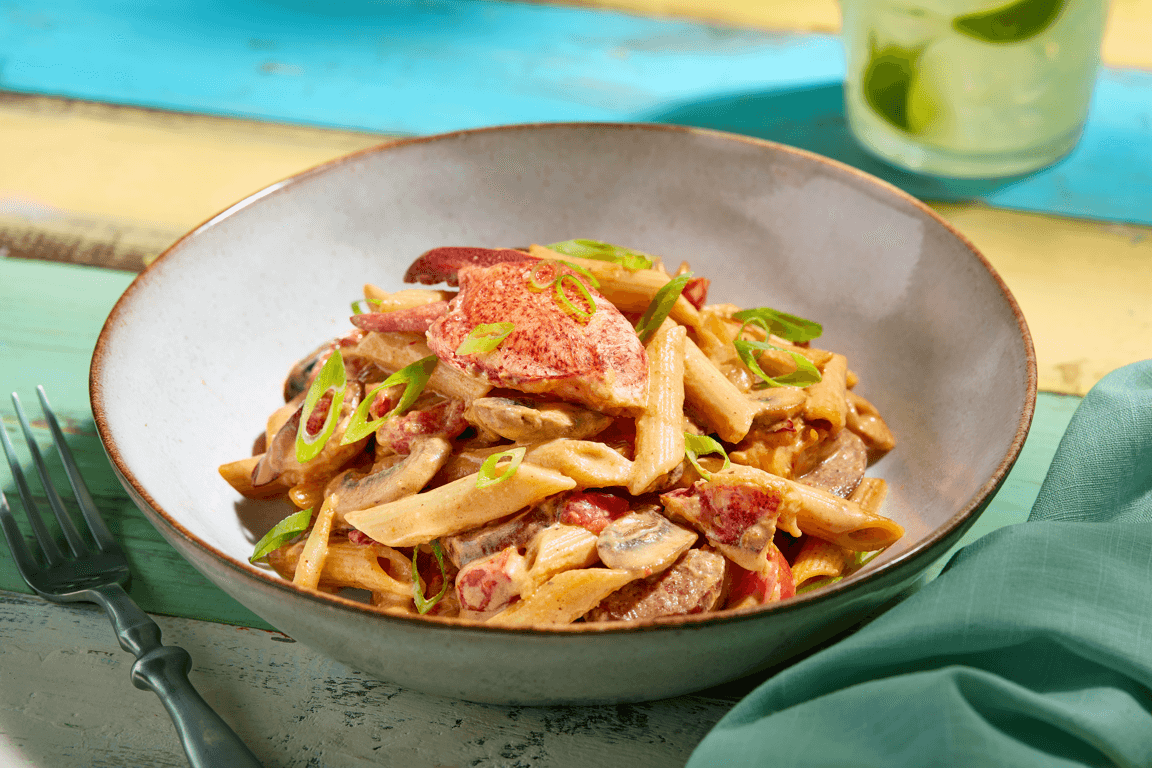 Barilla® Cajun Lobster Pasta
Recipe courtesy of Fernando Ortiz
Sponsor: Barilla America
Servings: 1 6-oz portion
Ingredients
Cajun Pasta Sauce:
3 oz olive oil blend
1 ½ lbs yellow onions, rough chopped
2 oz fresh jalapeño, chopped with seeds
6 oz fresh garlic, chopped
2 Tbsp Magic Blackened Redfish Seasoning
1 tsp crushed red pepper flakes
1 gal 40% heavy cream
1 gal half-and-half
½ gal chicken stock
½ c Creole mustard
3 oz tomato paste
3 oz canned chipotle, pureed in adobo sauce
1 ½ lbs shredded Parmigiano-Reggiano
Cajun Lobster Pasta (per portion):
1 oz olive oil
3 oz poached lobster meat
2 oz andouille sausage, ¼-in bias cut
2 oz cherry tomatoes, halved
2 oz green onions, 1 ½-in bias cut, plus greens for garnish
2 oz cremini mushrooms, ¼-in slices
8 fl oz Cajun Pasta Sauce
6 oz Barilla Frozen® Penne
Directions
For the Cajun Pasta Sauce:
Add olive oil to a saucepot over medium-low heat. Add the onions and jalapeño, then the garlic and crushed pepper. Cook for 1 minute to release flavor.
Fold in the blackening seasoning and stir for 30 seconds.
Stir in the cream, half-and-half, stock, mustard, tomato paste and chipotle purée. Bring to a simmer and reduce for 45 minutes.
Whisk in the Parmesan and stir until melted. Remove from the heat.
Blend the sauce with an immersion blender until smooth. Pour into a cooling pan and refrigerate.
For serving, per portion:
Preheat a 10-in nonstick skillet over medium heat. Add the oil to warm.
Add the lobster and sausage and cook for 2 minutes, searing the sausage.
Add the tomatoes, green onions and mushrooms and sauté for 1 minute.
Ladle in the sauce and allow it to come to a full boil, stirring it over the heat.
Cook the pasta for 1 minute, according to package instructions. Drain.
Add pasta to the sauce and toss until fully coated and hot through. Mound pasta in a bowl, trying to get most of the vegetables to the top of the mound.
Garnish with green onions and a drizzle of oil.
Project Management: Summit F&B
Photography: Carlos Garcia // Food Styling: Peg Blackley