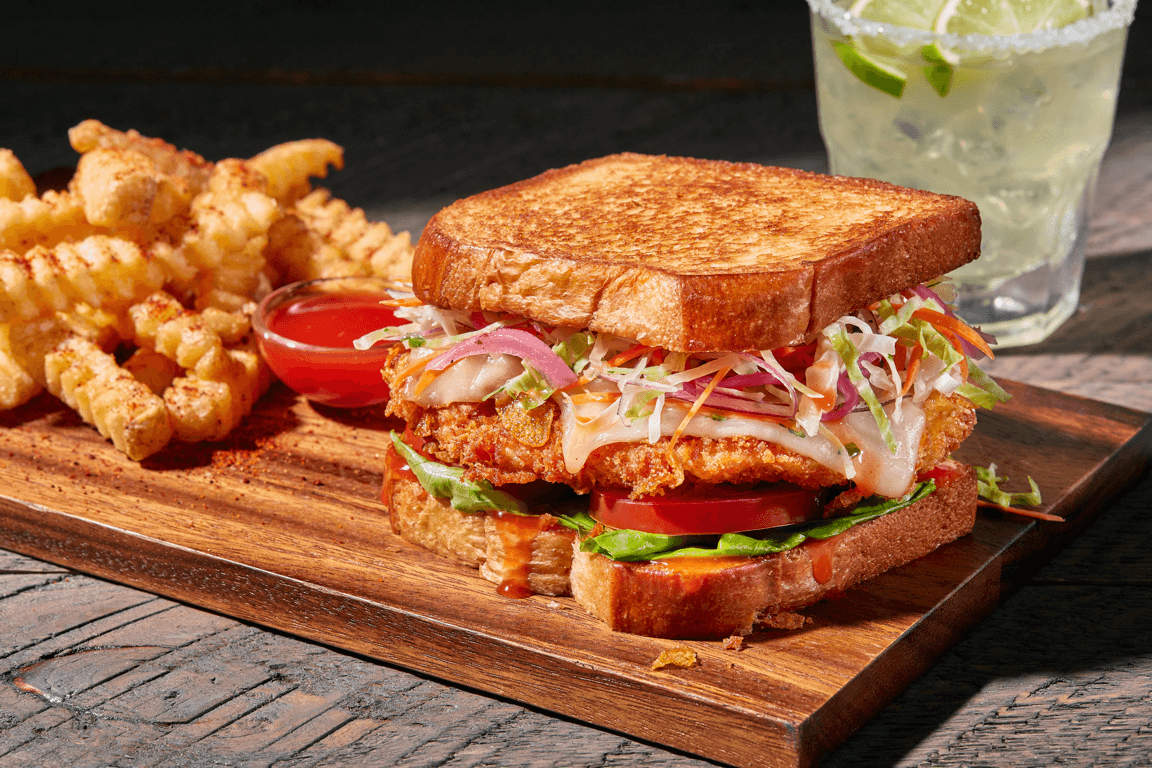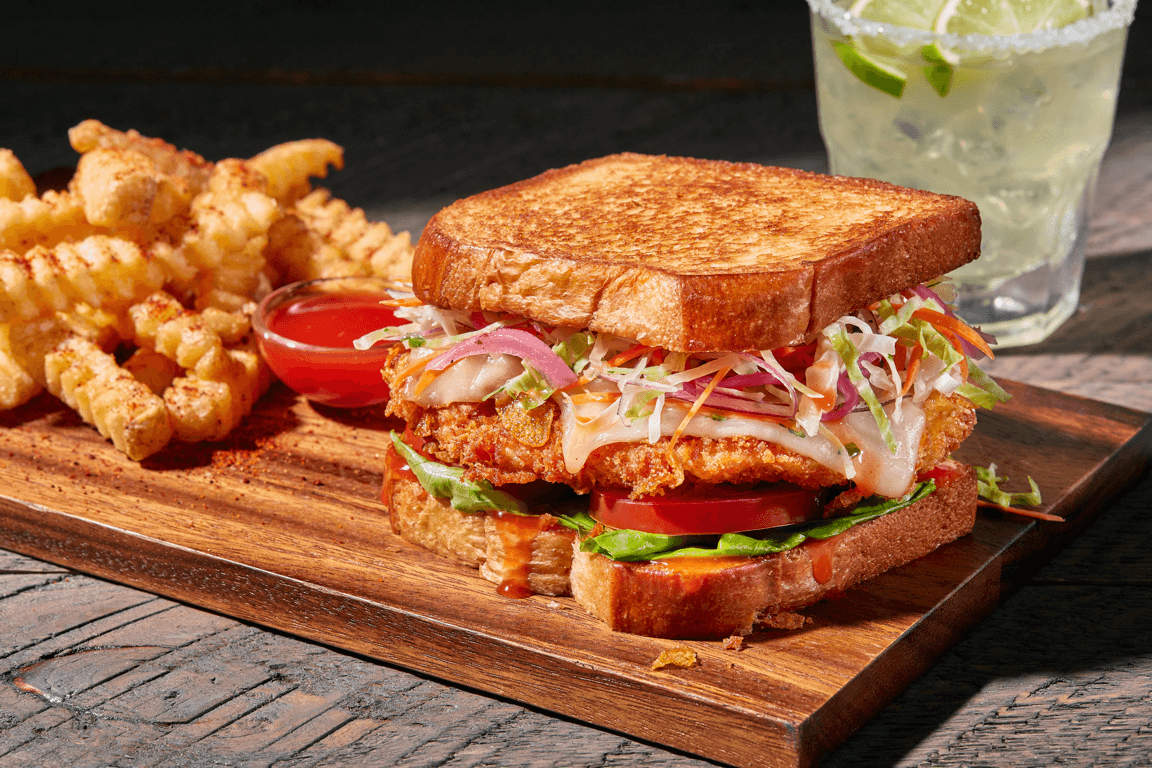 Crispy Hot Chicken Sandwich
Recipe courtesy of Fernando Ortiz
Sponsor: Texas Pete
Servings: 15
Ingredients
Hot Chicken Brine:
1 gal water
4 ½ oz kosher salt
3 oz sugar
1 Tbsp cayenne pepper
15 chicken breasts
Hot Chicken Breading:
8 c all-purpose flour
2 tsp kosher salt
2 tsp black pepper
2 c panko breadcrumbs
4 c corn flakes
1/2 c whisked eggs
12 to 15 brined chicken breasts
Crispy Chicken Sandwich (per serving):
2 thick brioche slices
2 Havarti cheese slices
1 ½ oz Texas Pete® Garlic Hot Sauce
2 oz slaw
2 Roma tomato slices
1 Bibb lettuce leaf
4 oz French fries
Coleslaw:
1 medium cabbage (about 2 pounds), outer leaves removed
3 medium carrots, peeled and shredded
1/2 c loosely packed fresh parsley leaves, coarsely chopped
1 c mayonnaise
2 Tbsp apple cider vinegar or more to taste
2 Tbsp Dijon mustard or coarse ground mustard
1 tsp celery seeds
1/4 tsp fine sea salt or more to taste
1/4 tsp fresh ground black pepper or more to taste
2 tsp honey
Directions
For the Hot Chicken Brine:
In a large container, whisk together the water, salt, sugar and cayenne.
Cover and refrigerate until needed.
To brine chicken, verify brine is below 40°F.
In a clean container, add the chicken and cover with the brine. Cover and refrigerate for 8 to 10 hours.
Remove chicken from brine and put in a single layer on a sheet tray lined with parchment paper. Pat chicken dry to remove as much remaining moisture as possible.
Refrigerate chicken uncovered to allow it to dry as much as possible before coating and frying.
For the Breading:
In a bowl, combine flour, salt and pepper.
In another bowl, combine the panko and corn flakes.
In a shallow bowl, pour out the eggs.
For each chicken breast, dredge it in the flour mixture, then the eggs, then coat with panko mixture. Press the mixture into the chicken.
Fry at 350°F for 4 minutes, or until it reaches an internal temperature of 170°F.
For the Crispy Chicken Sandwich:
While the breaded chicken fries, toast the brioche in a 450°F oven.
Place Havarti on the hot chicken and put in the oven to melt cheese.
Spread Texas Pete® sauce on both bread slices.
Place slaw on bottom slice. Top with chicken and cheese. Cover with lettuce and tomato and top slice of brioche.
Plate and serve with fries.
For the Coleslaw:
Quarter the cabbage through the core, and then cut out the core. Cut each quarter crosswise in half and finely shred. Place the shredded cabbage in a very large bowl (you will have 6 to 8 cups).
Add the shredded carrot and parsley to the cabbage and toss to mix.
In a separate bowl, stir the mayonnaise, vinegar, mustard, celery seeds, salt and pepper together. Taste for acidity and seasoning, then adjust as desired. If the dressing tastes too tart and you prefer a sweeter coleslaw, stir in all the Honey.
Pour two-thirds of the dressing over the cabbage and carrot then mix well.
If the coleslaw seems dry, add a little more of the dressing. Eat right away or let it sit in the refrigerator for about an hour to let the flavors mingle and the cabbage soften.
Project Management: Summit F&B
Photography: Carlos Garcia // Food Styling: Peg Blackley