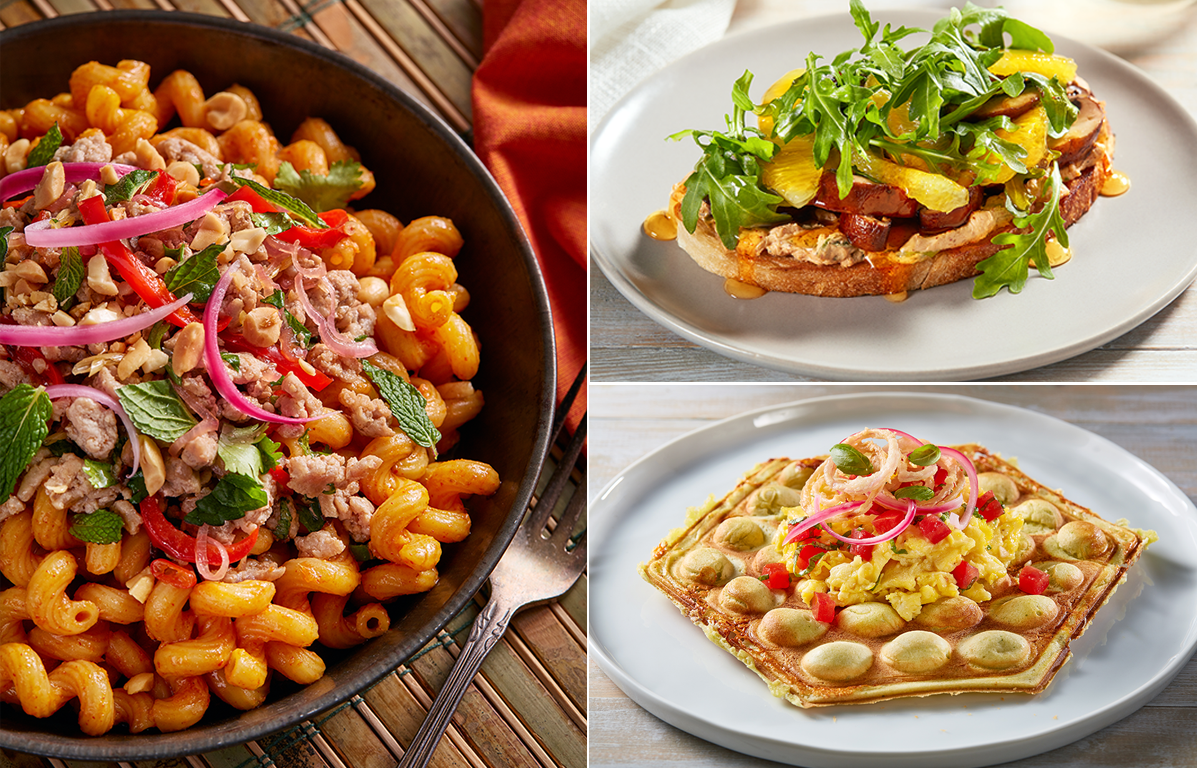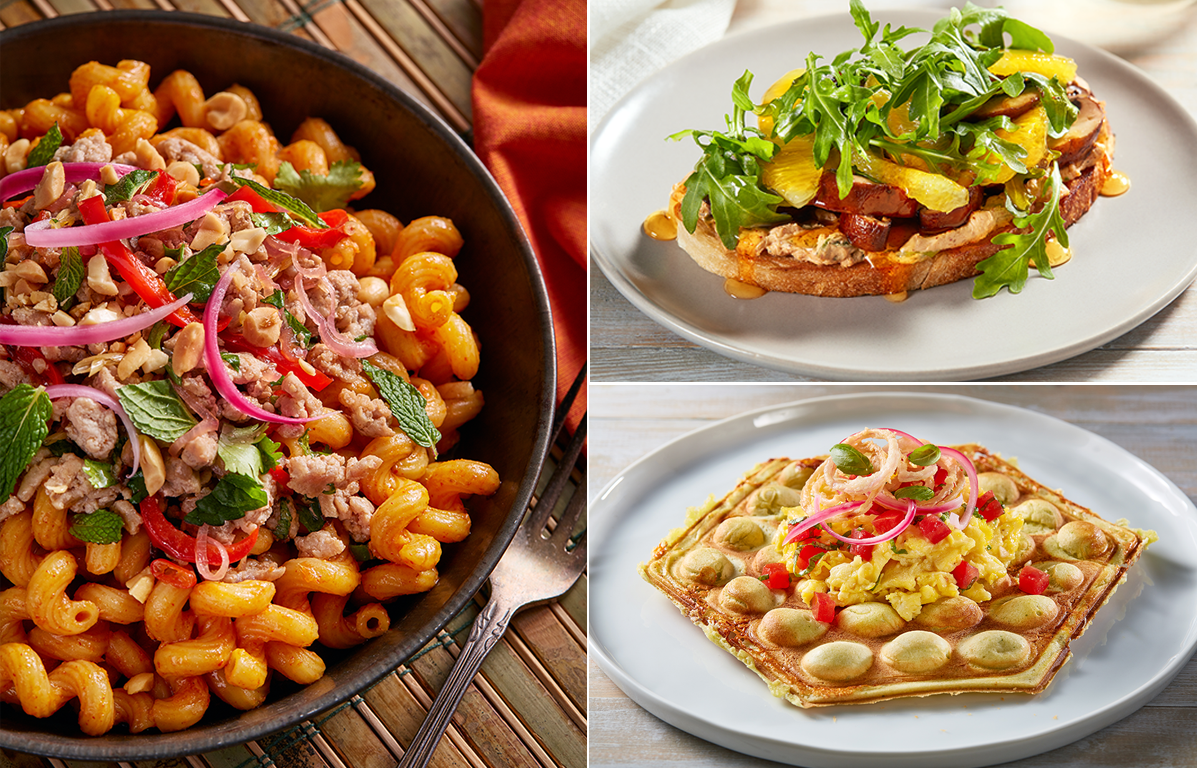 Kitchen Collaborative is a recipe-development initiative formed by Summit F&B and Flavor & The Menu. To fuel flavor innovation, a group of talented chefs partnered with sponsor brands and commodity boards to create recipes that showcase the passion and potential of our industry.
Jessica Foust, RDN, looks at recipe ideation projects as welcome opportunities for full immersion in her craft. As Director, Global Product Development & Menu Management for Little Caesars Pizza, administrative, managerial and other responsibilities naturally compete for her attention, and a home kitchen renovation at the time of this interview left her "honestly sad, because I really miss cooking!"
Challenges like Kitchen Collaborative provide Foust with a means to explore different flavors, techniques and technologies, she says. "I can really immerse myself in a particular cuisine or ingredient. Let me take what I've read, what I've seen, what I've tasted. What do I think about the flavor of this and how do I think about that and then consider a number of different perspectives. What's unique about a specific cuisine and is there an associated consumer touchpoint that I can develop further?"
Foust also values how projects like Kitchen Collaborative create another channel for peer-to-peer exchange. "Sharing ideas and experiences is so important," she notes. "I follow different Instagram accounts to monitor trends and tease out what's coming and what I should share with colleagues in my business." Her three contributions—Barilla® Red Curry Noodles With Larb, Ancho Roasted Mushroom Toast and Bubble Waffle California Caprese—reflect modern menu innovation shaping today's trends for tomorrow.
Barilla® Red Curry Noodles With Larb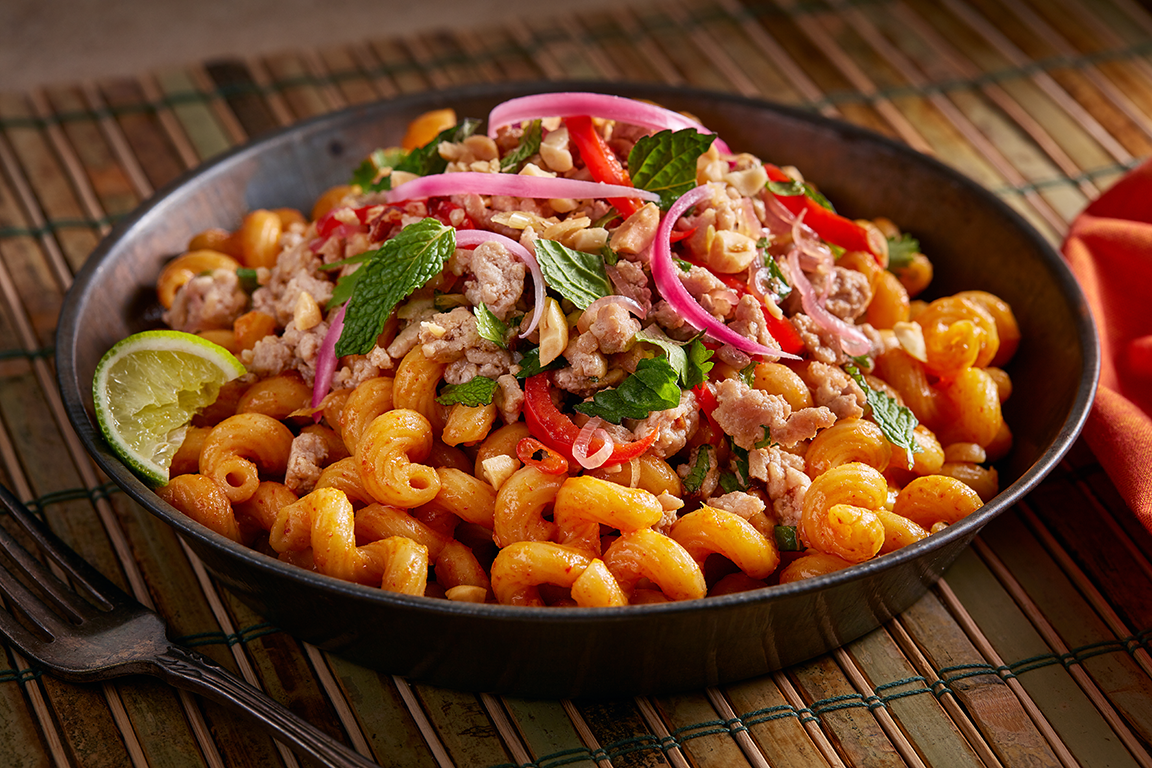 Photo: Carlos Garcia // Food Styling: Peg Blackley
Presented with the opportunity to ideate with delicious red curry corkscrew-style noodles, Foust was eager to explore unconventional ways to spotlight them, playing with their fun shape and turning to her long-held fascination with Thai cuisine. Larb, a dish that originated in Laos but has become popular in Thailand, holds special honeymoon memories for Foust, and she uses this flavorful ground pork to top the noodles in her Barilla® Red Curry Noodles With Larb.
Signature Southeast Asian flavors abound in this dish. The larb features shallots, lemongrass, Thai chile, bell peppers, fresh mint, scallions, cilantro, basil, garlic, fish sauce and salt. It's dressed with a mix of lime juice, more fish sauce, brown sugar and Sriracha. The noodles are cooked in a red curry sauce made with ginger, red curry paste, coconut milk, soy sauce, honey and lime juice and water, plated and then topped with the larb. The entrée is finished with a garnish of chopped peanuts and pickled red onions.
The dish is a study in textural interest. "The bite of a curly noodle is different than a flat noodle," says Foust. "It bounces more. Then you have the larb, which is a ground meat salad. There's also the crunchiness of the peanuts. There are multiple layers of texture and flavor, making for a very diverse eating experience." She notes that it can be served cold or warm, prepped ahead, served to-go or plated for sit-down. "It's very versatile—delicious on either end of the temperature spectrum. I love the flexibility of this dish."
Foust is enthusiastic about the culinary cred and performance of the Barilla Frozen® Cellentani at the heart of this dish. "It was very easy to work with, providing a standardized consistency, while cutting down the preparation time," she says. "It's great to celebrate noodles beyond the Italian plate with this fascinating Thai dish, and these noodles hold up so well for all these cuisines. It's a great value to be able to lean into quality and function together."
Ancho Roasted Mushroom Toast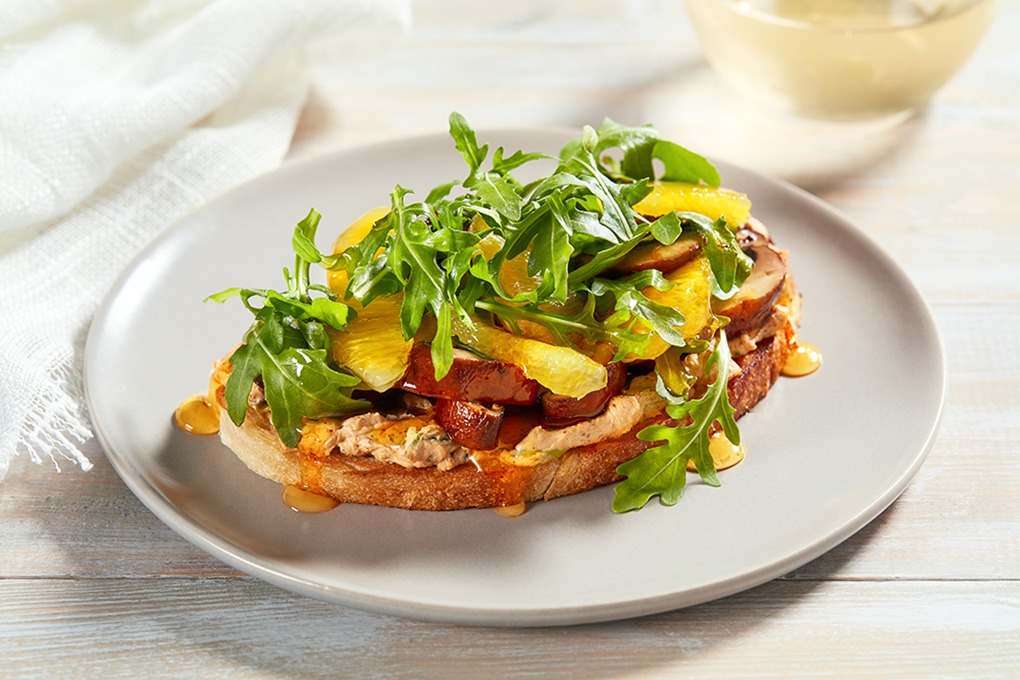 Photo: Carlos Garcia // Food Styling: Peg Blackley
"Sweet, salty heat. People are loving that right now and looking for the next hot honey," says Foust, of her choice to lean into Custom Culinary® Master's Touch® Ancho Flavor Concentrate. In fact, she doubles down on its subtle, smoky flavor and touch of heat and uses it two ways in her Ancho Roasted Mushroom Toast. The dish also reflects the abundant opportunity for further growth and exploration of toasts and other open-faced sandwiches, she notes. "I also wanted to keep this dish plant-forward, showcasing how to prepare, season and cook mushrooms for the meatiness you'd find in an animal protein."
The build sees slices of grilled sourdough bread spread with an ancho and charred scallion schmear and then topped with ancho roasted portobello mushroom slices, a citrus arugula salad and a drizzle of hot honey. The concentrate is used in the schmear with scallions that are charred on the grill, which softens the flavor bite, says Foust. It's also used to elevate the smoky profile of the mushrooms, mixed with smoked paprika, tomato paste, Dijon mustard, soy sauce, brown sugar and roasted garlic oil. "There is so much flavor infused into the mushrooms, which are grilled to deliver that meat texture that they are so good at mimicking."
The final component, the citrus arugula salad, brings a refreshing brightness to the dish. Foust strongly recommends using red-fleshed cara cara orange supremes. "These deliver that visual cue of ancho and orange, and they are incredibly delicious, sweeter than a typical orange," she explains. "And I love the pairing of smokiness and citrus."
Overall, this dish is a great way to leverage the spicy-sweet trend, upping the ante with the smoke, which provides another level, Foust says. "You can iterate on this endlessly. The toast is a good vehicle, but it could be a sandwich, or you could use the same marinade on meat, instead of the mushrooms. It could be a delicious filling for a taco."
Foust found the Custom Culinary product "easy to work with and delivered great flavor—just the right amount of smokiness." She also pointed to its labor-saving value. "It is smart to have these flavor concentrate tools, especially as we continue to be stretched, from a labor perspective, as an industry. These tools help us stay focused on executing quality every day."
Bubble Waffle California Caprese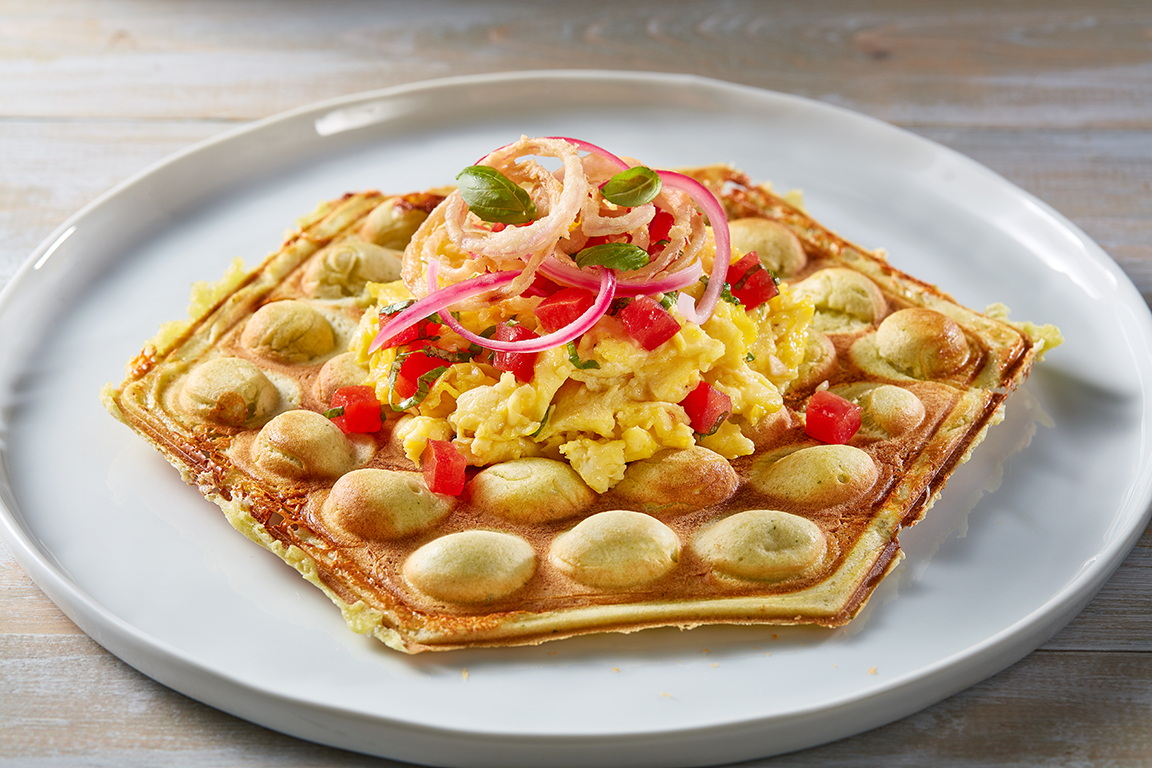 Photo: Carlos Garcia // Food Styling: Peg Blackley
"The experience of eating a bubble waffle is so different from a traditional waffle," notes Foust, pointing to its flexibility to fold into a taco or cone shape for on-the-go consumption. Although the puffy bubbles typically deliver an airy texture, she finds they "are practically begging to be filled." So, when searching for a unique way to present California mozzarella pearls or cubes, she landed on the Hong Kong-style waffle as a natural fit. The next step was to add basil and tomato—Italian components often paired with mozzarella—and hearty scrambled eggs for an easy-prep, flavor-packed breakfast dish: the Bubble Waffle California Caprese.
"This is a moderately sweet bubble waffle," says Foust. "There is some sugar, but it's the sweet characteristics of the basil that come forward, along with the toasted caramelized waffle flavor, plus black pepper. And the basil turns the batter a light, light green." While conventional breakfast plates top hot eggs with melty cheese, with the mozzarella enclosed in the waffle bubbles, each bite delivers a satisfying cheese pull. "It's a super enjoyable eating experience," she notes, either folded for takeaway or plated for knife-and fork dining.
Bubble waffles are still in the inception phase in this country, Foust acknowledges. But she believes it's the right time to tap into the bubble space. "Look at bubble tea and pearls and how they have enjoyed so much growth recently, not only with independent concepts, but also chains," she says. "In general, diners find comfort in traditional breakfast foods, but bubble waffles aren't too out there. They are fun and interesting, but not weird. Reimagining American classics and innovating with the forms that we can bring to our customers is a way to add unique and special qualities to the menu."
Project Management: Summit F&B
Photography: Carlos Garcia // Food Styling: Peg Blackley