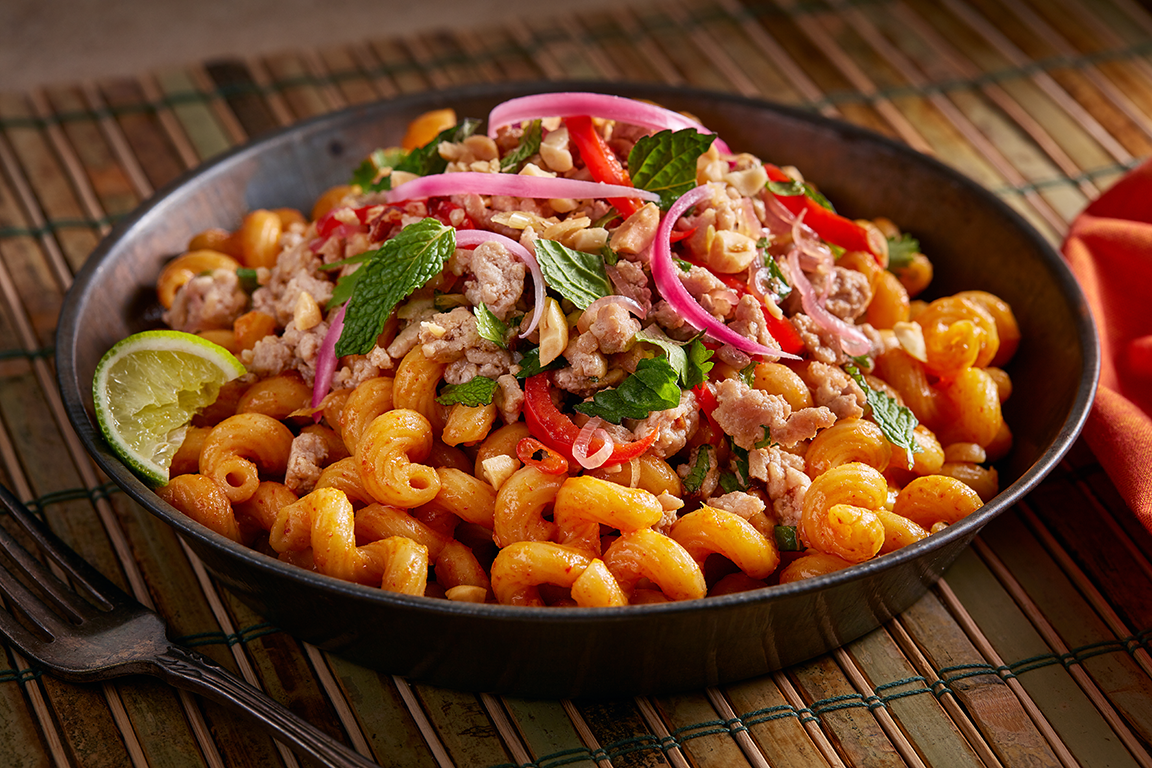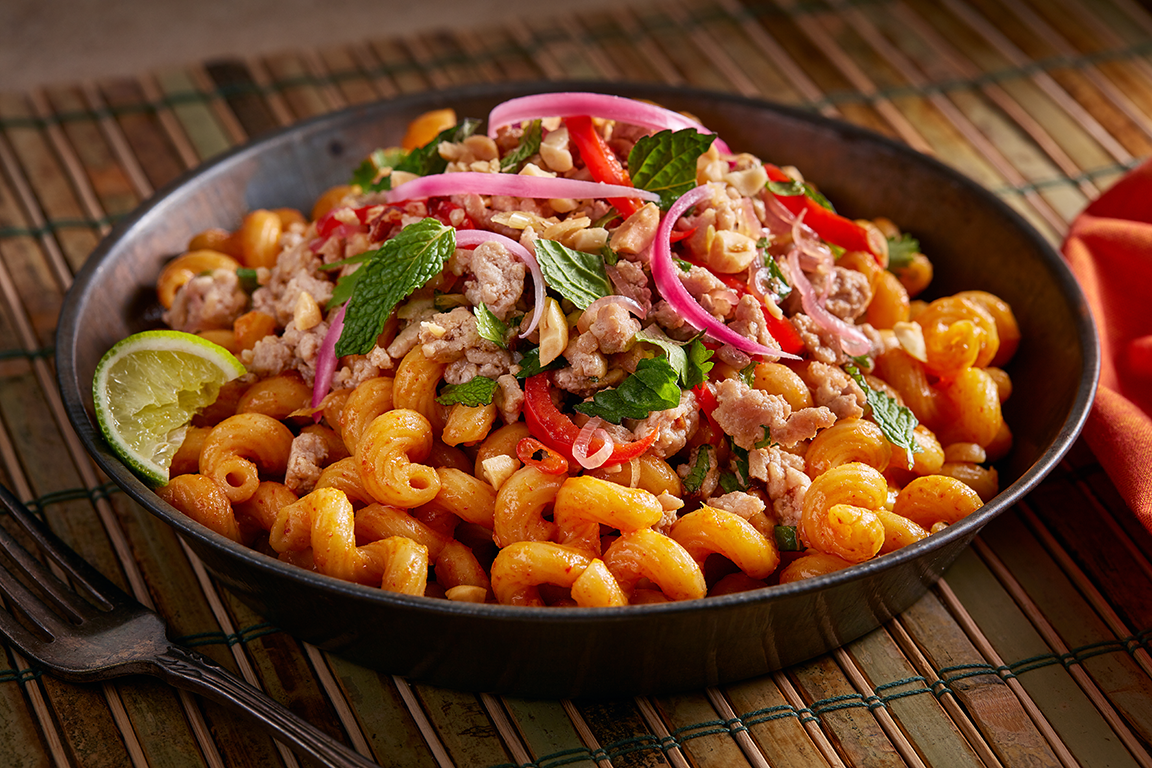 Barilla® Red Curry Noodles with Larb
Recipe courtesy of Jessica Foust
Sponsor: Barilla For Professionals
Servings: 8-10
Ingredients
Larb Dressing:
1/3 c fresh lime juice
2 Tbsp fish sauce
2 Tbsp brown sugar
½ tsp Sriracha
Larb:
1 lb ground pork
1 Tbsp vegetable oil
1/2 c thinly sliced shallots
2 Tbsp thinly sliced lemongrass
1 Thai chile, minced
2 c thinly sliced bell peppers
½ c chopped fresh mint
½ c chopped scallions
½ cup chopped cilantro
½ cup chopped basil
1 garlic clove, minced
2 tsp fish sauce
1 tsp salt
Red Curry Noodles:
8 c Barilla Frozen® Cellentani
2 Tbsp sesame oil
1 Tbsp minced fresh ginger
3 Tbsp Thai red curry paste
14 oz coconut milk
1 Tbsp soy sauce
2 Tbsp honey
1 Tbsp fresh lime juice
1/3 c water
Garnish:
1 c peanuts, chopped
½ c pickled red onions, prepared
Directions
For the Larb:
Prepare larb dressing by adding lime juice, fish sauce, brown sugar and Sriracha to a bowl and mix to thoroughly combine. Reserve.
In a medium skillet, heat peanut oil over medium high heat. Add lemon grass, shallots, Thai chiles and garlic and cook until fragrant. Add bell peppers and lightly sauté until edges begin to caramelize slightly. Transfer to the reserved bowl of dressing.
Return the skillet to the heat and brown pork until cooked to 165F. Transfer to the bowl of dressing and pepper mixture.
Add salt, fish sauce, fresh mint, scallions, cilantro and basil. Stir to evenly combine and reserve.
Red Curry Noodles
In a medium skillet over medium high heat, sauté ginger and red curry paste in sesame oil and cook until fragrant.
Add coconut milk, soy sauce, honey, lime juice and water and bring to a simmer.
Add cellentani pasta and cook until the pasta absorbs most of the sauce.
Plating
In a medium bowl, portion approx. 1- 1½ cups of Red Curry Noodles (prepared) and top with ½ cup Larb (prepared).
Garnish with pickled red onions and chopped peanuts.
Project Management: Summit F&B
Photography: Carlos Garcia // Food Styling: Peg Blackley