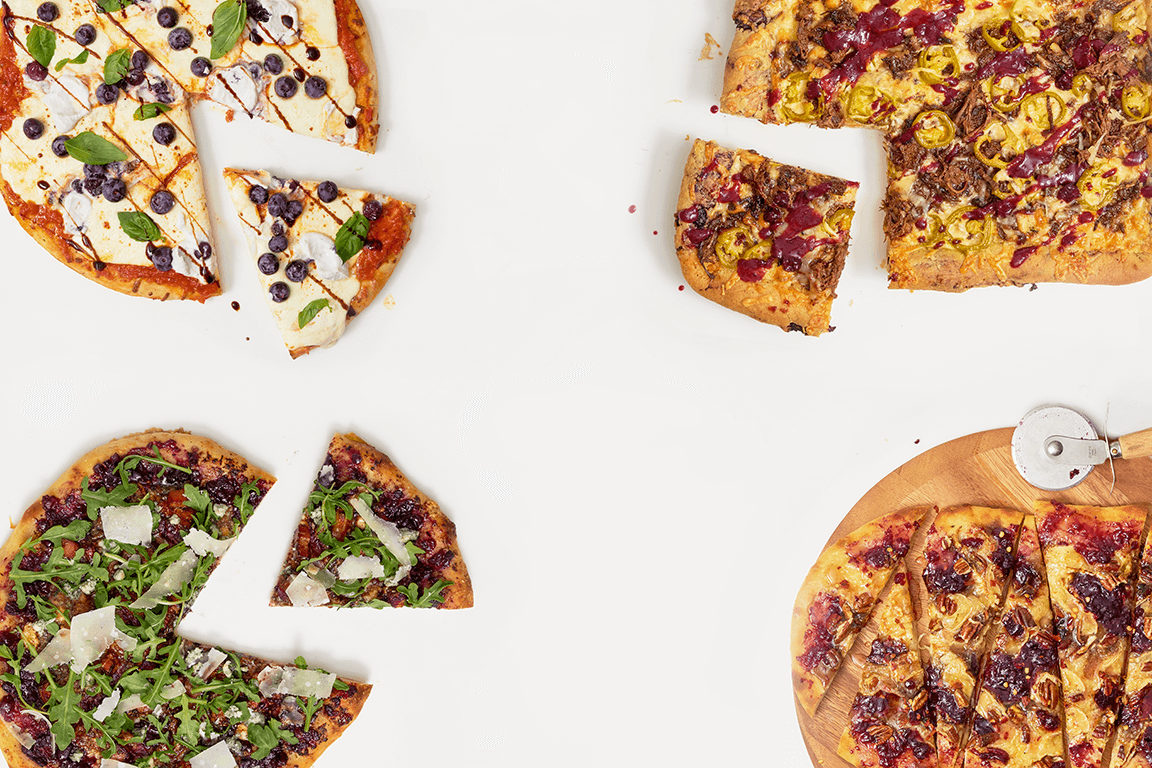 SPONSORED CONTENT
Leveling Up Pizza
Blueberries are the must-have ingredient for trend-forward sweet-savory combos
SPONSORED CONTENT
Leveling Up Pizza
Blueberries are the must-have ingredient for trend-forward sweet-savory combos
By Flavor & The Menu
September 28, 2023
By Flavor & The Menu
September 28, 2023
Pizzas are perennially popular, cherished for their irresistible allure and timeless association with comfort. To ensure that offerings stand out from the competition and meet the demands of today, consider exploring a few current trends for inspiration.
In the 2022 Technomic Pizza Consumer Trend Report, an impressive 47 percent of those surveyed said they would like more restaurants to offer natural ingredients on their pizzas. Datassential serves up similar findings, reporting that superfoods are among the fastest ingredients currently growing on pizza.
Blueberries are of course both a natural ingredient and a superfood, providing the answer to both of those consumer demands. They bring their sweet-tart flavor, plump juiciness, striking color, nutrient-dense profile and beloved familiarity. For operators, blueberries provide versatility, offered in a number of forms, including fresh, frozen, dried, powdered, canned, puréed, and freeze-dried. Here, we offer two "best in show" pizzas that demonstrate the premium power of blueberries as high contrast, big impact ingredients.
70% OF PATRONS INDICATE A WILLINGNESS TO PAY MORE FOR A DISH WITH BLUEBERRIES*
*2021 USHBC PATRON STUDY | DEMAND FOR BLUEBERRIES AT FOODSERVICE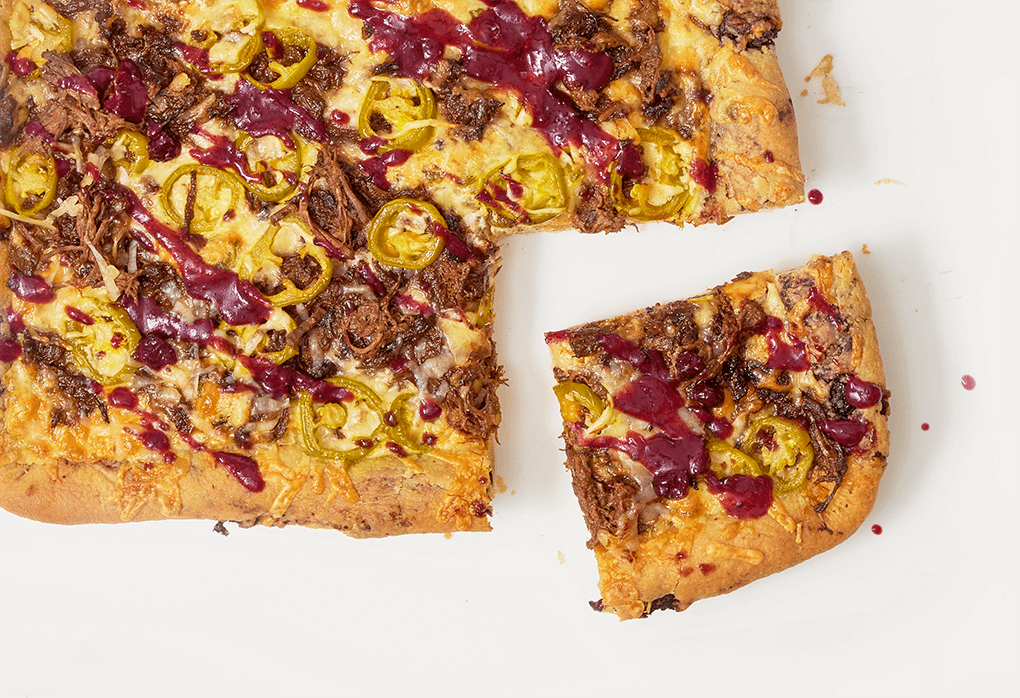 SOUTHERN BLUEBERRY BARBACOA DEEP- DISH PIZZA
Developed by SyEnna Hackbarth, associate Culinary Director at Sterling-Rice Group, on behalf of the U.S. Highbush Blueberry Council, this hearty build leads with savory-sweet flavor play and surprising elements. First, the deep-dish cornmeal-infused dough is dotted with drained canned blueberries. It's then layered with a poblano cream sauce (a white pizza sauce blended with char-roasted poblanos) and topped with sharp cheddar. Chunks of blueberry-braised beef barbacoa go over top (meat simmered in canned blueberries and juice until reduced and thickened), along with a scattering of zesty pickled jalapeños. Once out of the oven, a drizzle of blueberry barbecue sauce finishes the look.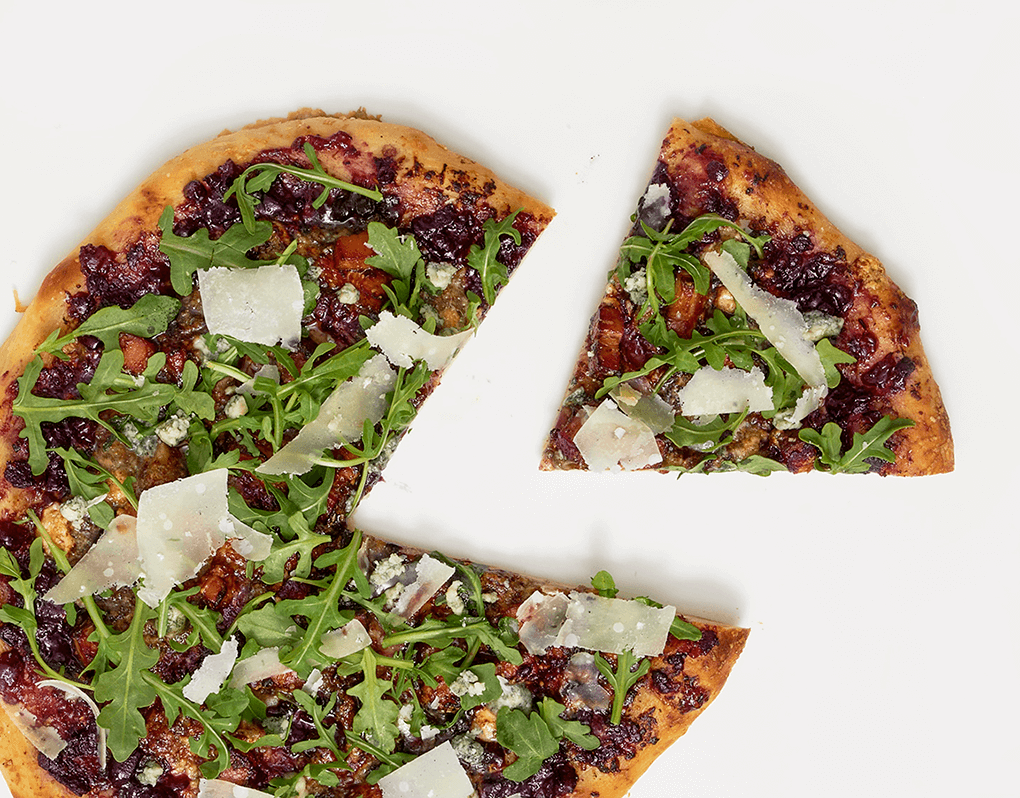 BLUEBERRY BLACK PEPPER AND BLUE CHEESE PIZZA
Smoky, savory, spicy, funky and sweet come together in this flavor-packed pie, developed by Hackbarth. Artisan pizza dough is topped with a layer of blueberry-black pepper compote, a blend of frozen blueberries, rosemary, thyme, red wine vinegar, Spanish onion, salt and pepper. Next, Parmesan cheese, blue cheese crumbles and bacon lardons are scattered across the pie. The pizza is baked until golden and crisp, then topped with arugula and Parmesan.
QSR patrons over-index in their interest in seeing blueberries on pizzas & flatbreads*
*2021 USHBC PATRON STUDY | DEMAND FOR BLUEBERRIES AT FOODSERVICE

45% of consumers find sweet-spicy food appealing or extremely appealing*
*TECHNOMIC, 2023
Find on-trend menu ideas featuring blueberries or contact us for custom innovation support at blueberry.org/foodservice.