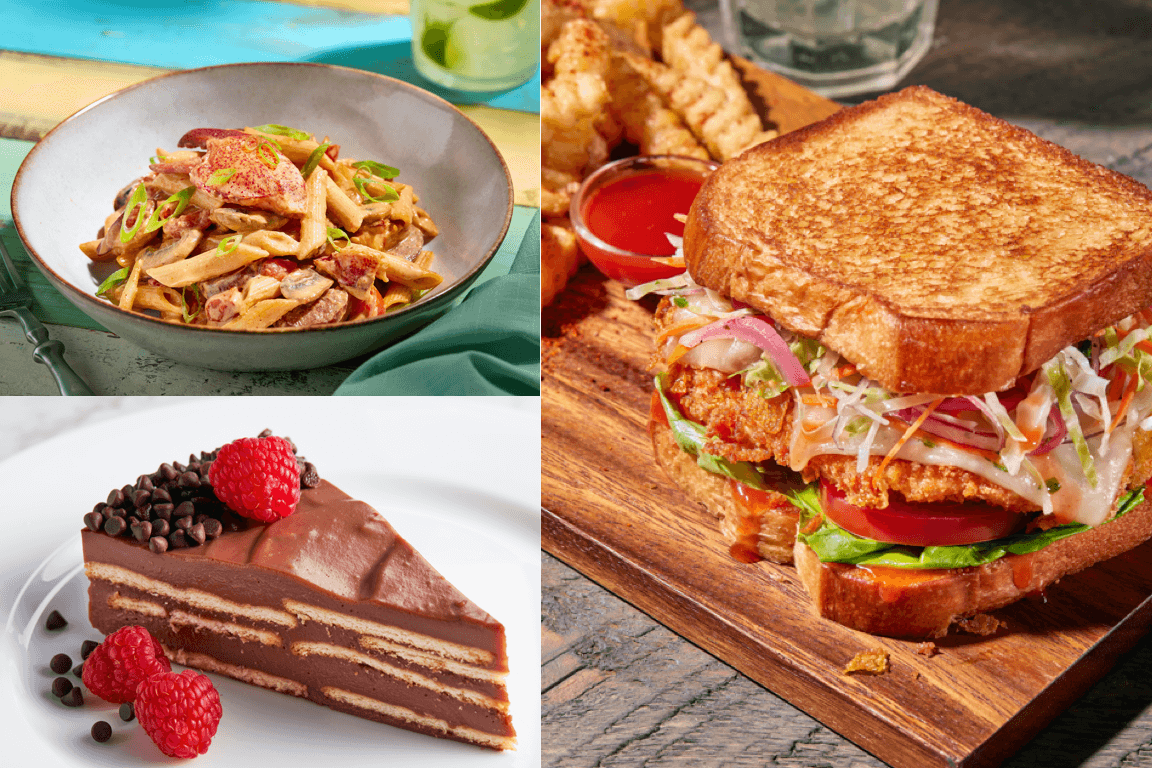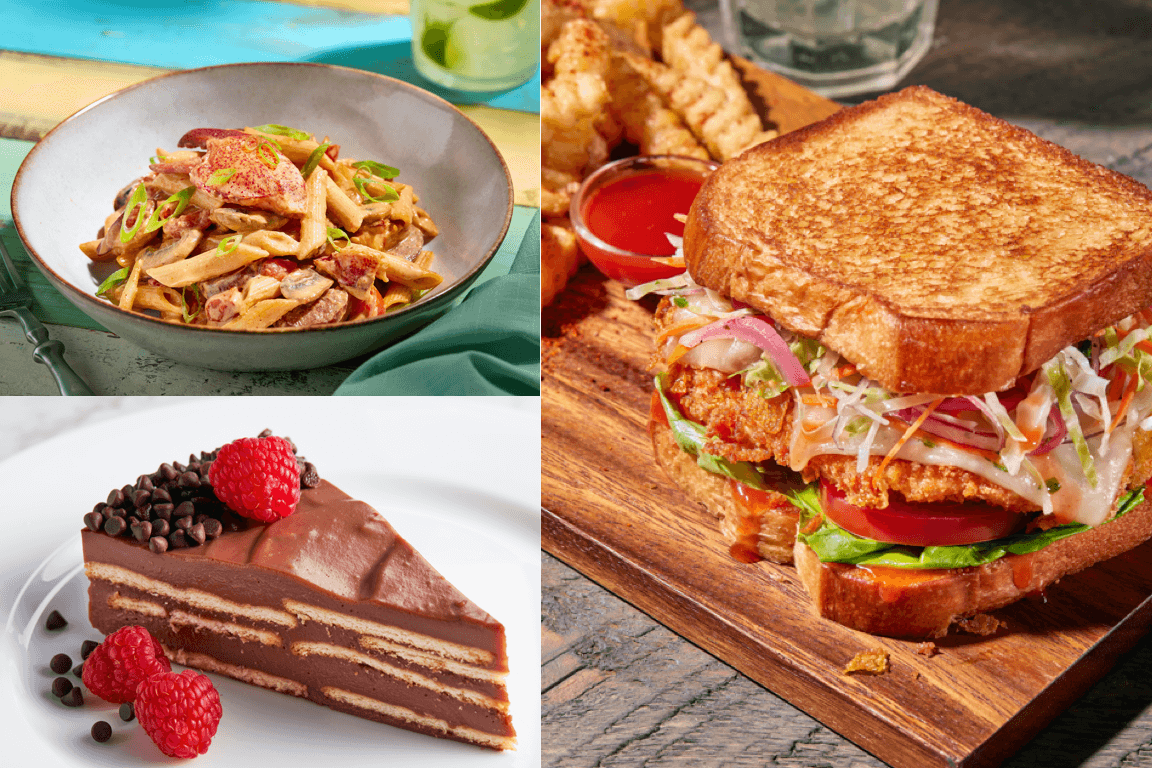 Kitchen Collaborative is a recipe-development initiative formed by Summit F&B and Flavor & The Menu. To fuel flavor innovation, a group of talented chefs partnered with sponsor brands and commodity boards to create recipes that showcase the passion and potential of our industry.
When Fernando Ortiz made time to share his reflections on the recipes he developed for Kitchen Collaborative, he was also working on a whopping 32 different menu concepts at Margaritaville, singer Jimmy Buffett's hospitality empire, where Ortiz serves as Senior Manager of Culinary Operations. Whether tapping into an island vibe or keeping it coastal, Ortiz says his ideation approach leans on seasonal ingredients, as well as those "from all different parts of the world; ones I know will help me enhance flavors and textures and deliver a nice, clean plate presentation." His recipes for Kitchen Collaborative—Crispy Hot Chicken Sandwich, Chocolate Marquise and Barilla® Cajun Lobster Pasta—fit right in with the high spirits born of good flavors.
Crispy Hot Chicken Sandwich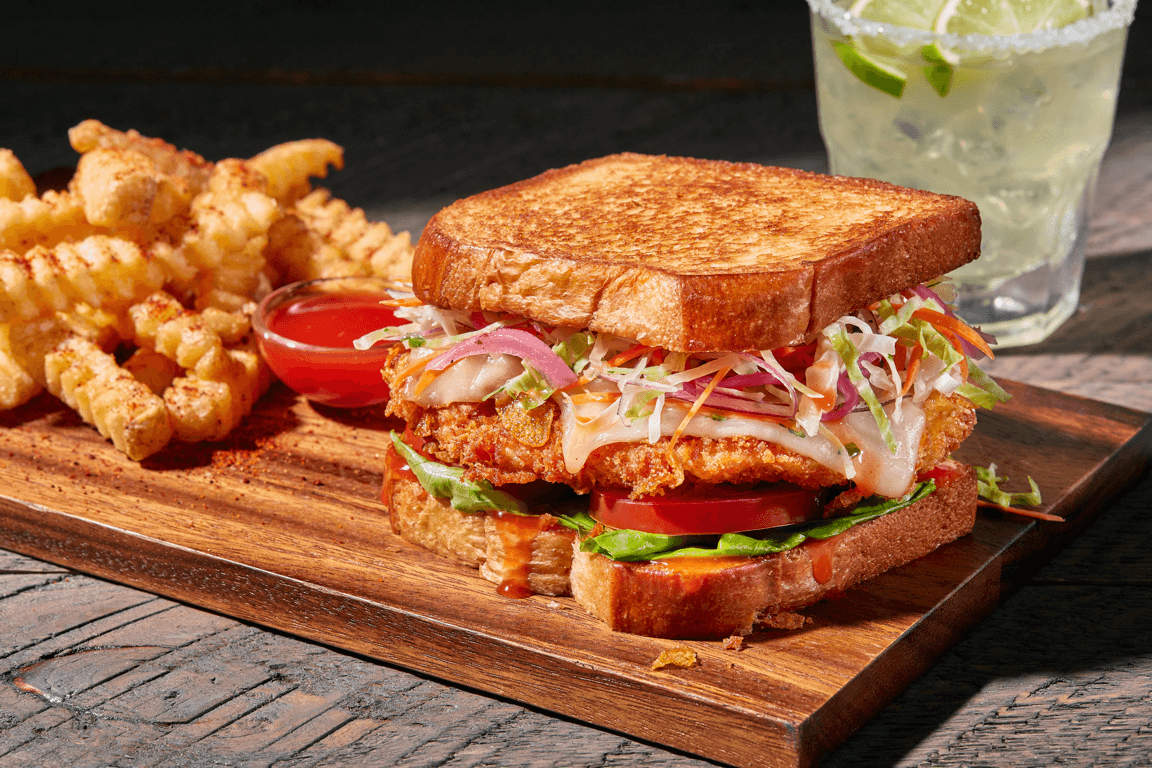 Photo: Carlos Garcia // Food Styling: Peg Blackley
Most chefs simply can't resist spinning up their own takes on the favorite dishes they enjoy at other restaurants. You can count Ortiz among them. With this Crispy Hot Chicken Sandwich, he chose to apply his personal style and sensibilities to the quintessential Nashville hot chicken sandwich that he enjoyed when he lived in Music City.
Ortiz begins by brining chicken breasts in a mixture of water, salt, sugar and a bit of cayenne pepper, which delivers flavor without too much heat, he explains. Before frying, he coats the breasts in a mixture of corn flakes and panko crumbs. "The combination gives a better sensation of freshness and crunchiness with each bite," says Ortiz.
To dial up craveability, Ortiz toasts brioche slices, spreading both with a generous helping of Texas Pete® Garlic Hot Sauce. Two slices of Havarti are draped over the hot, fried chicken, which are cooked in the oven just until the cheese has melted. "I was looking for a creamy cheese that would be easy to melt but not have a strong flavor. Just a fresh taste," he notes of his unexpected use of the Havarti. A slaw, tomato slices and a Bibb lettuce leaf complete the build. "In each bite of the sandwich, there is a good mixture of flavors and textures, from the crispy chicken to the creamy sauce and just the right amount of spicy heat," he says.
Chocolate Marquise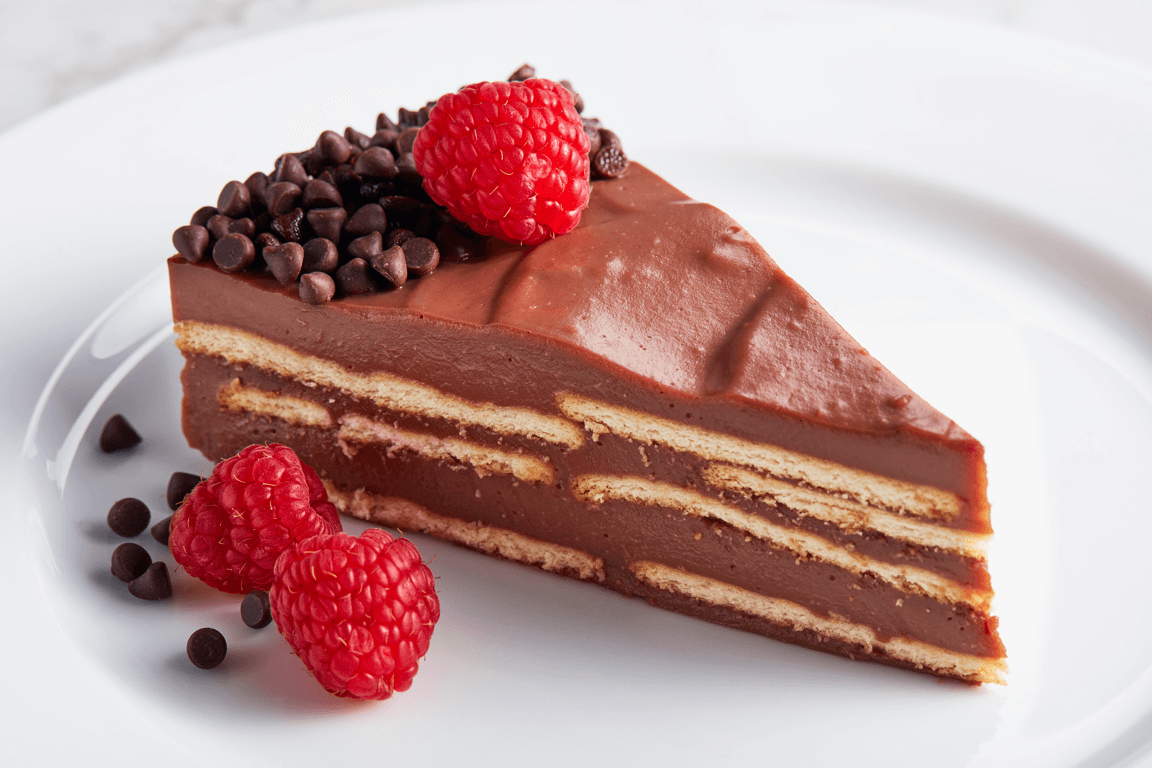 Photo: Carlos Garcia // Food Styling: Peg Blackley
"It's important to always keep a good choice of chocolate options with various textures on dessert menus," says Ortiz. "They are the ones most requested by our diners. Many people believe chocolate is addictive—and, more than that, chocolate can also help lift depression and anxiety." His decadent Chocolate Marquise is certain to chase away the blues.
Ortiz goes all in with the singular sweet, using a trio of Ghirardelli products in his creation: Sweet Ground Cocoa Powder, Milk Chocolate Wafers and Barista Chocolate Mini Chips. "The Ghirardelli brand has, in my opinion, the best and most versatile types of chocolates in all their presentations and forms," says Ortiz. "They are easy to use and combine."
For the Marquise, Ortiz makes a pudding from sugar, cornstarch, cocoa powder, milk and egg yolks. The chocolate wafers are added to the mix while it's still hot. Then, butter cookies get a quick coating in the pudding—one second on each side—and are used to provide three layers of a differentiating texture. After a lengthy set in the refrigerator, the mini chips are used for a delicious and decorative touch around the circumference of the round cake. Individual servings are garnished with more mini chips, as well as fresh berries. "The berries are a personal touch, but I think any citrus fruit also would work, such as kiwi or passionfruit. Even bananas might work," suggests Ortiz.
Barilla® Cajun Lobster Pasta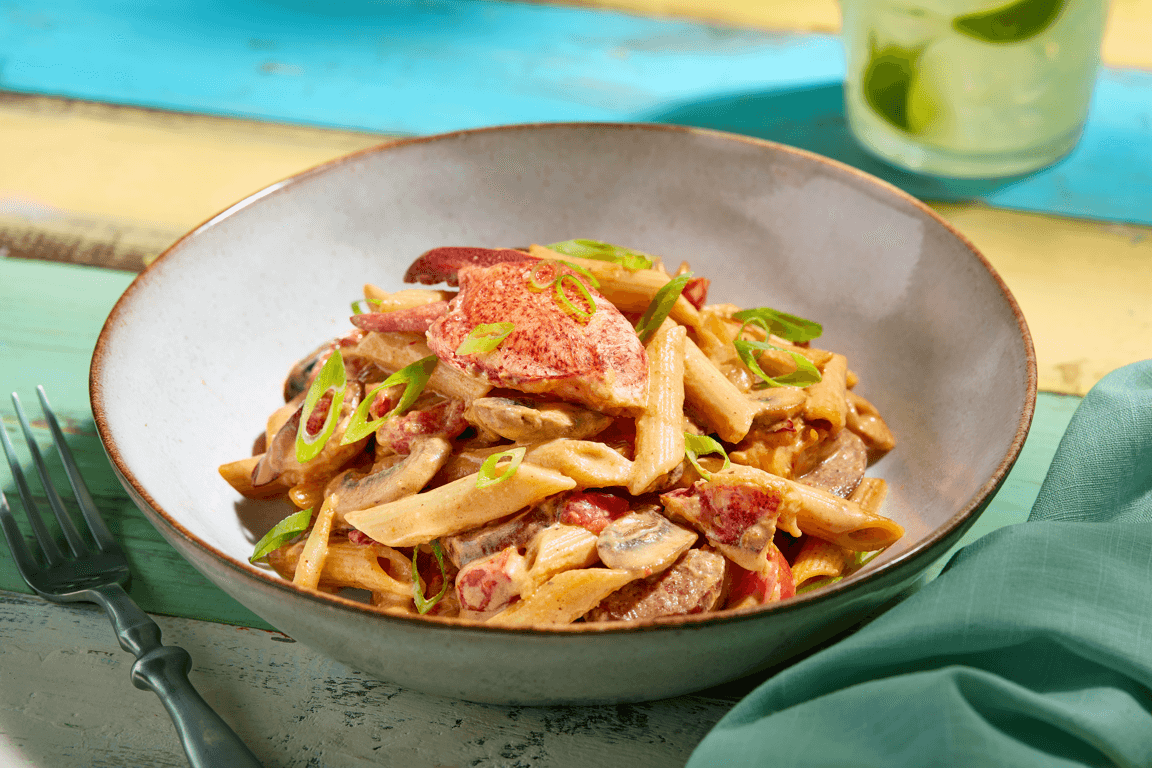 Photo: Carlos Garcia // Food Styling: Peg Blackley & Bree Williams
Pasta is an ideal partner to carry the broadest spectrum of flavor personalities, and few would dare to argue that Cajun cuisine isn't positively replete with "personality." Spicy, but not particularly hot, Cajun flavors don't overwhelm the palate, both enhancing other ingredients, while allowing those elements to shine.
For his Barilla® Cajun Lobster Pasta, Ortiz features several evocative Cajun components in the sauce: onions, garlic, fresh jalapeños, red pepper flakes, Creole mustard, tomato paste and a "blackened" seasoning blend. Perhaps less expected is the addition of chipotle in adobo sauce, which Ortiz says is "just a touch to enhance the Cajun flavor, as well as some Caribbean influences." Poached lobster meat and seared andouille sausage further the Cajun profile. Ortiz is a fan of the Barilla Frozen® Penne and other pasta shapes available in this pre-cooked format, noting the advantages over dry pasta. "This works very well, since it's cooked perfectly and gives us improved consistency," he says. "It even improves our food costs."
As with many of his peers, Ortiz expects to keep seeing cross-cultural approaches to menu development. "I really believe you don't need to be a Creole or Cajun restaurant to menu these dishes or use these flavors," he says.
Project Management: Summit F&B
Photography: Carlos Garcia // Food Styling: Peg Blackley