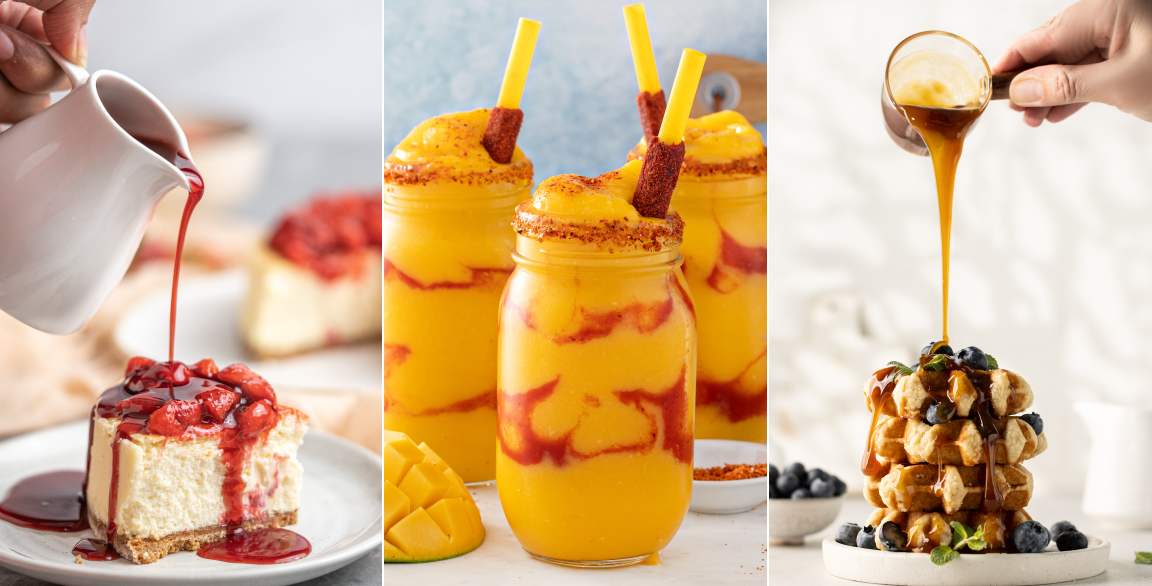 Desserts are the everyday, simple joy today's consumers seek, allowing restaurants to leave a lasting impression on customers. One secret weapon to heighten the impact of desserts and sweet snacks is by leveraging a signature sauce. Sauces are key to modern menu development; many trend-forward menu items – particularly those that resonate with younger consumers – prominently lean on the sauce component. Think "smashed" donuts and "loaded" cookies with inventive glazes, or sweet beverages with a signature drizzle—the glaze, sauce or drizzle playing a key part of the all-important visual appeal of modern-day desserts.
Post-pandemic consumers, especially the Gen-Z cohort, are seeking ultra-indulgent multi-sensory and surprising experiences, according to Mintel's 2023 Global Food and Drink Trend Unguilty Pleasures. Sauces provide a low-cost yet effective way to add that "Wow!" factor to sweets. These delightful add-ons offer a world of possibilities, allowing chefs to craft unique takes on classics and excite customers' evolving tastes. With endless options for customization, sauces promote new twists to familiar flavors and create visually appealing dishes.
"Caramel and salted caramel sauces can dip churros, grace cakes and bakery items, elevate sweet breakfast treats like Caramel French Toast, and add excitement to a range of dishes from fresh apples to pretzels to pancakes," says John B. Shackelford, Corporate Chef & Culinary Manager at Giraffe Foods, a custom sauce manufacturer for the foodservice industry. "Vanilla, a timeless favorite, can serve as a creamy icing on a cake, a delicate drizzle on a cinnamon bun, or a luxurious addition to a gourmet dessert."
One of the most notable flavor developments in ready-made sweet treats is the use of cheesecake flavors in chilled desserts (Mintel, 2022). Chefs can tap into this demand by offering a Mini Cheesecake Brûlée drizzled with Salted Bourbon Butterscotch Caramel Sauce.
Consumers' hunger for all things sweet continues to build. Between 2023 and 2028, the North American bakery market is projected to grow from $99.47 billion to $110.25 billion, a CAGR of 2.08 percent.
But more and more, chefs are embracing savory flavors for their dessert options. The winning combination of sweet and savory ingredients can appeal to consumers who may avoid desserts that are too sweet or like a bit of spice on their plate. Mintel reports flavors like salt, popcorn, and brown butter are growing on menus, adding new taste sensations to classic desserts like ice cream. Mangonada, a Mexican flavor system that combines mango, chamoy sauce and chili powder, is up 100 percent on menus in the last year, according to Datassential. The sweet heat trend is also being added into dessert builds – consider the compelling blend of spicy and sweet in a Hot Honey Milkshake.
"Integrating sweet elements beyond dessert boundaries are also on the rise, offering a unique twist to favorites and expanding the category from a special occasion end-of-meal treat to the main event – consider a delectable pizza drizzled with a sweet donair sauce," says Shackelford.
Sauces also have an impact on back-of-the-house operations. Operators face the challenge of constantly rotating desserts on menus. Sauces offer a convenient solution, allowing chefs to refresh an existing dessert and present it as an exciting new creation with just a change in sauce and plating. Their cross-functional use across multiple builds and SKUs ensures they perform well in various applications for a highly versatile and practical menu item. The inherent shelf stability of many sweet sauces reduces storage concerns and streamlines the procurement process.
"At Giraffe Foods, our highly skilled culinary and food scientist product development team is here to support you on your flavor journey," says Richa Singh, Marketing Manager at Giraffe Foods. "We work directly with customers to understand their brand identity, menu item positioning and desired offerings. Together, we can create unique flavors, favored textures, impactful appearances, and craveable sauces to captivate consumers while tapping into the fastest growing flavors to pair with dessert – or other menu items. We create sauces, dips, dressings and marinades for every food category, from beginnings to endings."
Visit Giraffe Foods for more sauce inspiration, including custom sauces and private label hot sauce concepts and insights.