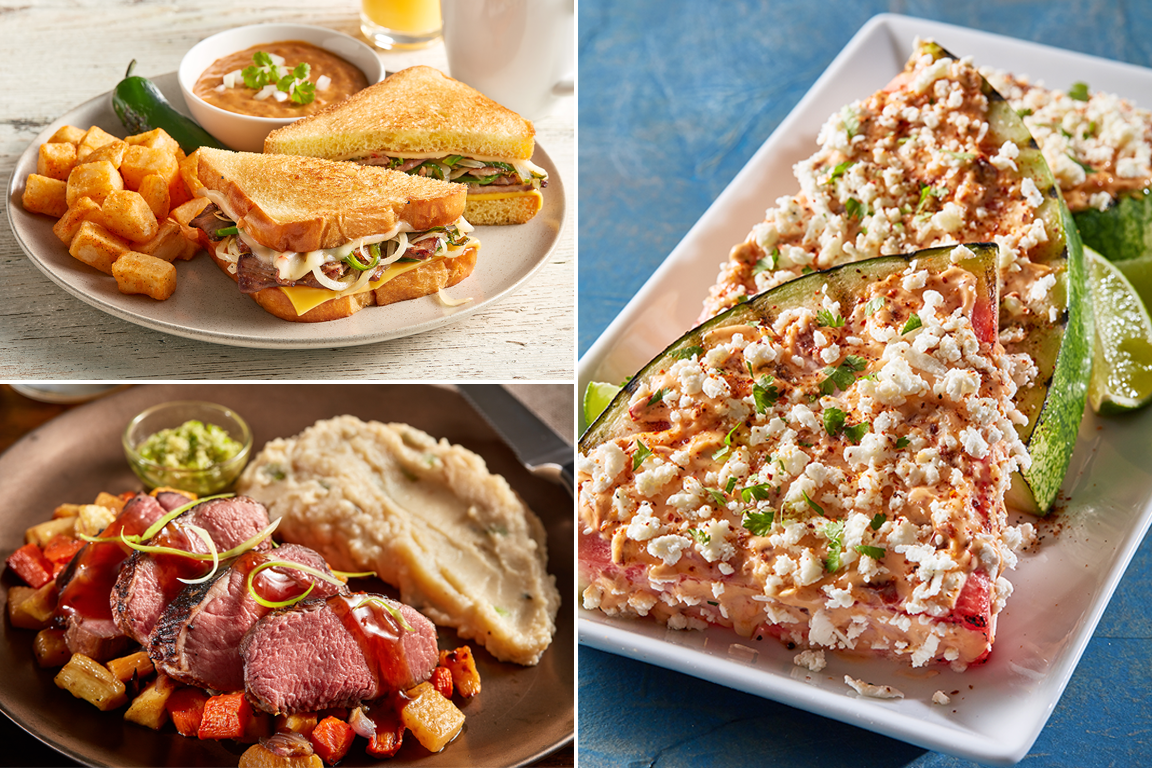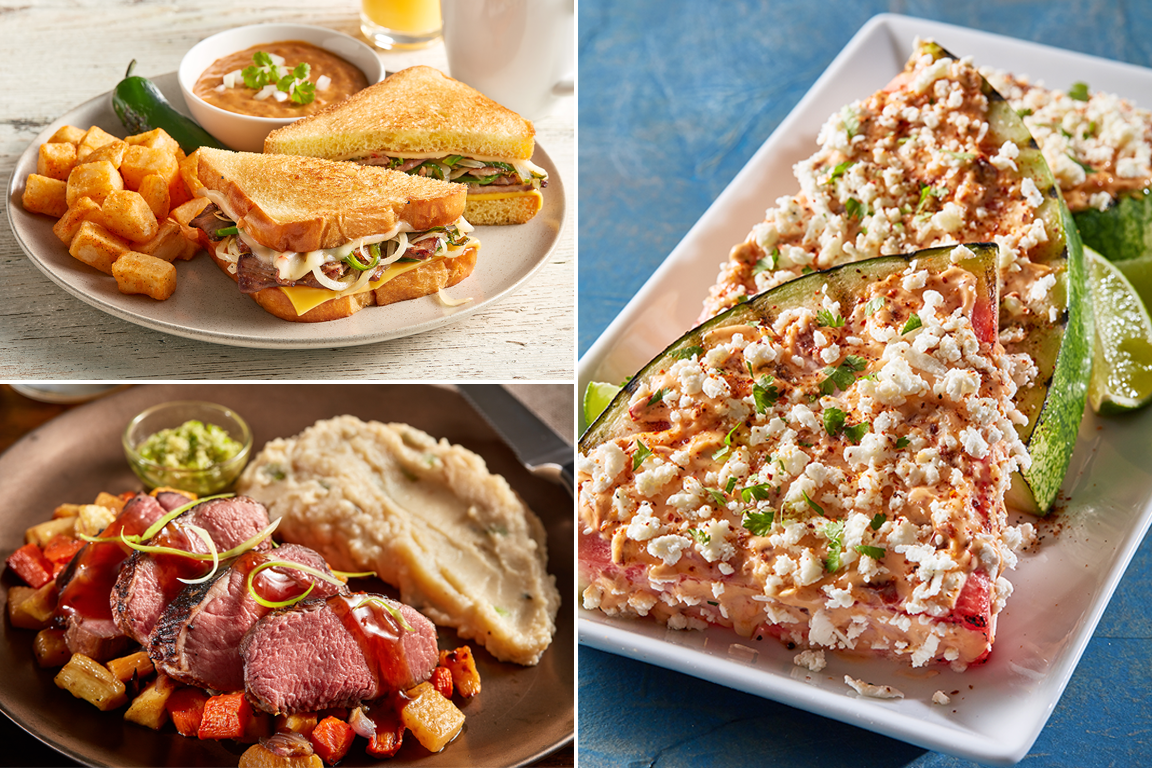 Kitchen Collaborative is a recipe-development initiative formed by Summit F&B and Flavor & The Menu. To fuel flavor innovation, a group of talented chefs partnered with sponsor brands and commodity boards to create recipes that showcase the passion and potential of our industry.
CHEF SPOTLIGHT: David Bolosan
Across a long culinary career, David Bolosan has drawn inspiration from many different sources. "But the direction where I go with these inspirations comes from the brand that I am working for," he says. Now with California distributor Daylight Foods, Inc., Bolosan developed his Kitchen Collaborative recipes during his culinary tenure at Black Angus Steakhouse. "I wanted to stay within the boundaries of a steakhouse, but try to stretch the imaginations and expectations of our guests."
It's fair to conclude that most steakhouse guests would be surprised—and intrigued—to discover Carne Asada Grilled Cheese with Birria Hollandaise, or Street Watermelon "Elote" on the menu. Even his Roasted Australian Lamb Shoulder defies convention, marinated in miso and sake and boasting other flavors and ingredients from the Japanese pantry. Bolosan recognizes that patrons of legacy brands are likely to bring a set of preconceptions to the table. But he stands firm in his belief that chefs have a responsibility to deliver menu innovation through dishes that challenge assumptions without straying too far from brand imperatives.
Carne Asada Grilled Cheese with Birria Hollandaise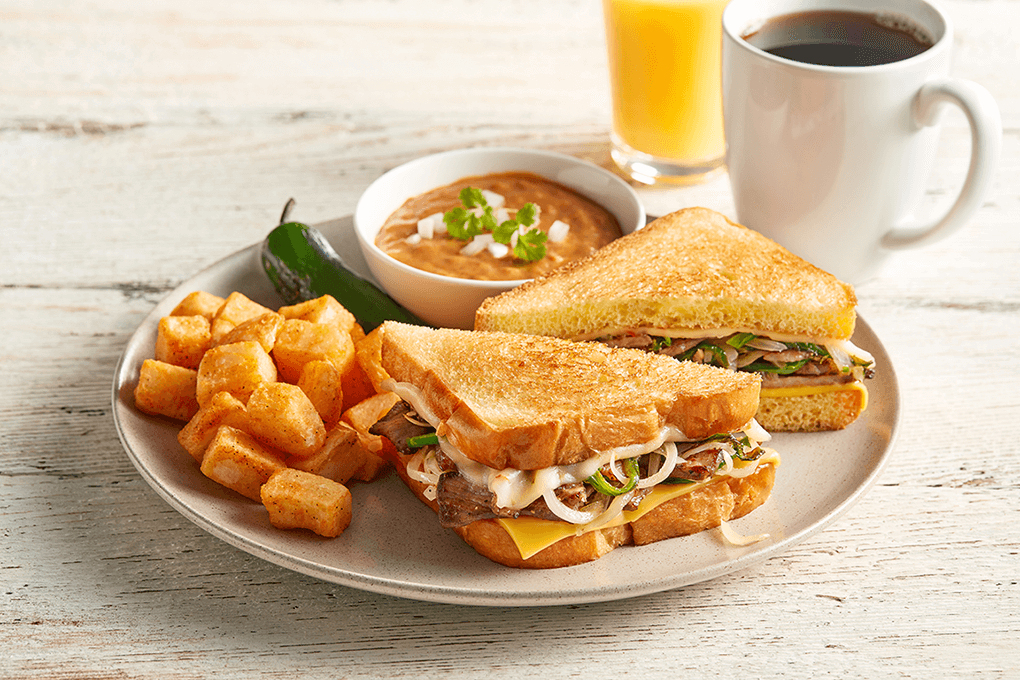 Photo: Carlos Garcia // Food Styling: Peg Blackley
"I wanted something that screams 'order me!' on the menu," says Bolosan, who proceeded to dial up—way up—the crave factor with this Carne Asada Grilled Cheese with Birria Hollandaise. It's a bold take that defies the expectations most diners hold for elements that are considered classic (grilled cheese and hollandaise) and in vogue (birria).
"Going in, I knew I wanted to go with a flavor profile that was trending, so I decided to see if I could re-envision a birria taco," he explains. "The grilled cheese reimagined the taco component of a quesabirria. It has the beefy elements from the carne asada and the crisp, cheesy elements from the grilled cheese." The sandwich build features thick-cut toasted brioche, yellow onion and fresh jalapeño, plus pepper Jack and American cheeses. Bolosan recommends starting with a cold, cooked steak, such as a skirt steak seasoned simply with salt and pepper, which is then heated alongside the onions and peppers.
A birria hollandaise is served in a soup cup for sandwich dipping. "I started with a reduced version of a birria consommé with the onions, tomato, garlic, chiles and spices. This is then mixed into the hollandaise from Custom Culinary®," says Bolosan. He was careful not to let the bolder flavors—which also include Custom Culinary® Gold Label Beef Base and Ancho Chili Paste—overwhelm the rich, buttery taste of the hollandaise.
The birria-infused hollandaise is garnished with onions and cilantro, and the sandwich-dip combo is served with both a lime wedge and a grilled jalapeño. "Yes, there are multiple riffs going on in this dish," says Bolosan, "but each is approachable on its own—and even more so all together."
Roasted Australian Lamb Shoulder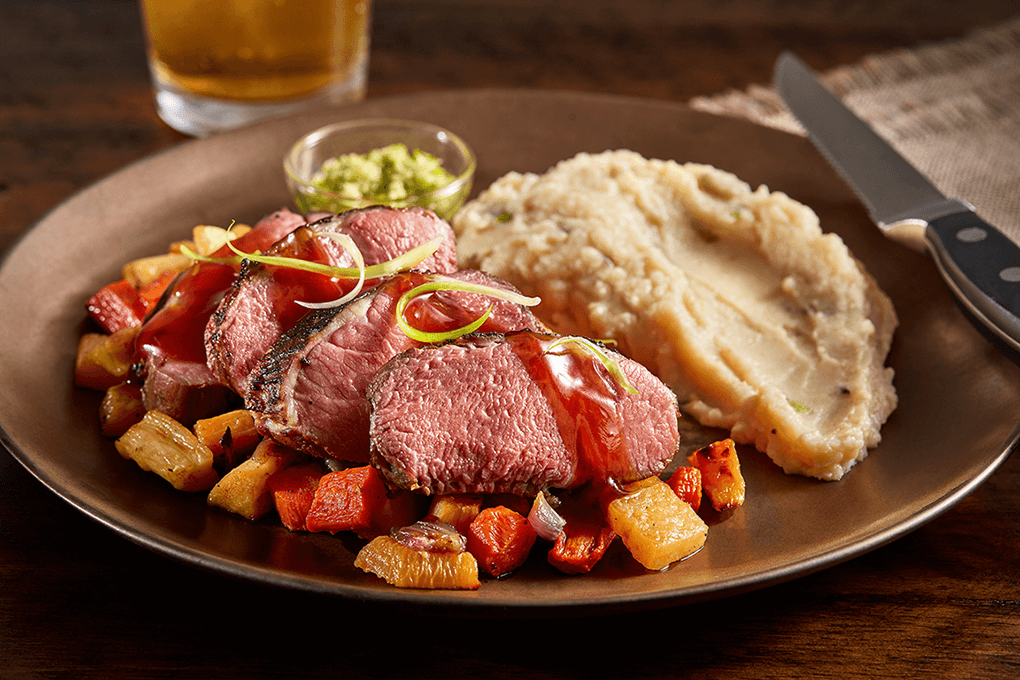 Photo: Carlos Garcia // Food Styling: Peg Blackley
Flavor influences from multiple points along the Pacific Rim are made manifest in this miso- and sake-marinated Roasted Australian Lamb Shoulder, which also features a sweet soy glaze and ginger-scallion sauce. "Lamb is common in some Asian cultures, but I don't think it's as common in Japanese cuisine," explains Bolosan of his assignment to cook the lamb with a Japanese flavor profile. Having grown up in Hawaii, he was exposed to many Asian flavors, so he eagerly embraced the challenge. Plus, "Lamb is one of my favorite proteins to work with."
The marinade is composed of soy sauce, brown sugar, sake, red miso and minced ginger. Bolosan cuts the lamb shoulder into two logs that soak up those flavors for 6 to 8 hours in the refrigerator. The meat is roasted to a desired doneness and then rests before being laid upon a bed of roasted root vegetables with charred scallion and miso mashed potatoes gracing the other side of the plate. Drizzles of sweet soy sauce and ginger-scallion sauce, plus a pinch of julienned scallions, are the finishing touches.
Less of a seasonal inspiration and more a "change in direction," the root vegetables were the natural choice when Bolosan abandoned plans to braise the lamb and roast it instead. Still, he notes that these can be swapped for various seasonal harvests. The key is to select veggies that will add more depth to the dish through different flavor elements.
Street Watermelon "Elote"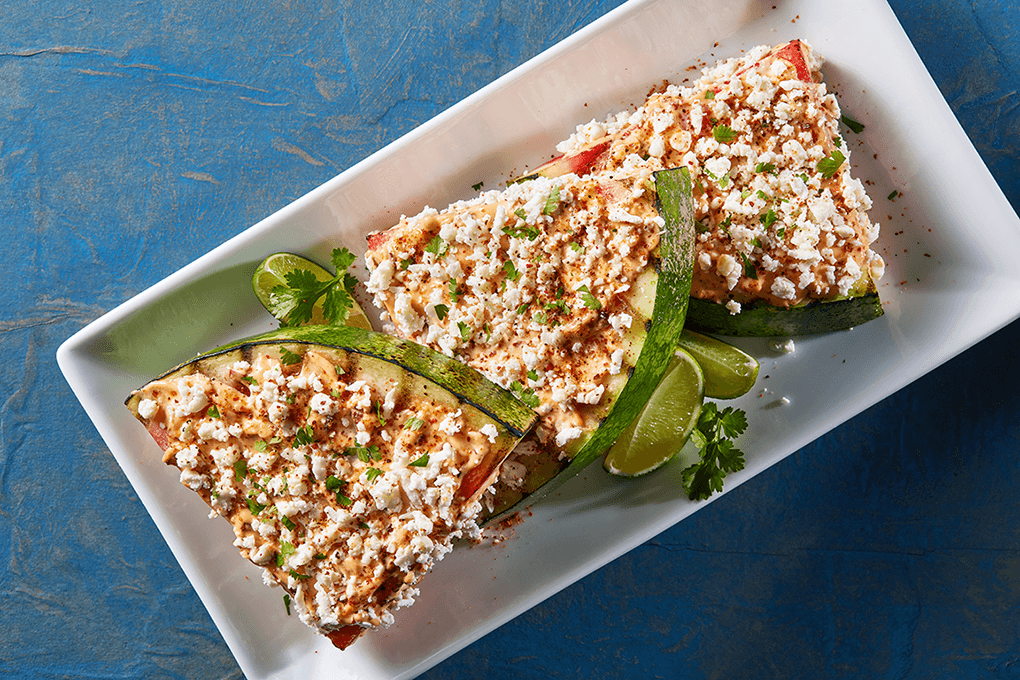 Photo: Carlos Garcia // Food Styling: Peg Blackley
Summertime, and the livin' is easy. That's the spirit Bolosan set out to capture in this novel Street Watermelon "Elote" recipe. "Watermelon always makes me think of summer, and in San Francisco, where I live, a summer walk through the Mission District means you are sure to cross paths with a street vendor selling elote," says Bolosan. "I wanted to see if I could do a mash-up of the two."
It was far from a simple undertaking. "It took quite a few tries to get it where I was happy," he recounts. "I knew I wanted to cook the watermelon, and I did several variations of deep fried and grilled before settling on the grill, which produces a great flavor." He credits the sweet caramelization of the sugars in the fruit brought out by the hot grill, which are then contrasted with the slight bitterness and savory quality of the grill marks.
The grilled watermelon is brushed with chipotle mayo, then dusted with a generous coating of Cotija and Tajín. Chopped cilantro provides a colorful sprinkled finish. "I wanted to add a little spice, which is why I used a chipotle aioli. The Cotija is expected, so I left that as is. But adding the Tajín delivered the extra citrus and brightness I wanted—not to mention a trendy flavor," explains Bolosan. Although he'd originally conceived it as a side dish, he can see his unusual elote finding favor as an appetizer, working well not only in Latin-inspired concepts, but for many different restaurant brands. "Once again, it's about taking multiple approaches to concepts and flavors and reimagining them in a single dish."
Project Management: Summit F&B
Photography: Carlos Garcia // Food Styling: Peg Blackley