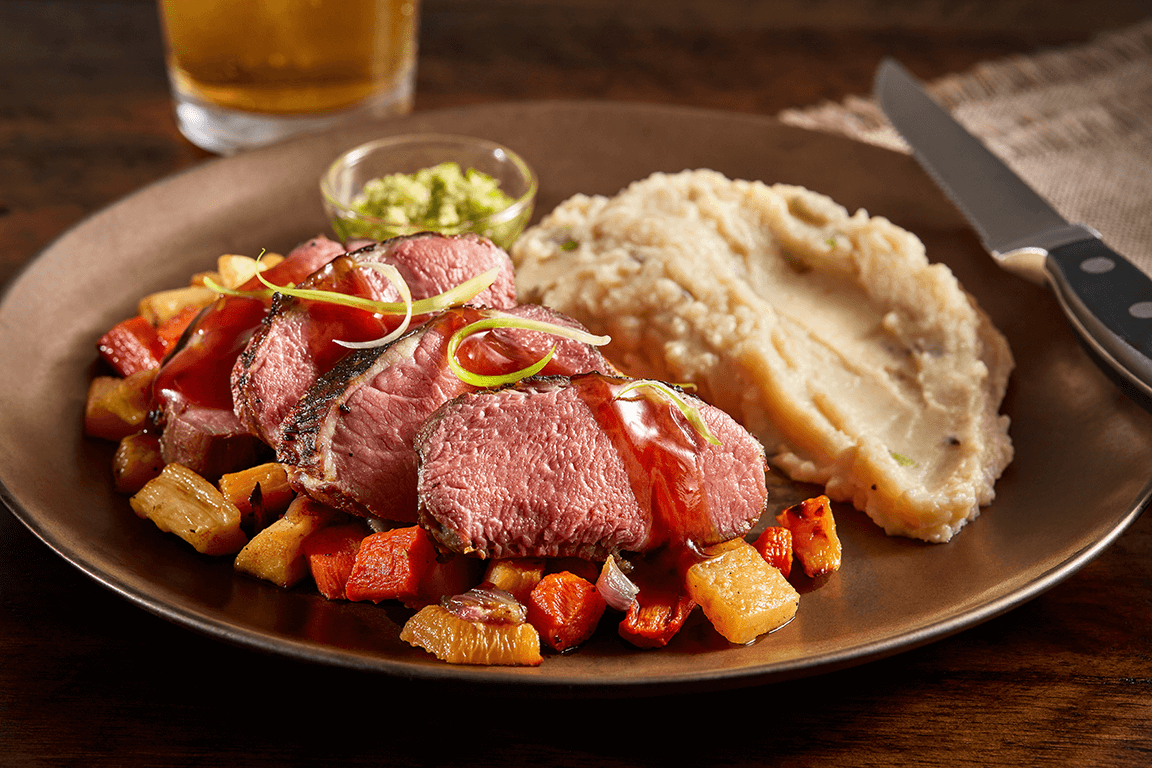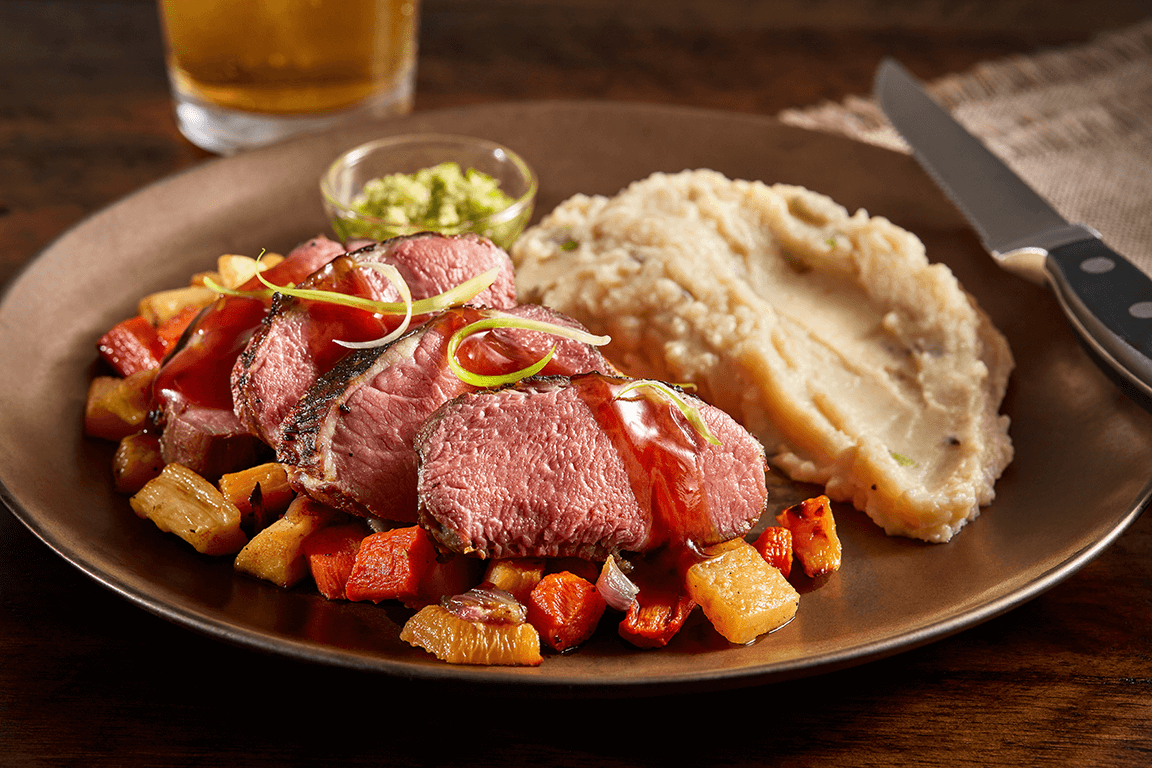 Roasted Australian Lamb Shoulder
Recipe courtesy of David Bolosan
Sponsor: Aussie Beef & Lamb
Servings: 5
Ingredients
Miso and Sake Marinade:
2 ½ lb boneless Australian lamb shoulder
1 c soy sauce
½ c brown sugar
½ c sake
¼ c red miso
1 Tbsp minced ginger
Roasted Root Vegetables (Yield 18 oz):
8 oz rutabaga, peeled and diced ¾ in
8 oz parsnips, diced ¾ in
8 oz carrots, diced ¾ in
8 oz red onions, diced ¾ in
2 Tbsp canola oil
¾ tsp kosher salt
¼ tsp coarse ground black pepper
Charred Scallion and Miso Mashed Potatoes:
2 lb russet potatoes, peeled and cut into 2-in pieces
3 oz butter
¾ c milk
½ Tbsp kosher salt
1 Tbsp chopped charred green onion (charred on grill)
2 tsp red miso
Sweet Soy Sauce (Yield 1 c):
1 Tbsp water
2 Tbsp cornstarch
½ c soy sauce
½ c mirin
¼ c packed brown sugar
Ginger-Scallion Sauce (Yield 1 c):
½ c minced fresh ginger
½ c minced green onion
½ tsp kosher salt
¼ c canola oil
To Plate:
Directions
For the Miso and Sake Marinade:
Trim lamb of any fat and gristle. Cut it into two logs and tie with butcher twine to hold its shape. Place in a non-reactive container.
Add all of the ingredients for the marinade to a bowl and mix to combine. Pour mixture over the lamb. Let marinate for 6 to 8 hours, refrigerated.
Remove lamb from marinade and wipe off excess marinade. Place on a roasting pan and roast in a 375°F convection oven. Cook until desired doneness. Remove from oven and let rest.
For the Roasted Root Vegetables:
Place all of the vegetables in a bowl and toss to evenly distribute with the oil, salt and pepper.
Spread out on a sheet pan and cook in a 350°F convection oven for 20 minutes. Be sure to stir vegetables halfway through the cooking process. When done, remove from oven and hold hot.
For the Mashed Potatoes:
Steam potatoes until cooked through, about 20 to 25 minutes.
Place potatoes in a mixer. Add the butter, milk and salt. Mix until creamy and all lumps are gone.
Stir in the charred scallions and miso. Hold warm.
For the Sweet Soy Sauce:
Mix the cornstarch and water together and set aside.
Add the soy sauce, mirin and sugar to a pan. Bring to a boil over medium-high heat.
When boiling, stir in the cornstarch mixture to thicken. Lower to a simmer and let cook for 30 seconds. Hold on side hot.
For the Ginger-Scallion Sauce:
Mix all of the ingredients together. Hold cold in refrigerator until ready to use.
To Plate:
Place 4 oz of root vegetables to one side of the plate.
Slice the lamb and lay 6 oz of lamb over the root vegetables.
Place 4 oz of mashed potatoes on the other side of the plate.
Drizzle the lamb with 1 ½ tsp sweet soy sauce and 1 tsp of ginger-scallion sauce.
Garnish the top of the lamb with a pinch of julienned scallions.
Project Management: Summit F&B
Photography: Carlos Garcia // Food Styling: Peg Blackley