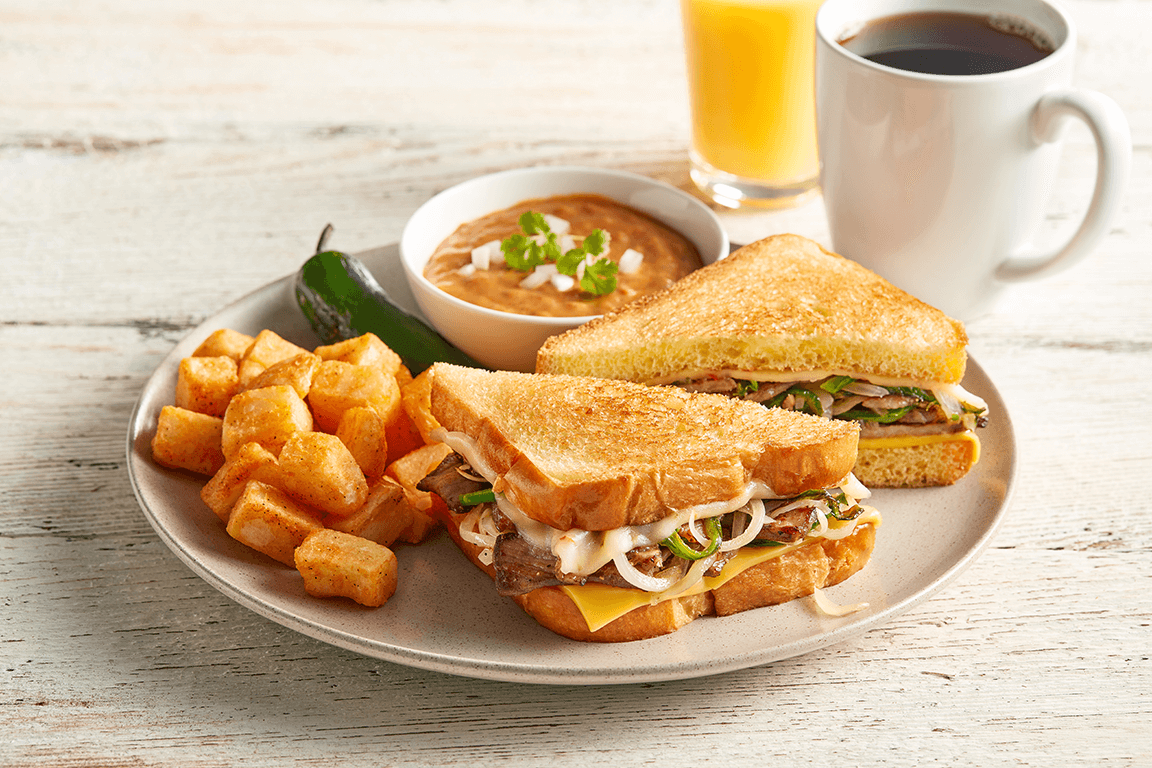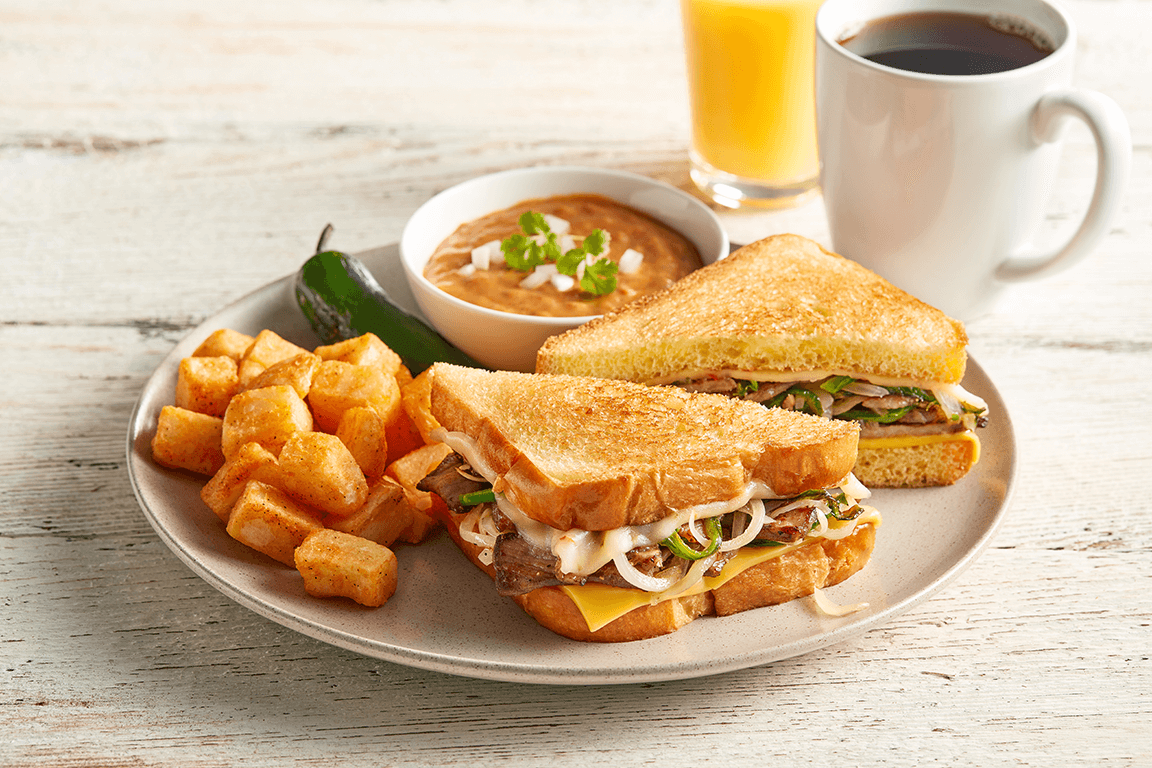 Carne Asada Grilled Cheese with Birria Hollandaise
Recipe courtesy of David Bolosan
Sponsor: Custom Culinary
Servings: 1
Ingredients
Birria Hollandaise (Yield about 1 ½ qt):
2 oz canola oil
8 oz yellow onion, minced
1 ½ oz garlic, minced
10 oz Roma tomato, minced
2 c Custom Culinary® Gold Label Beef Base
4 oz Custom Culinary® Ancho Chili Paste
½ tsp ground cinnamon
2 tsp oregano
1 tsp cumin
½ tsp coriander
Salt and pepper, as needed
2lb bag Custom Culinary® Hollandaise, defrosted
Carne Asada Grilled Cheese:
2 slices thick-cut brioche bread
2 tsp butter, softened
1 ½ tsp canola oil
2 oz yellow onion, julienned
½ oz fresh jalapeño, julienned without seeds
4 oz cold cooked steak, thinly sliced (such as skirt steak seasoned with salt and pepper)
1 slice pepper Jack cheese
1 slice American cheese
4 oz Birria Hollandaise, hot
1 Tbsp chopped onion
1 Tbsp chopped cilantro
1 lime wedge
1 grilled jalapeño
Directions
For the Birria Hollandaise:
Add oil to a large sauté pan over medium-high heat. Add the onion and sauté until it starts to brown on the edges. Add the garlic and continue to sauté for 1 minute but do not brown the garlic.
Add the tomatoes to the pan and cook until they have lost most of their water. Add the Gold Label Beef Base to the pan, bring to a boil, then lower to a simmer.
Add the Ancho Chili Paste, cinnamon, oregano, cumin, coriander, salt and pepper; stir well to combine. Cook until reduced to a thick paste similar to a loose pesto.
Add the Hollandaise and reduce to medium heat. Heat to 165°F, stirring often so it doesn't burn on the bottom of the pot. Hold hot at 145°F.
For the Carne Asada Grilled Cheese (per serving):
Evenly spread 1/2 tsp butter on each side of the bread slices
Place the bread on the flat top and cook until golden brown. Flip over and cook the other side until golden brown.
At the same time, warm the oil on the flat top (medium-high heat). Add the onions and cook until they start to lightly brown.
Add the steak and jalapeño in a thin layer over the onions and cook, stirring occasionally, until it reaches 165°F. Place the pepper Jack on the steak mixture to melt.
Place the American cheese on one of the slices of bread. Add the steak mixture over the top of the cheese and cover with the other slice of bread.
Cut sandwich in half and place on a plate. Place the Birria Hollandaise into a soup cup and top with the onion and cilantro. Place soup cup on the plate along with a lime wedge and grilled jalapeño.
Project Management: Summit F&B
Photography: Carlos Garcia // Food Styling: Peg Blackley