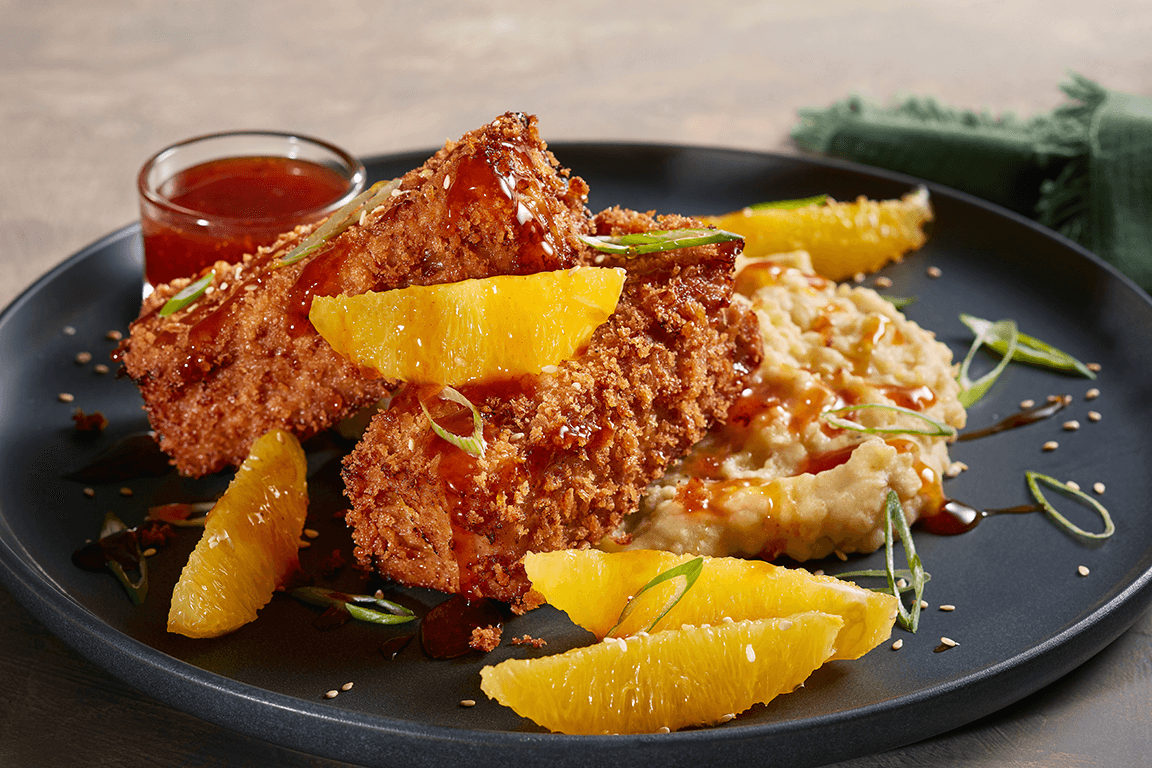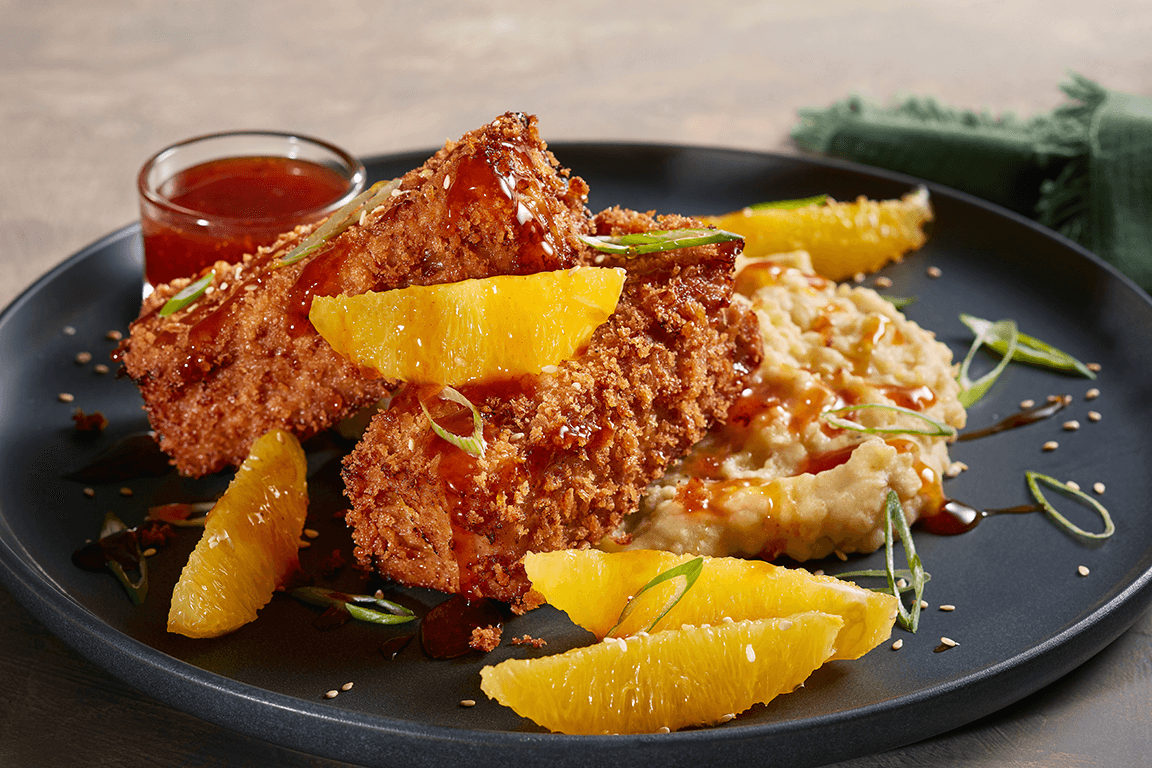 Panko-Coated Orange Chicken Meatloaf with Roasted Sesame Mashed Potatoes
Recipe courtesy of Lisa Davidson
Sponsor: Lee Kum Kee
Servings: 4
Ingredients
Orange Chicken Meatloaf:
1 lb ground chicken
1 ½ oz unflavored breadcrumbs
1 egg, beaten
4 oz Lee Kum Kee® Sauce for Orange Chicken, plus extra for basting
2 oz yellow or white onion, ¼-in dice
½ tsp garlic powder
¼ tsp kosher salt
¼ tsp ground black pepper
Panko Coating:
2 eggs, beaten
5 oz panko breadcrumbs
Vegetable oil, as needed
Roasted Sesame Mashed Potatoes (Yield approx. 3 cups):
1 lb Yukon Gold potatoes, washed and cut into large chunks
¾ – 1 c milk
3 Tbsp Lee Kum Kee® Roasted Sesame Dressing
Kosher salt and black pepper, as needed
Plating:
Lee Kum Kee® Sauce for Orange Chicken, warm, as needed
Sliced green onions, as needed
Orange segments, as needed
Roasted sesame seeds (optional)
Directions
For the Orange Chicken Meatloaf:
Add all the ingredients to a mixing bowl and evenly combine.
Transfer the mixture into a 5 x 8–in loaf pan.
Bake in a convection oven at 350°F until internal temperature reaches 170°F. Brush top of meatloaf with additional Orange Sauce for Chicken during baking.
Allow meatloaf to cool before slicing into eight 1-in thick slices.
Cover and refrigerate slices until ready to use for service.
For the Panko Coating:
Dredge meatloaf slices into beaten eggs, then evenly coat all sides with panko crumbs.
Shallow fry at 350°F until panko is crispy and meatloaf slices reach 165°F (2 to 2 ½ mins).
For the Mashed Potatoes:
Boil potatoes in a medium pot until tender.
Drain water from potatoes and place pot back on stove over low heat with the potatoes.
Mash potatoes with milk and Roasted Sesame Dressing until desired consistency. Add more milk as needed.
Season with salt and black pepper to taste. Hold warm.
For Plating:
Portion 6 oz mashed potatoes onto a serving plate.
Add 2 panko-coated orange meatloaf slices to plate.
Drizzle additional Orange Sauce for Chicken over dish and garnish with green onions and orange sections. If desired, add roasted whole sesame seeds.
Chef Notes
Diced vegetables, such as minced carrots and bell pepper, can be added to meatloaf for additional color and flavor. Meatloaf can be made, prepped into slices and refrigerated until ready to use.
Project Management: Summit F&B
Photography: Carlos Garcia // Food Styling: Peg Blackley