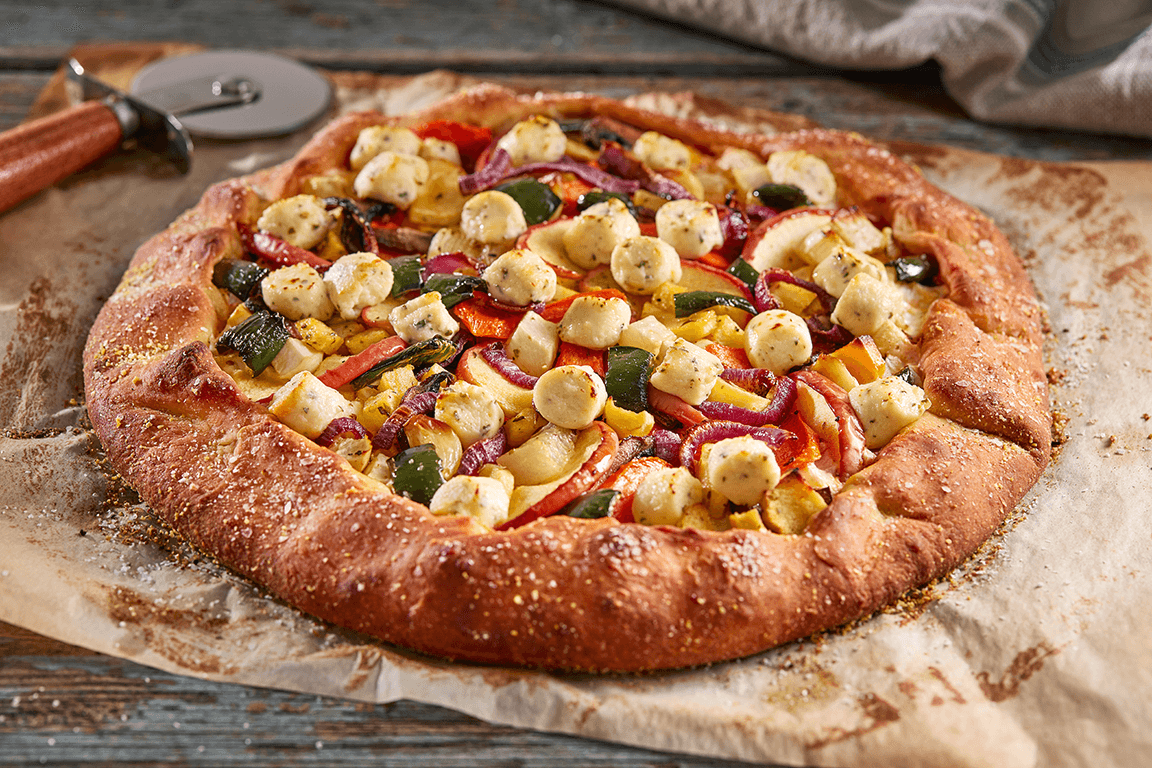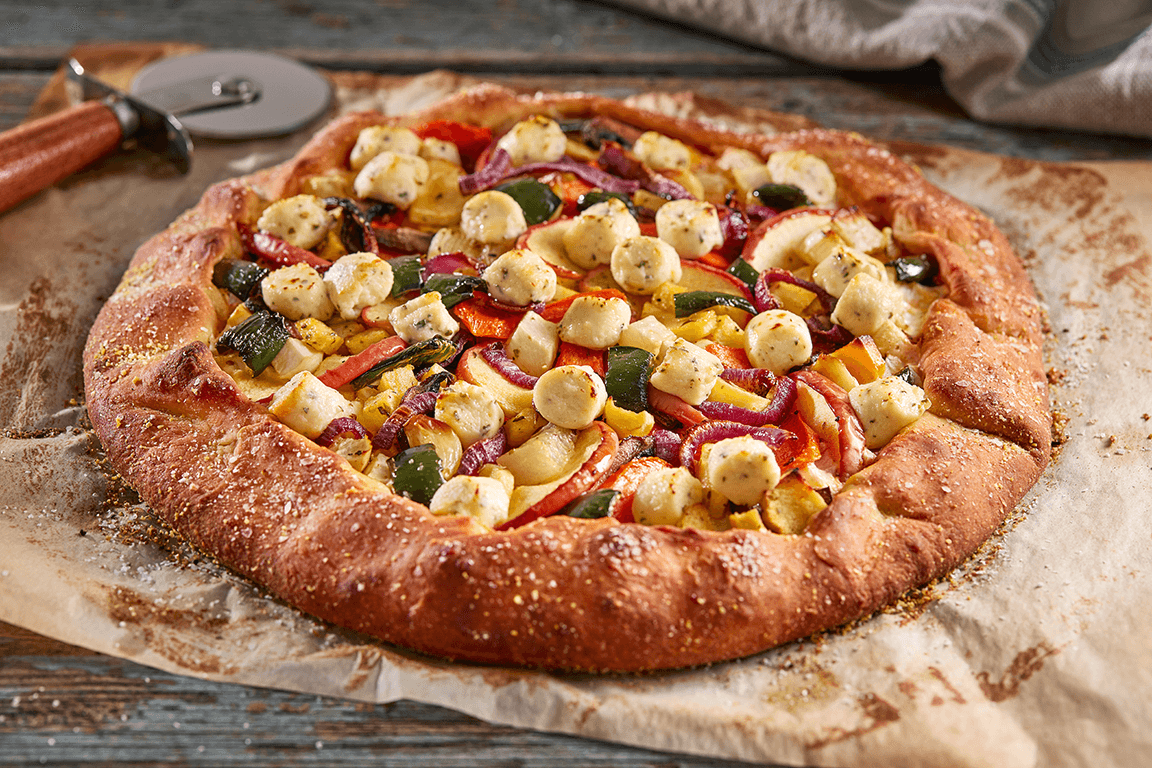 Roasted Root Vegetable Pizza Galette with Boursin® Garlic & Fine Herbs
Recipe courtesy of Lisa Davidson
Sponsor: Bel Brands USA
Serving size: one 12-14-in pie, 8 large slices
Ingredients
Roasted Root Vegetables:
8 oz carrots, peeled, ¼-in bias cut (can also use tri-colored carrots)
4 oz parsnips, peeled, ¼-in half-moon slices
4 oz turnip, peeled, ½-in dice
3 ½ oz apple, peeled & cored, 3/8-in pieces
2 ½ oz yellow onion, 1-in pieces
4 to 6 cloves whole garlic, peeled
1 to 2 tsp dried Italian herb seasoning
Olive or avocado oil, as needed
Kosher salt and fresh black pepper, as needed
Pizza Galette:
14 oz pizza dough
4 ½ oz marinara
4 ½ oz fresh mozzarella
1 batch Roasted Root Vegetables
3 oz Boursin® Professional Frozen Gournay Cheese Cubes, Garlic & Fine Herbs
Fresh Italian parsley, coarsely chopped, as needed
Balsamic glaze, as needed
Directions
For the Roasted Root Vegetables:
Place vegetables in a bowl and add oil, herb seasoning, salt and pepper. Toss to evenly coat.
Spread on a sheet pan and roast in a 375°F convection oven until tender.
Allow to cool before storing in a food storage container. Refrigerate until ready to use.
For the Pizza Galette:
Roll or hand-stretch dough until it is about 16 in diameter.
Place dough onto a baking screen or pizza peel with cornmeal. Dock if your dough requires it.
Spread marinara sauce evenly over pizza dough, leaving 2 to 3 in of edge of dough unsauced.
Evenly distribute toppings in the following order: fresh mozzarella, roasted root vegetables and Boursin cubes.
Fold excess dough at the edge over toppings to create the appearance of a galette.
Bake in pizza oven (500°F for 5 to 6 minutes). Time and temperature will vary depending on oven type.
Remove from oven. Drizzle balsamic glaze over pizza and garnish with parsley. Cut and serve.
Chef Notes
Vegetable blend can change per the season. Zucchini, summer squash, mushrooms, red onions, grape tomatoes and shoestring carrots (for garnish) for summer. Combination of butternut, pumpkin and acorn squash for the fall. I used the Boursin® cubes while still frozen. Depending on the oven and top heat, cubes may get dark blisters if used from thawed state. Addition of nuts or seeds after-bake would add a crunchy texture.
Project Management: Summit F&B
Photography: Carlos Garcia // Food Styling: Peg Blackley