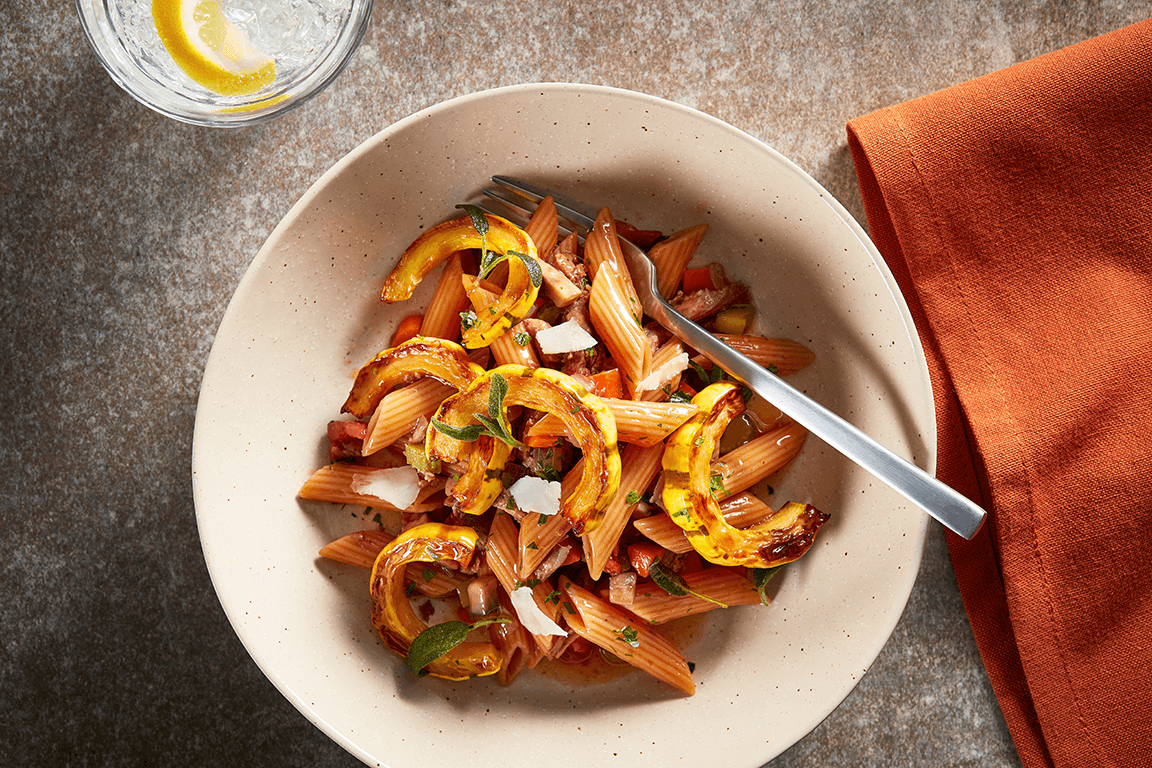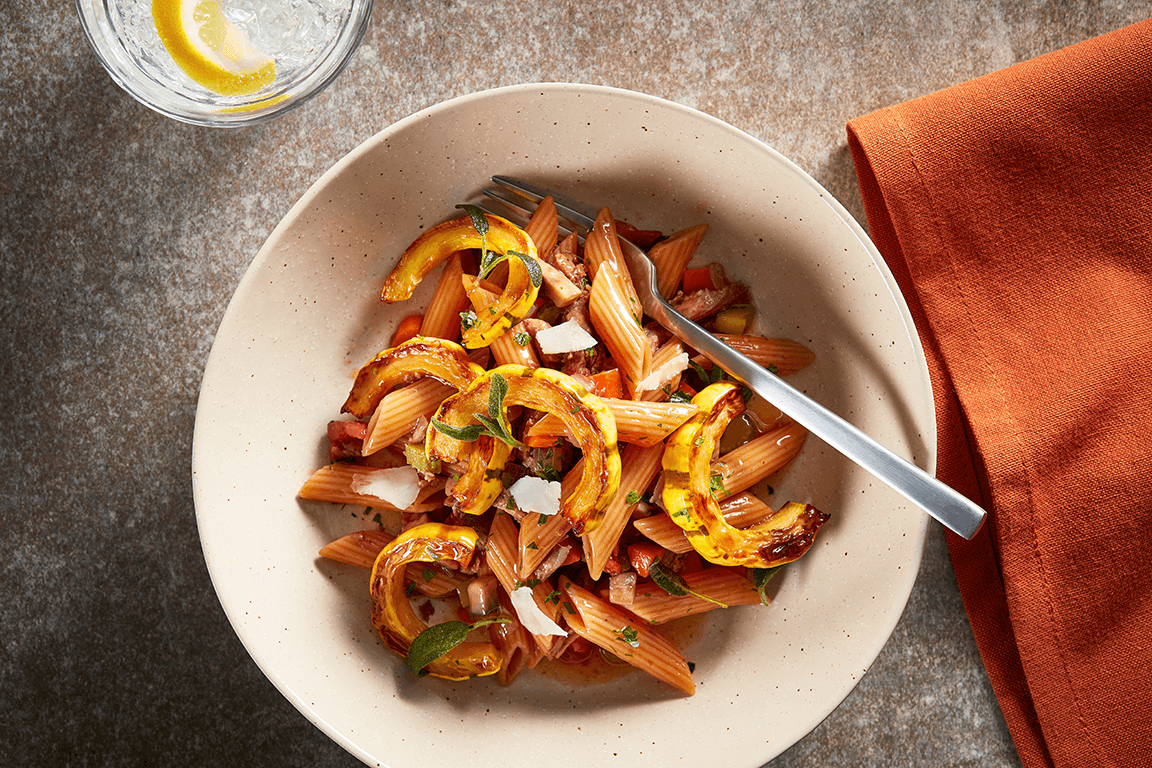 Red Lentil Penne, Pork Sugo, Delicata Squash and Pecorino
Recipe courtesy of Chandon Clenard
Sponsor: Barilla America
Servings: 8
Ingredients
Pork Sugo:
4 lbs boneless pork shoulder, cut into 1-in pieces
1 tsp kosher salt
10 turns freshly ground pepper
3 Tbsp extra-virgin olive oil
1 lg sweet onion, cut into 1/4-in dice
4 carrots, cut into 1/4-in dice
4 stalks of celery, cut into 1/4-in dice
2 c ¼-in dice cremini mushrooms
4 garlic cloves, very finely chopped
3 Tbsp tomato paste
2 (14-oz) cans diced tomatoes, reserve juice from one can
1 ½ c dry red wine
4 thyme sprigs
2 rosemary sprigs
5 c low-sodium chicken stock
2 Tbsp chopped flat-leaf parsley
1 Tbsp chopped oregano
½ tsp crushed red pepper
Delicata Squash:
1 delicata squash, cut in half, seeded, sliced into ½-in half moons
2 Tbsp extra-virgin olive oil
¼ tsp kosher salt
5 turns freshly ground pepper
Plating:
1 ½ lbs Barilla® Red Lentil Penne
Freshly ground pepper, as needed
6 oz Pecorino Romano cheese, peeled into 2-in strips
¼ c chopped flat-leaf parsley
20 sage leaves, fried in butter on medium-high heat, drained
Directions
2 options: Casserole Pan or Instant Pot
Baking Method
For the Pork Sugo:
Preheat the oven to 375°F. Season the pork with salt and pepper. In a large enameled cast iron casserole pan, heat the oil until shimmering. Add the pork in a single layer and cook over medium-high heat until the pieces are golden brown all over, about 12 minutes.
Add the onions, mushrooms, carrots, celery and garlic and cook until softened and browned in spots, about 8 minutes.
Add tomato paste, mix and cook for about 2 minutes.
Add the tomatoes and the juice from 1 can and bring to a simmer.
Add the wine, thyme and rosemary and cook over high heat until the wine is reduced by half, about 5 minutes.
Add the stock and bring to a boil. Cover and place in the oven until the pork is very tender, about 3 hours.
Break apart the pork and mix in the parsley, oregano and red pepper. Cool and refrigerate for service (see Chef Notes).
For the Delicata Squash:
Preheat oven to 400°F.
Toss the sliced squash in the oil and season with salt and pepper. Spread on a sheet pan and cook for 5 minutes; turn pieces over and cook for an additional 3 to 5 minutes.
Reserve at room temperature until ready to serve. You can flash them in the oven for 1 to 2 minutes right before serving.
For Plating:
Cook the pasta according to package directions. Drain.
Mix warm Pork Sugo with hot pasta. Plate portions of sauced pasta.
Retherm squash for about minute in a 400°F oven.
Place squash slices on pasta, garnish with parsley, pepper, shaved pecorino cheese and fried sage.
Pork Sugo Instant Pot Method:
(cut cook time in half)
Follow the same directions as above, browning meat in batches in the Instant Pot on "sauté" mode. Cook the vegetables the same way. After all ingredients have been browned, and wine has been reduced, you can cook under high pressure for 1 hour. When the time is up, let the pressure naturally release for about 15 minutes.
Chef Notes
Pork Sugo is best made a day ahead, cooled and rethermed the next day.
If your sugo is too wet, you can simmer and reduce.
Project Management: Summit F&B
Photography: Carlos Garcia // Food Styling: Peg Blackley