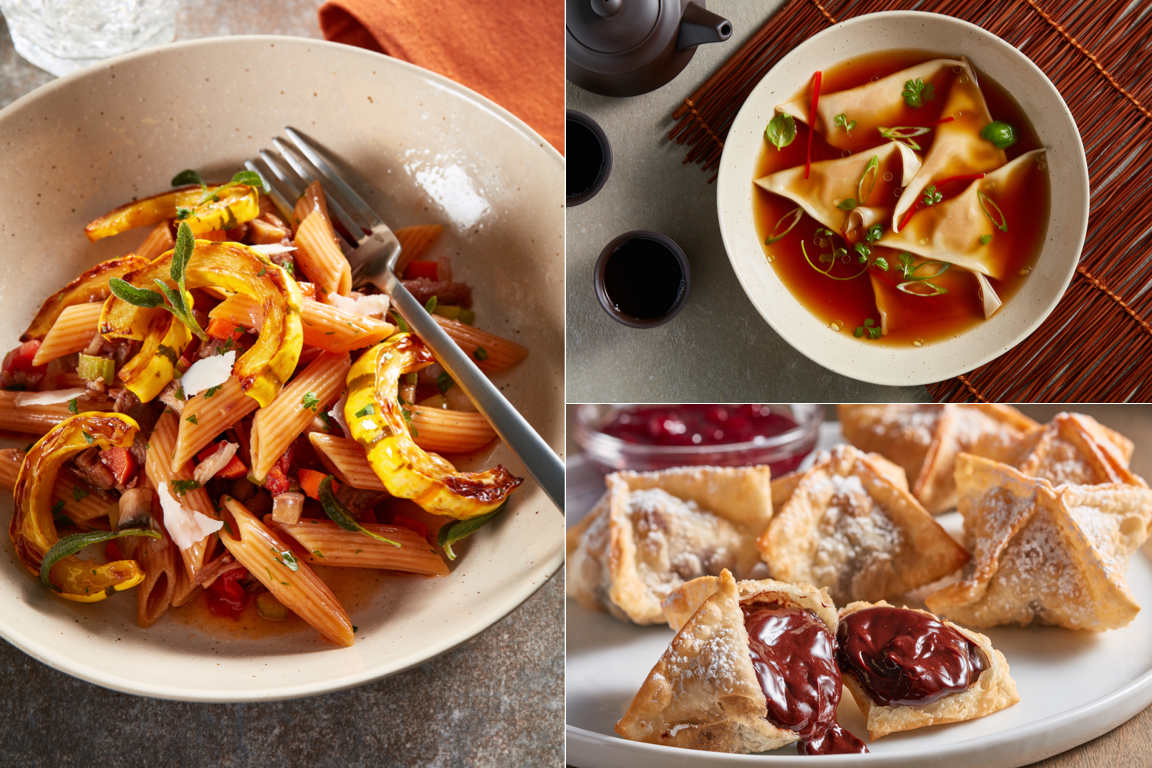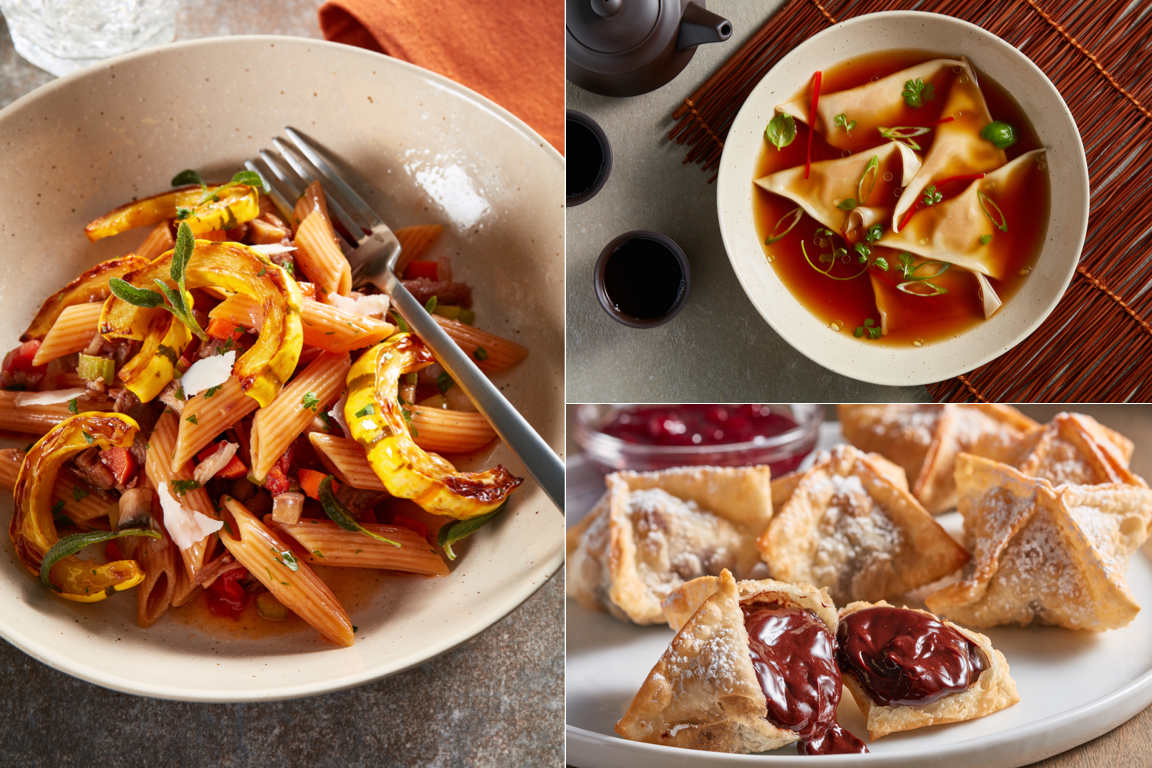 Kitchen Collaborative is a recipe-development initiative formed by Summit F&B and Flavor & The Menu. To fuel flavor innovation, a group of talented chefs partnered with sponsor brands and commodity boards to create recipes that showcase the passion and potential of our industry.
"I want to get people to think differently about food," says Chandon Clenard. "I'm tired of the same things, the smoked brisket, the coffee-crusted steak. Not that I don't want to crush that brisket on the menu, but we can't eat like that all the time anymore. At least I can't." Today, Clenard, Director of Culinary Operations at Compass One at Amazon, is having fun with vegetables.
"I'm taking all the learnings around cooking meats and applying them to vegetable cookery. Take something simple like broccoli. When you cook it on the grill, it totally changes the flavor profile. Or use the techniques for herb-marinated tenderloin with delicata squash." Clenard isn't turning his back on animal protein as much as seeking to help guests broaden their flavor point of view. "It's less about appealing to vegans or vegetarians, and more about exciting the meat eater who's trying to eat less."
While Clenard's recipes for Kitchen Collaborative are not exclusively plant-based, each reflects his passion for changing deep-seated flavor expectations. With his Red Lentil Penne, Pork Sugo, Delicata Squash and Pecorino entrée, Butternut Squash Dumplings with Truffled Pho Broth, and Ghirardelli Chocolate Rangoons with Lingonberry Sauce, Clenard is setting the table for new culinary conversations.
Red Lentil Penne, Pork Sugo, Delicata Squash and Pecorino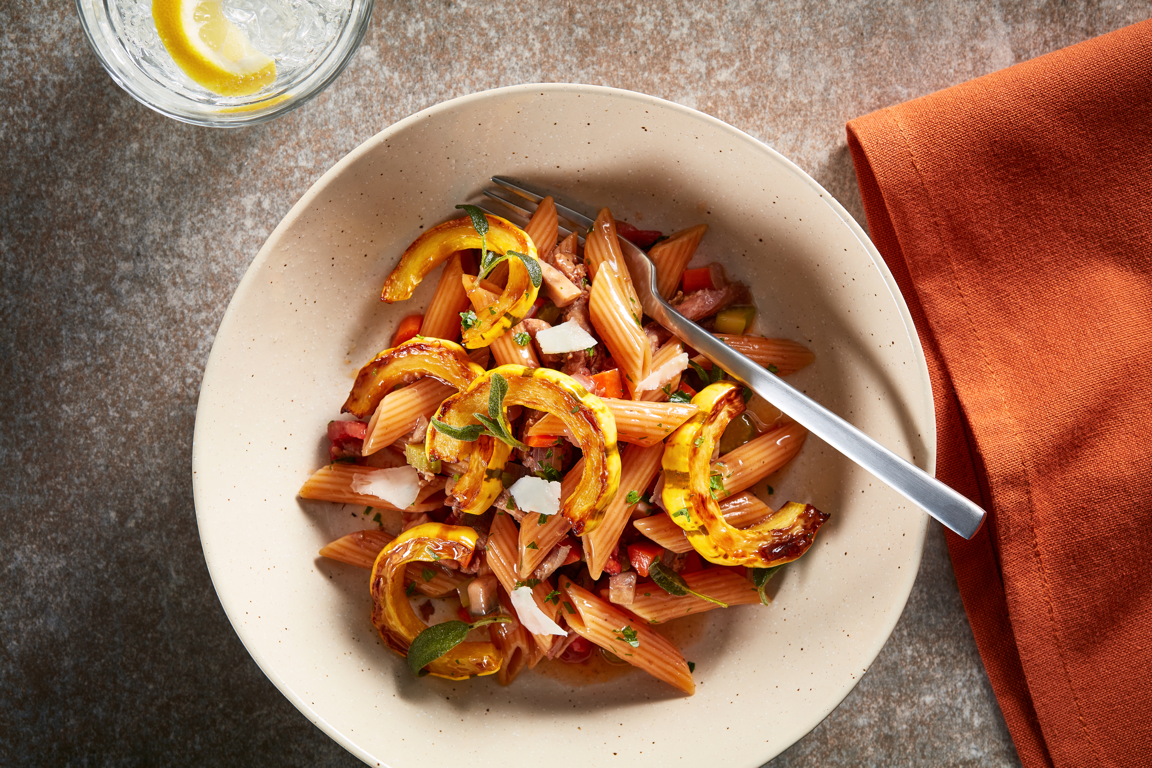 Photo: Carlos Garcia // Food Styling: Peg Blackley
When considering gluten-free pasta options, Clenard appreciates the qualities of Barilla® Red Lentil Penne. "It holds up very well," he says, noting that many gluten-free and other wheat-alternative pastas tend to fail the texture test. "I was definitely intrigued to work with it." He set out to create a hearty dish, and the Red Lentil Penne, Pork Sugo, Delicata Squash and Pecorino entrée checks all the boxes: savory, meat-forward, with lots of umami and a salty sharpness.
The pork sugo features sweet onion, carrots, celery, cremini mushrooms, garlic, tomato paste, diced tomatoes, red wine, chicken stock, herbs and seasonings. Clenard finds the sauce is best made a day ahead of time, cooled and rethermed the next day. For service, the warm pork sugo is mixed with hot pasta and plated with slices of roasted delicata squash artfully placed on top, along with shaved pecorino, fried sage and parsley.
Clenard uses the delicata squash to add visual appeal and flavor in equal measure. "I love delicata squash. It has a nice, sweet flavor that pairs well with the rich pork sugo for the perfect balance. Plus, it gives beauty to the dish," he says, adding, "There's also a sustainability story with delicata, too. You don't have to peel it, eating it with the skin on. I wanted to showcase how you can use that type of ingredient. In fact, you can eliminate all waste, since you can scrape out the seeds, salt them and add them to another dish."
Butternut Squash Dumplings, Truffled Pho Broth
Photo: Carlos Garcia // Food Styling: Peg Blackley & Bree Williams
Pho's popularity with American diners shows no sign of slowing, gracing menus without another Vietnamese dish in sight. "It's on that graph, heading toward ubiquity," says Clenard. "It's not there yet, but it's coming. When we see a pho burger at Jack in the Box, then we'll know it's arrived." The fun name is part of the attraction, he says, but the real reason is that it's delicious. "It's chicken soup, man, or beef, but it's the cleanest soup there is. It's simple, but complex, with banging flavor. It's a unique taste experience."
Presented with a choice of several sauces, stocks and broths from Custom Culinary®, Clenard was immediately taken by the Beef Pho Broth. "I was amazed at its flavor—it was spot on. It didn't taste manufactured," he notes, citing the rich depth of the product. This sparked a memory of a dish he'd made that featured edamame dumplings and a dashi broth. "I thought it would be fun to take a similar concept, replace the edamame with butternut squash, but keep the Asian profile in it by using pho instead of dashi."
Clenard considers his Butternut Squash Dumplings with Truffled Pho Broth to be a light dish, although it does have a bit of fat—some heavy cream and unsalted butter—to balance the roasted butternut squash. "But it feels like it has a health halo," he notes. "It eats really well." He admits that while the squash was a seasonal choice, it could be made with a wide variety of ingredient heroes, including chicken or another protein. "However, I feel that I've done everything imaginable with animal proteins, but not with vegetables. I'm trying to do more with putting a vegetable in the center of the plate and making sure the dish is still satisfying."
The Custom Culinary Pho is a key element in his thinking here. "Pho broth from scratch is not hard to make, but there is technique to doing it right. As chefs today, we need to be smart about the decisions we make in the kitchen, especially when it comes to speed scratch," Clenard notes. "What items on the plate am I going to get credit for making totally from scratch? I could make my own masa, fry it and turn it into chips, but that's ridiculous. Similarly in this dish, when it's composed, I want to get the scratch credit for making the delicious dumpling, supported by the flavorful pho."
Ghirardelli Chocolate Rangoons with Lingonberry Sauce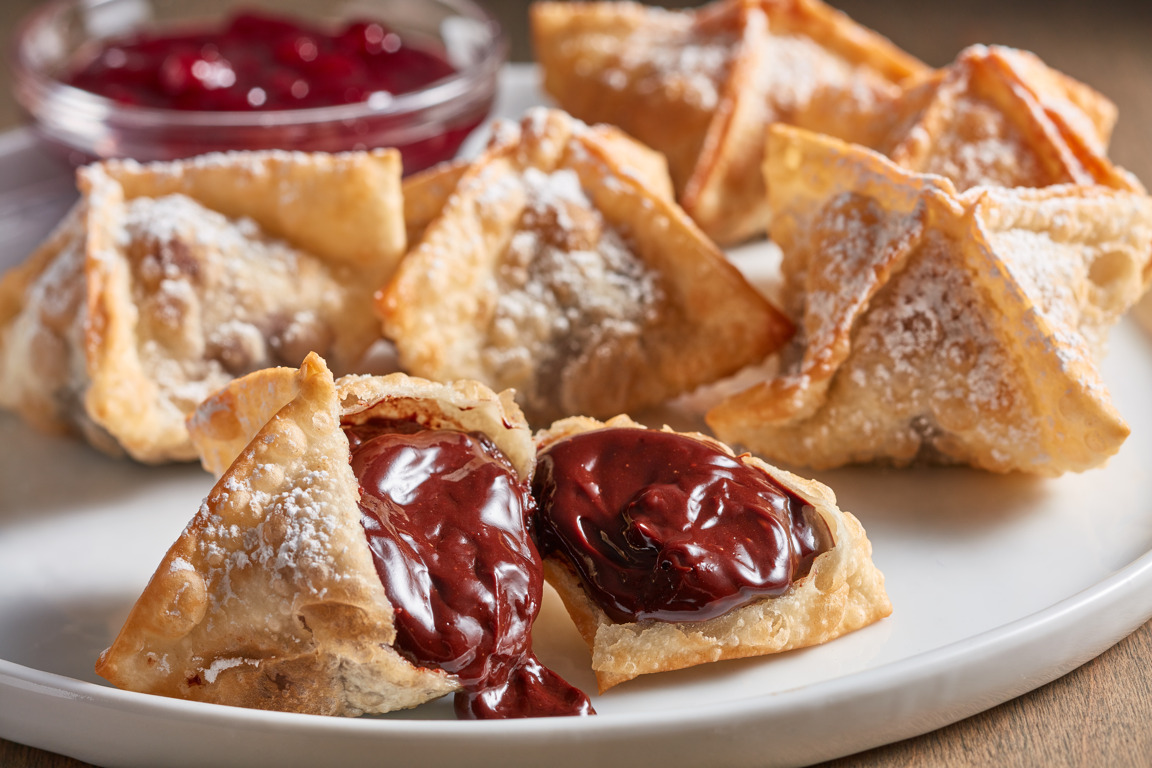 Photo: Carlos Garcia // Food Styling: Peg Blackley
For his Ghirardelli recipe, Clenard set out with four objectives in mind. He wanted the dish to be fun, different, highlight the chocolate in a unique way, and have a strong 'Wow!' factor. For inspiration, he took an unconventional approach in looking to Crab Rangoon, the crab meat-and-cream-cheese-filled fried wontons popular at American Chinese restaurants. This childhood favorite from Clenard's youth in San Francisco has been a go-to culinary muse for several dishes over the years, he says.
To fill his Ghirardelli Chocolate Rangoons, Clenard combines melted Ghirardelli® 52% Chocolate Chips with coconut cream, cream cheese, sugar, vanilla and a pinch of cayenne and then lets it chill for several hours until set. A single teaspoon of the mixture is placed between two wonton skins and then deep-fried. For service, the crispy wontons are dusted with powdered sugar and accompanied by a warm lingonberry sauce.
"I wanted a bite that isn't like cake, but has more of a ganache quality to it. You're adding a lot of heat to the filling by frying the wontons," Clenard says. His choice of coconut cream was prompted in part by trend ("Everyone's using coconut all the time right now") and with a nod to dietary restrictions ("It needed a fat, but I didn't want to use butter and add an allergen"). As for the lingonberry? "Well, I'm part Danish," he laughs. "I've probably crossed too many cultural bounds with this dish, but the lingonberry, like the cranberry, is a really good pair with chocolate."
Project Management: Summit F&B
Photography: Carlos Garcia // Food Styling: Peg Blackley