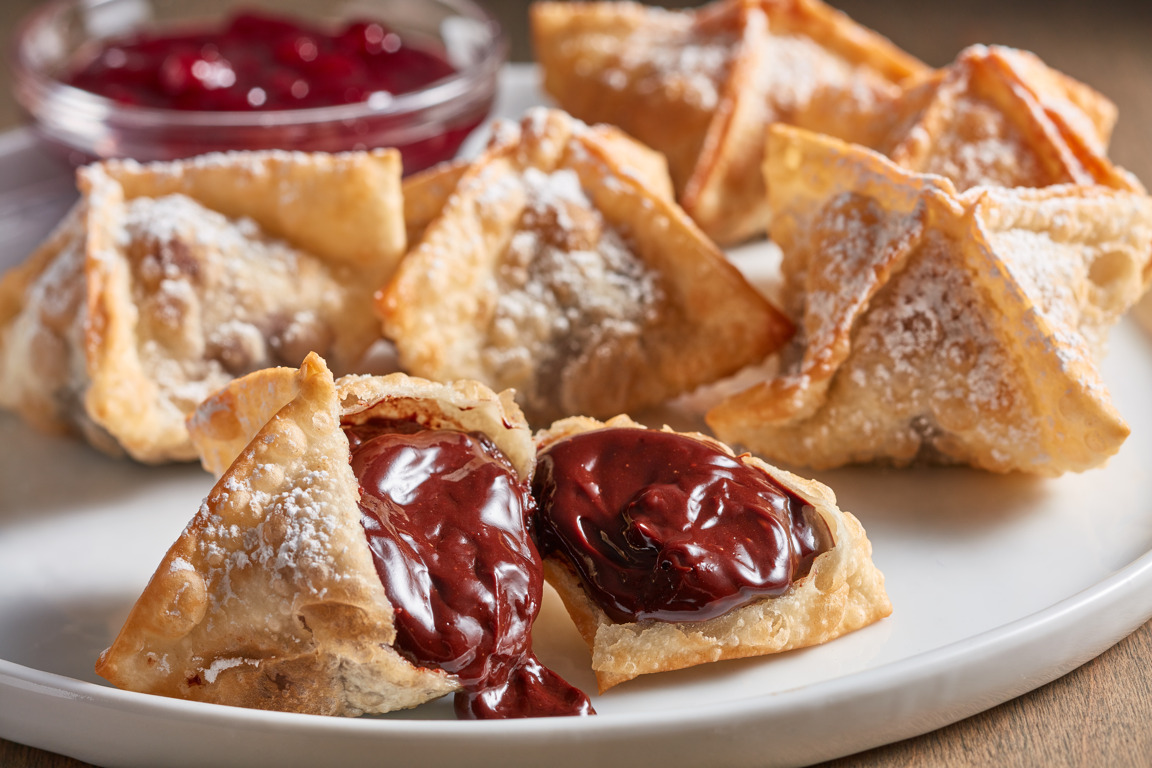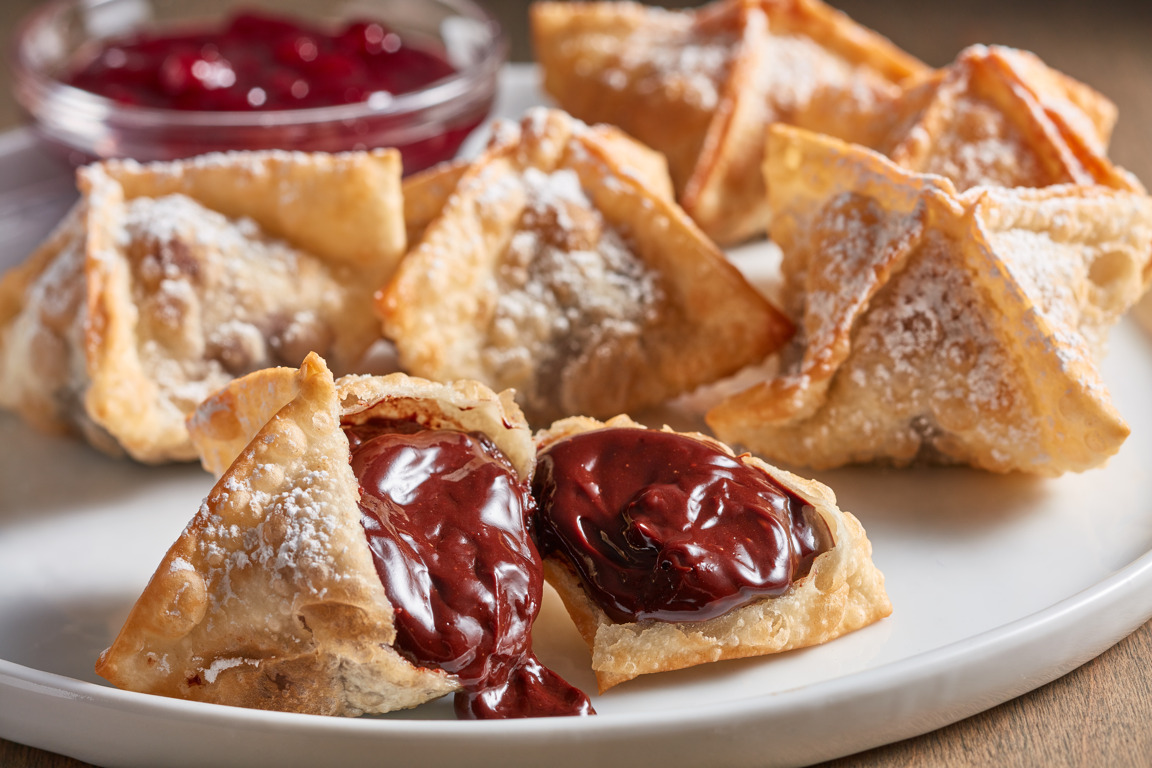 Ghirardelli Chocolate Rangoons with Lingonberry Sauce
Recipe courtesy of Chandon Clenard
Sponsor: Ghiradelli
Servings: 8
Ingredients
Chocolate Rangoons:
1 ½ c Ghirardelli® 52% Chocolate Chips
½ c coconut cream
8 oz cream cheese
¼ c powdered sugar, sifted
½ tsp vanilla extract
1 pinch cayenne pepper
Wonton skins, as needed
Rice flour or cornstarch, as needed
Lingonberry Sauce:
One 14-oz jar lingonberry spread (or sub your favorite jelly or jam)
¼ c water
Service:
Vegetable oil, as needed
¼ c powdered sugar, sifted
Directions
For the Chocolate Rangoons:
In the top of a double boiler add chocolate chips to melt over low heat.
In a separate pan, heat coconut cream, cream cheese, sugar, vanilla and cayenne. Bring to a simmer, then add to the chocolate.
Whisk coconut cream mixture into melted chocolate.
Once everything is melted together, cover with plastic and refrigerate until set (6 hours).
To each wonton skin add 1 teaspoon chilled chocolate filling in the center. Lightly brush the edges with water, bring all 4 corners to the center, and press edges to seal.
Place on a lined sheet tray lightly dusted with rice flour or cornstarch.
For the Lingonberry Sauce:
Pour the spread into a medium saucepan with the water over medium-low heat.
Stir continuously until the mixture melts into a smooth sauce. Hold warm.
Use more or less water, depending on your preference for thick or thin sauce.
For Service:
Heat 3 in of oil in a large deep pot to 375°F.
Fry 6 to 8 of the wontons at a time for 3 to 5 minutes, or until golden.
Drain on paper towels and repeat the process with the remaining wontons.
Serve immediately, dusted with powdered sugar, with a side of Lingonberry Sauce.
Chef Notes
Be careful not to burn the coconut cream; stir continuously.
Make sure to sift the powdered sugar and mix well, so there are no lumps in the filling.
Project Management: Summit F&B
Photography: Carlos Garcia // Food Styling: Peg Blackley