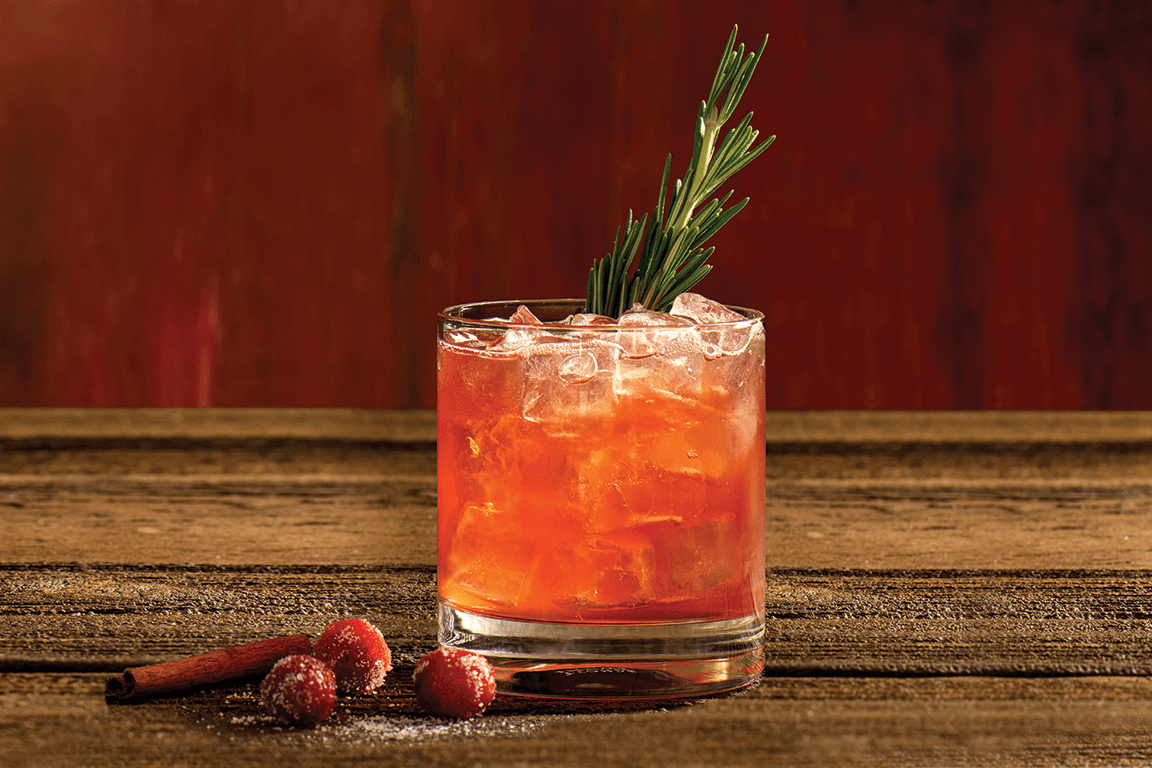 "A cocktail menu sets the tone and the culture of a restaurant, and it tells you the creativity level of that restaurant," says Brittany Chardin, CEO of Movers & Shakers Bar and Beverage Consultants, based in Atlanta. She knows the importance of cocktail trends, as she develops premium, flavor-driven drinks that excite a wide-ranging yet discerning clientele at Delta Air Line's 50-plus Delta Sky Clubs across the globe. Cocktails have become essential revenue generators at such members-only clubs. While overall business plummeted during COVID restrictions, Chardin says that customers who did make it into the lounges were ordering more cocktails than ever. That, of course, makes sense, considering the stress people were under. She attributes the ongoing success to consumers being more interested in cocktail culture overall and to the airline's descriptive drink names, use of on-trend colorful, fruity elements, and an emphasis on showcasing great drink photography. "The drinks that do really well are often red, purple and pink, with some sweet element to them," she says. They are frequently a twist on a classic cocktail, like the Cranberry Whiskey Smash made with Jack Daniel's and fresh rosemary, and part of a series of changing drinks offered at a low price point ($6) to entice customers to try something new.
When Chardin noticed the refreshing, slightly bitter Aperol spritz growing on menus a few years ago, she introduced the Day Tripper Spritz, which boasts sweet-tart passionfruit, and it, too, quickly become a top seller. In October, for Breast Cancer Awareness Month, she switched out that drink for a Spritz Rosato, combining the Aperol with California rosé and fruity, rich Washington raspberry purée, creating a slightly sweet, pink-hued sipper.
With cocktail trends moving so quickly, thoughtfully leveraging key flavors and ingredients can not only set the tone for an operation, but also allow for an interplay between those drinks and the menu overall, creating a complete dining experience that excites and surprises diners.
CREAMY CONCOCTIONS
Dairy-driven cocktails may be most associated with dessert libations, like the trending espresso martini, but a new wave of innovation sees bartenders incorporating alternative "milks" into their builds, playing with coconut cream for its rich mouthfeel, infusing whipped cream with on-trend ingredients and revitalizing classic cocktails made with egg whites and topped with creamy floats.
At San Francisco's Causwells, beverage director and managing partner Elmer Mejicanos drew on the Filipino influence he observed in New Orleans and Texas to create the Ube-tter Bee-lieve It cocktail. This take on a gin fizz incorporates Barr Hill gin, cinnamon-pineapple vinegar, clarified ube milk (a blend of whole milk, simple syrup, vanilla bean paste, ube flavoring, golden milk powder and lemon juice), lemon and bubbles. By clarifying the ube milk, Mejicanos creates a drink that is both crystal clear yet unexpectedly rich, and it also provides a basis for a final finish of light purple ube foam that floats effortlessly on top.
Other creamy inspirations found on drink menus today:
The Black Lagoon, a bar that popped up for engagements over the summer and settled into nine cities during this year's Halloween season, took inspiration from the Tiki renaissance with its Screaming Banshee. It combines Botanist gin, pineapple syrup, a splash of Giffard Abricot du Roussillon (for a caramel-like flavor) and, finally, a unique, dairy-driven addition—Greek yogurt—for a novel take on the piña colada.
Vestry, a Michelin-starred seafood concept in New York, revitalizes the egg white cocktail with its Smoke & Fire, which blends blanco tequila, smoky mezcal, spicy Ancho Reyes chile liqueur and egg whites, served in a vessel with smoking dry ice for maximum impact when brought to the table.
Bev's, in Naperville, Ill., adds a thick cream float to the Days Gone Chai cocktail, a blend of Hangar 1 vodka, Kahlúa, chai-honey simple syrup and espresso extract with a dusting of nutmeg and a star anise pod floating on the top.
ASIA ON THE DRINK MENU
While Latin flavors have been driving numerous cocktail trends, from the margarita to ranch water (the Texan drink starring tequila, fresh lime juice and sparkling water, which is the fastest-growing cocktail in the country, according to Datassential), flavors from Asia are starting to inspire cocktail exploration. Now Japanese shochu and whisky, Chinese baijiu and Indian and Filipino rums are forming the foundations for drinks, while flavors like banana, pandan, ume plum and even fish sauce are adding punches of either sweet or savory flavors.
At Atrium, a globally inspired restaurant and cocktail bar in Atlanta's Ponce City Market, Demario Wallace, beverage director for Oliva Restaurant Group, says, "We combine the umami flavors of koji and nori with ume or salted plum paste and apply them to a cold coupe with an artistic brush stroke." From there, a blend of Japanese gin, shochu, Japanese citrus and lime are added to create the restaurant's Painted Dragon cocktail. The savory swipe "makes a surprisingly perfect complement to the Japanese-influenced gimlet that rushes into the glass, frothy and cold, from a vigorous shake by the bartender," Wallace says.
Shochu and seaweed are also key flavors in A Long Kiss Goodnight, a potent potable at Brooklyn's Sama Street, an Asian concept focused on lighter fare. The cocktail begins with seaweed-infused rum, complemented by rich, nutty black tahini-infused rum, and then made even more complex with cacao-infused Campari. This spirits-only creation is finished with Japanese whisky and vermouth. Sama Street uses a range of interesting flavors across its bar menu, including turmeric, coconut, fish sauce, chai, lemongrass, cherry tomatoes, galangal, yuzu, black cardamom, black sugar umeshu and pandan.
At Málà Project, a Sichuan dry pot concept with locations throughout New York, the beverage development team wanted customers to have their cocktail and eat it too, so to speak. They partnered with friends who own Solid Wiggles, a boozy jelly cake company based in Brooklyn, N.Y., to create a "solid" cocktail. The One Way Ticket to Wiggle Town is a cocktail in Jell-O form, featuring Ming River baijiu plus the fruity flavors of orange, mango and pomegranate. The drink contrasts with the spicy Sichuan dishes found on the menu and brings in another fun, experiential element to the meal.
FLOWER POWER HAPPY HOUR
Once polarizing, floral flavors like rose, lavender and orange water continue to drive a new dimension of flavor exploration across food and beverage development. Yet no single menu section exemplifies this trend more than the cocktail menu, where housemade floral infusions, a new generation of floral-driven liqueurs and gins, and go-to edible flower garnishes are taking over.
San Francisco's Birch & Rye, serving up modern Russian cuisine, infuses a wide range of vodkas for the cocktail menu, but its Olena's Flowers cocktail goes all-in on one flower: the linden. The complex notes of honey, floral perfumes and subtle citrus found in linden flowers are infused into vodka, which is combined with 100-percent linden honey and sparkling wine for fragrant refreshment.
Flowers and floral ingredients are also a staple behind the bar at Loulou, a French bistro in New York, mirroring the massive floral arrangements that adorn the restaurant's exterior. On the drink menu, they show up in a variety of inventive cocktails matched with wildly creative vessels. There's The Bramble made with Bombay Bramble, crème de cassis and pineapple, served in a tiny bathtub with edible flowers. The Remy is served in a rat-shaped glass and features tequila, Lillet rosé, lime juice, grapefruit tonic and housemade grenadine made from pomegranate juice, sugar and rose water. And finally the Firebird, with tequila, Cointreau, lime and hibiscus, is served with flowers protruding from the posterior of a bird-shaped glass.
A MARTINI WITH A TWIST
The modern martini renaissance has driven this classy classic back onto menus. And while there are plenty of new school takes on the '90s "'tini" trend, as rejiggered versions of over-the-top drinks like espresso martinis and appletinis continue to show up on menus, many bartenders are focusing on more nuanced variations that preserve the chic, potent nature of the original drink.
When New York's Dante, which topped the World's Best Bar Awards in 2019, launched a spinoff of its nightly "martini hour" at its West Village location, it featured a new centerpiece martini with a twist—literally. The With a Twist martini is specifically designed to celebrate the "wonderful nuances associated with citrus oils," says Linden Pride, principal at Dante. It begins with a "best of both worlds" approach, featuring both vodka (Absolut Citron) and gin (Plymouth). Alessio Vermouth Bianco adds sweet-bitter-citrusy notes, and then Dante triples down on the citrus, introducing grapefruit, lemon and lime oils. The drink is served "perfectly ice cold," celebrating and amplifying the crowd-pleasing flavors already found in many martinis.
The Vasper, which opened in New York's NoMad neighborhood this year, also tripled down on flavor when creating its version of the martini, one that harkens back to the decadence of mid-century dining and its martini lunches. For the signature Vasper Martini, London dry gin and Tximista Spanish white vermouth are combined with a potent dose of housemade brine featuring three piquant ingredients: Castelvetrano olives, pickled Fresno peppers and spiced onion brine.
Across the country, briny flavors also pack a salty punch at Palette, a fine-dining, fish-centric restaurant in San Francisco. Trevin Hutchins, bar director, distills the concept's own variation of "sea gin," using a range of botanicals, including organic juniper, orris root, bitter orange, green tea and a blend of dulse and kelp seaweeds, which are macerated and then distilled in a rotary evaporator. "Each seaweed brings a different tasting note to the gin," says Hutchins. "Dulse brings in a floral quality and kelp adds a slightly peppery bite." The gin is stirred (not shaken) with a classic French dry vermouth and garnished with blue cheese-stuffed bullwhip kelp—an homage to the olive, of course—creating a briny yet dry martini that Hutchins recommends pairing with oysters and caviar.