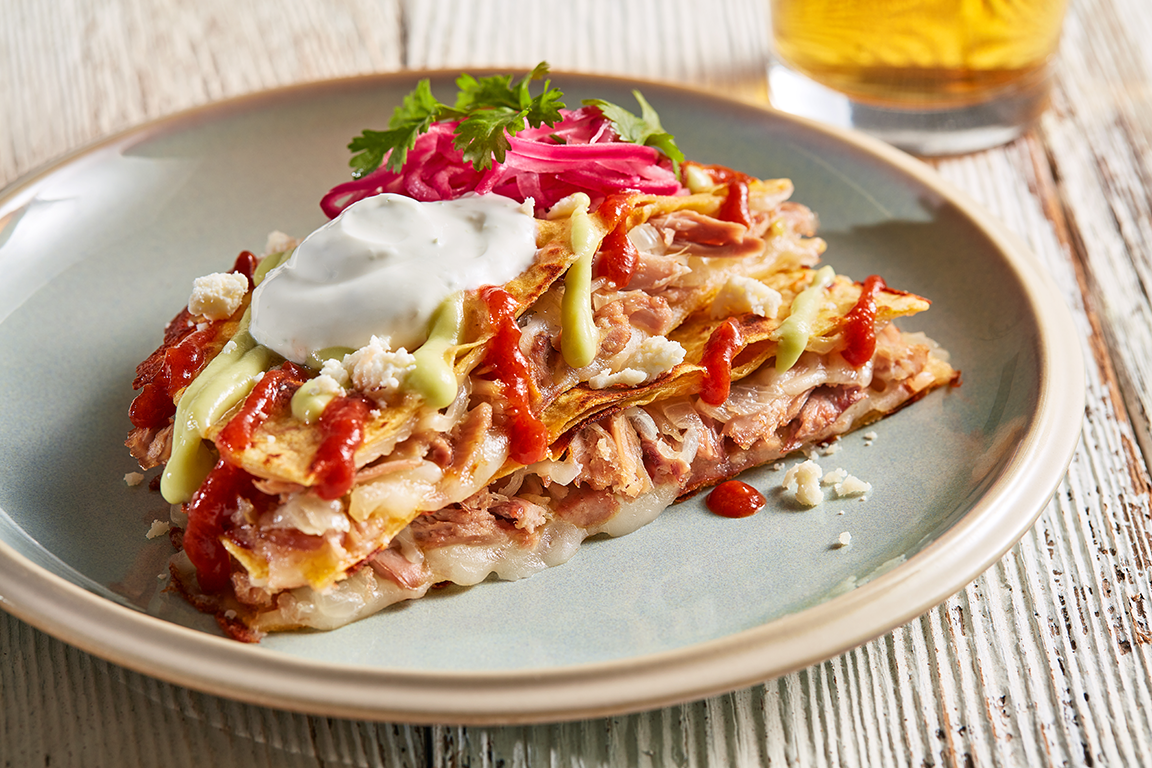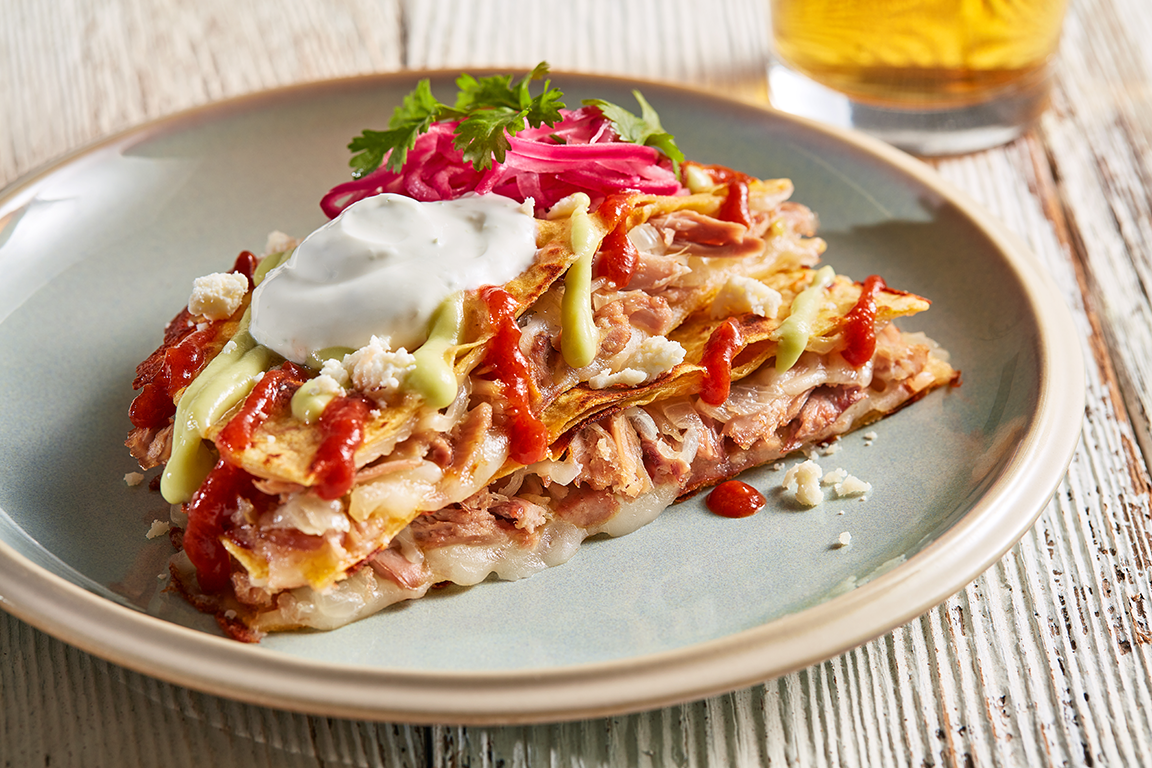 Texas Pete® Duck Confit Mulitas
Recipe courtesy of Daniel Corey, Executive Chef, Cliff Royal Sonesta
Sponsor: Texas Pete
Servings: 24
Ingredients
Sous Vide Duck Confit:
16 duck Legs
10 oz Texas Pete® Original Dust
16 pc fresh thyme
2 in fresh ginger, peeled and sliced into 8 pieces
4 fresh bay leaves, cut in half
2 gal duck fat, melted
8 Cryovac bags, large enough to hold 2 duck legs each
Pickled Red Onions:
2 red onions, thinly sliced on mandoline
½ c apple cider vinegar
½ c red wine vinegar
1 ½ c water
¼ c sugar
¼ oz salt
2 star anise pods
5 whole cloves
½ cinnamon stick
Avocado Mousse (Yield 1 pt):
3 avocados
1 lime, juiced
1 tsp ascorbic acid
1 Tbsp salt
1 ½ c cold water
Lime Crema:
32 oz Crema Cacique
2 Lime, juice and zest
Mulitas:
48 corn tortillas
5 lb shredded Monterey Jack cheese
2 yellow onion, finely chopped and sautéed
12 oz Texas Pete® Cha! sauce
2 bunches cilantro leaves, picked
2 lb queso fresco, crumbled
Directions
For the Sous Vide Duck Confit:
Lay duck legs in a stainless steel hotel pan in a single layer skin-side up. Wearing gloves, generously coat each of the duck legs with the Texas Pete® Original Dust. Turn the legs over and repeat the process. Gently massage the dust into each leg. Place legs flesh-side up in a single layer, cover with plastic wrap and leave in cooler overnight.
The next day, preheat immersion circulator or Combi Oven (full steam) to 68°C/155°F.
Remove duck legs from pan and rinse under cool water. Pat dry and place duck legs in Cryovac bags 2 per bag. To each bag add 2 pc thyme, 1 pc ginger, ½ bay leaf, and 8 oz melted duck fat, then seal at 100%.
Place duck legs in Combi Oven and cook for 36 hours. Once done, remove from oven and place in ice bath to cool completely before storing in the cooler.
When ready to prepare the mulitas, gently warm legs in the bags then remove, take off the skin and gently shred the meat wearing gloves.
For the Pickled Red Onions:
Soak onions in cold water for 1 hour.
Bring remaining ingredients to a boil. Reduce to simmer for 1 minute.
Cool mixture, then pour over onions. Let sit at room temp for 1 hour before placing in cooler.
For the Avocado Mousse:
Scoop avocado flesh into a blender. Add lime juice, salt, ascorbic acid and 1 c of the water.
Blend on medium-low, then slowly add in the additional ½ c of water as needed.
For the Lime Crema:
Juice and zest limes.
Combine juice and zest with crema cacique.
For the Mulitas (per serving):
Lay 1 tortilla on a cutting board and cover with a generous layer of Jack cheese, 2 Tbsp of sautéed onion, and 3 oz of shredded duck confit. Using a large spatula, transfer to a HOT flat top, coated with a little oil and place another tortilla on top, covering the fillings.
Let cook for 2 minutes, pressing down on the mulita as the cheese inside melts. Flip mulita and pressing again, cook the mulita long enough to ensure both sides are browned and slightly crispy.
Transfer to a cutting board and cut in half, then place on an 8-in plate.
Top in this order: Avocado Mousse, Cha! Sauce, Lime Crema, Pickled Red Onions, cilantro leaves, queso fresco.
Project Management: Summit F&B
Photography: Carlos Garcia // Food Styling: Peg Blackley & Bree Williams