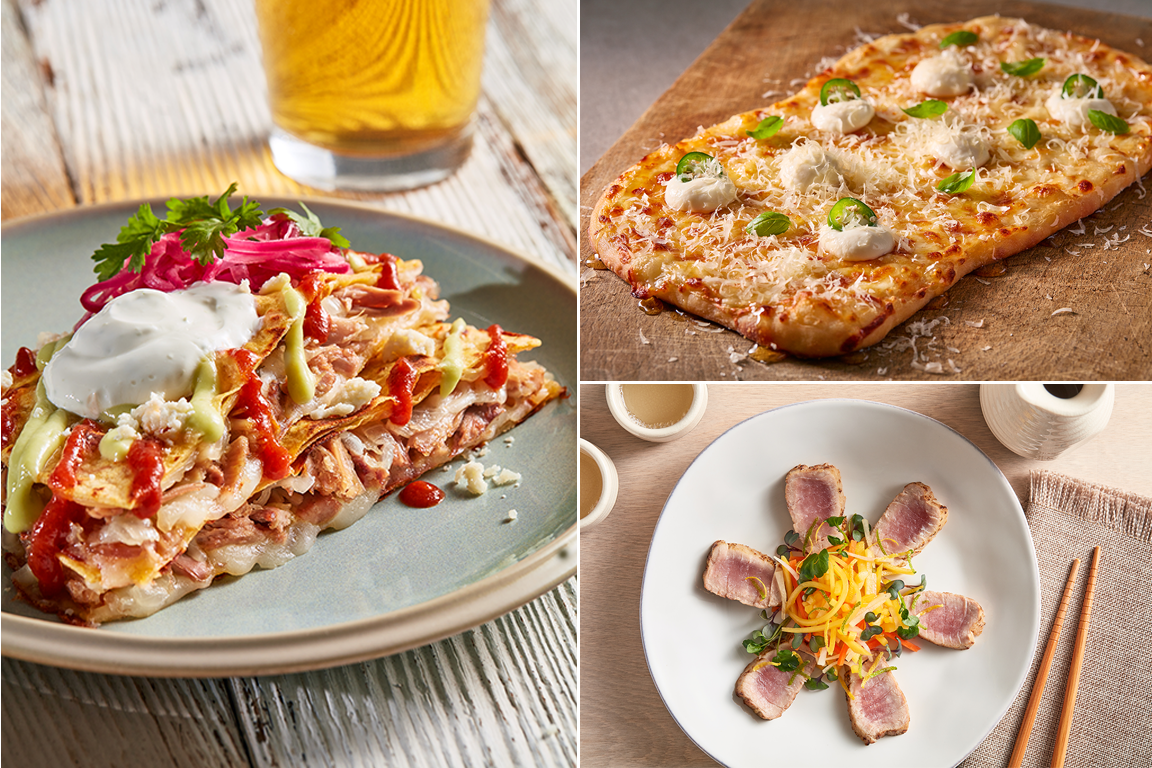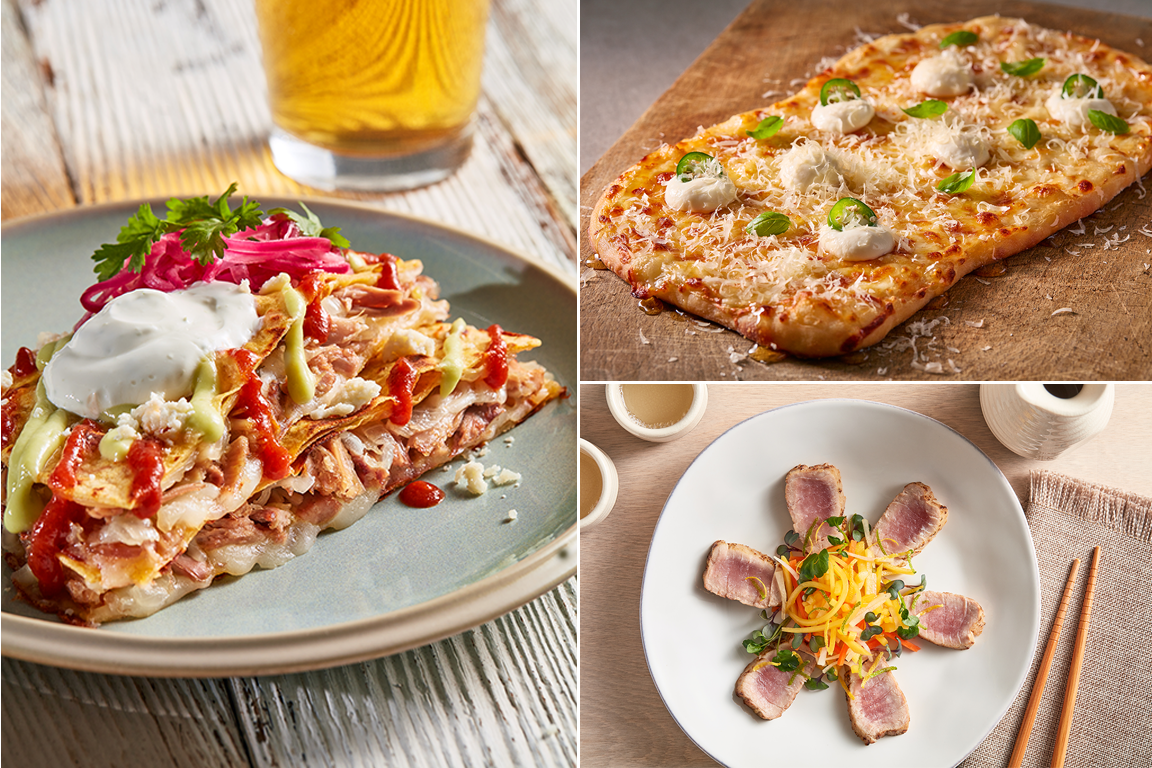 Kitchen Collaborative is a recipe-development initiative formed by Summit F&B and Flavor & The Menu. To fuel flavor innovation, a group of talented chefs partnered with sponsor brands and commodity boards to create recipes that showcase the passion and potential of our industry.
Daniel Corey, Executive Chef at San Francisco's The Clift Royal Sonesta Hotel, finds the City by the Bay to be a deep well of culinary inspiration—from the abundance of fresh and intriguing foods available to the stories shared by growers and suppliers. "The markets here are some of the best in the world!" he insists, leaning into his ingredient discoveries to set the direction for new recipe development. A new dish, he says, represents an idea inspired by an ingredient, rather than a particular cuisine or menu daypart. "It's about how to best represent that ingredient with the techniques, imagination, palate and palette that I've developed over the course of my career," he explains.
It sounds like a spot-on philosophy for making the most of Kitchen Collaborative's recipe ideation challenge, and Corey's creations certainly reflect his ingredient-first imagination at work. Read on to discover how California dairy led to the California Milk and Hot Honey Flatbread with Whipped Ricotta, mango inspired his Seared Kona Kampachi With Sweet & Sour Mango Salad and spicy seasonings and sauces informed the cross-cultural Texas Pete® Duck Confit Mulitas.
California Milk and Hot Honey Flatbread With Whipped Ricotta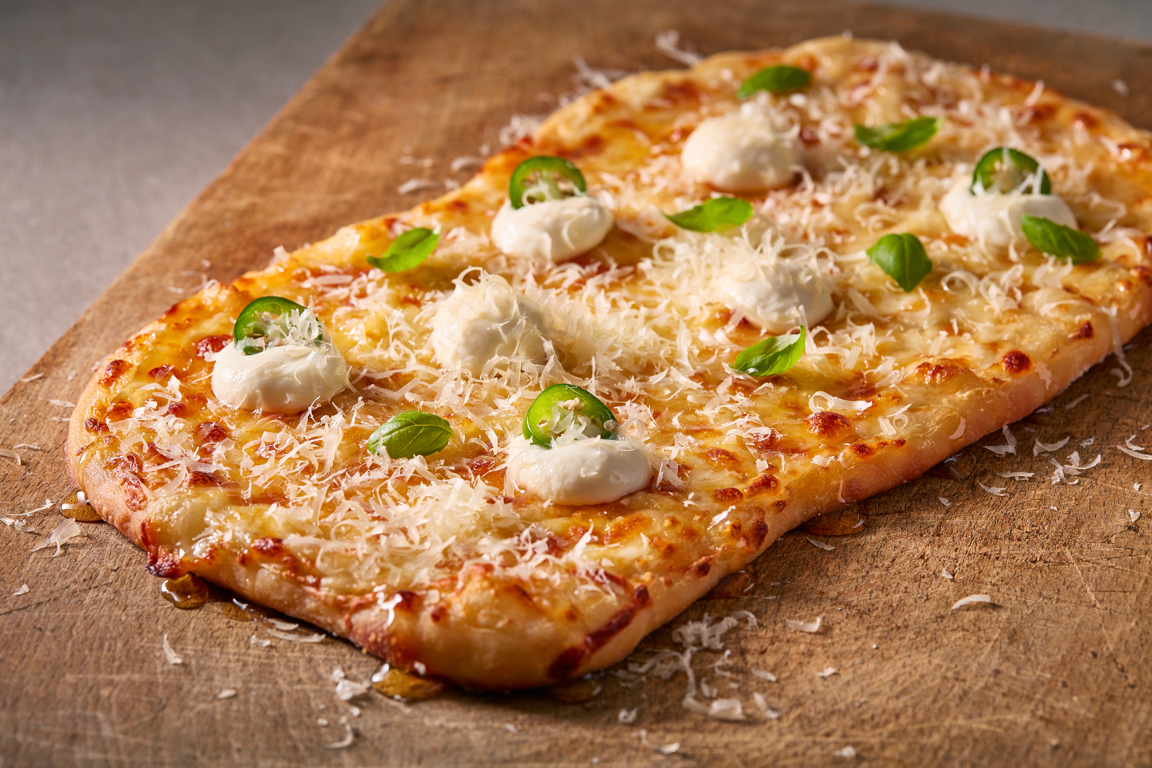 Photo: Carlos Garcia // Food Styling: Peg Blackley
Corey chose flatbread to carry this "wonderfully cheesy showcase," finding it "a great utilitarian vehicle that is well liked, whether dressed up or down." Featuring a rich layer of provolone Mornay, with shredded mozzarella, piped whipped ricotta "pillows," thin coins of serrano chile, a drizzle of hot honey, grated Parmesan and basil, it's well evident that his California Milk and Hot Honey Flatbread is dressed to the nines!
Spinning up this sophisticated take on a classic cheese and honey pairing, Corey made thoughtful decisions about different textures and flavors, especially the smooth ricotta and the creaminess of the Mornay. "In concept, this is not a complicated dish, but it is essential to get the proportions of each element right in order to let the ingredients shine," he says.
He's especially pleased with the unexpected addition of smoked Gouda to the provolone Mornay. "I love the introduction of the smoked Gouda for two main reasons," Corey explains. "First, the smoke helps to tease out a depth and complexity in the hot honey that would otherwise be missing. It is also an excellent melting cheese that helps to give the Mornay a super velvety-smooth texture."
Seared Kona Kampachi With Sweet and Sour Mango Salad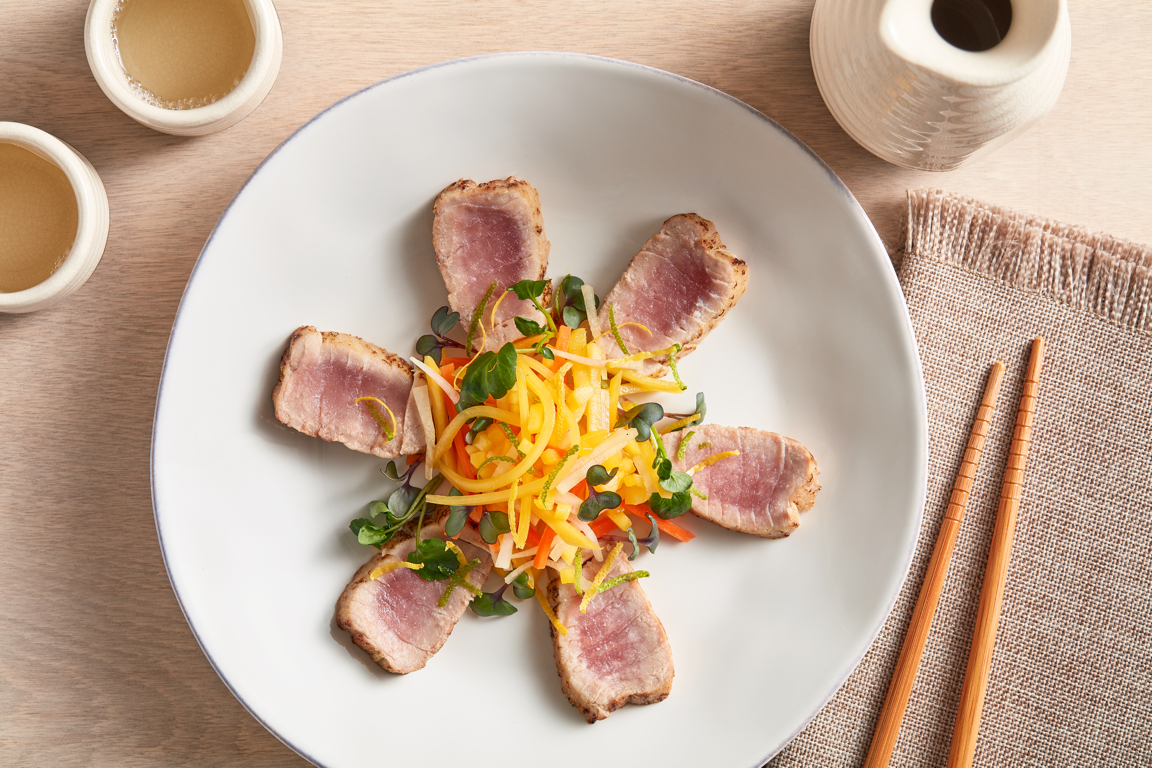 Photo: Carlos Garcia // Food Styling: Peg Blackley
The spotlight ingredient itself, mango, was ample inspiration for Corey's Seared Kona Kampachi With Sweet & Sour Mango Salad, featuring tuna (kampachi or yellowtail/hamachi) slices paired with a salad of ripe and unripe mangos, carrots, watermelon radishes and a baby tender green. "I love its juxtaposition of textures, plus the delicate balance of the sweetness of the fruit and the fattiness of the kampachi," says Corey. "The result is a very elegant, yet simple, dish."
These attributes are at the core of Corey's culinary aesthetic. "I consider texture and balance to be paramount as the two main elements that keep a diner intrigued with a dish," he explains. "Often, my favorites in a multi-course meal are not the most complicated, but the most texturally compelling and fun to eat!" This prompted Corey's decision to use mango at different ripeness stages. "Introducing the unripe mango adds a fresh, crunchy element that allows the sweetness and suppleness of the ripe mango to act in a complementary role, without overpowering the dish with sweetness."
Corey ties the components together with a marinade-vinaigrette that does double duty in the dish. Saffron is steeped in lime juice and vinegar, then mixed with powdered sugar, water and salt, before being used to lightly coat the kampachi; later, Corey uses it to dress the salad. The secret, he says, is the choice of powdered sugar instead of granulated. "It gives the sauce a little more texture and mouthfeel. It also really complements the fattiness of the fish, while the saffron enhances the protein's richness, helping to coax out the subtle flavor of the sea."
Texas Pete® Duck Confit Mulitas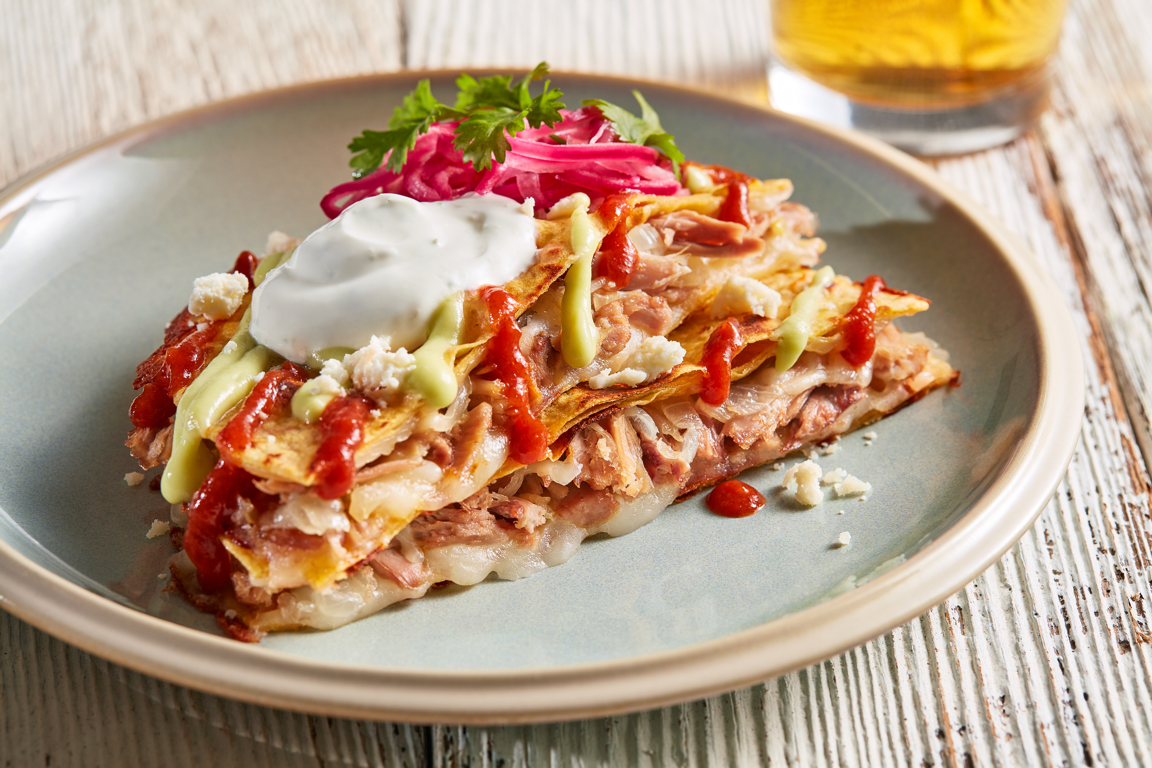 Photo: Carlos Garcia // Food Styling: Peg Blackley
Diners could be excused for doing a double take when encountering Texas Pete® Duck Confit Mulitas in a quick menu scan. After all, duck confit is traditionally associated with French cuisine, not a Mexican dish that is itself a less familiar format than its quesadilla cousin. "I confit the duck legs for this recipe because I find it to be a superior technique in preparing the meat," says Corey, who admits, "But I am using them in a very nontraditional manner."
Corey goes on to explain his other unconventional choice: "There are two main differences between a mulita and a quesadilla. The quesadilla is typically made with one flour tortilla, which is folded to hold ingredients. The mulita is made with two corn tortillas, sandwiching the ingredients. It's usually more balanced in meat and cheese portions, and boasts the important addition of roasted or grilled onions. And as the mulita cooks on the flat top, any cheese that oozes out gets very crispy, which I love!"
Corey applies Texas Pete® Original Dust early in the process, generously coating each of the duck legs in the spice prior to overnight cooling. The duck legs are then cooked sous vide for a day and a half and shredded prior to assembly of the mulitas. "I loved the Dust! It packed a little heat, but was not overpowering. The spices and the flavor really stood out," says Corey.
For the build, Corey covers one tortilla with a layer of Jack cheese, followed by sautéed onions and shredded duck confit. He transfers this to a hot flat top and covers it with a second tortilla. After flipping and pressing so both sides are brown and slightly crispy, the mulita is crowned with avocado mousse, pickled red onions and Texas Pete® Cha! sauce—representing the tricolored Mexican flag—plus a garnish of cilantro leaves and queso fresco. "The Cha! sauce has the perfect texture and balance of sweet and heat," says Corey. "I really loved this sauce!"
Project Management: Summit F&B
Photography: Carlos Garcia // Food Styling: Peg Blackley