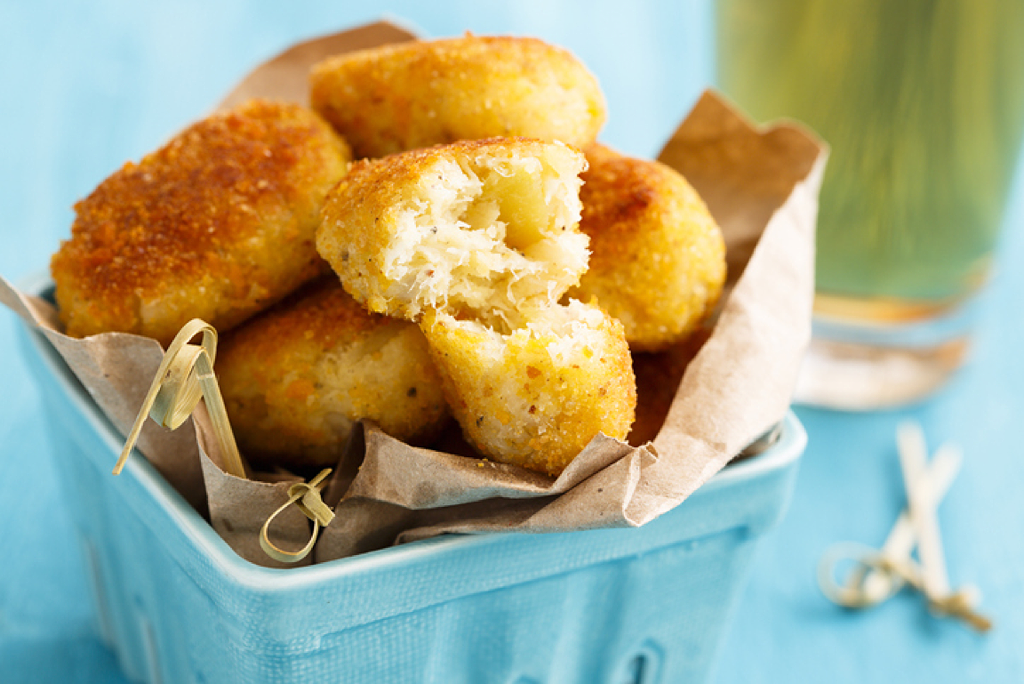 Seafood cakes serve up premium positioning with an approachable vibe, making them ideal for creating distinctive dining experiences.
While crab cakes remain a favorite; shrimp, scallop mousse, salmon and an array of whitefish offer appealing canvases for signature flavor. Variety in seafood blends, portion sizing, standard breadcrumb or lighter batter coatings, and opportunities for trend-forward sauce pairings, provide operators creative approaches to showcase seafood cakes across the menu. Case in point: Boston-based Legal Seafood maximizes a seafood cake across the menu with its signature crab cakes offered in multiple iterations: as a slider with roasted red pepper sauce; an appetizer with mustard sauce and chive vinaigrette; an entrée combo with grilled shrimp, seared scallops and herbed rice pilaf; and buddied up to a filet mignon surf and turf.
Below we detail national restaurant examples which showcase the seafood cake opportunity. We also serve up "try this" ideas to kickstart menu inspiration.
MENU SIGHTINGS
White Castle (based in Columbus, Ohio): QSR viability is in full force with a Panko Breaded Wild Alaska Pollock Slider topped with American cheese and with its previous Lenten LTO, a Seafood Crab Cake Slider topped with creamy Creole sauce.
Brown Bag Seafood Co. (locations in Georgia, Illinois and N.C.): This fast casual demonstrates the seafood cake's ability to carry trending global flavors, offering a curry fish cake as a selection across six design-your-own-meal options.
Joe's Crab Shack (based in Houston): This concept sets the casual dining appetizer bar high for flavor-packed spicy seafood goodness, menuing a dine-in, takeout or catering feature of Great Balls of Fire—a housemade "Shack snack" with crab, seafood, cream cheese and jalapeño.
Locust Point Steamers (Baltimore): This independent restaurant gets creative with a Crab Fluff, a fried crab cake dipped in funnel cake-like batter and fried golden. It also extends crab cakes as an added protein option on salads, as part of a fried seafood sampler and in a build-your-own sandwich.
Summer Shack (Mass. and Conn.): With full menu treatment as a snack, a crab cake BLT, an entrée, a brunch seafood Benedict trio, a mini version crab club BLT sandwich catering selection, and nationwide direct shipping, Summer Shack leverages the appeal and versatility of crab cakes.
TRY THIS
1
SNACK BITES AND APPETIZERS
"Popcorn" Firecracker Shrimp Cakes: A handheld container of rustic mini gochugaru- flavored griddled shrimp-shredded potato cakes + Bloody Mary sauce (dipper)
Crabby Snacker: Prosciutto-wrapped sautéed crab cake + arugula-smoked onion aïoli
Oceanaire's Flight: Pan-fried cod cake + baked crab cake + creamy cocktail sauce + marinated celeriac-green cabbage slaw
Basket of Goodness: Mini baked crab cakes + salted skinny fries + preserved lemon-fried caper aïoli
Mexican Tilapia Cake: Mexican elote purée + crispy fried tilapia cake + pico de gallo
2
BREAKFAST/BRUNCH
Coastal Benedict: Toasted garlic bread loaf half + soft-scrambled eggs + chopped crispy smoked bacon + griddled shrimp cakes + Old Bay crab gravy

Eastern Shore Crab Cake Huevos Rancheros: Warm corn tortillas + saucy white beans + over-easy egg + pan-fried panko crab cake + velvety Old Bay guasacaca
Shrimp Cake Congee: Congee + fried egg + butter-broiled crab-shrimp cake + chile crisp
Grouper Cake Shakshuka Skillet: Mini cast iron skillet with harissa-roasted tomato and red bell pepper sauce + two poached eggs + two fried grouper cakes + crumbled feta + baguette
3
SOUP/STEW
Summer Crab Shack Corn Chowder: Fresh sweet corn and yellow tomato chowder + mini pan-fried crab cake garnish (topper) + basil oil drizzle
Snapper Cake Gumbo: Chicken and andouille sausage gumbo + white rice + sautéed red snapper cake (topper) + frizzled leeks
4
SALAD
Stacked Seafood Cake Fried Caprese: Fried green tomato slice + burrata + griddled wild salmon cake + white balsamic-basil syrup drizzle
Mediterranean Tunafish Cake Salad: Pan-fried roasted garlic-Parmesan tunafish cakes + mesclun mix + cherry tomato halves + blanched green beans + Kalamata olives + citrus vinaigrette
5
HANDHELDS
Grand Crab-wich: Pan-fried crab cake + peach-Grand Marnier aïoli + buttermilk biscuit
Thai Seafood Cake Burger: Panko-breaded sautéed seafood cake (fine-chopped shrimp, scallop mousse, crabmeat, ginger, Thai red curry paste) + Bibb lettuce leaf + soy/fish sauce dipped tomato slice + lime aïoli + toasted brioche bun
Everything Salmon Cake Burger: Sautéed flaked salmon cake + pickled long-thin cucumber slices + whipped scallion cream cheese + everything spice potato bun
6
PLATED ENTRÉES
Curried Cod Cakes: Griddled crispy cod cakes (flaked cod, mashed chickpeas, egg, sautéed onion, fresh herbs) + Vadouvan curry butter sauce + honey-roasted tamarind sweet potato wedges
Crab Cake Smoker: Brown butter risotto + barbecue spice-rubbed cold-smoked crab cakes + blistered bell peppers-red onion + dollop of comeback sauce
Catfish Cakes and Gravy Bowl: Creamy white cheddar grits + pan-flashed spinach + blackened catfish cakes + bacon-tomato gravy