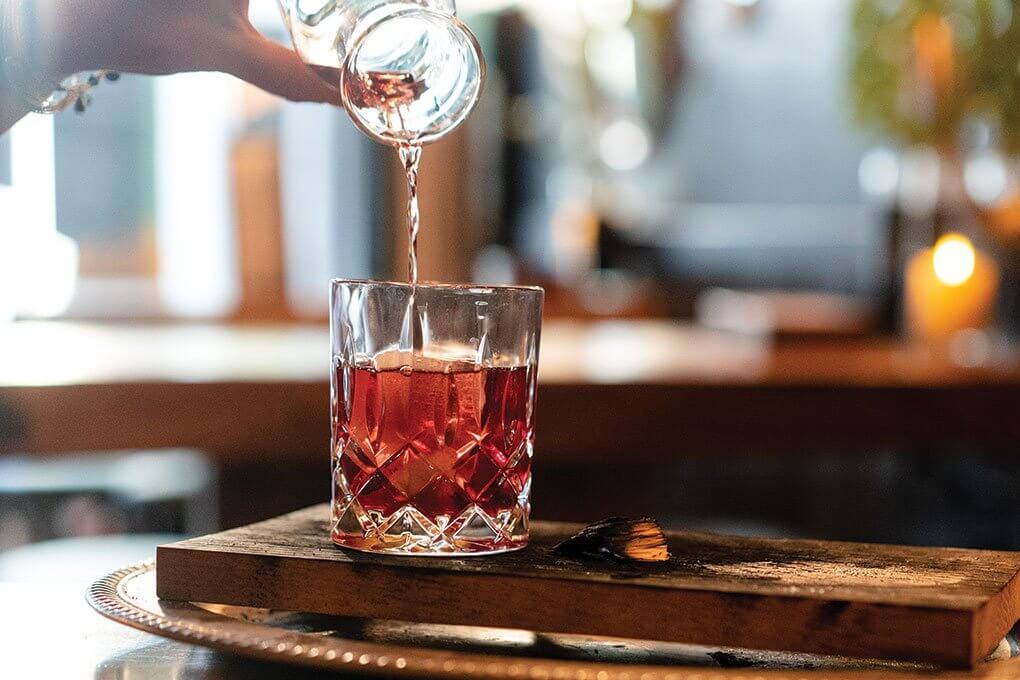 By Flavor & The Menu
April 19, 2019
The ScapeGoat's Beverage Director Felipe Ojeda set out to create an all-American digestif in its El Tipo Beltran, inspired by both the Negroni and the Boulevardier. He also wanted to give a nod to Ariete, the sister restaurant of this bar, which specializes in American beers, spirits, wines and cocktails.
"Since we work with American ingredients here at The ScapeGoat, we needed to find substitutions for all the classic Italian elements," he says. "So, we use St. George's Bruto Americano, which still uses cochineal to color their liqueur, and BroVo's Jammy Sweet Vermouth from Washington state, which is a Merlot-based red-wine vermouth."
Ojeda chose the Brixton Mash Destroyer, a bourbon-rum blend, as the base of the cocktail. "This allows us to bring complex elements of sweetness to the bitter elements of Bruto, as well as adding a delicate balance to the vermouth," he says. "This variation is a wonderful take on the Boulevardier."
El Tipo Beltran also has stage presence, served in a smoked glass for dramatic effect. "Inspired by our chef's love of cigars, we thought it would only be right, and it complements Ariete's wood-fire grilled dishes. Our goal was to bring a little bit of Ariete to The ScapeGoat," says Ojeda.
"We smoke the glass with hickory wood chips, adding a burst of wood, smoke and savory to help balance the bitter and sweet flavor profiles in the liquid itself. It's one of the cocktails I'm most proud of—and it just so happens to be one of our best sellers."