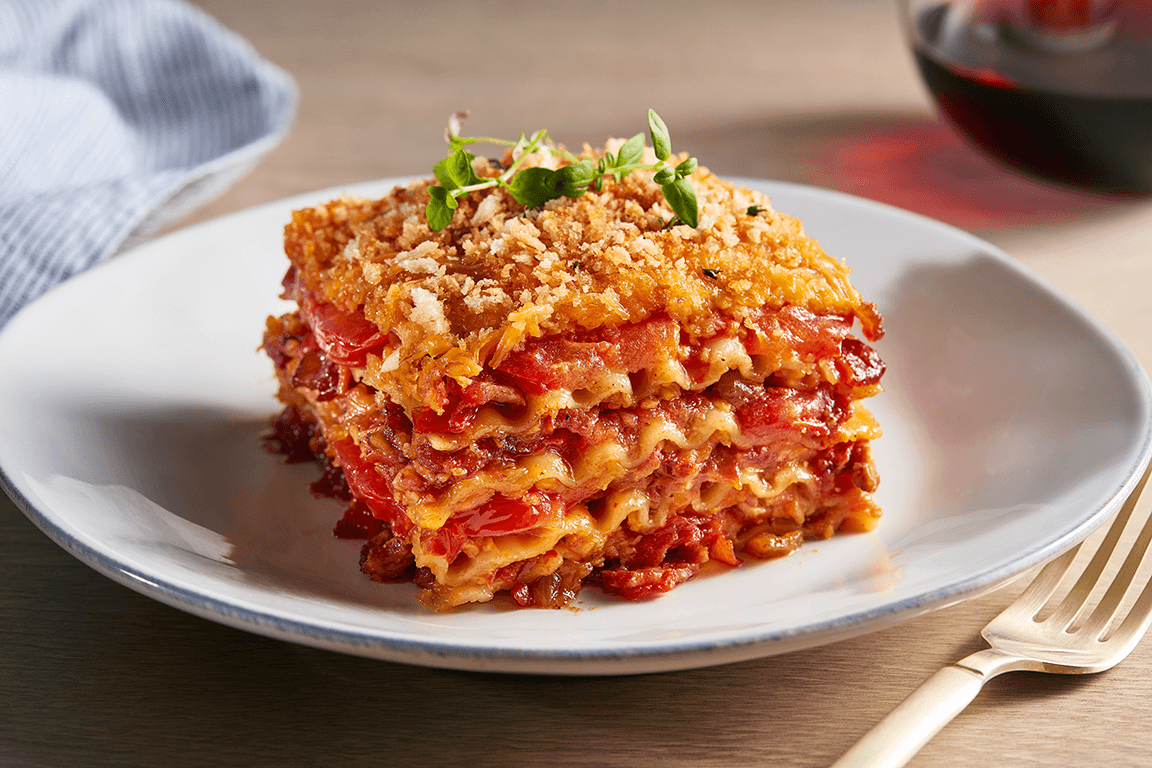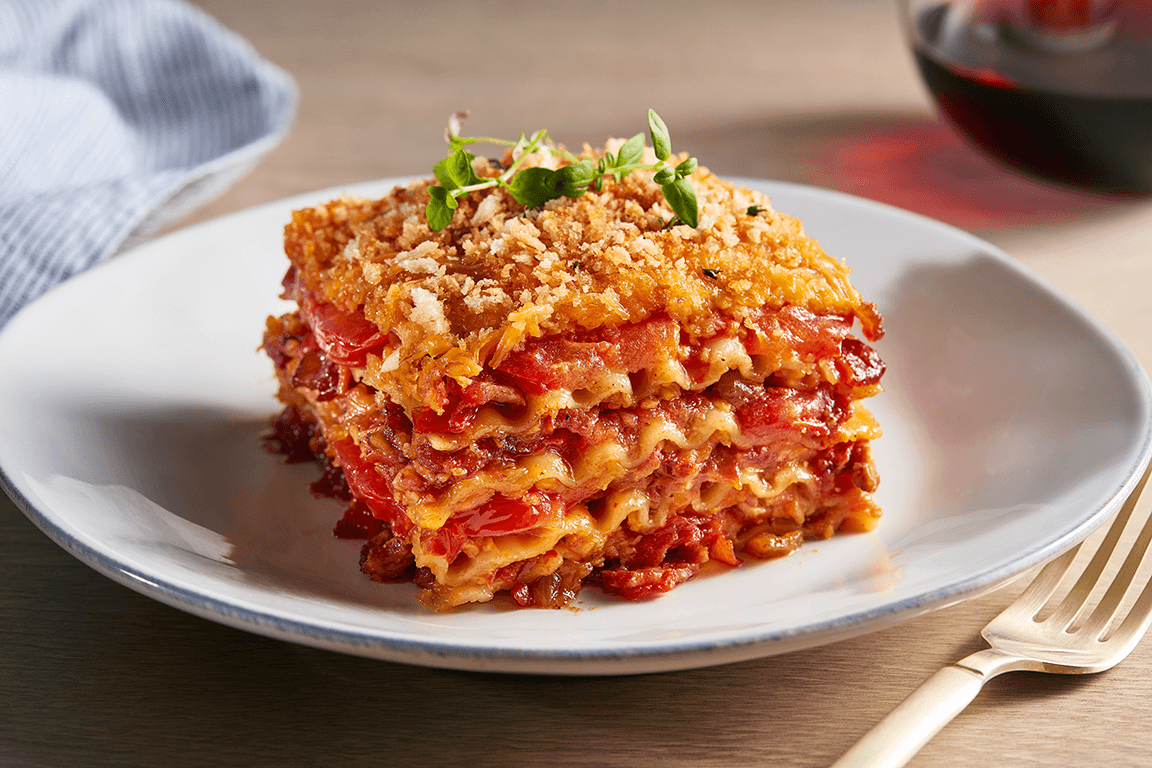 Tomato Bacon Jam Lasagne
Recipe courtesy of Carrie Welt, Senior Manager, Culinary Innovation, Applebee's Neighborhood Grill and Bar
Sponsor: Barilla America
Servings: 24
Ingredients
Tomato-Bacon Jam:
3 lbs bacon, minced or ¼-in sliced
4 lbs yellow onion, ¼-in dice
½ c minced garlic
6 lb 9 oz tomatoes, crushed or diced
½ c Dijon mustard
¼ c Worcestershire
¼ c brown sugar
2 c maple syrup
1 Tbsp crushed red pepper flakes
½ Tbsp ground black pepper
4 bay leaves
Lasagne Assembly:
6 qt Tomato-Bacon Jam
6 sheets Barilla® Lasagne Chef
36 oz shredded Cheddar cheese
12 lg tomatoes, sliced ¼ in thick
2 c panko
¼ bunch thyme leaves, fresh
2 Tbsp olive oil
Directions
For the Tomato-Bacon Jam:
In an 8-qt rondeau, render the bacon over medium-low heat until crispy, about 10 minutes. Remove the cooked bacon from the pan and reserve.
Add the onion to the pan and sauté until softened, about 8 minutes.
Add the garlic and stir until aromatic, approximately 2 minutes.
Add the tomatoes, mustard, Worcestershire, sugar, maple syrup, red pepper flakes, black pepper and bay leaves, and bring to a gentle simmer. Simmer for 30 minutes.
Remove from heat and stir in the reserved bacon.
Cool appropriately prior to use in lasagne assembly.
For the Lasagne Assembly:
Preheat oven to 375°F.
Spray a full 2-in deep hotel pan and add enough Tomato-Bacon Jam to cover the bottom.
Place two sheets of lasagne per layer, being sure to leave 1 inch on edges of the pan and another inch in the middle so the lasagne sheets have room to expand while cooking.
Top the lasagne with one-fourth of sliced tomatoes, leaving ½ in between slices. Cover the tomato slices with more bacon jam, then 12 oz of Cheddar cheese. Add another layer of pasta, tomatoes and cheese and repeat two more times.
Cover the pan with aluminum foil. Bake for 50 minutes.
In a small bowl, mix together the panko, olive oil and thyme leaves.
Once the lasagne is baked, remove foil and liberally coat the top of the lasagne with the herbed panko. Top with remaining tomato slices.
Return the pan to the oven and bake for 10-15 minutes to brown.
Rest the lasagne for 30 minutes before cutting into 24 portions.
Project Management: Summit F&B
Photography: Carlos Garcia // Food Styling: Peg Blackley