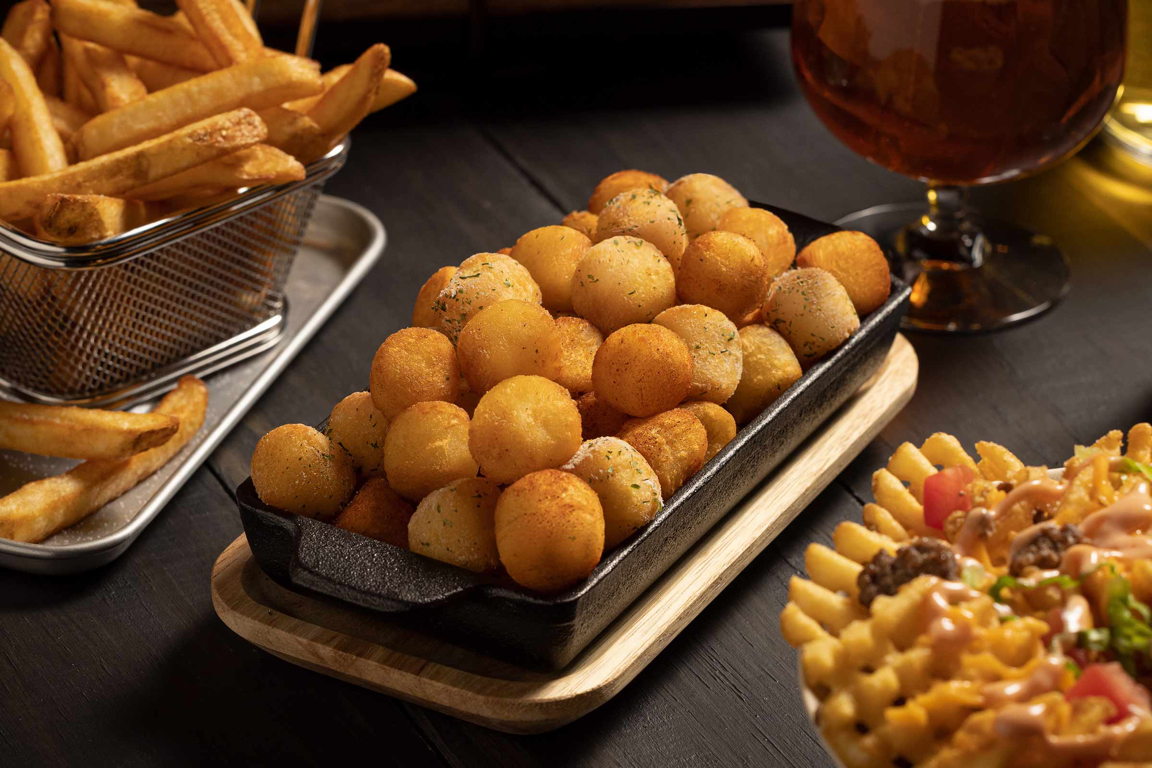 By Flavor & The Menu
March 23, 2023
Gen Z is all about fun and creativity. Menu items that integrate global flavors, texture, heat and craveability entice young consumers. This desire for enhanced experiential attributes is driving innovation at McCain Foods. "At McCain, we love to explore on-trend cuisines and products that really bring excitement to the diner," says Chef Mark Slutzky, Director of Culinary McCain Foods. "It's really important for chefs and operators to keep diners entertained and wanting to come back for their restaurant's creativity and regular addition of new and exciting menu offerings," he says.
McCain's new Mini Mashers™ appeal to Gen Z 's cravings for fast, flavorful, customizable and shareable snacks. Fluffy and creamy inside and crispy golden outside, these unique potato bites are lightly seasoned to take on a countless number of timeless or trending flavors. Similar in size to a tot, operators can menu McCain Mini Mashers™ with playful names like potato puffs, nuggets, pillows, poppers and more.
The back-of-house ease (they can go from freezer to plate in three minutes) and menu versatility make McCain Mini Mashers™ a win for modern menus. "I like to toss them in flavorful seasonings like Nashville hot, chile lime or spicy cheddar," Slutzky says. "Infused oils like truffle, garlic or rosemary bring out the crispy texture of the exterior and give them a real pop of flavor. Drizzling the McCain Mini Mashers™ with sauces like Thai sweet chile, garlic aioli or Buffalo sauce is also a great way to showcase their versatility, while keeping their unique texture."
Slutzky also highlights the potential for more complex applications that tap global profiles. "McCain Mini Mashers™ tossed with roasted pineapple bits and chopped peanuts, mounded high and drizzled with peri peri sauce and garnished with cilantro," he suggests, "or 'Crispy Mashers Ala Grecque,' tossed with lemon, garlic and herb-infused oil, topped with diced gyro meat, tomatoes, red onion and drizzled with tzatziki sauce."
Flexible enough to fit any menu category from appetizers to brunch and within any daypart from morning through midnight, these poppable potatoes are perfect for gluten-free and vegetarian-friendly menus, too. "Since they're small and round, they're a fun way for diners and chefs to explore new and familiar flavors in a unique way," Slutzky says.
McCAIN MINI MASHERS™ , 6 WAYS
Here are six ways in which McCain Mini Mashers™ can transform into a signature menu item:
Nashville Hot and Ranch Potato Poppers: Dust with Nashville hot and ranch seasoning
Garlic Herb Parmesan Mashers: Top with garlic-Parmesan seasoning and rosemary
Curry Mashers: Dust with curry and serve with cucumber raita dipping sauce
Santa Fe Mashers: Season with chipotle BBQ spice and serve with garlic-chipotle aioli
Korean Sweet Soy Glazed Mini Mashers: Toss in a homemade sweet soy sauce, sprinkle with black and white sesame seeds
BBQ Brisket Wrap: Layer slow-smoked chopped brisket in a flour tortilla with shredded pepperjack cheese and McCain Mini Mashers™ tossed in ranch seasoning (add an egg for breakfast/brunch)
To learn more about McCain Mini Mashers™ , visit mccainusafoodservice.com