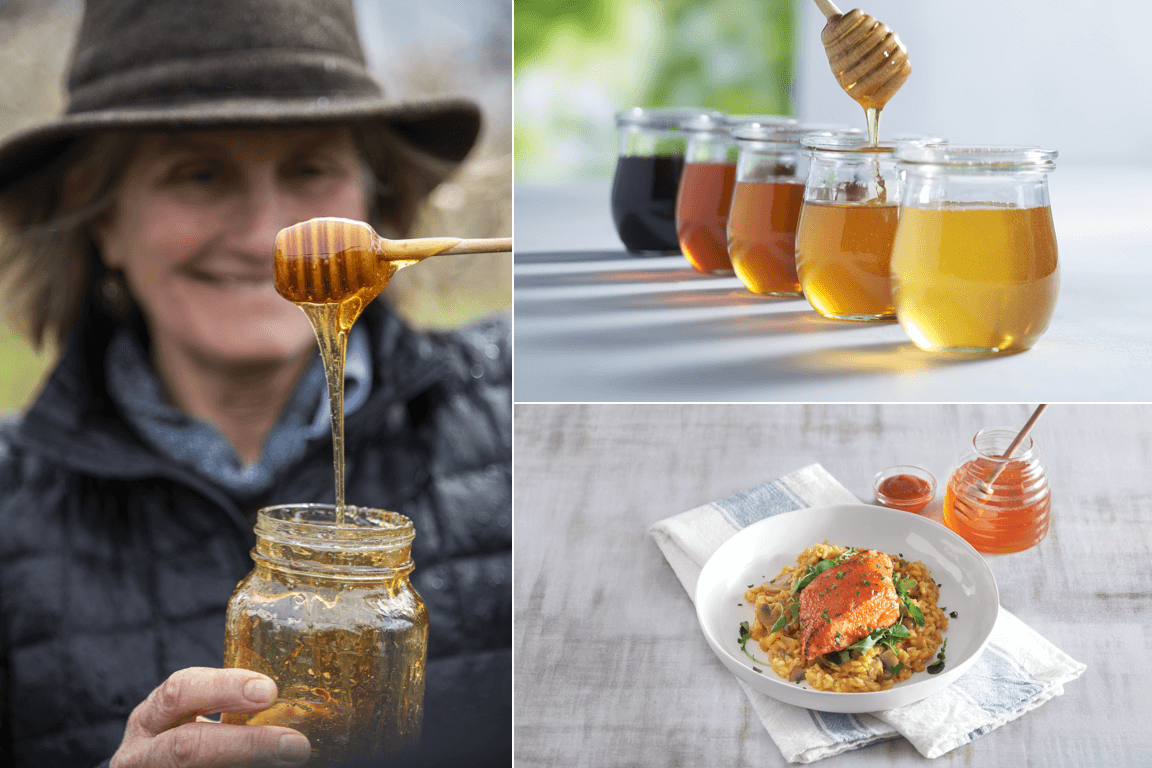 By Flavor & The Menu
March 17, 2023
Honey production is not only a centuries-old craft, it's critical to maintaining a natural, sustainable food supply for our future. Everything beekeepers do is intended to make their bees stronger and healthier, and when chefs use honey on their restaurant menus, they're supporting the pollination system that is a vital element in food production.
Hard-working honey bees are actually responsible for pollinating one-third of the global food supply, including fruits, vegetables and nuts. But even the meat and dairy industry relies on bees to pollinate livestock feed crops, like alfalfa. Operators can help raise awareness among their customers by promoting their choice to use honey across the menu.
"Every dish, every recipe and every ingredient has a story to tell, and honey's tale is particularly compelling," says Chef Jorge Cespedes, culinary creative consultant. "By using honey in my recipe development, I add rich, new chapters." This is especially true when working with honey varietals that convey different flavors, colors and a unique sense of place.
Sweet Menu Moves
"As chefs, bartenders, baristas, bakers and more, we have the opportunity to be ambassadors of flavor, playing with honey and using it new and unique ways," says Cespedes. There is great opportunity here, as honey shows growing popularity on menus today. According to Datassential, honey has grown by 26% in menu incidence, showing up in more categories across the menu. Recipe applications demonstrate impressive diversity, but overall, honey most commonly appears in savory items (appetizers, entrees and sides), especially combo dishes with multiple proteins.
Examples of flavor-forward modern menu moves abound. Consider a Honey Miso Salmon with Peruvian Risotto (pictured at top) by Chef Rick Petralia, which features a glaze made with orange blossom honey mixed with white miso paste, gochujang paste and Sriracha. In the Honey-Chile-Drenched Orange Fritters (above), from Chef Tamara Westerhold, honey is combined with Calabrian chile flakes, orange zest and salt. The sauce is used to coat the warm fritters and serve as an additional dipping sauce. And Honey-Infused "Super Muesli" (above) from Chef Quinn Adkins, is another demonstration of how honey can inspire culinary innovation, leveraging its premium quality in novel ways that deliver the signature differentiation that impresses guests. In this riff on a breakfast parfait, honey is added to the yogurt and layered with a granola/trail mix. Fresh honeycomb is an eye-catching finish.
These flavor opportunities, combined with the sustainability values that resonate with both chefs and consumers, are prime evidence that honey is good for business, while being good for the planet. "Honey is produced by passionate men and women who preserve the legacy of a very old tradition, helping bees to spread sustainable natural growth," credits Cespedes. "When a restaurant chooses to menu honey, it's telling guests, loud and clear, that it is committed to choices that enhance the community in every aspect."
Visit honey.com/foodservice for trends, menu inspirations and resources developed especially for foodservice professionals.