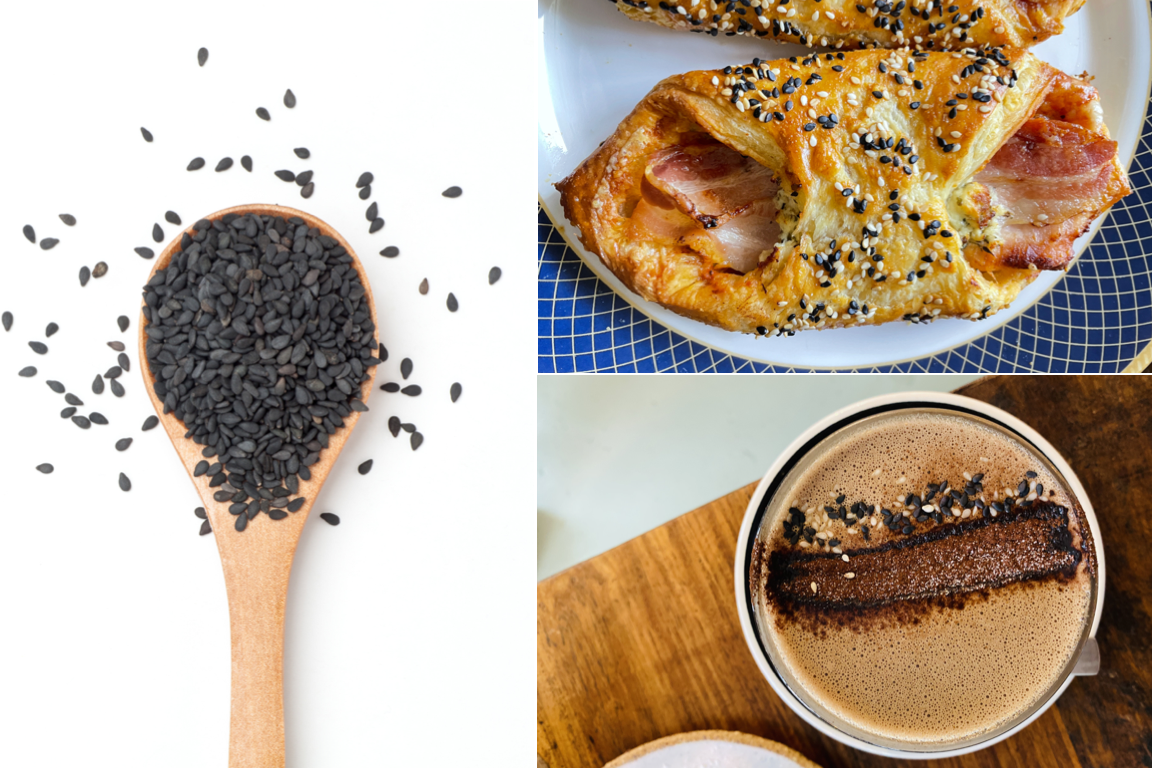 By Liz Barrett Foster
March 16, 2023
Black sesame has been around for centuries, but it's recently surged in popularity as a featured flavor in lattes, toast builds, desserts and more. A stronger, nuttier flavor than its white or brown counterparts, black sesame seeds can be toasted and ground into a powder or paste for a multitude of uses beyond sprinkling atop sushi.
Because of its dark and striking appearance, black sesame is a high-impact ingredient, creating visual appeal in dishes featuring contrasting colors such as the bright greens of avocado toast and asparagus or the vibrant pinks and reds of watermelon and tuna.
Nutrient-dense black sesame is featured in savory and sweet applications in several Asian cuisines, including Chinese, Japanese and Indian. Menu developers here are exploring those items—and they're expanding the seed's reach. With increased demand by consumers for more global flavor experiences, ancient ingredients like black sesame are stepping into the spotlight in new ways. Black tahini, made by roasting and grinding black sesame seeds, can be made in house or purchased ready to mix into hummus, desserts, smoothies, dips, ice cream, noodles and more.
At Oren, a progressive American restaurant in Tulsa, black sesame makes an appearance on the starter menu and salad offerings. The labneh is served with black sesame and Urfa (Turkish chile pepper) alongside ciabatta, while the house Caesar is topped with tahini, black sesame and breadcrumbs. Bavel, a modern Middle Eastern restaurant in Los Angeles, showcases flatbreads and spreads in a feasting format. The restaurant's black sesame buckwheat toast is an ideal vehicle to transport two of its feature spreads: farm cheese and smoked trout rillette.
Black sesame brings visual impact and unique flavor to beverages as well. At the vintage industrial noodle bar Fooki in Aiea, Hawaii, black sesame milk tea is available hot or iced, and the Black Sesame Frappe combines vanilla ice cream, black sesame and brown sugar syrup.
Plant-based Asian fusion is on the menu at Minty Z in Miami. For dessert, the five-piece Bao Beignets, featuring five-spice dusted bao donuts, is topped with black sesame caramel. When it's too hard to choose between a hot beverage and ice cream, New York's vegan and kosher Beyond Sushi offers guests a Matcha Affogato, featuring hot matcha and vanilla ice cream topped with ginger cookie streusel and black sesame.
With its dramatic color and rich flavor, trending black sesame offers menu developers new opportunities for differentiation.