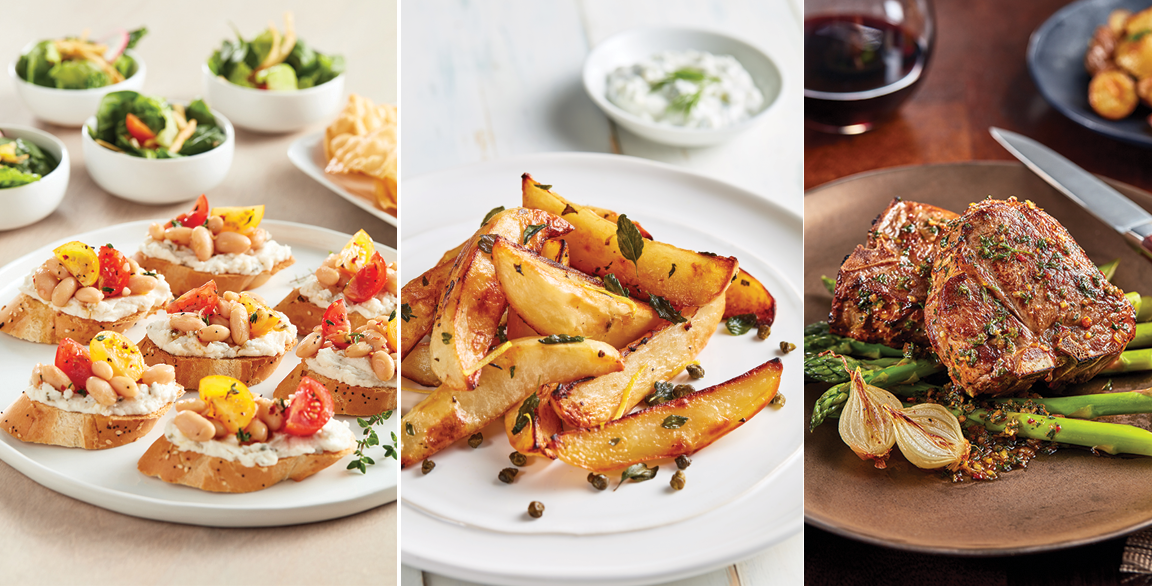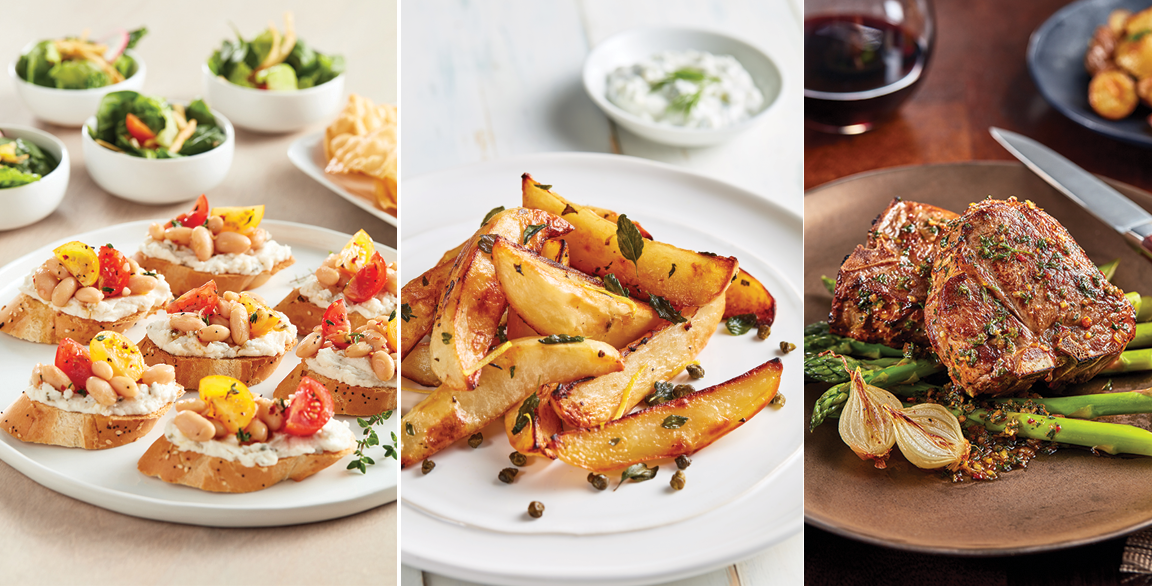 By Patricia Fitzgerald
November 2, 2022
Kitchen Collaborative is a recipe-development initiative formed by Summit F&B and Flavor & The Menu. To fuel flavor innovation, a group of talented chefs partnered with sponsor brands and commodity boards to create recipes that showcase the passion and potential of our industry.
CHEF SPOTLIGHT: Brian Robertson
"I believe Houston has the most diverse culinary landscape in the country, making it the perfect learning ground," says Brian Robertson, VP of Corporate Culinary for the Houston-based Fertitta Entertainment. He's continually seeking sources to advance his culinary education, from magazines, television, the internet and, especially, eating at different restaurant concepts. "As I eat out, I strive to learn more about regional and ethnic flavors and techniques that I can recreate in our test kitchen and apply in our restaurants."
With his three recipes for Kitchen Collaborative, Robertson demonstrates how he pays attention, paying homage to the ingredients and recipes of Italy (Boursin® Dairy-Free Cheese Spread Crostini with Cannellini Beans, Heirloom Tomatoes and Thyme), Greece (Roasted Greek Idaho® Potatoes with Tzatziki, Fried Capers and Dill) and a global mash-up of a classic (Australian Lamb T-Bones with Mint and Chile Crisp Chimichurri).
Boursin® Dairy-Free Cheese Spread Crostini with Cannellini Beans, Heirloom Tomatoes and Thyme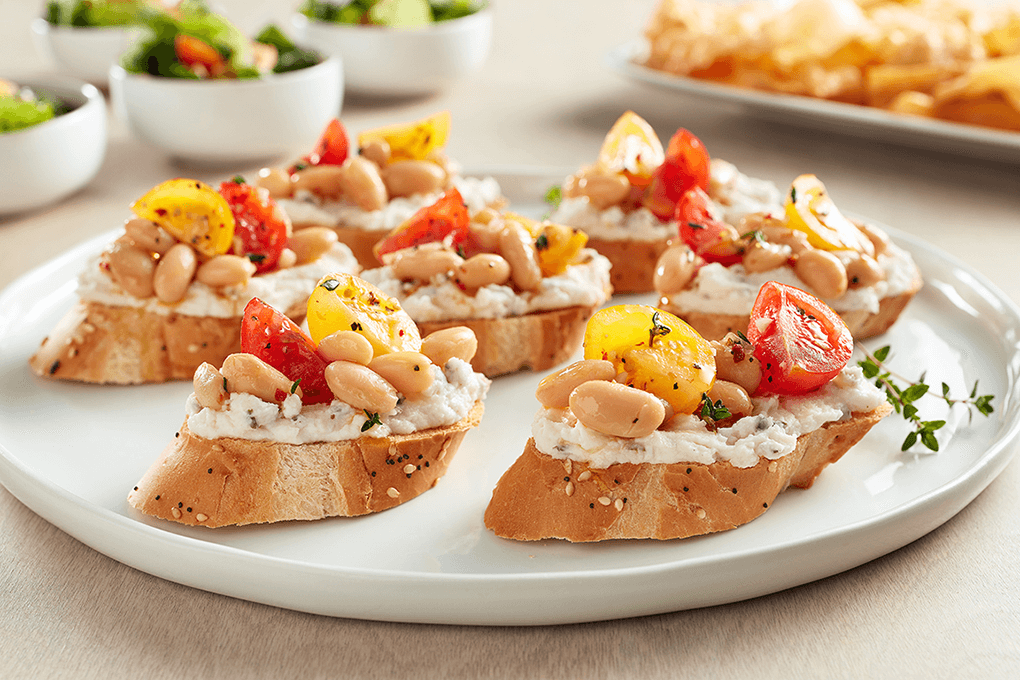 Photo credit: Photography: Carlos Garcia // Food Styling: Peg Blackley & Bree Williams
With the plant-forward juggernaut showing no signs of slowing, identifying flavorful meat-alternate ingredients has become a menu imperative for most restaurant concepts. "We need to be able to accommodate our guests who are vegan, vegetarian, pescatarian and flexitarian," says Robertson. Dairy-free cheese products that were early to market were met with mixed reactions to both their taste and performance, which is why Robertson was quite pleased to work with Boursin® Dairy-Free Cheese Spread Alternative, Garlic & Herbs for this flavorful appetizer. "The Boursin tasted fantastic and performed great."
Robertson applies a generous layer of the garlic-and-herbs spread on toasted baguette rounds. This is topped with a mixture of cannellini beans, cherry tomatoes, minced shallot, chopped fresh thyme, extra-virgin olive oil, red wine vinegar, salt, pepper and crushed red pepper. "It's a classic Italian favorite to top crostini with either whole or pureed cannellini beans," he explains, noting that the Boursin adds greater dimension. "The garlic and herbs pair perfectly with the somewhat neutral cannellini beans." Along with the tomatoes, shallots and crushed red pepper, each bite delivers a distinctive pop of flavor and textural contrast.
Roasted Greek Idaho® Potatoes with Tzatziki, Fried Capers and Dill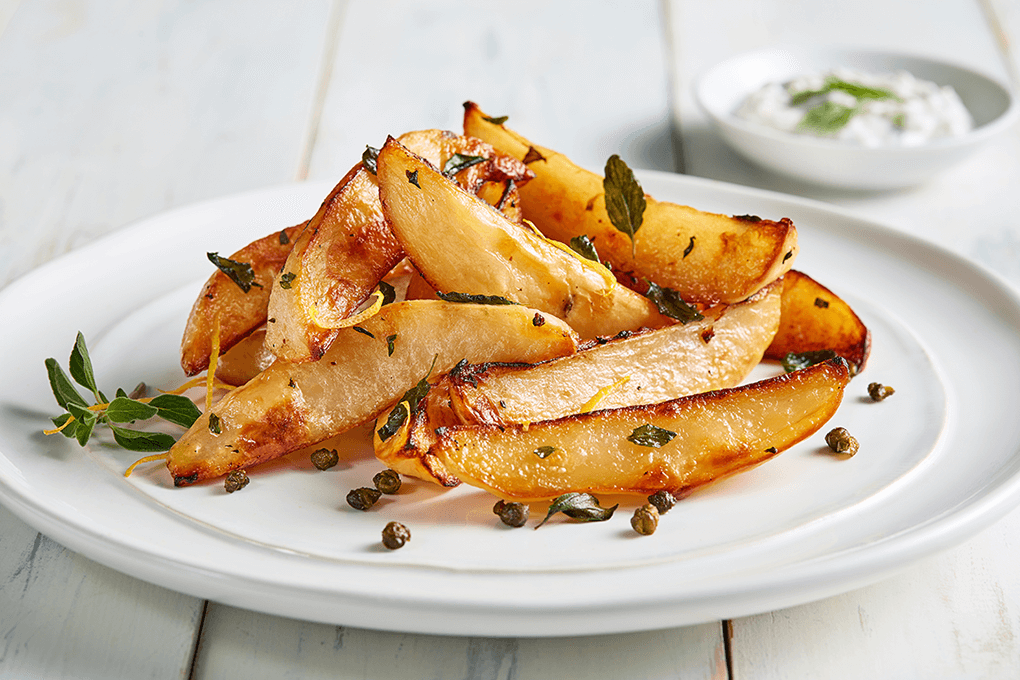 Photo credit: Photography: Carlos Garcia // Food Styling: Peg Blackley & Bree Williams
Roasted or fried potatoes are a menu mainstay for numerous world cuisines. Their crispy-creamy textural double punch makes for a craveable foundation that can be easily steered in dozens of flavor directions by way of different signature ingredient pairings. Assigned Idaho® Potatoes for Kitchen Collaborative, Robertson had a particular destination in mind: Greece. "I eat at a fantastic little Greek restaurant in the arts district of Houston, and I always ask for extra tzatziki with my Greek potatoes," he says. "I wanted to recreate this dish and add my own twist."
Robertson roasts the potatoes covered in a marinade of "super harmonious flavors," he says, citing chicken broth, garlic, olive oil, oregano, salt, pepper and fresh lemon juice. "You need a robust marinade because potatoes are a neutral canvas from a flavor perspective." For service, the potatoes are topped with pan juices and a housemade tzatziki and then garnished with Robertson's twist: fried capers and fresh dill. "The flavor of fried capers is amazing, salty and pungent. They also add a textural component, which is so important and often overlooked."
While the flavor journey of this dish is distinctly Mediterranean, Robertson notes he could swap out the tzatziki to send guests in fresh directions. "I could absolutely eat these potatoes with ranch dressing, since that's good on everything!" he says. "Or go with an Asian profile, making a Sriracha aioli, omitting the capers and dill and garnishing with scallions and toasted sesame seeds instead."
Australian Lamb T-Bones with Mint and Chile Crisp Chimichurri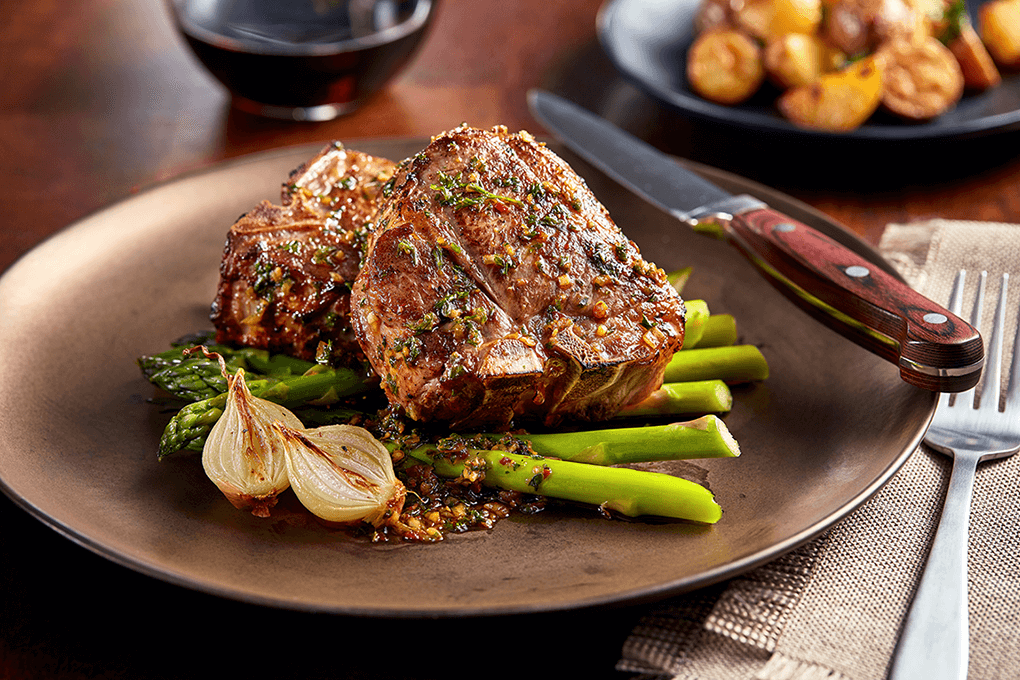 Photo credit: Photography: Carlos Garcia // Food Styling: Peg Blackley & Bree Williams
Robertson took a classic approach to Australian Lamb T-bones by firing up the grill. He concentrated on dialing up the flavor of his chimichurri marinade, using mint—a traditional seasoning, of course—and a less common chile crisp. "The chile crisp adds an element of heat that I thought would be perfect for lamb," Robertson explains. "It's unique, versatile and super current and relevant right now, which is another reason why I incorporated it into the chimichurri." He confides one more driver at play in this recipe: "Also, I live in south Texas, and I love things spicy! Since the meat is mild, it was fantastic with a strong sauce like this chimichurri."
The T-bones pair well with traditional side offerings, however, Robertson suggests more trend-forward accompaniments: "I think some grilled Mexican street corn with Cotija cheese would be delicious. I'd also add a curtido with pickled Mexican vegetables and chiles."
Robertson "absolutely" sees lamb making inroads on modern steakhouse menus. "But it's something you have to train the front of the house to actively suggest and sell," he advises. "It has a reputation for being gamey, but that's really a matter of product quality, proper preparation and salesmanship." He also cautions that because of their smaller size, an entrée would require more than one T-bone. "On the other hand, they are a great size for creating a cool appetizer."
Project Management: Summit F&B
Photography: Carlos Garcia // Food Styling: Peg Blackley & Bree Williams