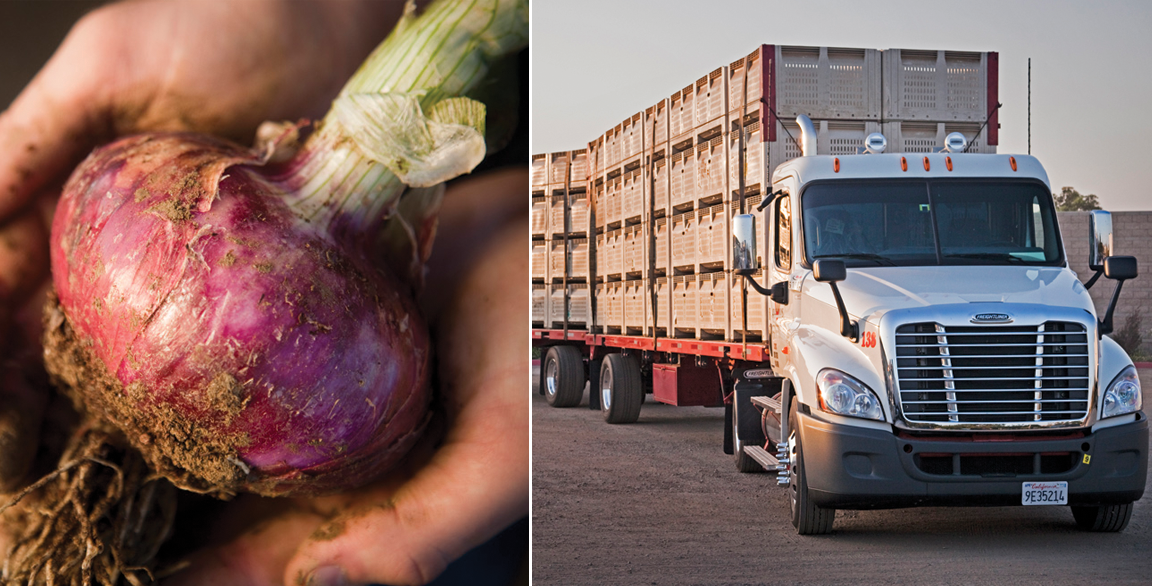 For a long time, sustainability has been the elephant in the foodservice room, quietly sitting in the corner and only making itself known on rare occasions. These days, however, it's become harder and harder to ignore with climate change rearing its ugly head every day in so many destructive ways.
From its inception in 1983, Gills Onions has put its environmental impact at the forefront of everything they do. What began as a passion project of brothers and fourth-generation farmers Steve and David Gill to offer the highest quality, sustainably grown fresh-cut onion products to its foodservice and retail customers, has become one of the largest family-owned onion growers and processors in the world. Using a three-pronged approach to its onion farming that focuses on innovation, conservation and sustainability, Oxnard, Calif.-based Gills ensures its onions have the best growing conditions and the lowest environmental impact.
"It is our responsibility as a business to be fully aware of the impact we have on the environment and to work to minimize that impact," says Steve Gill, President. "Partnering with sustainability-minded vendors shows the support to businesses that continue to push the envelope to develop and achieve progress towards aggressive sustainability goals at every level of an organization, as well as foodservice's supply chain."
It all starts with Gills Onions' growing practices. Creating a superior product begins with using the highest quality soil, one that is rich in macro- and micronutrients, which in turn creates a strong root system aiding in withstanding pests and extreme weather.
"Healthy onions with robust root growth, means less water — super important in California — less land being used, and less overall applications in the fields," says Gill.
At the center of its sustainability practices is Gills Onions' Advanced Energy Recovery System (AERS), which converts 100 percent of its onion waste into ultra-clean, virtually emissions-free electricity.
"Did you know one out of every three sacks of bulk onions is waste? By the time you've peeled and prepped, a third of a restaurant's planned inventory is in the garbage," he says. "We help eliminate waste from being shipped throughout the U.S. and Canada. More than 400 truckloads of onions are shipped and consumed daily in the U.S., and approximately 133 truckloads do not make it to your restaurant's finished plate. When you reduce emissions, you also help reduce your carbon footprint."
Additionally, due to Gills Onions' unique growing, processing and shipping practices, its products have a best-of-industry shelf life, reducing waste at the foodservice operations they work with. "We've worked hard to achieve an 18-day shelf life to ship into every market within the U.S. and Canada," says Gill. "This level of quality does not happen by accident."
Available in a variety of formats, ranging from diced and sliced to slivered and whole peeled, Gills Onions arrive 100 percent washed and ready to use, ensuring the unsanitary dirt and bacteria common with unpeeled onions isn't brought into your kitchen, as well as saving time and labor.
Traceability is another piece in the sustainability puzzle. Raised from seed to harvest by experts, Gills Onions are processed in the company's own facility, guaranteeing quality control until their arrival at customers' doors.
"At Gills, we have the ability to trace the product all the way back to the field," says Gill. "Traceability should not stop at the distributor level; it needs to have the ability to be traced all through the supply chain."
From supporting local Future Farmers of America chapters to forming partnerships with local and national leaders to help their farming neighbors, Gills Onions is engaged in the communities where it operates and beyond. "Together, we are enabling businesses and consumers to hold each other accountable to a greener supply chain and make real, effective change," he says.
Learn more about Gills Onions here, and find out more about their commitment to sustainability here.