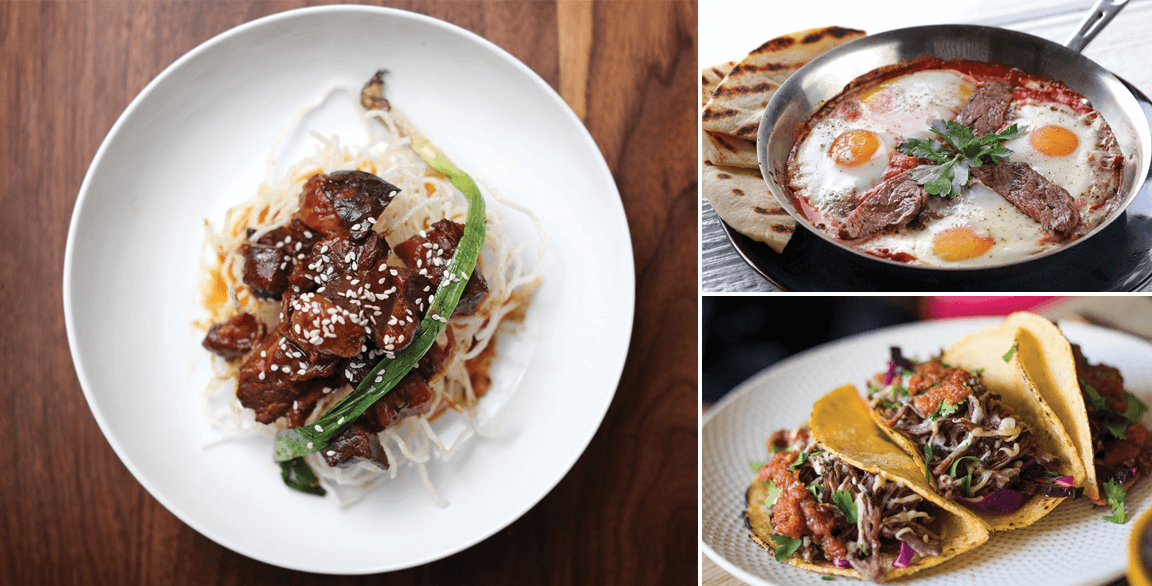 By Flavor & The Menu
November 7, 2022
To meet diner demand for quality, foodservice operators prize consistency in the kitchen—and it starts with the ingredients being sourced. This is especially important for center-of-the-plate items that are the foundation upon which the flavor experience is built. When that hero is beef, with its enduring popularity among American consumers, expectations are especially high.
Discerning chefs turn to premium, hand-selected beef cuts to deliver unparalleled flavor, texture and reliability. "You'll get a more consistent product that performs time after time. There's less variation in the product spec, which allows you to offer the same premium experience for every customer," says Chef Pete Geoghegan, Culinary Director, Cargill Protein Division (North America). These advantages and others are signatures of Cargill's Sterling Silver Premium Meats brand.
High-quality beef cuts also provide menu developers with a coveted versatility, handling a variety of unexpected menu applications and cooking methods. "There used to be a focus on specific cuts for specific dishes, but let's change our perspective," says Geoghegan, noting that price fluctuations, product shortages and SKU optimization have altered the typical procurement game. Instead of buying a "value" cut normally associated with a particular dish, a premium cut may be a good fit and allow you to reduce your total SKU count.
Consider the example of a filet roast. "Chefs could use a premium strip steak instead of trading down to a lower grade tenderloin," he says. "Similarly, you can replace a prime rib with a strip loin roast. It's better to get a premium strip loin and use that to replace traditional rib cuts, rather than trading down to lower-grade rib products. Or take tenderloin: Is there an opportunity to replace a top sirloin product with a premium tri tip cut, rather than trading down to a value sirloin/tenderloin product? End cuts can be made into very good products, especially when you are using premium, branded beef."
Geoghegan offers additional examples of how chefs can employ an inventive approach in using premium beef across the menu: "A strip loin can be split down the middle to create two tenderloin-sized Manhattan filets," he says. "These can be used as a roast or the beef featured at a carving station. Also, they can cook in a shorter period, while working as a thicker filet or as a medallion steak."
Geoghegan also points to the chuck flat, a cut that can be used in virtually any beef-based menu application, as it can be braised, added to a stir-fry, cut into steak and grilled and so on.
Diving deeper, consider coulotte, a cut from the top sirloin butt that performs well with marinades and rubs and can be smoked, grilled, prepared sous vide or even dry-aged for a range of menu items from steak to roast beef sandwiches. Here are three other menu inspirations that feature coulotte:
Flatbread: Shaved coulotte with blue cheese, red onions, arugula and a balsamic drizzle
Winter Salad: Farro, zucchini, squash, micro greens, pickled onions, pomegranate seeds and a coulotte topper
Negimaki: Coulotte strips marinated in teriyaki, with charred scallions
In these examples of trading up, rather than down, chefs can use a single premium cut, rather than purchasing different cuts—at varied levels of quality—for each individual preparation, says Geoghegan. "That makes sourcing easier and more cost effective, and you can market dishes as Upper 2/3 Graded Choice by USDA." This kind of versatility offers the potential to improve overall margins, without sacrificing flavor, he notes.
Premier Partner
Sterling Silver beef is sourced from three U.S. and two Canadian facilities, which provides for strict control of premium product standards, including a consistent, rich marbling and a minimum 21-day aging process that yields superior flavor and a USDA Certified Tender® rating for foodservice cuts. "We focus on how the market is changing, making sure our products fit what our customers seek," says Geoghegan.
Operators can also turn to Sterling Silver as a valued partner for culinary, staff and marketing support. This includes advice from thought leaders well-versed in culinary trends who can help customers with menu inspirations. The beef experts in the Sterling Silver Signature Chefs program advise on research and development, ingredients, seasonings and menus, applying a comprehensive knowledge of beef preparations. In addition, customers can access an array of downloadable training materials to ensure that both back of house employees and servers have the skills and support they need to position the products to their best advantage.
Learn more about Sterling Silver and its lineup of premium beef cuts here.
Be sure to click on links for menu inspiration and to explore specific cuts. Find a Sterling Silver rep to answer more detailed questions here.