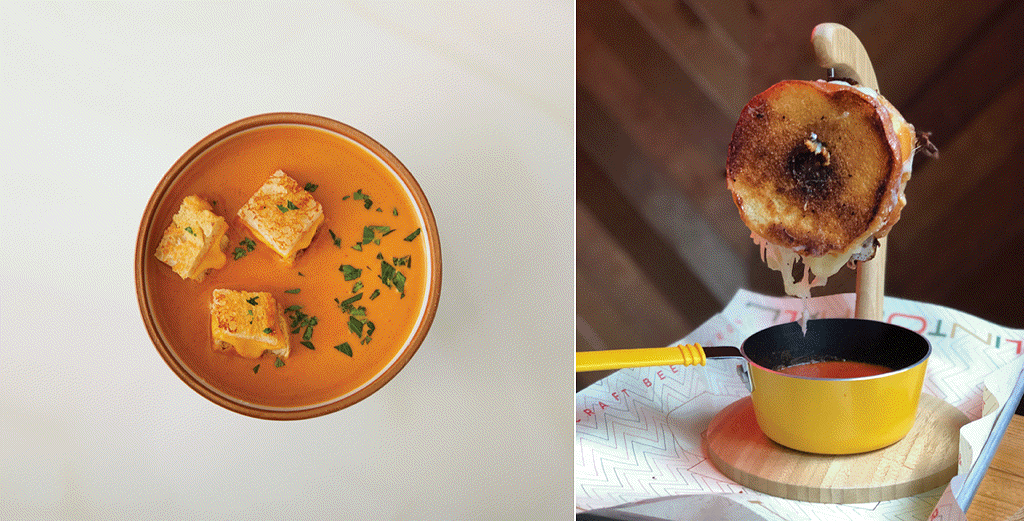 For a dish that starts with only two foundational ingredients, the classic grilled cheese sandwich has become a flagship of innovation on many menus. Just ask Darryl Harmon, executive chef of New York's burger and brewery concept Clinton Hall. His grilled cheese, which can be found at the chain's six locations, features all the archetypal ingredients. There's the bread, the gooey cheese center and even the tomato soup served on the side. But the similarities end with Harmon's bold choice to swap the bread with a glazed doughnut. He dips two sliced doughnut halves in butter before they hit the grill—the inner, flat-side down for maximum surface caramelization—then tops them with mozzarella. A basting cover ensures the cheese melts nearly to the point of liquidity, with any spillage hitting the griddle and creating those all-important frico edges.
Harmon is all about over-the-top dishes that turn heads as they arrive at the table. The indulgent sandwich arrives hanging on a hook (a cleverly repurposed banana stand) that spears the doughnut hole and showcases melty cheese pulls dripping into a mini pot of tomato soup placed underneath. The Doughnut Grilled Cheese has become a signature for Clinton Hall, inspiring limited- time flavor explorations (a Flamin' Hot version swapped in a habanero-bacon doughnut from Doughnut Project).
So, how do you take the classic grilled cheese and create an iconic menu item? And make no mistake, grilled cheese is truly loved by diners. According to market research firm Datassential, 80 percent of consumers say they love or like grilled cheese sandwiches, putting the handheld second, behind chicken, on the list of favorite sandwich options and placing it among the top 100 favorite foods overall. Chefs across the country are serving up plenty of inspiration.
PREMIUM IS TABLE STAKES
The two core ingredients of the toasted cheese sandwich offer up a world of swappable possibility. Just about anything can be used as a carrier these days, from doughnuts to garlic bread to potato pancakes. One trending TikTok creator went viral by using banana bread as a carrier that leaned toward the sweeter side. When it comes to the cheese, chefs can select among melt-worthy processed cheeses that are no longer a guilty- pleasure secret, as well as from an ever-expanding assortment of domestic and global artisan cheeses.
To create her award-winning Grilled Cheese, Christina McKeough, chef de cuisine of Philadelphia's High Street Philly bakery and restaurant, spotlights local ingredients. "We make our own cultured butter using fresh cream from an area dairy, local Pennsylvania sharp cheddar, and, of course, we use our long-fermented sourdough bread, made in house daily," says McKeough of the sandwich. She and her team dissected every component to build their own ultimate version, and they haven't been afraid to go back to the drawing board and make tweaks as they see fit. For example, the original carrier was a soft, mild potato bread, but the country boule gave the sandwich a more rustic texture and a sour flavor that contrasted better with the rich cheddar.
Premium grilled cheese sandwiches have arguably become the default option on menus today, as chefs look to differentiate their versions from the competition, as well as from the simple sandwiches customers make in home kitchens. For John Mooney, executive chef and co-owner of Southern-accented American bistro Bidwell in Washington, D.C., that means using unctuous raclette cheese. "It has a nutty flavor, and it melts like no other," says Mooney. He sandwiches the raclette and some Gouda between slices of sourdough before toasting and, to take it over the top, finishes the whole thing with a slow-poached egg, fresh chives and a drizzle of truffle oil, transforming the humble sandwich into a premium, entrée-worthy masterpiece. "I tried to take it off the menu one summer, but guests kept requesting it," he says. "So I keep it on year round now."
SEASONAL STARS
"The beauty of a grilled or toasted cheese sandwich is its versatility," says recipe developer Sarah Fritsche, based in San Francisco. "You can tailor a recipe to a specific season by adding fresh produce, sauces and other components."
When Fritsche created a fall-themed open-faced toasted cheese sandwich, she leaned into the flavors of the season, opting for roasted delicata squash. She paired a creamy goat Brie with the squash on toasted country bread, with a drizzle of salsa verde. Fritsche finished the dish by "doubling down on the autumnal vibes and showering everything with toasted pumpkin seeds, which add even more crunch."
Ali Ghriskey, executive chef of PS, the speakeasy attached to New York's Pine & Polk gourmet shop, uses her grilled cheese as a foundation to showcase an ever-changing array of seasonal flavors. To a base of toasted sourdough with fontina and pecorino, Ghriskey adds pickled, pestoed ramps in the spring or roasted tomato and Espelette pepper in the summer.
TASTE OF PLACE
Grilled cheese is a trusted platform for chefs to showcase local, regional or global flavors. At the Fox & Falcon, a contemporary American restaurant in South Orange, N.J., Kristopher Welz, executive chef, wanted to give his customers a taste of the childhood sandwiches he ate growing up in Philadelphia. The result is his Grilled Cheese Jawn, referencing Philly slang that usually describes an over-the-top sandwich or burger, although everything from cocktails to pizza has been "jawn-ified."
For his Grilled Cheese Jawn, Welz starts with a brioche Pullman loaf. "We put a generous amount of mayo on our brioche bread right before we place it on the plancha to get it properly toasty and buttery," he says. A house three-cheese sauce is beefed up with thick slices of sharp provolone, while roasted pork, broccoli rabe, pickled red onions and a side of dipping jus add just the right flavor foils and textural contrasts.
For his contribution to the grilled cheese canon, Stephen Bukoff, executive chef of The Fed cocktail bar at Boston's Langham Hotel, gives a nod to the concept's sister pub, The Wigmore at The Langham in London, by naming it the Three Cheese Toastie, as the sandwich is known in the United Kingdom. It features pickles, onions and Dijon mustard to contrast with three rich cheeses.
Cheese Louise, an artisan grilled cheese concept based in Portland, Maine, gives locals familiar tastes in the Vermonter Grilled Cheese, which features Cabot cheddar and muenster on Tuscan pane, but the concept also offers customers a chance to explore global flavors in this familiar application. Take, for example, the Spicy Mamacita, featuring shredded Mexican chicken, chipotle salsa, guacamole, pickled jalapeños and pepper Jack on brioche, and the Keep Calm and Curry On, boasting curry-roasted cauliflower, cilantro-jalapeño chutney and Muenster and mozzarella on naan.