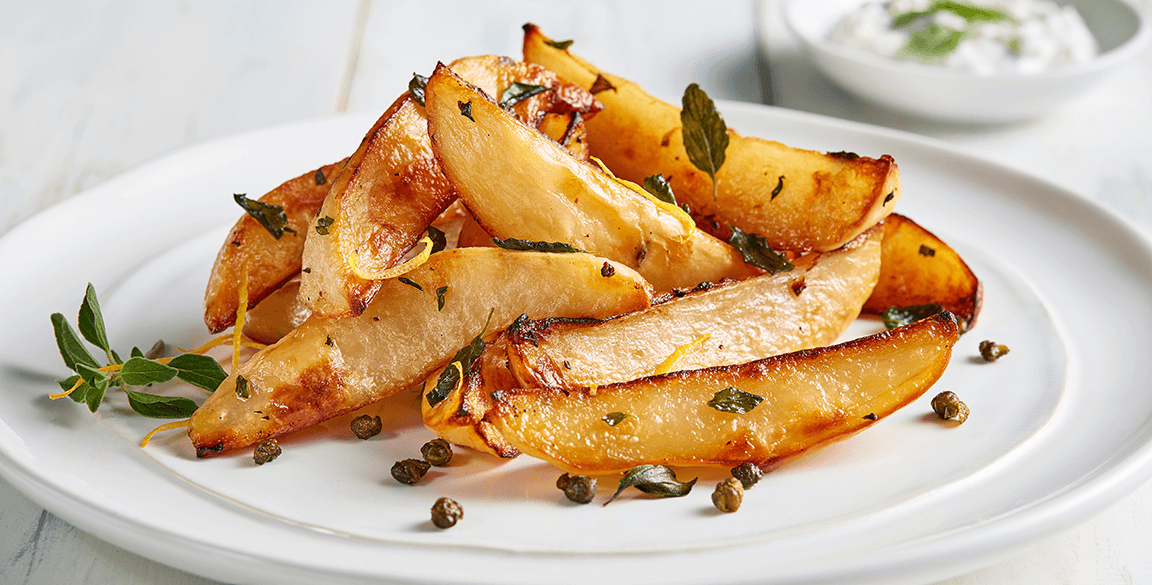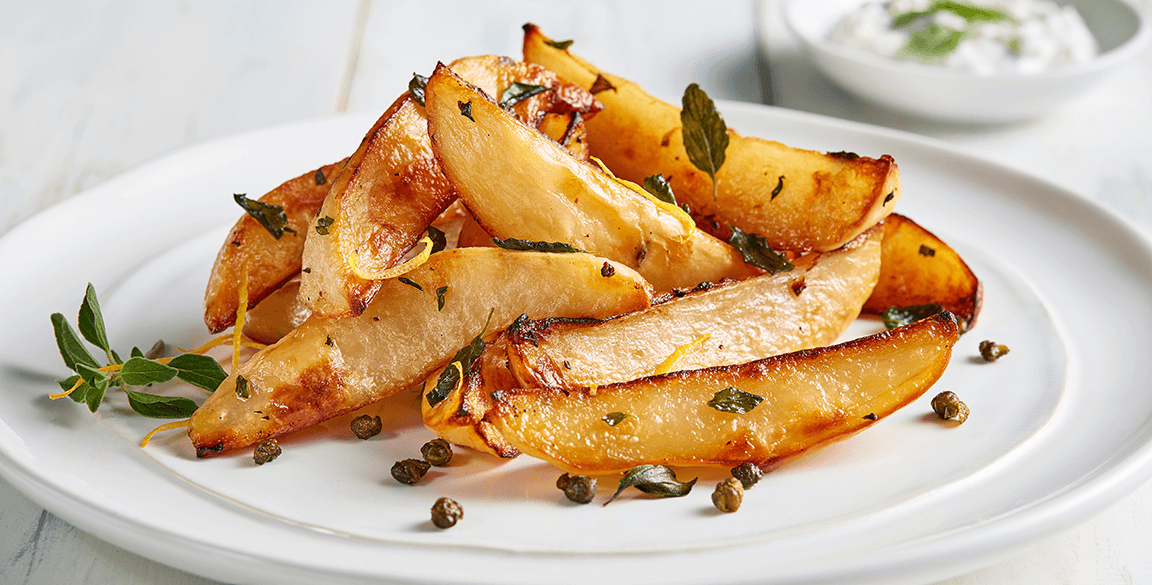 Roasted Greek Idaho® Potatoes with Tzatziki, Fried Capers and Dill
Recipe courtesy of Brian Robertson, VP of Corporate Culinary, Fertitta Entertainment
Sponsor: Idaho Potato Commission
Servings: 4
Ingredients
Roasted Potatoes:
2 lbs Idaho® Russet Potatoes, peeled and cut into 3 x 1-inch wedges
1 Tbsp minced garlic
½ c chicken broth
½ c extra-virgin olive oil
¼ c lemon juice
1 Tbsp chopped fresh oregano
As needed, salt and pepper
Tzatziki:
1 c grated cucumber
1 c plain Greek yogurt
2 Tbsp extra-virgin olive oil
1 Tbsp chopped fresh mint
1 Tbsp chopped fresh dill, plus extra for garnish
1 Tbsp lemon juice
1 tsp minced garlic
As needed, salt and pepper
Fried Capers:
1 Tbsp capers, drained
2 Tbsp canola oil
Directions
For the roasted potatoes:
Preheat the oven to 400 degrees F and grease a large baking dish with olive oil. Evenly spread cut potatoes out on the baking dish.
In a large bowl, whisk all remaining ingredients together and pour over potatoes, coating them evenly.
Bake potatoes uncovered for approximately 20 minutes. Remove, stir and baste potatoes with pan liquid. Return to the oven for approximately 20 minutes more, or until golden brown and fork tender.
For the tzatziki:
Lightly squeeze the grated cucumber between your palms over the sink to remove excess moisture, then transfer the squeezed cucumber to a serving bowl.
Add the yogurt, olive oil, herbs, lemon juice, garlic, salt and pepper to the bowl with grated cucumber and stir.

For the fried capers:
Over medium heat, pan fry capers in the canola oil until they pop open and are crispy. Remove capers and place on a paper towel to absorb excess oil.
To serve:
Place roasted potatoes in a serving dish and drizzle with pan juices. Top the potatoes with the tzatziki and garnish with fried capers and fresh dill.
Project Management: Summit F&B
Photography: Carlos Garcia // Food Styling: Peg Blackley & Bree Williams