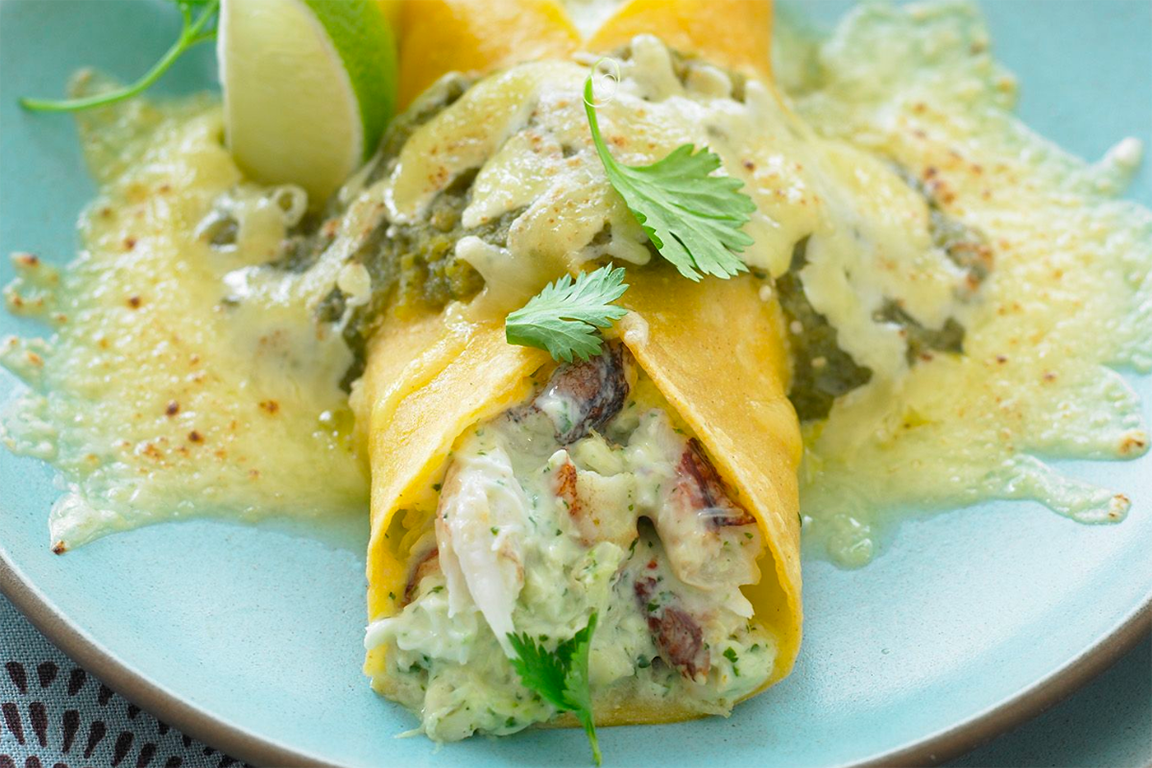 SPONSORED CONTENT
From Tradition to Trend
Cal-Mex's innovative spin on Mexican flavors
SPONSORED CONTENT
From Tradition to Trend
Cal-Mex's innovative spin on Mexican flavors
By Flavor & The Menu
October 10, 2023
By Flavor & The Menu
October 10, 2023
The American consumer is embracing cuisines that incorporate seasonal and regional ingredients, accented by bold profiles. Cal-Mex—a lighter, brighter take on traditional Mexican dishes—exemplifies this trend toward fresh, produce-forward food.
Just as Tex-Mex combines the cooking traditions from Northern Mexico with foods from Texan rancher culture, Cal-Mex capitalizes on the produce from California, combining its vivid colors and varied tastes with the rich, authentic flavors of Mexico in dishes that reflect a Californian lifestyle. The Cal-Mex culinary style offers new interpretations of Mexican regional dishes like tacos gobernadores, tlayudas and alambres, and favors lean proteins such as chicken, fish and seafood. California dairy products add additional texture and depth of flavor to Cal-Mex cuisine, complemented by fresh herbs and local and tropical fruits. Fresh green chiles take precedence over dried chiles, contributing a vibrant kick.
With lighter menu items on the rise, Cal-Mex classics such as fish tacos with Cotija and Mexican crema can now be found on menus from West to East. Hispanic-style California cheeses commonly used as the cornerstones of Cal-Mex cooking include queso fresco, queso blanco, Cotija, queso panela and Oaxaca cheese. Other cheeses from California, such as Monterey Jack, are also widely used to bring signature flavor to Cal-Mex quesadillas and enchiladas.
CALIFORNIA DAIRY MAKES THE DIFFERENCE
California dairy is the star ingredient of Cal-Mex cuisine. Not coincidentally, California is the leading U.S. producer of Hispanic-style dairy products, which ensures the consistent quality of varieties of cheese that include semisweet requeson (a Hispanic version of ricotta used in salads, dips, entrées and desserts) and asadero (a mild and firm cheese tucked into handhelds and melted in hot dishes).
Award-winning chefs Susan Feniger and Mary Sue Milliken (famous for Too Hot Tamales, Top Chef Masters, and Border Grill restaurants) are known for their Cal-Mex cuisine, which is in full display at their most recent venture, Socalo, the destination spot for innovative Cal-Mex in Santa Monica, Calif. The restaurant's name combines the Spanish word "zocalo" (town square) with "So Cal," reflecting the chefs' commitment to creating inspiring Cal-Mex builds from fresh and sustainable California ingredients.
"We take advantage of all the abundance we have here in California and combine it with our passion for the Mexican kitchen," says Feniger. Milliken agrees, adding, "Cal-Mex cooking is taking California's bounty of fresh ingredients and giving it that sort of 'fiesta.'"
Since 1985, Feniger and Milliken have used a blend of three California Hispanic-style cheeses for their chiles rellenos, quesadillas, potato rajas and more. This versatile blend combines queso panela (for milky richness and soft texture), Hispanic-style manchego (for flavor and a gooey melt factor), and queso añejo or Cotija (for a splash of salty flavor and savory depth). "It's the perfect combination to deliver the signature Cal-Mex saltiness and texture we're looking for," notes Feniger.
This unique blend of cheeses is also the secret behind their best-selling Socalo dish: Cheesy Steak and Shrimp Vampiro Tacos, which is griddled for extra craveable crispiness. Adds Milliken, "We use California Mexican cheeses because they're absolutely the tastiest and they're always consistent."
While its origins are in California, Cal-Mex's fresher and lighter approach to Mexican flavors resonates with diners far beyond the Golden State.
"Cal-Mex is a fresh take on regional Mexican cooking that can succeed anywhere," says Katie Cameron, Foodservice Business Development at the California Milk Advisory Board, representing the state's dairy farmers. "Chefs tell us that it's more of a 'spirit of cooking' than a location. In fact, there are chefs in cities as far from California as Portland, Maine, that are relying on California Hispanic-style cheeses to give their Cal-Mex dishes the right flavor profile."
For further inspiration, here are two winning menu items that exemplify Cal-Mex cuisine:
For more information on how to use Real California dairy products to create patron-pleasing Cal-Mex dishes, click here.