Kitchen Collaborative is a recipe-development initiative formed by Summit F&B and Flavor & The Menu. To fuel flavor innovation, a group of talented chefs partnered with sponsor brands and commodity boards to create recipes that showcase the passion and potential of our industry.
As culinary artists, chefs bring a great deal of individuality to their craft, but their personal stamp is influenced by continual exposure to the work of others. "The way I utilize a chayote is not how someone in Mexico would use it," says Eric Martinez, Executive Chef, Orlando World Center Marriott. "It's a big world, and we have to get out there!"
While he credits seasonality as the most consistent guide in his recipe ideation work, his ultimate goal, Martinez says, is to fold in layers of flavor, colors and smells to bring a dish to life. He achieves this trifecta in each of his recipes for Kitchen Collaborative: Whipped Honey with Rosemary Crepes, Jamaican Curry Goat and Barilla® Oven-Roasted Heirloom Tomato Rigatoni.
Whipped Honey with Rosemary Crepes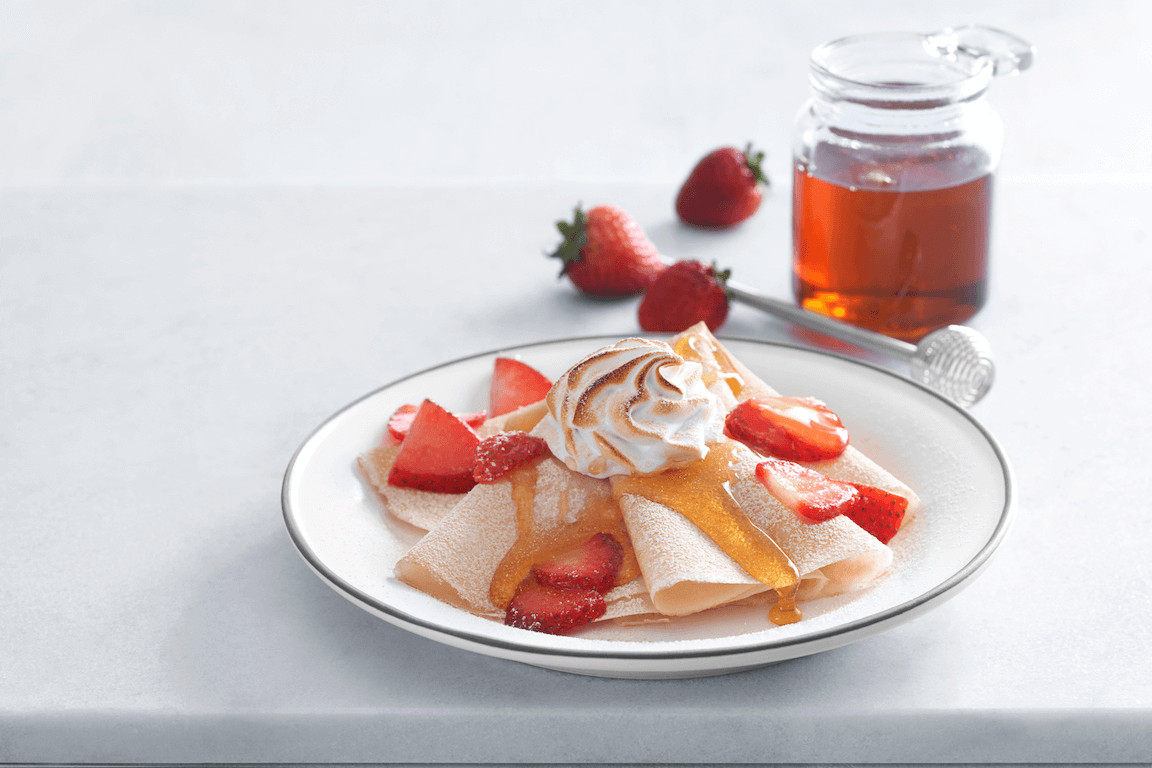 Photo: National Honey Board
Honey's slow, mesmerizing, viscous drip is such a signature of the natural sweetener that any other textural variation may be largely unfamiliar to most diners. Ready to change that perception, Martinez presents the cloud-like, creamy consistency of whipped honey in the breakfast/brunch space with his Whipped Honey with Rosemary Crepes.
Martinez selected rosemary, not a particularly subtle herb, to infuse the crepes with marked flavor. "I wanted a sweet/savory combination," he explains. "The honey itself is flavor forward, and the rosemary stood up to that without being overpowering or underwhelming." Martinez does not specify a particular honey varietal in his recipe. "I chose local honey, because I think that's important, and ours here is orange blossom." He advises peers to invest in some trial and error when selecting a local honey that will pair well with the rosemary. "The surroundings are key to a honey's flavor profile."
The sumptuous dish features two crepes that are folded and crowned with drained, sugared strawberries. Honey is whipped with egg whites and salt to produce soft peaks and then applied with a piping bag to form a large rosette atop the strawberries. Martinez burns the honey with a torch until it is golden brown. "The torching adds a subtle, charred flavor," he explains. Final touches include a lemon-maple syrup and a dusting of bee pollen powdered sugar. "I love bee pollen; it's an under-utilized product."
Jamaican Curry Goat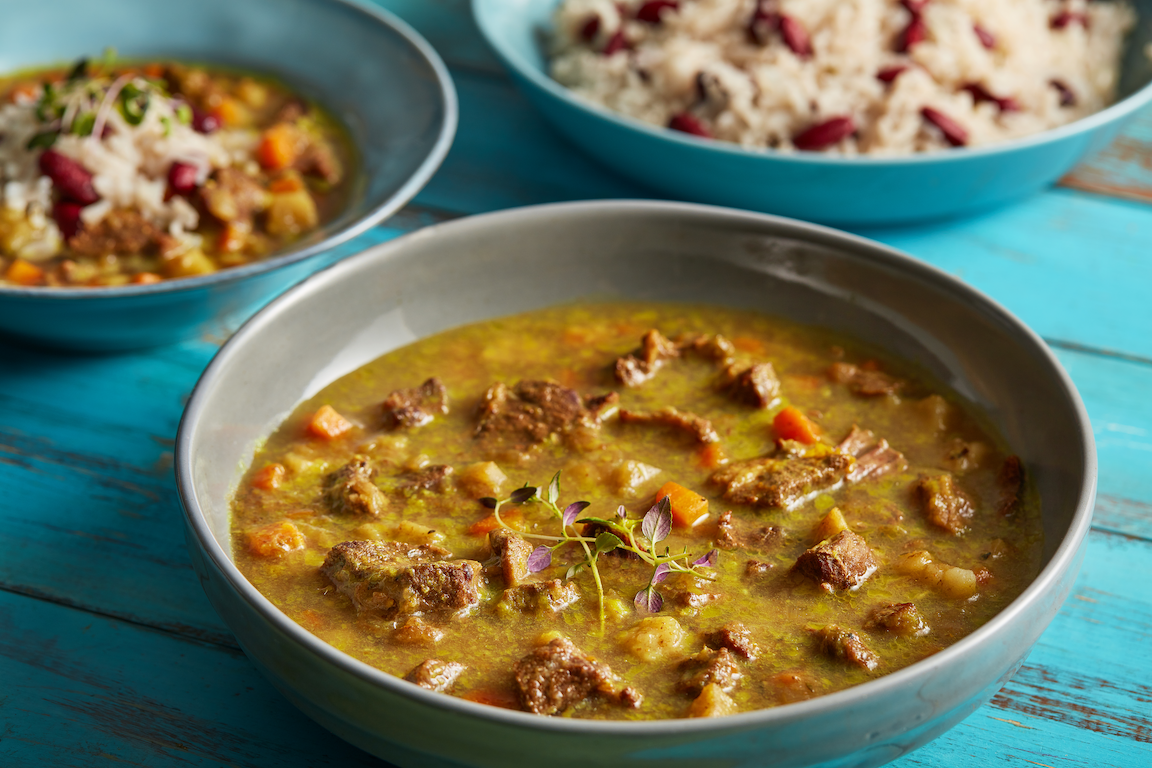 Photo: Carlos Garcia // Food Styling: Peg Blackley
Martinez was fearless in his embrace of the assigned hero ingredient from Meat & Livestock Australia: goat. "Growing up in south Louisiana, we ate goat, so it's a part of my repertoire," he reports. Embracing the traditions of the large Jamaican population in Florida, Martinez opted to produce a Jamaican Curry Goat, using a curry powder a friend brings stateside from the island nation. "It makes the dish!"
The hearty stew features browned, cubed, bone-in goat with sautéed Scotch Bonnet peppers, black pepper, onions, scallions, garlic, thyme, ginger, salt, potatoes and carrots mixed with curry powder and a Cajun seasoning blend. It's simmered on low heat for about an hour, until the meat is fork tender. Martinez found the Australian goat to be of excellent quality and flavor.
Martinez is bullish on the popularity potential of goat dishes—providing they fit with the overall concept of a foodservice operation. At Orlando World Center Marriott, he includes this particular dish on a catering menu, as well as making it available for holiday celebrations.
Barilla® Oven-Roasted Heirloom Tomato Rigatoni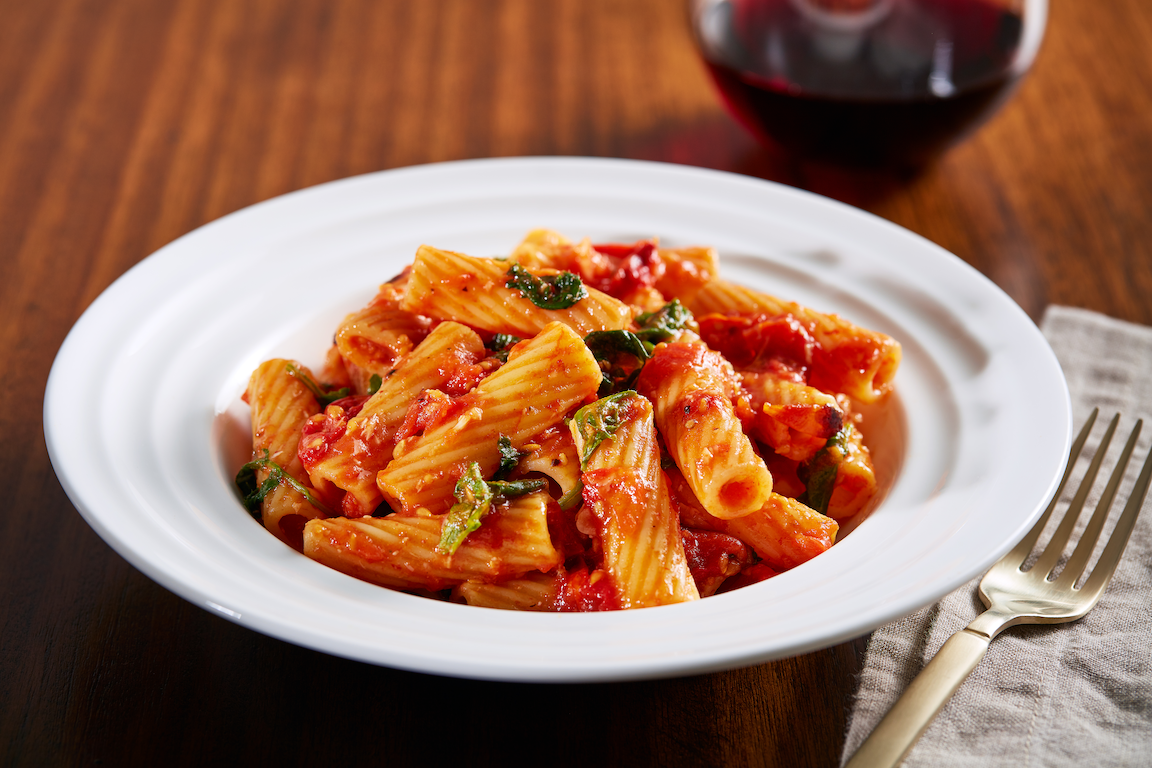 Photo: Carlos Garcia // Food Styling: Peg Blackley
Culinary traditions endure across the centuries for a reason. Take the iconic pairing of pasta and tomatoes. Whether mixed in whole pieces or simmered into a thick, rich sauce, tomatoes add welcome bursts of color and juicy, sweet flavor to a hearty pasta. Martinez taps into these simple pleasures with his Barilla® Oven-Roasted Heirloom Tomato Rigatoni.
He begins by roasting whole tomatoes still on the vine, using hydroponics grown on the Orlando World Center Marriott property. These are sprinkled with sea salt and black pepper and laid on a bed of unpeeled garlic cloves, thyme sprigs and bay leaves. "The oven roasting encapsulates the flavor for a more robust sauce, which will yield a much more flavorful end product," explains Martinez. After the skins have split and the tomatoes been removed from the oven, he pulls them off the vines and transfers them, plus the aromatics, to a skillet, adding red wine vinegar, a pinch of salt and pepper, and baby kale, building a thick, strawberry-red sauce that boasts an almost creamy consistency. The Barilla Frozen® Rigatoni is tossed in the sauce prior to being plated and finished with a drizzle of EVOO and finely grated ricotta salata. Martinez found the cook time with the Barilla product was superior to that of a dry format. Plus, "It stood up to the sauce and the cooking process will come out right every time," he credits.
Martinez, who has a farm-to-table Italian concept on property, believes there's enduring interest in pasta dishes, including those that stay true to form, which was his thinking for this Italian-themed dish. "Each cook has a different interpretation of pasta, driven by culture, upbringing and past exposure," he notes. "That's the true driving force behind any great dish."
Project Management: Summit F&B
Photography: Carlos Garcia // Food Styling: Peg Blackley