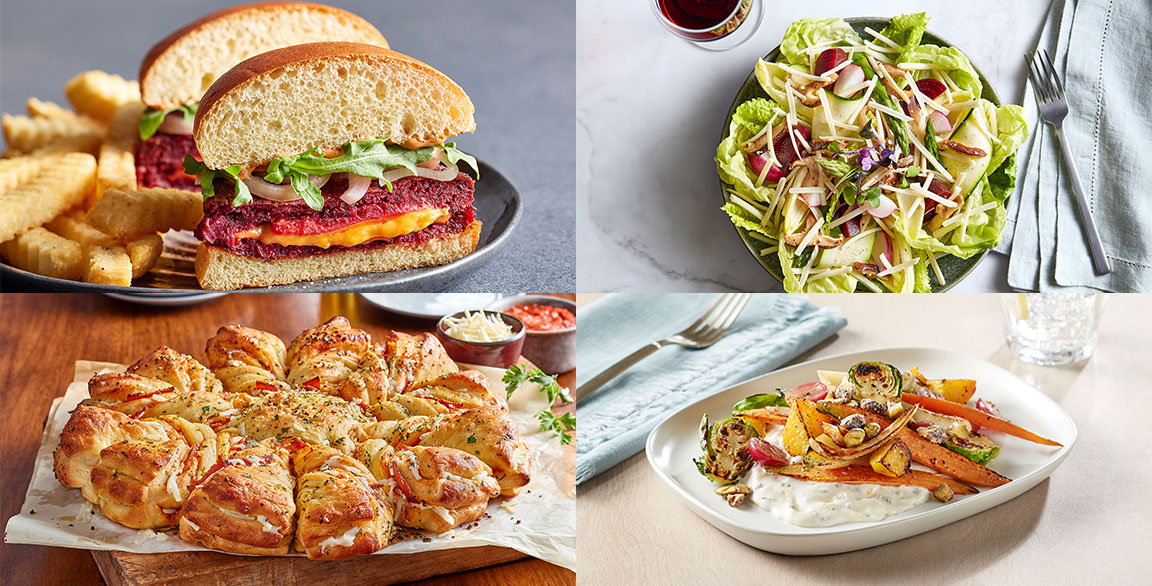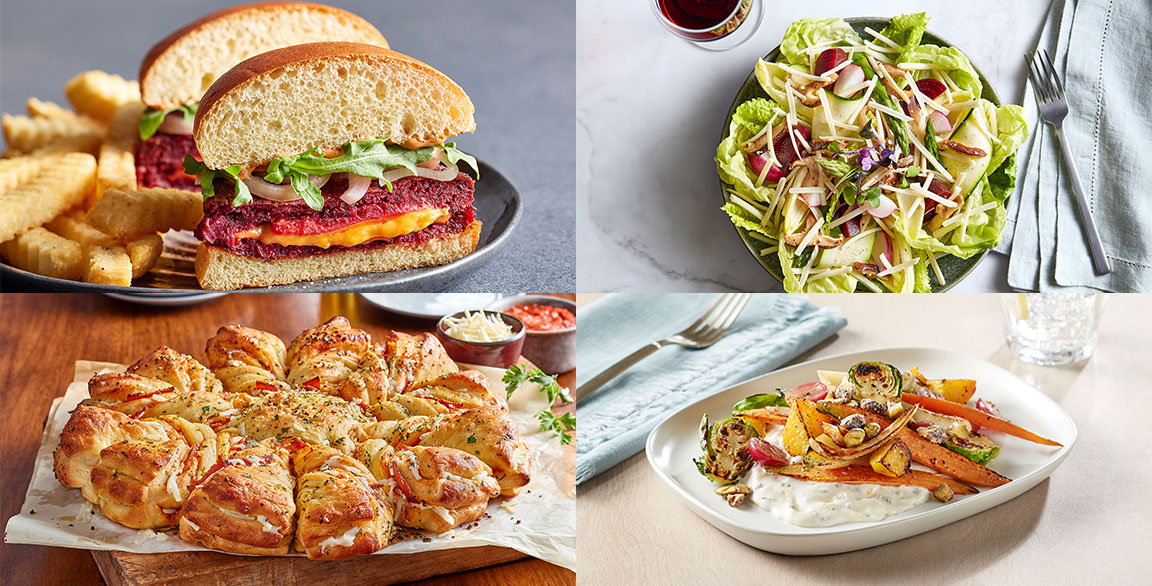 By Flavor & The Menu
November 20, 2021
Landing on the right dairy-free cheeses for plant-based menu development is critical today. Why? Because all roads lead to a future where more consumers are looking for more choices in this arena when they dine out. In retail, plant-based cheese sales were up 44 percent in early 2021. And nearly 60 percent of consumers plan to increase their intake of plant-based foods . To capture that business, savvy chefs are seeking out plant-based products that deliver on both flavor and texture, with no trade down of experience.
We talked to four chefs who tackled recipe development using new dairy-free cheeses from Bel Brands USA, a company that brings generations of cheesemaking expertise to the craftsmanship of these new products, including the beloved Babybel® and Boursin® brands. Applying more than 150 years of French cheesemaking expertise, Bel is excited to be among the first traditional cheese companies to add plant-based cheeses to its product portfolio. While the raw ingredients may be different, the process of creating plant-based cheese is similar to its dairy counterpart. Cooking, shaping, cooling, texturing and creating aromatic balance is still the name of the game.
The four chefs chose from Bel's new dairy-free cheese portfolio:
Nurishh Slices®: Cheddar, Mozzarella and Provolone
Nurishh Shreds®: Parmesan, Cheddar and Mozzarella
Boursin® Dairy Free Garlic & Herbs Cheese Spread Alternative
Each chef reported back that these plant-based cheeses hit high marks, opening up a larger world of dairy-free menu development that delivers on cheese's sacred promise of a rich, satisfying experience.
VEGAN PULL APART PIZZA
Chef: Amy Smith, Sr. Director Culinary & Operations Innovation, Miller's Ale House
Product: Nurishh Mozzarella-Style Cheese Alternative Shreds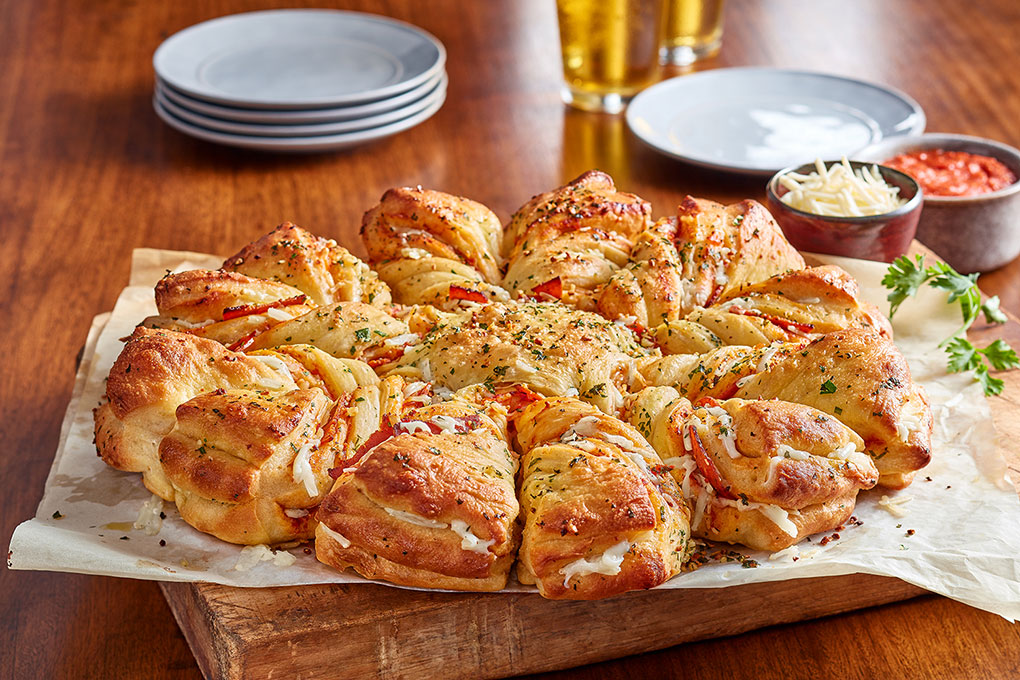 Smith worked up this craveable, shareable Vegan Pull Apart Pizza, starring golden brown dough layered with marinara, vegan pepperoni and Nurishh Mozarella Shreds. "It is nothing like the disappointing, starchy goop that I remember from the early 2000s," she says. "It's stretchy, melts wonderfully, tastes super creamy, cheesy and delicious. It has a soft texture, delicate flavor and incredible melt. Nurishh Mozzarella is the perfect alternative to its dairy counterpart."
BEET & QUINOA JUICY LUCY BURGER
Chef: Nate Weir, VP of Culinary, Modern Restaurant Concepts
Product: Nurishh Cheddar-Style Cheese Alternative Slices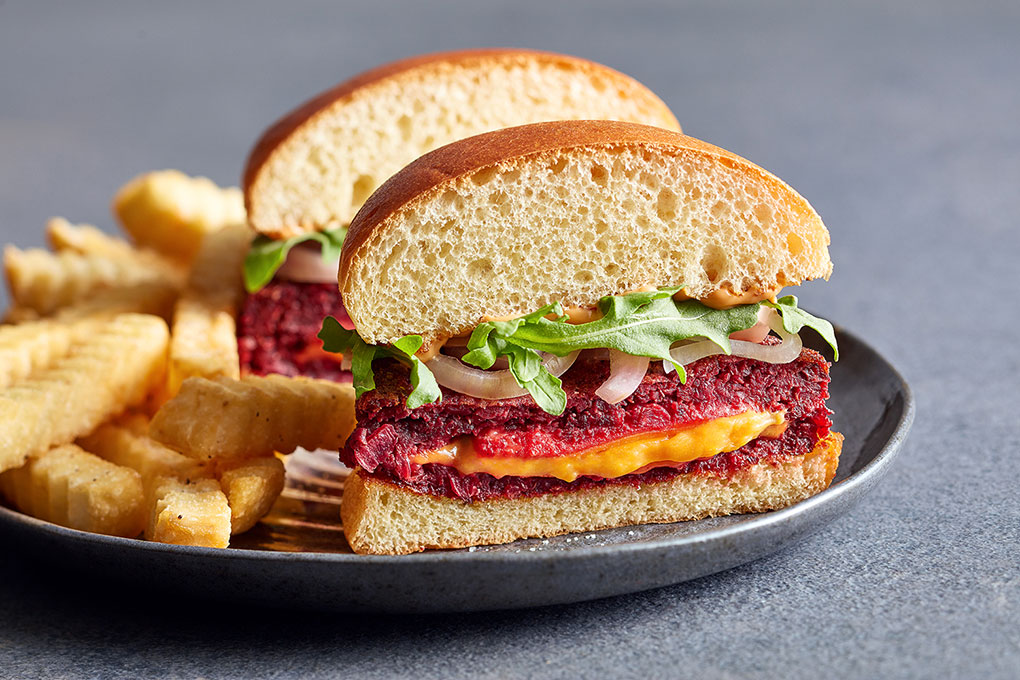 Weir created a signature plant-based burger, with roasted beets, quinoa and chickpeas, adding in the decadence of melted cheese while keeping it vegan by using Nurishh cheddar. "Deeply caramelized roasted beets are an intensely savory, slightly sweet and earthy burger base, with nutritional yeast and coconut aminos piling on the umami, and chickpeas and quinoa lending satiating texture," he says. "The Nurishh Cheddar is creamy and a little sharp, adding richness. With such an incredible burger as the star, the other toppings are kept simple: pickled shallots for acidity and crunch, and a vibrant chile crunch aïoli to tie everything together with welcome fattiness and spice." Weir was surprised both by the dairy-free cheese's flavor and meltability.
"Many plant-based cheeses I've sampled taste too much like coconut or other flavors that aren't recognizable as cheese, but Nurissh tastes like a nice cheddar. Most surprising was the way it melted—this recipe really shouldn't work with plant-based cheese, but with Nurishh it does!"
ROASTED VEGETABLES WITH BOURSIN DAIRY-FREE CREMA
Chef: Jennifer O'brien, Senior Manager Culinary, Luxury, Marriott International
Product: Boursin Dairy Free Garlic & Herbs Cheese Spread Alternative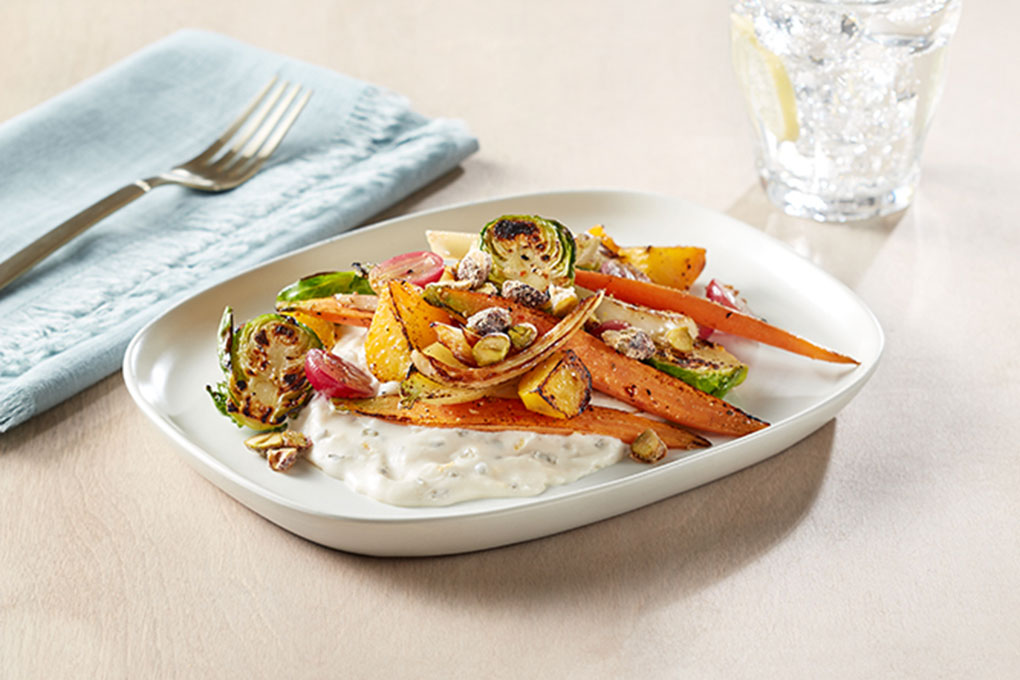 This veg-centric offering gets a hit of rich flavor from Boursin's new dairy-free cheese spread. Roasted rainbow carrots, Brussels sprouts, baby golden beets and grapes are coated in honey and spiced with za'atar, served over a spoonful of the rich cheese, then topped with a cluster of spicy, crunchy pistachios.
"The silky, spreadable and versatile texture of the Boursin Dairy Free are remarkable, and are matched only by a vibrant, herbaceous and cravable flavor," says O'brien. "A plant-based vegan cheese offering eases the ability of the chef to create composed and satisfying vegan dishes without excessive prep and labor. The guests are thereby more satisfied by a complete offering that makes them feel like their experience and preferences have truly been considered."
FALL SALAD
Chef: Olivier Desaintmartin, Chef/Owner Caribou Cafe Restaurant
Product: Nurishh Mozzarella-Style Cheese Alternative Shreds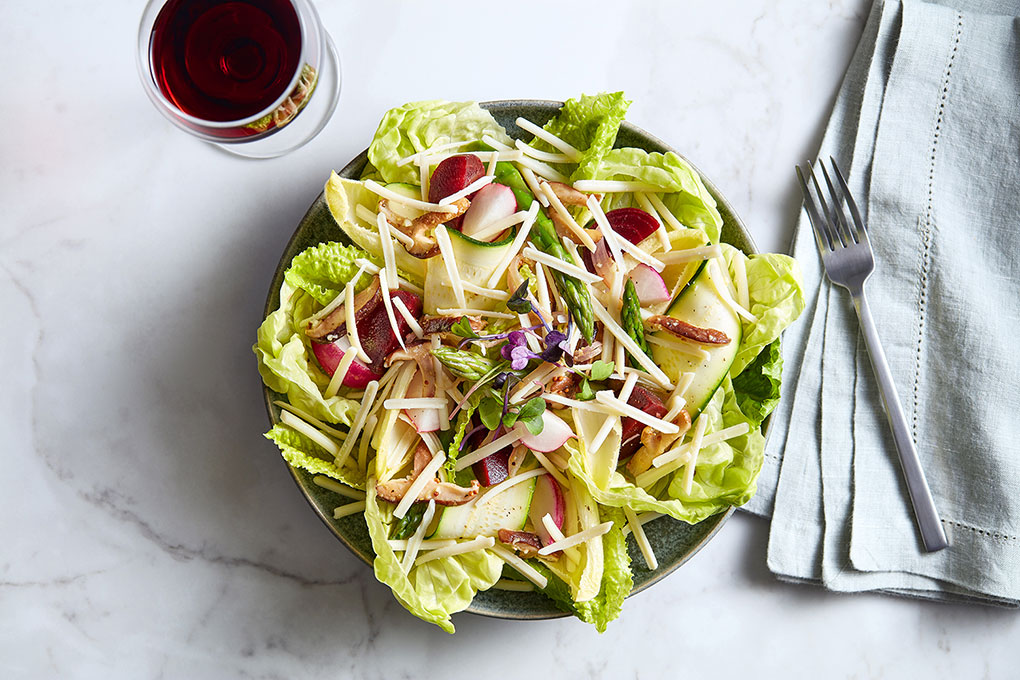 Desaintmartin developed a simple, yet flavorful salad, highlighting the clean finish of the Nurishh Mozzarella. The build stars young Boston lettuce, romaine, Belgian endive, zucchini, radish, shiitake, baby red beets and asparagus. "It's a simple salad with fresh ingredients, the dressing is subtle to enhance the quality of the products," he says. "The texture of the Nurishh balances the other textures," he says.
For more information on Bel Brands' portfolio of plant-based cheese offerings, visit www.belbrandsfoodservice.com.