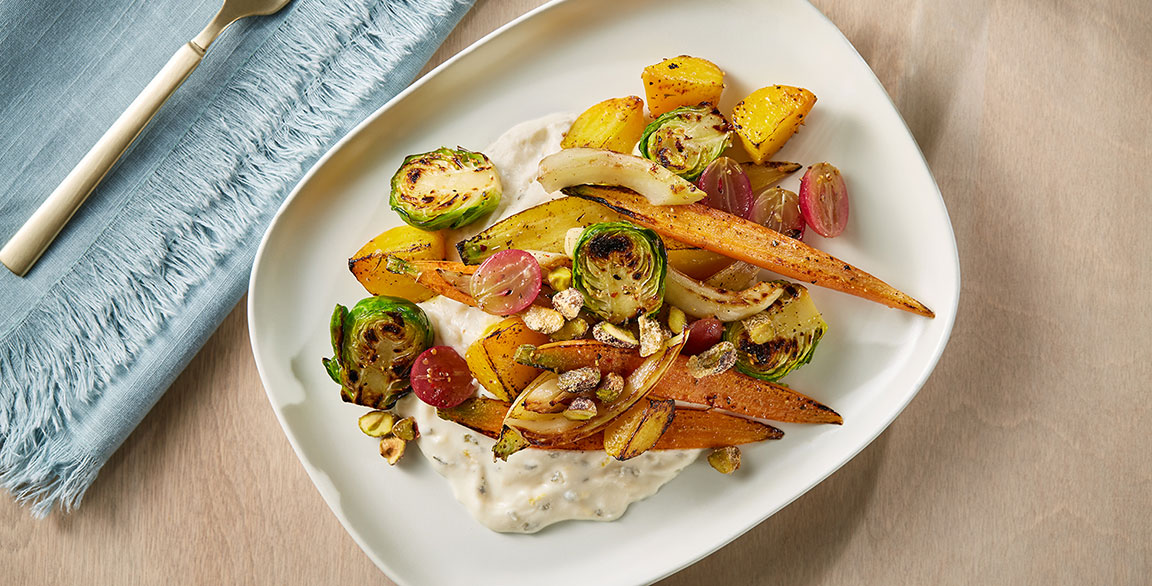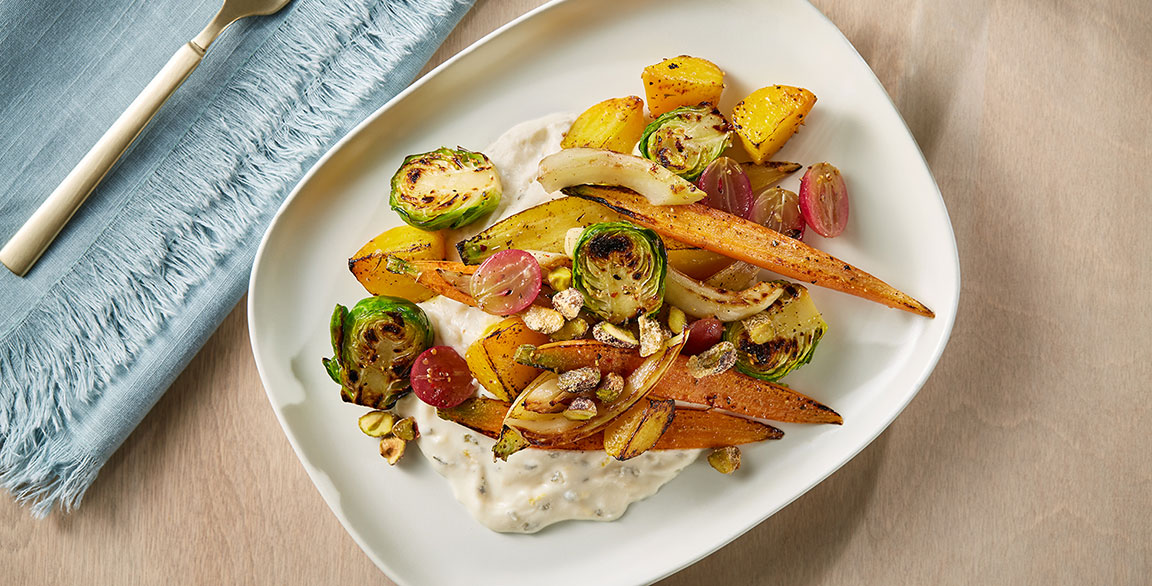 Roasted Vegetables with Dairy Free Boursin® Crema
Recipe courtesy of Chef Jennifer O'Brien

Sponsor: Bel Brands
Serves: 1
Description
In this recipe by Chef Jennifer O'Brien, a whipped non-dairy crema is a decadent base for roasted vegetables. Roasted grapes add a pop of sweetness and pistachio clusters pack a satisfying crunch.
Ingredients
Pistachio Clusters (Yield 2 qt)
5 ea. Egg whites
2 ½ lb Pistachios
140 g Sugar
10 g Kosher salt
5 g Cayenne
Boursin® Non-Dairy Crema (Yield 2 qt)
2 qt Boursin® Non-Dairy Herb Spread
5 g Lemon zest
40 g Lemon juice, freshly squeezed
As Needed Water
Per Serving
1 Tbsp Canola oil
6 or7 Rainbow baby carrots with greens, cleaned and tops intact
4 Brussels sprouts, steamed and halved
6 slices Fennel, ½-inch strips, lengthwise
6 ea Baby golden beets, peeled, roasted, and quartered
5 or 6 Red grapes
1 ea Sprig thyme
1 ea Sprig rosemary
To taste Kosher salt and fresh cracked pepper
1 tsp Za'atar seasoning
1 tbsp Honey
1/4 cup Boursin Non-Dairy Crema
3 Tbsp Pistachio Clusters
Directions
For the Pistachio Clusters: Whisk the egg whites until soft peaks have formed. Fold in the nuts and spread over a perforated pan to drain off any excess moisture for 10 minutes. Fold in the sugar, salt, and cayenne. Spread in an even layer over a Silpat on a sheet tray and cook at 275 degrees F, low fan for 30 minutes. Loosen the nuts from the Silpat and mix them around. Return to the oven and cook for an additional 15 minutes. Cool completely and store in an airtight container.
For the Crema: Whisk the Boursin®, zest, and juice together. Add water as needed to adjust to desired spreadable consistency. Cover and refrigerate.
For service: Heat the oil in a cast-iron pan until just smoking. Roast the carrots until golden brown on all sides. Add the sprouts, cut side down, then the fennel, beets, grapes, and herbs. Season with salt, pepper, and za'atar and fold in the honey.
Roast at 450 degrees F, high fan until all the vegetables are cooked through and well roasted in appearance. Remove the herbs.
Spread the crema in the center of the plate and mound the vegetables on top. Garnish with the pistachio clusters.
Chef's Notes
Be sure to cool pistachio clusters completely before storing. If they lose their crunch, the clusters can be refreshed by toasting them at 275 degrees F for 15 minutes.
Project Management: Summit F&B
Photography: Carlos Garcia // Food Styling: Peg Blackley & Bree Williams