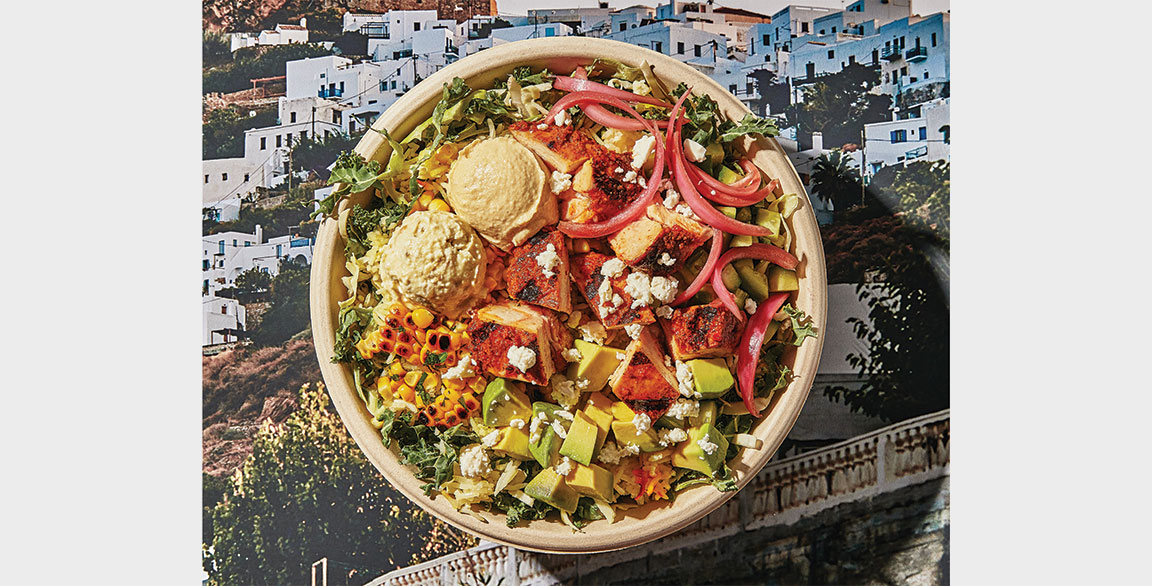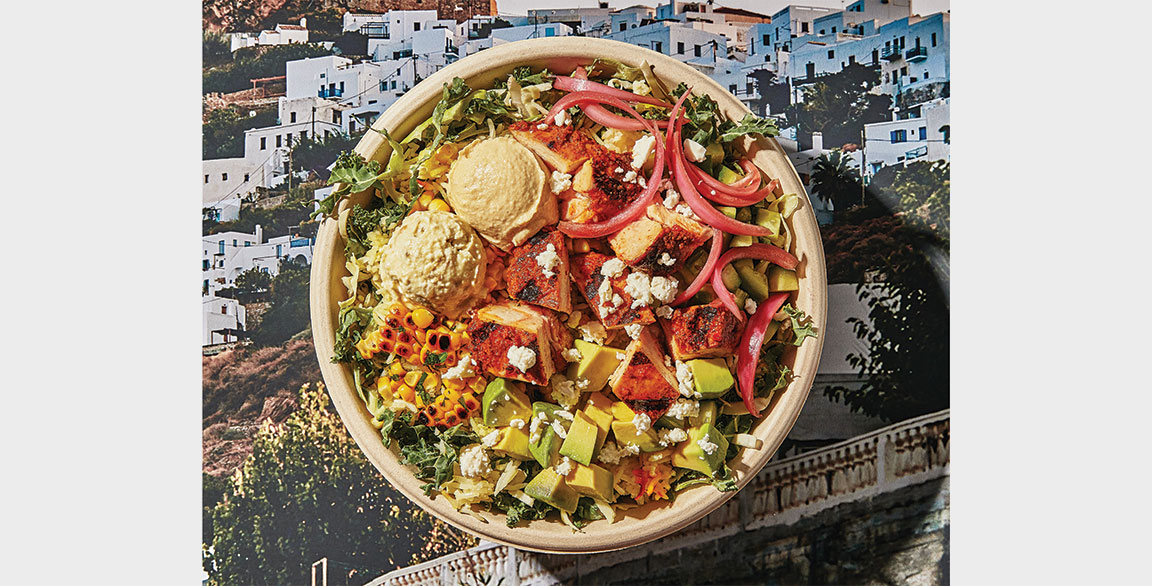 It's been seven years since Chipotle announced that it sells more bowls than burritos, and the American appetite for bowls, both curated and customizable, has only skyrocketed since. According to Datassential, bowls have surpassed legacy favorites like pizza and tacos in menu mentions; they can be found in every industry segment (one-fifth of fine-dining operators offer at least one bowl option); and there are well over 10,000 restaurant concepts in the U.S. that feature the word "bowl" in their names. Modern consumers have become so familiar with the build-a-bowl approach popularized by fast casuals that many chains no longer bother posting instructions.
While Latin- and Asian-inspired bowls have grown more ubiquitous on menus, Mediterranean bowls are quickly becoming a new go-to option for chefs. Ingredients like hummus, falafel, chickpeas, tahini, feta and harissa are all gaining more presence in bowl builds. Customers will find all of those options on the build-a-bowl menu at Cava, a Washington, D.C.-based Mediterranean fast casual with locations in 15 states.
"The harissa-honey chicken was the first culinary triumph from Cava's innovation kitchen," says Brett Schulman, co-founder and CEO. "The protein combines two Mediterranean staples: fiery harissa and sweet, amber honey to create a bold and flavorful option that brings our Mediterranean flavors to life."
That type of innovation is key when it comes to chicken, which is by far the most menued protein in bowls across all concepts and cuisines, accounting for over half of all bowl options on menus, according to Datassential. Cava's harissa-honey chicken can be added to any of the brand's customizable bowls, along with bases like Mediterranean black lentils. For a dressing option, Cava recently launched a new Preserved Lemon Vinaigrette, hitting on a trending yet approachable flavor profile.
EARLY ADOPTERS
Rush Bowls, the Colorado-based bowl-centric chain that now has more than 30 locations across the country—and more on the way—is proud to have been one of the earliest bowl brands in the fast-casual space. Launched in 2004, the brand is comfortable bending its menu to reflect evolving trends. "Over the years, Rush Bowls has expanded its flavor profiles as America's palate has grown," says Andrew Pudalov, CEO of Rush Bowls. "This has allowed us to develop menu items featuring unique flavors, such as matcha, cayenne, chai and ginger, as well as different fruits and vegetables."
Today, the Rush Bowls menu features a range of plant-based, functional bowls that meet a variety of consumer need states, like a citrus-packed Lemon Squeeze Wellness Bowl for those with immunity on the mind. And with consumers increasingly equating "health" with proactive function, the chain's "boost" options, which can be added to any bowl, go well beyond touting improved energy and protein quotients to target everything from hangovers to brainwaves.
What else can menu developers do to ensure the bowl-crazed masses keep coming back for more, year after year? As a platform for innovation, bowls deftly showcase new trends and ingredients, with savvy concepts like Rush Bowls regularly swapping in new bases, proteins, sauces and toppers.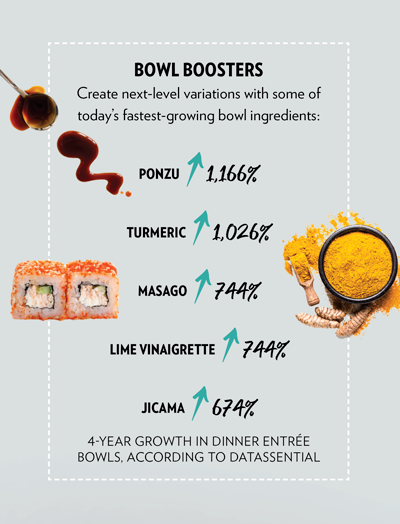 BASES BEYOND THE BASIC
Le Pain Quotidien, the New York-based Belgian bakery-café chain, is one of many concepts swapping in new grains and bases to give its bowls a trend-forward foundation. The chain's Ancient Grain Bowl combines red quinoa, millet and buckwheat for a health-conscious base that offers a range of textures and flavors. Further layers feature ingredients like roasted red peppers, cauliflower, pickled Fresno chiles, muhammara, a plant-forward black lentil pâté, crunchy hazelnut crisps and harissa-tahini dressing for a spicy and creamy final drizzle.
At Chinah, a bowl-focused Chinese fast casual with two locations in New York and New Jersey, Grandma's Favorite bowl is a signature menu item, with its unconventional base of forbidden black rice. The name of this eye-catching rice varietal is a callback to a time in ancient China when it was so rare it was reserved for royalty. This build tops the black rice with three sizeable housemade pork meatballs, tomato, an egg and seasonal greens. "The bowls at Chinah are very similar to what we ate growing up as Chinese-Americans," says CEO Hegel Hei.