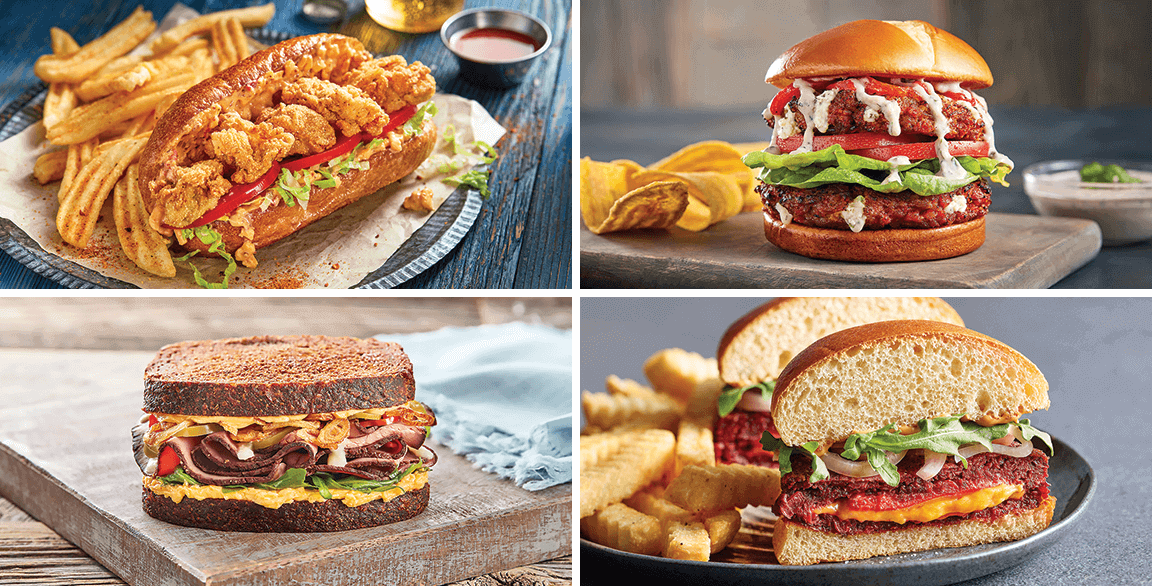 By Flavor & The Menu
May 26, 2022
Chefs inspire through their ability to deliver unique and memorable flavor moments. That's why Bel Brands, a family-run company with more than 150 years of cheese expertise, works with a network of talented industry chefs, developing innovative recipes inspired by Bel's lineup of cheeses.
For our Best of Flavor roundup, we zeroed in on their sandwich and burger builds—two categories that are thriving in today's foodservice landscape, offering portability, familiarity, versatility and craveability. There is no better platform for Bel Brand's cheeses than the handheld, and these chefs demonstrate how they help make these menu items best in class.
1: BEET & QUINOA JUICY LUCY WITH NURISHH® CHEDDAR
Nate Weir, VP of Culinary, Modern Restaurant Concepts, makes a plant-based burger with roasted beets, quinoa and chickpeas. He introduces the decadence of melted cheese while keeping the build vegan by using Nurishh® Cheddar-Style Cheese Alternative Slices.
"Deeply caramelized roasted beets are an intensely savory, slightly sweet and earthy burger base, with nutritional yeast and coconut aminos piling on the umami, and chickpeas and quinoa lending satiating texture," he says. "The Nurishh Cheddar is creamy and a little sharp, adding richness. With such an incredible burger as the star, the other toppings are kept simple: pickled shallots for acidity and crunch, and a vibrant chile crunch aïoli to tie everything together with welcome fattiness and spice."
2: PNW PO' BOY WITH PRICE*S® PIMIENTO RÉMOULADE
Thomas Horner, Complex Executive Chef, Westin and W Hotel Bellevue in Washington, drives the classic Louisiana po' boy sandwich to the West Coast with his PNW Oyster Po' boy, served with a Price*s® Rich & Savory Pimiento Rémoulade.
"The mayo base in this product reminds me of that Southern tradition of rémoulade—rich, sweet with a touch of acid," he says. His rémoulade combines Price*s Rich & Savory Pimiento Cheese Spread, Creole mustard, paprika, Worcestershire, lemon juice and black pepper. Horner spreads it on a toasted bun, then adds Pacific Northwest oysters that have been coated in buttermilk cornbread and deep fried, garnishing with fresh tomato and lettuce.
3: MERKTS® CRAFT BEER CHEESE & ROAST BEEF
Jennifer Daskevich is a "World Sandwich Champion" and founder of Sandwich America, a site that celebrates the handheld. She has more than 35,000 Instagram followers who appreciate her ability to deconstruct what makes a sandwich a hero.
To elevate the everyday roast beef sandwich she calls on Merkts® Craft Beer Cheese, then rounds out the profile with dressed arugula, pickled peppers, crispy shallots and a drizzle of horseradish cream sauce. "The beer cheese is creamy and rich with a nice tang," she says. "It adds a pleasing mouthfeel and works so well against the acidity in the peppers. It's also a surprise, which helps make it special." She suggests bringing the beer cheese to room temp for optimal flavor, and using two layers of the cheese to ensure that every bite is balanced.
4: CUBAN FRITA BOURSIN® BURGER
Maira Morales, VP of R&D for Wild Wing Café and Back Yard Burgers, based in Charlotte, N.C., offers up her spin on the traditional Cuban frita burger (seasoned ground beef and pork/chorizo patty on Cuban bread topped with shoestring potatoes).
She stuffs two patties, made with a blend of ground beef and chorizo, with Boursin® Garlic & Fine Herbs cheese. Toppings include pimento peppers, tomatoes and butter lettuce. It's all served between brioche buns or sweet pan dulce Cubano. Morales says that the burger is jam-packed with flavor, the sweet bread playing off the saltiness of the chorizo, all combined with the richness of the creamy cheese in the center. "Boursin's creaminess—and how perfectly it melts—adds great dimension to this build," she says. "Boursin takes it to the next level."
Explore cheese products, recipe ideas and more at BelBrandsFoodservice.com